9/15/1959 – 9/17/1963 NBC
Black and White
60 minutes
9/1959 – 8/1961
Color
60 minutes
9/1961-9/1963
124 Total Episodes
Sept. 1959- Sept. 1963 Tuesday 7:30-8:30
Laramie Cast
John Smith as Slim Sherman
Robert Fuller as Jess Harper
Robert Crawford Jr. as Andy Sherman
Hoagy Carmichael as Jonesy, ranch hand
Spring Byington as Daisy Cooper, housekeeper
Dennis Holmes as Mike Williams (1961-1963)
Stuart Randall as Mort Corey (1960-1963)
Horses: Alamo (J. Smith) and Hoot (Robert Fuller)
Laramie Theme Song
"Laramie" music by Cyril J. Mockridge and lyrics by Bill Olafson
Stranger ride carefully
Stay 'way from your gun.
There's danger in Laramie for men on the run.
Your gray eyes shift warily,
There's no room here for you.
Just stay wise, this is Laramie
Keep traveling on through.
Faster guns than yours have made the foolish play
The next time that you draw may be the last.
We're a peaceful town; we aim to stay that way.
Our justice isn't fancy but it's fast.
So…
Laramie Tidbits
When a land-grabber kills their father, Slim (John Smith) and Andy (Bobby Crawford) Sherman are left to try and salvage what they can from a ranch which wasn't doing well. One day in comes a drifter named Jess Harper (Robert Fuller) who is persuaded to stay and help out.
To supplement their income, the Shermans run a stagecoach station from the ranch.
In the beginning Jonesy (Hoagy Carmichael), an old family friend, provides guidance on the ranch. He was gone in the second season and Sheriff Mort Corey (Stuart Randall) appeared. Andy just kind of faded from view and Mike Williams (Dennis Holmes), orphaned after an Indian attack, came to stay at the ranch. Also, Daisy (Spring Byington) arrived to provide housekeeping skills to the all male household.
Laramie brought Robert Fuller to public attention as he was unquestionably the show's hunk. Fuller moved from Laramie onto scounting duties on Wagon Train.
Passings
John Smith (real name Robert Van Orden) died in 1995 of cirrhosis and heart problems. Spring Byington died in 1971 of cancer and Hoagy Carmichael in 1981 of a heart attack.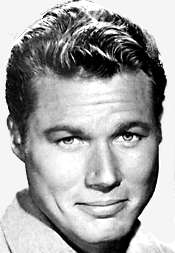 John Smith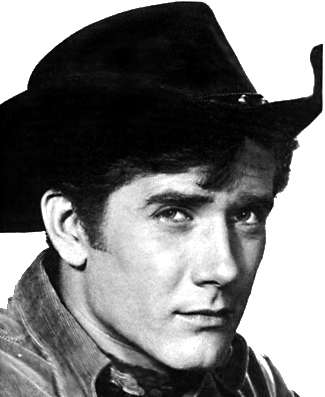 Robert Fuller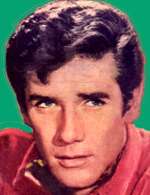 Robert Fuller
For Robert Fuller Fans
There is a huge section on Robert Fuller with screensavers and many pictures at the WAGON TRAIN area of the site.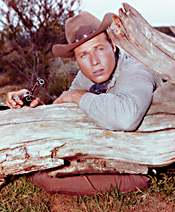 John Smith
From the Doug Abbott Collection
Laramie Trivia
Bobby Crawford is Johnny Crawford's
(Rifleman) older brother.
Buy on DVD
Laramie: The Complete First Season (1959)
Laramie: The Complete Second Season (1960)
Laramie: The Complete Third Season (1961)
Laramie: The Final Season (1962)
External Links
TV Guide's Laramie Page, with TV Listings, Photos, Videos, Exclusive News and More.
Laramie Episode Guide
Season 1
"Stage Stop" Episode: #1.1 – 15 September 1959
Dan Duryea as Bud Carlin
Everett Sloane
"Glory Road" Episode: #1.2 – 22 September 1959
Eddie Albert
Nanette Fabray as Essie Bright
Ray Teal
"Circle of Fire" Episode: #1.3 – 22 September 1959
John Smith
Ernest Borgnine as Major Prescott
Frank DeKova as Yellow Knife
Frank Ferguson as Abner Crable
Marsha Hunt as Martha Chambers
John Pickard as Calvin Dalyrumple
Robert F. Simon as Bert Bigelow
Eddy Waller
"Fugitive Road" Episode: #1.4 – 6 October 1959
Clu Gulager as Gil Brady
"The Star Trail" Episode: #1.5 – 13 October 1959
Robert Fuller
Patricia Barry as Evie
William Bryant as Curly
Lloyd Nolan as Tully Hatch
Mildred von Hollen as Ma
"The Lawbreakers" Episode: #1.6 – 20 October 1959
Robert Fuller
Rayford Barnes as Marcy
James Best as Dallas
Christopher Dark as Rickert
John McIntire as Judge Cade
"The Iron Captain" Episode: #1.7 – 27 October 1959
Edmond O'Brien as Captain Sam Prado
"General Delivery" Episode: #1.8 – 3 November 1959
"The Run to Tumavaca" Episode: #1.9 – 10 November 1959
John Alderson
John Archer
Kevin Hagen
Harry Lauter
Gena Rowlands
Robert J. Wilke
"The General Must Die" Episode: #1.10 – 17 November 1959
Don 'Red' Barry
John Hoyt as Colonel Brandon
Brian Keith
Kenneth MacDonald
Reed Morgan
Gilman Rankin
"Dark Verdict" Episode: #1.11 – 24 November 1959
Robert Fuller
L.Q. Jones
Thomas Mitchell
Grant Richards
Harry Dean Stanton
Warren Stevens
"Man of God" Episode: #1.12 – 1 December 1959
Sam Edwards
James Gregory
Douglas Kennedy
Kathleen O'Malley as Wife
Bill Williams
"Bare Knuckles" Episode: #1.13 – 8 December 1959
Hal Baylor as Cowboy Hill
Wally Brown
Don Megowan
Eddy Waller
"The Lonesome Gun" Episode: #1.14 – 15 December 1959
John Smith
Gary Merrill as Ed Farrell
"Night of the Quiet Man" Episode: #1.15 – 22 December 1959
John Smith
Lyle Bettger
Anthony Caruso
Robert Knapp
Reed Morgan
Carl Benton Reid
"The Pass" Episode: #1.16 – 29 December 1959
John Pickard
Madlyn Rhue as Eve
Walter Sande
Richard Shannon as Ben Sears
"Trail Drive" Episode: #1.17 – 5 January 1960
Jim Davis
"Ride Into Darkness" Episode: #1.18 – 12 January 1960
Robert Fuller
"Day of Vengeance" Episode: #1.19 – 19 January 1960
Robert Fuller
Harry Bartell
Vinton Haworth
John Larch
Adele Mara
Phillip Pine
"The Legend of Lily" Episode: #1.20 – 26 January 1960
Patsy Kelly
Constance Moore
William Tannen
Kent Taylor
George Tobias
"Death Wind" Episode: #1.21 – 2 February 1960
Claude Akins
Chris Alcaide as Will Brent
James Anderson
William Fawcett
Nancy Gates
Stacy Harris
"Company Man" Episode: #1.22 – 9 February 1960
James Best as Ben Leach
John Dehner
Neil Russell
Olive Sturgess
"Rope of Steel" Episode: #1.23 – 16 February 1960
John Smith
Mari Blanchard
George Mitchell
Bartlett Robinson
Harry Townes
"Duel at Alta Mesa" Episode: #1.24 – 23 February 1960
Robert Fuller
Alan Dexter
Tom Drake
Douglass Dumbrille
Pamela Duncan
Don Kelly
George Kennedy
Fay Spain
"Street of Hate" Episode: #1.25 – 1 March 1960
John Smith
Daniel Ades as Rafael
Noah Keen as Travers
Ricardo Montalban as El Tigre
"Ride or Die" Episode: #1.26 – 8 March 1960
John Smith
Robert Clarke
Steve Darrell
Sue England
Simon Oakland as Vernon Kane
Howard Wright
"Hour After Dawn" Episode: #1.27 – 15 March 1960
Irving Bacon
Anne Barton
Bruce Bennett
Ben Johnson
Robert Osterloh
Gloria Talbott as Maud
"The Protectors" Episode: #1.28 – 22 March 1960
Angela Clarke as Sister Luke
Laurie Mock as Maria De Las Pinas
Ramon Novarro as Padre Guillermo
Penny Santon as Sister Angelica
Robert Yuro as Ramon
"Saddle and Spur" Episode: #1.29 – 29 March 1960
Edgar Buchanan
Walter Coy
Richard Devon
Beverly Garland
"Midnight Rebellion" Episode: #1.30 – 5 April 1960
Robert Fuller
Marian Collier
Bruce Gordon
Ed Kemmer
Michael Pate
"Cemetery Road" Episode: #1.31 – 12 April 1960
John Smith
Jocelyn Brando
Reed Morgan
Season 2
"Queen of Diamonds" Episode: #2.1 – 20 September 1960
Claude Akins as Jim Dark
Holly Bane as Abel Reeves
James Chandler as Rancher
Julie London as June Brown
Eddy Waller
Brad Weston as Bart Reeves
Tony Young as Clem Reeves
"The Track of the Jackal" Episode: #2.2 – 27 September 1960
Robert Fuller
Jeanne Bates as Sarah Campbell
Stacy Harris as Firth
Stephen McNally as Luke Wiley
Robert J. Wilke as Sumner Campbell
"Three Rode West" Episode: #2.3 – 4 October 1960
John Smith
Chris Alcaide as Greg
Ross Elliott as Jack Adams
Myron Healey as Frank Skinner
Tom London as Old man
Phyllis Love as Mrs. Adams
Jan Merlin as Chris
Vera Miles as Anne Andrews
Denver Pyle as Sheriff
Dick Rich as Bartender
"Ride the Wild Wind" Episode: #2.4 – 11 October 1960
James Anderson as Dallas
Ernest Borgnine as Boone Caudie
Vivi Janiss as Hannah Moore
Scotty Morrow as Jody
Ed Prentiss as Sheriff Simms
Robert Stevenson as Sheriff Davis
Don Wilbanks as Deputy Morgan
"Ride into Darkness" Episode: #2.5 – 18 October 1960
Phyllis Avery as Mae
Charles Drake as Matt Jessup
Jason Robards Sr. as Dan Preston
Brad Weston as Chuck
"The Long Riders" Episode: #2.6 – 25 October 1960
John Anderson as Ed McKeever
Lew Brown
Fred Coby as Charley Craig
Dan Duryea as Luke Gregg
"The Dark Trail" Episode: #2.7 – 1 November 1960
Robert Fuller
Gigi Perreau as Celie Bronson
Harold Stone as Sam Bronson
Robert Vaughn as Sandy Kayle
".45 Calibre" Episode: #2.8 – 15 November 1960
Robert Fuller
Anna-Lisa as Louisa Clark
Charlie Briggs as Charley Wilkes
George Nader as Wells Clark
John Pickard as Sloane
Lee Van Cleef as Wes Torrey
Katherine Warren as Mrs. Byrd
"License to Kill" Episode: #2.9 – 22 November 1960
R.G. Armstrong as Sam Jarrad
Kem Dibbs as Tibbs
William Fawcett as Ben
Denny Miller as Wilkie
"Drifter's Gold" Episode: #2.10 – 29 November 1960
John Smith
Rod Cameron as Tom Bedloe
Billy Dix as Ben
Don Kennedy as Nick
Sandra Knight as Wilma
Judi Meredith as Marcie Benson
Gregory Walcott as Duke
Dickie Walters as Jock Benson
"No Second Chance" Episode: #2.11 – 6 December 1960
Richard Coogan as Sheriff Lom Matthews
Jeff Richards as Kem Backer
Fay Spain as Fran Ericson
"Duel at Parkinson Town" Episode: #2.12 – 13 December 1960
Don Beddoe as Dr. Sweeney
Ron Harper as Lee Parkinson
Henry Hull as Ben Parkinson
Murray Matheson as Alexander
Edward G. Robinson Jr. as Citizen
Bartlett Robinson as Sheriff
Michael Vallon as Citizen
"A Sound of Bells" Episode: #2.13 – 27 December 1960
Rachel Ames
Mara Corday as Rose
Dick Foran as Tom
Kim Hector as Neil Hunter
Ben Johnson as Driver
Ross Martin as Angel
Robert J. Wilke as Slate
"The Passing of Kuba Smith" Episode: #2.14 – 3 January 1961
John Smith
John McIntire as Kuba Smith
Bartlett Robinson as Davis
Walter Sande as Weardon
Gloria Talbott as Jane
Harry Tyler as Farmer
"Man from Kansas" Episode: #2.15 – 10 January 1961
Jocelyn Brando as Sarah Willoughby
Vinton Haworth as Carter Simpson
Jock Mahoney as Clay Jackson
George Mitchell as August Willoughby
Kelly Thordsen as Bates
Adam West as Deputy
"Killer Without Cause" Episode: #2.16 – 24 January 1961
John Smith
Rex Holman as Ken Vail
Dayton Lummis as Judge
Onslow Stevens as General Taylor Roberts
James Westerfield as Carl Vail
"Stolen Tribute" Episode: #2.17 – 31 January 1961
Robert Fuller
Edgar Buchanan as Tully Casper
Jan Merlin as Clint Wade
Dennis Patrick as Deke Beldon
"The Lost Dutchman" Episode: #2.18 – 14 February 1961
Robert Fuller
Robert Armstrong as Sheriff
Rayford Barnes as George Lake
Robert Emhardt as Senator Lake
George Keymas as Clint Mocassin
Karen Steele as Mary Lake
"Cactus Lady" Episode: #2.19 – 21 February 1961
Arthur Hunnicutt as Ezra
L.Q. Jones as Homer
Tom London as Charlie
Grandon Rhodes as Mr. Thomson
Anita Sands as Troy McCandless
Harry Dean Stanton
Katherine Warren as Mrs. Thomson
"Riders of the Night" Episode: #2.20 – 7 March 1961
John Smith
Gregg Barton as Frank
Hal Baylor as Beamer
Richard Coogan as Doc Kingsly
James Griffith as Gabe
Norman Leavitt as Ben Yuma
Mary Murphy as Sandy
Rhodes Reason as Phil Yuma
Chuck Roberson as Cher
"The Mark of the Manhunters" Episode: #2.21 – 14 March 1961
Marguerite Chapman as Val Faro
James Coburn as Gil Spanner
Charles McGraw as Marshal Craig
"Rimrock" Episode: #2.22 – 21 March 1961
Robert Fuller
Lyle Bettger as Sheriff Grant McClintock
Susan Cummings as Holly Matthews
Tom London as Tim
Mort Mills as Rink Banners
"Run of the Hunted" Episode: #2.23 – 4 April 1961
John Smith
R.G. Armstrong as Jud
Gregg Barton
Charles Bronson as Cory Lake
Leonard P. Geer
Kevin Hagen as David
Harry Harvey Jr. as Tolan
Harry Lauter as Harry
"Two for the Gallows" Episode: #2.24 – 11 April 1961
John Smith
Richard Evans as Len
Warren Oates as Pete
Eddy Waller
Donald Woods as Morgan Bennett
"The Debt" Episode: #2.25 – 18 April 1961
Robert Fuller
Roy Barcroft as Cotter
Harry Carey Jr. as Harry Markle
Jason Evers as Hanson
Monica Lewis as Clovis
Emile Meyer as Pearson
Vaughn Taylor as Pettis
"Killer's Odds" Episode: #2.26 – 25 April 1961
Russell Johnson as Stanton
John Lupton as Fred Powers
Patricia Michon
Lee Van Cleef as Dawson
"Bitter Glory" Episode: #2.27 – 2 May 1961
Paul Birch as Major Stanton
Dick Foran as Billy Jacobs
Dianne Foster as Ellie Jacobs
Ed Nelson as Cal Mason
"The Tumbleweed Wagon" Episode: #2.28 – 9 May 1961
John Smith
Elisha Cook Jr.
Robert Crosson as Morgan Warner
Steve Darrell
Jack Elam as Charley Fox
"Trigger Point" Episode: #2.29 – 16 May 1961
Robert Fuller
Mary Murphy as Lottie
Lori Nelson as Grace
Gregory Walcott as Shelly Stack
Willard Waterman as Bender
"Badge of the Outsider" Episode: #2.30 – 23 May 1961
John Smith
Roy Barcroft as Doc Longley
Jan Shepard as Cindy
George Wallace as Gip
"Men in Shadows" Episode: #2.31 – 30 May 1961
Rod Cameron as Howard Gallery
Ken Christy as Banks
Dennis Patrick as Kramer
Joan Tabor as Julie
"Strange Company" Episode: #2.32 – 6 June 1960
John Smith
James Brown as Lon MacRae
Mark Dana as Bracket
Christopher Dark as N'Codee
Denver Pyle as Bailey
William Tennant as Bob Wilson
Dick Wessel as Higgins
"Widow in White" Episode: #2.33 – 13 June 1961
John Smith
Rayford Barnes as Birch
Richard Coogan as Sheriff
Ross Elliott as Collins
Sue England as Sheila Dawson
Ben Johnson as Tarp
George Keymas as Stover
Ed Prentiss as Bailey
Season 3
"Dragon at the Door" Episode: #3.1 – 26 September 1961
Robert Kino as Tomomi
Anita Loos
Nobu McCarthy as Haru
Ed Nelson
Larry Perron
Teru Shimada as Kami
K.L. Smith
"Ladies Day" Episode: #3.2 – 3 October 1961
Introduces Daisy
James Anderson
William Bryant
Norman Leavitt
Jock Mahoney
Carl Benton Reid
Gloria Talbott as Sally Malone
Eddy Waller
"Siege at Jubilee" Episode: #3.3 – 10 October 1961
Robert Fuller
Percy Helton as Frazer
L.Q. Jones as Truk
Ruta Lee as Opal
Lin McCarthy as Hobey Devon
Denver Pyle
Ted de Corsia as Witmore
"The Mountain Men" Episode: #3.4 – 17 October 1961
John Cliff
Fred Coby
Dan Duryea as Ben Sanford
Jason Evers as Carl Sanford
Alex Viespi as John Sanford
"The Fatal Step" Episode: #3.5 – 24 October 1961
Robert Fuller
Gary Clarke as Tad Kimball
Tom Fadden
Raymond Greenleaf
Allison Hayes as Francie
Dennis Patrick as Wes Darrin
Olan Soule
Robert J. Wilke as Marshal Fletcher
"The Last Journey" Episode: #3.6 – 31 October 1961
John Smith
Mary Bishop
Rod Cameron as John Cole
Richard Davalos as Danny Hole
Sandra Knight as Mary Cole
Dani Lynn
Mort Mills as Damon Johntry
George Orrison as Brad Hartley
Gene Roth
"Deadly Is the Night" Episode: #3.7 – 7 November 1961
Robert Fuller
Olive Carey as Ma Tolliver
Don C. Harvey
Vinton Haworth
Harry Lauter as Rare Andrews
Lloyd Nolan as Matt Dyer
Charles Robinson as Bud Williams
George Wallace
Marlene Willis as Sue
"The Accusers" Episode: #3.8 – 14 November 1961
William Challee as Charlie
Charles Drake as Allen Winter
Harry Fleer
Joanne Linville as Carla Morton
Carmen Phillips as Sally
Kelly Thordsen
"Wolf Cub" Episode: #3.9 – 21 November 1961
Robert Fuller
Hardie Albright
Robert Blake as Wolf Cub
Frank DeKova as Chief Red Wolf
Arthur Hunnicutt as Earl Droody
Kenneth MacDonald as Captain Reeces
Addison Richards
"Handful of Fire" Episode: #3.10 – 5 December 1961
John Smith
Ross Elliott
Myron Healey
Foster Hood as Chief Chato
George Macready as Colonel John Barrington
Maurice Manson
John Pickard
Karen Sharpe as Madge
Herb Vigran
Doodles Weaver
"The Killer Legend" Episode: #3.11 – 12 December 1961
Robert Fuller
Pat Conway as Tom Wade
Joan Evans as Julie Wade
Dick Foran as Milt Lane
Kevin Hagen as Roy Bartell
Harry Lauter as Joe Bartell
Norman Leavitt as Freddie
Hal Smith as George
"The Jailbreakers" Episode: #3.12 – 19 December 1961
John Smith
Charles Aidman as Gil Martin
James Anderson
R.G. Armstrong as Dawson
Erin O'Brien as Gina Ross
Milicent Patrick
Jan Shepard as Gina
Frank Sully
Will Wright
"The Lawless Seven" Episode: #3.13 – 26 December 1961
Robert Fuller
Lyle Bettger as Calvin Hawks
Biff Elliot as Eliot
Jena Engstrom as Ginny Hawks
Dorothy Green as Marian Hawks
"The Perfect Gift" Episode: #3.14 – 2 January 1962
John Anderson
Pamela Curran
Lisa Gaye as Winona
Eugene Iglesias as Jacero
Russell Johnson as Wayne Cady
Michael Pate
Steve Warren as Lon Cady
"The Barefoot Kid" Episode: #3.15 – 9 January 1962
Robert Fuller
Joanna Barnes as Ruth
Rafael Campos as Juan De La O
Harry Carey Jr. as Dan Emery
Richard Coogan as Sheriff Cutter
Leonard P. Geer as Blacksmith
Oliver McGowan as Judge Craik
Henry Rowland
Mary Sinclair as Jenny
"Shadows in the Dust" Episode: #3.16 – 16 January 1962
John Smith
Francis McDonald as Gimp
Susan Oliver as Jean Lavelle
Dennis Patrick as Rolph
Ed Prentiss
Walter Sande as Sheriff
"The Runaway" Episode: #3.17 – 23 January 1962
Trevor Bardette as Ezra Watkins
Hal Baylor as Samson
James Best as Johnny Best
Barry Brooks
Jack Chaplain as Bill Watkins
Hal K. Dawson
Will Wright as Dr. Lindley
"The Confederate Express" Episode: #3.18 – 30 January 1962
James Beck as Luke Kerrigan
Don Beddoe as Doctor
Steve Brodie as Clay Kerrigan
George Cisar
Gage Clarke as Firth
Jennifer Gillespie as Tina
John Larch as Matt Grundy
Harry Dean Stanton
Peggy Webber as Martha Grundy
"The High Country" Episode: #3.19 – 6 February 1962
John Smith
Steven Barringer as Matt
Michael Forest as Dev Bardeen
Don C. Harvey as Mather
Warren J. Kemmerling
Barton MacLane as Mel Bishop
Frank Overton as Jason Duncan
Larry Perron as Clay
Anita Sands as Willow Duncan
William Wellman Jr. as Tim Bishop
"A Grave for Cully Brown" Episode: #3.20 – 13 February 1962
Robert Fuller
John Anderson as Sobey
Fred Graham
Barry Kelley as Sheriff
David McLean as Cully Brown
Karen Steele as Linda James
Karl Swenson as Bryan James
Will Wright as Doc Bigelow
"The Runt" Episode: #3.21 – 20 February 1962
John Smith
Raymond Bailey
Gregg Barton
Lane Bradford
Ben Cooper as Sandy Catlin
Sue England as Marcy Catlin
Michael Forest as Lew Catlin
Susan Hart
George Keymas as Cobey Catlin
Stacy Morgan
Leonard Nimoy as Rix Catlin
"The Dynamiters" Episode: #3.22 – 6 March 1962
Robert Fuller
Jean Allison as Sarah Hodding
Mark Andrews as Dave Boyd
Steven Barringer as Peter Hodding
Willis Bouchey as Bundy Wilcox
Robert Bray as Jim Tenney
Pamela Curran
Myron Healey
Russell Johnson as Bob Murkland
Norman Leavitt
"The Day of the Savage" Episode: #3.23 – 13 March 1962
Lane Bradford as Captain Claybourne
X. Brands
Tom Greenway
John Lupton as Glen Colton
Michael Pate as Toriano
Jay Silverheels
Boyd Stockman
Gary Vinson as Lieutenant Taylor
"Justice in a Hurry" Episode: #3.24 – 20 March 1962
John Smith
Gregg Barton
Paul Birch
Kathleen Freeman as Edna Holtzhoff
Dabbs Greer
Dal McKennon
Diana Millay
Diana Miller as Julie Keleher
Hugh Sanders as Ev Keleher
George Wallace
Robert J. Wilke as Sheriff
"The Replacement" Episode: #3.25 – 27 March 1962
Robert Fuller
Paul E. Burns
Richard Coogan as Paul Halleck
Chuck Courtney as Knute Duncan
William Fawcett
John Harmon
L.Q. Jones as Johnny Duncan
Hank Patterson
Addison Richards
Roberta Shore as Sharon Halleck
"The Turn of the Wheel" Episode: #3.26 – 3 April 1962
Henry Beckman
Lyle Bettger as Frank Mannus
Anthony Caruso as Marty
Paul Gary
Paul Geary as Billy O'Neill
Sean McClory as Gordon
Erin O'Brien as Abbey O'Neill
"Trial by Fire" Episode: #3.27 – 10 April 1962
Robert Fuller
Jason Evers as Hank
Cloris Leachman as Zoie Carter
Jan Merlin as Garth
Karl Swenson as Lars Carlson
"Fall into Darkness" Episode: #3.28 – 17 April 1962
John Smith
Rayford Barnes as Jack Frances
Jean Byron as Norma Frances
Gina Gillespie as Kathy Frances
Harry Lauter as Ben Frances
Robert J. Wilke as Bob Laird
Season 4
"Among the Missing" Episode: #4.1 – 25 September 1962
Robert Fuller
Claude Akins as Sheriff Tyler Shaw
William Boyett
William Bramley
Ivan Dixon as Jamie Davis
L.Q. Jones
Jan Merlin as Milo Gordon
Dolores Michaels as Nona
"War Hero" Episode: #4.2 – 2 October 1962
Joanna Barnes as Lucy Barton
Maurice Manson
Mort Mills as Obie Loomis
Lloyd Nolan as General George Barton
Keith Richards as Captain Winters
Herbert Rudley as Jeremy Thorne
K.L. Smith
"The Fortune Hunter" Episode: #4.3 – 9 October 1962
Parley Baer
Willis Bouchey
Carolyn Craig as Kitty McAllen
Patricia Crest
Ray Danton as Vince Jackson
Cathie Merchant
Eddy Waller
Peter Whitney as Fred McAllen
"Shadow of the Past" Episode: #4.4 – 16 October 1962
Robert Fuller
Jim Davis as Ben McKittrick
Hal K. Dawson
Ron Hayes as Carl Keefer
L.Q. Jones as Frank Keefer
Norman Leavitt
John Qualen
Andy Romano as Will Keefer
Hugh Sanders as Carewe
Jacqueline Scott as Francie
Olan Soule
"The Long Road Back" Episode: #4.5 – 23 October 1962
John Smith
Robert Adler
Edgar Buchanan as Cletus McBain
Yvonne Craig as Ginny Malone
Sol Gorss as Steeger
Jim McMullan
Gregg Palmer as Duke Walker
"Lost Allegiance" Episode: #4.6 – 30 October 1962
Robert Fuller
Lane Bradford as Ross Banister
Rod Cameron as Christy
Harry Carey Jr. as Whitey Banister
Myrna Fahey as Sharon Helford
Lee Farr as Lon
Walter Sande as Walt Helford
"The Sunday Shoot" Episode: #4.7 – 13 November 1962
John Smith
Chris Alcaide
Burt Brinckerhoff as Hobey Carson
Barry Brooks
Jena Engstrom as Nancy
William Fawcett
Charles Seel
Gregory Walcott as Rare Seton
Dan White
"Double Eagles" Episode: #4.8 – 20 November 1962
Robert Fuller
Danielle Aubry as Marie Duval
James Beck as Easy
William Bryant
Pamela Curran
Dick Foran as Joe Farley
Émile Genest as Duval
James Griffith
Stacy Harris
Russell Johnson as Al Denning
Norman Leavitt
Valora Noland
Charles Robinson as Sam Moore
George Wallace
"Beyond Justice" Episode: #4.9 – 27 November 1962
John Smith
Lyle Bettger as Leland Emory
Kathie Browne as Phyllis Wynn
Fred Coby as Ed Rigby
Margaret Hamilton
Myron Healey
Brian G. Hutton
David McLean as Steven Collier
Jim McMullan
"Bad Blood" Episode: #4.10 – 4 December 1962
Robert Fuller
John Anderson as Leo McCall
Steven Barringer as Skip
Lew Brown
Jean Byron as Annie Whitaker
Barry Cahill
Leonard P. Geer
Joe Haworth
Jan Shepard
Brad Weston
"Time of the Traitor" Episode: #4.11 – 11 December 1962
John Smith
R.G. Armstrong as Vic Prescott
Lew Ayres as Dr. Samuel Mudd
Lane Bradford as Manton
Harry Carey Jr. as Hobey
Paul Carr as Steve Prescott
William Fawcett as Josh
Don C. Harvey as Colie
Anne Whitfield as Miller
"Gun Duel" Episode: #4.12 – 25 December 1962
Robert Fuller
Ben Cooper as Johnny Hartley
Richard Devon as Del Shamley
Jack Elam
DeForest Kelley as Bart Collins
Gail Kobe
Dal McKennon
Nick Nicholson as Ray Vincent
Ed Prentiss
Olan Soule
Carole Wells
"Naked Steel" Episode: #4.13 – 1 January 1963
John Smith
James Beck as Lee Christy
Gage Clarke as Jenks
Robert Cornthwaite as Heron
John Doucette as Sheriff Tate
Charles Maxwell as McKeever
Joan Swift as Saloon Girl
Harlan Warde as Mat Christy
"Vengeance" Episode: #4.14 – 8 January 1963
Robert Fuller
John Milford as Joe Morgan
Denver Pyle as Al Morgan
Fay Spain as Gladys
Lee Van Cleef
"Protective Custody" Episode: #4.15 – 15 January 1963
John Smith
David Brian as Walt Douglas
Ron Hayes as Cass
Gregory Walcott as Willard
"The Betrayers" Episode: #4.16 – 22 January 1963
Robert Fuller
Kathie Browne as Lorrie
Don Kennedy as Deputy
Dennis Patrick as Ray Thatcher
Adam West as Kett Darby
"The Wedding Party" Episode: #4.17 – 29 January 1963
John Smith
Russ Bender as Red Wheeler
William Boyett as Pike
Chuck Courtney
Ron Foster as Lee Taylor
Barton MacLane as Ed Bishop
Ed Nelson as Gil Harrison
Barbara Parkins as Marilee Bishop
Jacqueline Scott as Stacey
"No Place to Run" Episode: #4.18 – 5 February 1963
Robert Fuller
Ellen Burstyn
Richard Coogan
Tom Skerritt
"The Fugitives" Episode: #4.19 – 12 February 1963
Robert Fuller
Phyllis Avery as Myra
Hal Baylor as Hub
Mark Dana as Doan
Jan Merlin as Joel Greevy
"The Dispossessed" Episode: #4.20 – 19 February 1963
Robert Bray as Luke
Jim Davis
Michael Forest as Cobey
Bennye Gatteys as Ellen
Arthur Hunnicutt as Sam Dillard
Gail Kobe as Madge
Carl Reindel as Cass
Richard Shannon as Prentice
"The Renegade Brand" Episode: #4.21 – 26 February 1963
John Smith
Roy Barcroft
Kevin Hagen
Ken Lynch as Tindall
Jeanette Nolan as Ellen McGovern
"The Violent Ones" Episode: #4.22 – 5 March 1963
Robert Fuller
James Anderson as Benson
John Anderson as Bob Blayne
Paul Carr as Bill Blayne
Dawn Wells as Millie
"The Unvanquished" Episode: #4.23 – 12 March 1963
John Smith
Frank DeKova as Tah-sa
Jock Gaynor as Giamo
"The Sometime Gambler" Episode: #4.24 – 19 March 1963
Michael Forest as Wilkerson
James Gregory as Richards
Jacqueline Scott as Ellen
"Edge of Evil" Episode: #4.25 – 2 April 1963
Robert Fuller
Alan Hale Jr. as Roger Canby
Ron Harper as Stede Rhodes
Harry Lauter as Bert Lewis
Quinn K. Redeker as Jack Lewis
"Broken Honor" Episode: #4.26 – 9 April 1963
Robert Fuller
Richard Bakalyan as Mel Doleman
Don 'Red' Barry as Dave Byrnie
Rod Cameron as Roy Halloran
Vinton Haworth as Art Potter
Peggy McCay as Martha Halloran
Ron Soble
"The Last Battleground" Episode: #4.27 – 16 April 1963
John Hoyt as Major John Ellis
Brett King as Hall
Robert Knapp as Gibbs
Frank Overton as James Courtland
Dee Pollock as Will Courtland
Marshall Reed
"The Stranger" Episode: #4.28 – 23 April 1963
Geraldine Brooks as Lorena Carver
L.Q. Jones as Sergeant
Dewey Martin as Vanton Madox
Scott McCartor as Carl
Ed Prentiss as Doc
Karl Swenson as Emikl Viktor
Lee Van Cleef as Caleb
"The Marshals" Episode: #4.29 – 30 April 1963
Robert Fuller
William Bryant as Reb Carlton
Reginald Gardiner as Patches
David McLean as Branch McGary
Dennis Patrick as Vern Buckner
John Pickard
Ed Prentiss
Robert J. Wilke as Clint Buckner
"Badge of Glory" Episode: #4.30 – 7 May 1963
Lin McCarthy as John Holby
Jo Morrow as Helen
Gregg Palmer as Chuck Logan
"Trapped" Episode: #4.31 – 14 May 1963
John Smith
Claude Akins as Walker
Jim Davis as Genoway
Joan Freeman as Nina Richards
James Kline as Mills
Paul Lukather as Park
Barton MacLane as Owen Richards
Tommy Sands as Tad Henderson
"The Road to Helena" Episode: #4.32 – 21 May 1963
John Smith
Robert Colbert as Ross
Henry Hull as David Franklin
John Pickard as Bradford
Maggie Pierce as Ruth Franklin