Buy LASSIE on DVD
50th Television Anniversary Edition
Also: Flight of the Cougar (1967)
Lassie's Gift Of Love,
The Best Of The Lassie Show
Lassie
9/12/1954 – 9/12/1971 CBS
1971-1974 Syndicated
Black and White/Color – 30 minutes
From the Eric M. Knight book
Cast
Tommy Rettig as Jeff Miller (1954-1957)
Jan Clayton as Ellen Miller (1954-57)
George Cleveland as George (Gramps) Miller (1954-57)
Jon Provost as Timmy Martin
Cloris Leachman as Ruth Martin (1957-58)
Jon Shepodd as Paul Martin (1957-1958)
June Lockhart as Ruth Martin (1958-64)
Hugh Reilly as Paul Martin (1958-1964)
George Chandler as Uncle Petrie (1957-64)
Arthur Space as Doc Weaver (1954-1964)
Robert Bray as Corey Stuart (1964-1968)
Jack De Mave as Bob Erickson (1968-1969)
Jed Allan as Scott Turner (1968-1970)
Theme Song
"Whistle" by Les Baxter

Theme from Lassie (1967)
Tidbits
I'm amazed that Lassie pulled off those weekly feats of derring-do. How confusing it must have been. First, they kept calling "Lassie, come here, girl" when the dog was, in fact, a male. Actually, six of them all trained by Rudd Weatherwax.
Then, just when Lassie would get used to one family's little quirks, along would come another. Only Doc Weaver (Arthur Space) and Lassie survived from one family to the next.
The first family was Jeff Miller (Tommy Rettig), his widowed mother Ellen Miller (Jan Clayton) and Gramps (George Cleveland.)
The Millers moved to the city and left her (him) with his second family. Timmy (Jon Provost) as Timmy Martin must have been as confused as Lassie because after the first year, his parents morphed from Cloris Leachman to June Lockhart as Ruth Martin, and Jon Shepodd to Hugh Reilly as Paul Martin.
Then, the Martins moved to Australia where they quarantine dogs entering the country. So Lassie lives with a couple of forest rangers. Now off the farm he has a broader base of people to save and in the final seasons, he didn't need an owner at all. Hey, he never did.
Passings
George Cleveland died in 1957 of a heart attack, Jan Clayton died in 1983 of cancer, Robert Bray in 1983 of a heart attack, Arthur Space in 1983 of cancer, George Chandler in 1985 of cancer, Tommy Rettig in 1996, and Hugh Reilly in 1998 of emphysema.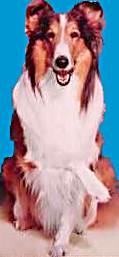 Lassie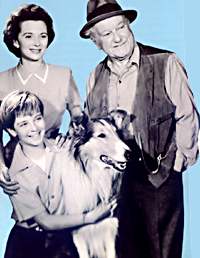 Tommy Rettig, Jan Clayton, George Clevand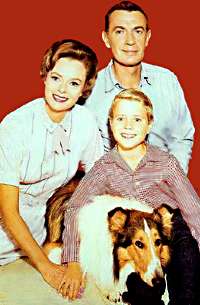 June Lockhart, Hugh Reilly,
Jon Provost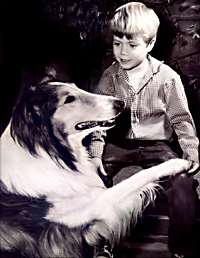 Jon Provost
---
External Links
TV Guide's Lassie Page, with TV Listings, Photos, Videos, Exclusive News and More.