Buy Rowan & Martin's Laugh-In on DVD
The Sock-It-To-Me Collection; Look That Up in Your Funk & Wagnalls
The Sock It To Me Collection – Drop Your Socks & Grab Your Pencils
The Sock-It-To-Me Collection: You Bet Your Bippy
The Best of Rowan & Martin's Laugh-In
---
Rowan & Martin's Laugh-In
January 22, 1968 – May 14, 1973, 140, one hour, episodes on NBC (6 seasons) in color
produced by : George Schlatter, Paul W. Keyes and Carolyn Raskin
produced at: NBC Studios, Burbank, California
CAST
Dan Rowan — Host
Dick Martin — Host
Ruth Buzzi — Host & Regular
Gary Owens — Announcer
List of Regular Comedic Performers
Judy Carne (1968-1970)
Eileen Brennan (1968)
Goldie Hawn (1968-1970)
Arte Johnson (1968-1971)
Henry Gibson (1968-1971)
Roddy-Maude Roxby (1968)
Jo Anne Worley (1968-1970)
Larry Hovis (1968, 1971-1972)
Pigmeat Markham (1968-1969)
Charlie Brill (1968-1969)
Dick Whittington (1968-1969)
Mitzi McCall (1968-1969)
Chelsea Brown (1968-1969)
Alan Sues (1968-1972)
Dave Madden (1968-1969)
Teresa Graves (1969-1970)
Jeremy Lloyd (1969-1970)
Pamela Rodgers (1969-1970)
Byron Gilliam (1969-1970)
Ann Elder (1970-1972)
Lily Tomlin (1970-1973)
Johnny Brown (1970-1972)
Dennis Allen (1970-1973)
Nancy Phillips (1970-1971)
Barbara Sharma (1970-1972)
Harvey Jason (1970-1971)
Richard Dawson (1971-1973)
Moosie Drier (1971-1973)
in 1972 most of the cast were new to the show
Patti Deutsch (1972-1973)
Jud Strunk (1972-1973)
Brian Bressler (1972-1973)
Sarah Kennedy (1972-1973)
Donna Jean Young (1972-1973)
Tod Bass (1972-1973)
Lisa Farringer (1972-1973)
Willie Tyler & Lester (1972-l973)
(of the 40 or so regulars who appeared in the series only four cast members were in it from beginning to end, Rowan, Martin, Ruth Buzzi and the announcer Gary Owens)
Opening Theme
Written and conducted by: Ian Bernard
who also wrote most of the music for the shows various skits
THE STORY
Laugh-In was a rapid fire sketch comedy show that featured mini vignette style skits interspersed with one liners and site gags in a totally random non-traditional format.
It combined many elements found in vaudeville with a 1960s-style slogan type one liners. The country was used to protests and counter culture sound bytes so incorporating it into a new form of humor was the right move at the right time. Drawing its name from the sit-ins and love-ins of the day Laugh-In became the number one show in its second season and remained there for 3 years.
The co-hosts Dick Martin and Dan Rowan continued their successful nightclub routine where Rowan was the straight man and Martin played the dumb yet affable sidekick. At the end of every show, Rowan would say to Dick Martin, "Say good night, Dick", to which Martin would reply, "Good night, Dick!" This was of course "borrowed" from the closing of the George Burns Show with Gracie Allen.
Jokes would often continue past the end of the show right into the credits and applause would die down to a single person clapping which was the sound of producer George Schlatter applauding that episode.
Some of the comedic devices of the show were the Cocktail Party, Letters to Laugh-In, The Flying Fickle Finger of Fate Award, Laugh-In Looks at the News, jokes written on the undulating body of a girl in a bikini, and the joke wall in which cast members kept popping out of windows to throw each other one-liners–or a bucket of water.
Laugh-In inspired shows like Hee-Haw, Monty Python's Flying Circus, Sesame Street, The Gong Show and even Lorne Michaels Saturday Night Live (Michaels was a writer on Laugh-In).
Catch phrases from the show became standards with some like "Ohhh, I'll drink to that" ,"Here come de judge!"or the perennial favorite "Sock it to me" are still in use today.
Video Clip of Rowan & Martin's Laugh-In
Passings
Dan Rowan died of lymphoma in 1987 he was 65,
Dick Martin passed away in 2008 of breathing complications, he was 86
Gary Owens died of complications from diabetes in 2015, he was 80
Henry Gibson died at 73 of cancer in 2009,
Larry Hovis died in 2003 of esophageal cancer, he was 67
Pigmeat Markham passed in 1987 of a stroke he was 77,
Alan Sues died of a heart attack in 2011, he was 85
Teresa Graves died in 2002 of smoke inhalation from a house fire, she was 54,
Richard Dawson passed in 2012 of esophageal cancer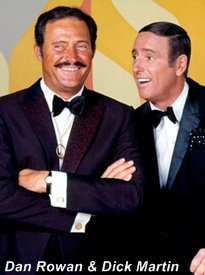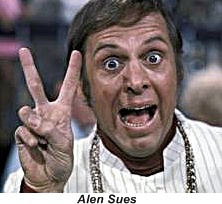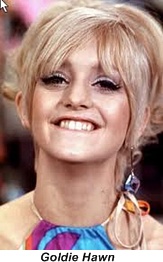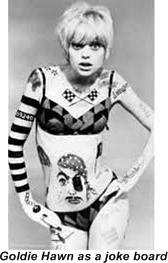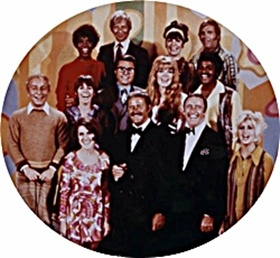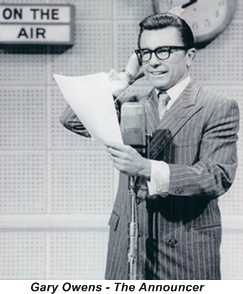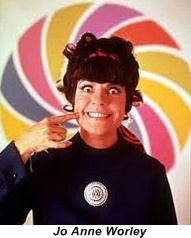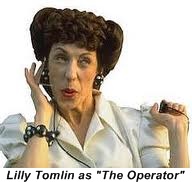 TRIVIA:
Memorable Phrases
"Sock it to me"
"Here come de judge!,"
"The flying, fickle finger of fate"
"Verrry interesting"
"The devil made me do it".
"Easy for you to say!"
"Look that up in your Funk and Wagnalls!
"You bet your sweet bippy!"
"Blow in my ear and I'll follow you anywhere"
"Is that a chicken joke?"
"Have I reached the party to whom I am speaking?"
"One ringy-dingy..two ringy-dingies.."
"Beautiful downtown Burbank"