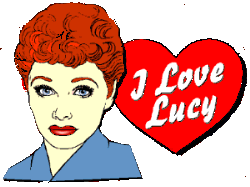 I Love Lucy
HAPPY BIRTHDAY LUCY
August 06, 2020 Lucy would be 109 Years Old
---
---
I Love Lucy
10/15/1951 – 6/24/1957 CBS 30 minutes
B&W – 179 episodes
Based in part on the radio show "My Favorite Husband"
The Lucy-Desi Comedy Hour
11/6/1957 – 4/1/1960 CBS 60 minutes
Lucy in Connecticut
4/3/1960 – 11/25/1960 CBS 30 minutes
Retitled stories of Lucy and Desi in their home in Westport, Connecticut
I Love Lucy Cast
Lucille Ball as Lucy (MacGillicuddy) Ricardo
Desi Arnaz as Ricky Ricardo
Vivian Vance as Ethel Mertz
William Frawley as Fred Mertz
Little Ricky :
(1953) Richard and Ronald Simmons
(1954-56) Michael and Joseph Mayer
(1956-57) Keith Thibodeaux
Jerry Hausner as Jerry, the agent (1951-1954)
Elizabeth Patterson as Mrs. Mathilda Trumbull (1953-1956)
Doris Singleton as Caroline Appleby (1953-1957)
Kathryn Card as Mrs. MacGillicuddy (1955-1956)
Mary Jane Croft as Betty Ramsey (1957)
Frank Nelson as Ralph Ramsey (1957)
I Love Lucy Theme Song
"I Love Lucy" by Harold Adamson and Eliot Daniel
"I love Lucy and she loves me
We're as happy as two can be
Sometimes we quarrel but then
How we love making up again
Lucy kisses like no one can
She's my Mrs. and I'm her man
And life is heaven you see
'Cause I love Lucy
Yes I love Lucy
And Lucy loves me! "
I Love Lucy Tidbits
Lucille Ball was a pathfinder who paved the way for all the women in TV to follow. Without Lucy, arguably, there might not have been a Carol Burnett or Mary Tyler Moore.
She proved women could be the leads and carry a show. Not one show, but several.
She was the first female head of a studio. While running Desilu, her willingness to take a risk lead her to approve production of Mission Impossible and Star Trek. That's right, without Lucille Ball, no Captain Kirk.
She was a woman who didn't mind looking funny, as long as she WAS funny.
None of which takes away from Desi Arnaz's estimable talents as a producer. His "can do" attitude made the "I Love Lucy Show" work. He innovated the three camera filming format still in use today. Previously, shows like this were performed before a live audience and preserved on kinescope which makes poor copies. Desi's filiming of Lucy is the reason there are great copies today.
For the "I Love Lucy Show" the casting of William Frawley and the then unknown Vivian Vance was sheer genius. Although Vance was often unhappy to be playing the frumpy wife of a man who was 22 years her senior, she would stick with Lucille Ball into the "Lucille Ball Show" and "Here's Lucy."
Passings
William Frawley died in 1966 of a heart attack, Vivian Vance in 1979 of breast and bone cancer, Desi Arnaz in 1986 of lung cancer, and Lucille Ball in 1989 of an acute rupture of the abdominal aorta.
Lucille Ball's second husband, Gary Morton, died in 1999 of lung cancer.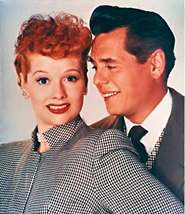 Lucille Ball and Desi Arnaz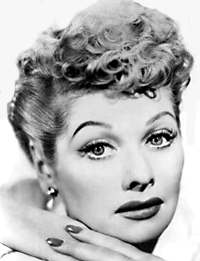 Lucille Ball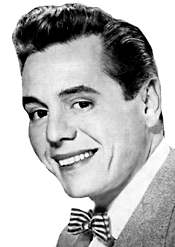 Desi Arnaz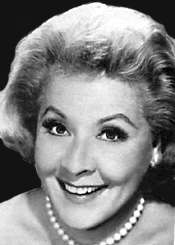 Vivian Vance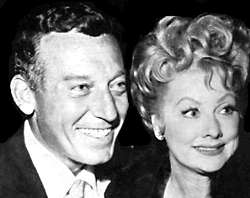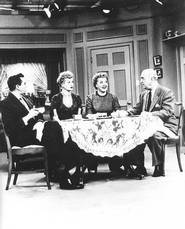 Gary Morton and Lucille Ball
Married from November 1961 until her death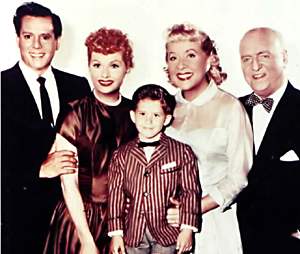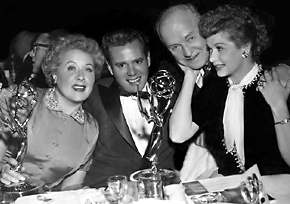 Vivian Vance, Desi Arnaz,
William Frawley and Lucille Ball
I Love Lucy Trivia
Emmys
See picture at leftBest Situation Comedy – 1952,1953Best Comedienne – Lucille Ball – 1952Best Series Supporting Actress
Vivian Vance – 1953Best Actress, Continuing Performance
Lucille Ball – 1955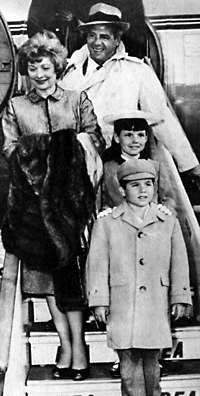 Lucille Ball, Desi Arnaz,
Lucie Arnaz, Desi Arnaz Jr.Part of the "I Love Lucy" success was the real relationship between Lucille Ball and Desi Arnaz. The love showed. While Lucy always has some splainin' to do for her antics, he always forgave her.
The show ran in a period of TV history when married people slept in separate beds which would explain why on TV, women didn't get "pregnant." Expecting, maybe. So when Lucille Ball became pregnant with her second child in 1952, the network felt the morning sickness. They worried about ratings. They worried about sponsors. But Lucy fought for and won the right to do "pregnant stories."
The result? Some 54 million people turned in on January 19, 1953 to watch the episode "Lucy Goes to the Hospital" when Lucy would deliver. In an odd bit of coincidence, the show aired on the same day that Lucille Ball actually delivered Desiderio Alberto Arnaz IV.
Sadly, the strain on the marriage was too much. Arnaz had a problem with booze and women and evidentually Lucy left him. They divorced in 1960. She bought out his shares of Desilu.
Yet Lucille Ball was a survivor and work was her salvation. The networks doubted she could carry a show on her own. They were wrong. She forged ahead with "The Lucille Ball Show" (1962-1968), "Here's Lucy" (1968-1974) and short-lived "Life With Lucy" (1968).
I Love Lucy Trivia
Favorite Episodes
"The Ballet"
1st Season DVD
2/18/52
Contortions at the ballet bar
"The Freezer"
1st Season DVD
4/28/52
Stuck in the freezer in the basement
"Lucy Does a TV Commercial"
1st Season DVD
5/5/1952
The Vitameatavegamin story
"Job Switching"
2nd Season DVD
9/15/52
The candy factory story
"Lucy Tells the Truth"
3rd Season DVD
11/9/1953
Knife throwing story
"Lucy's Italian Movie"
5th Season DVD
4/16/56
The grape-stomping story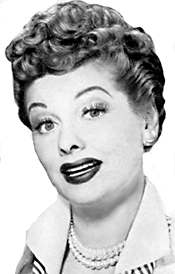 Lucille Ball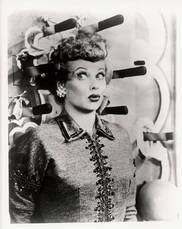 "Lucy Tells the Truth"
3rd Season DVD
11/9/1953
I Love Lucy Season 4 Gallery and Review
10/15/1951 – 6/24/1957
CBS 30 minutes
B&W – 179 episodes
To celebrate the release of I Love Lucy's 4th Season, we have some pictures to help you remember that special year."Harpo Marx" Lucy has told Carolyn Appleby she knows big name stars!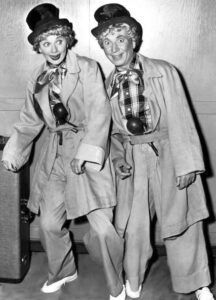 (Click for Larger View)
"L.A. at Last" (With Eve Arden and William Holden) Gawking at stars at the Brown Derby restaurant. Many consider this to be the best Lucy episode of all.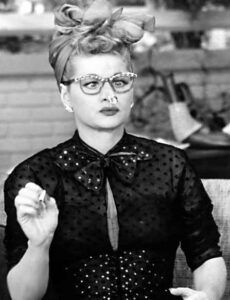 (Click for Larger View)
"Lucy Cries Wolf" Lucy lies to Ricky about a burglar being in the apt.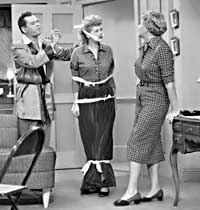 "Mr. & Mrs. TV Show" Lucy tried to get into Ricky's "at-home" TV show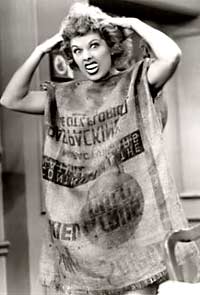 "Ethel's Birthday" Ethel is always disappointed in Fred's birthday gifts, so he asks for Lucy's help. Which makes things worse.
"Ricky's Movie Offer" Ricky gets the chance to auditon for a movie – and everybody wants to be a star. This begins the Hollywood saga.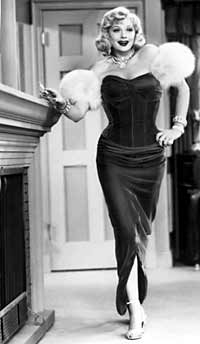 "Getting Ready" Lucy and Ricky are less than thrilled about the car Fred got for the trip.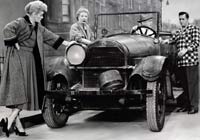 "Ethel's Home Town" Ethel is popular in her hometown of Albuquerque, New Mexico due to a stretch of the truth. And Lucy, Ricky and Fred want some payback.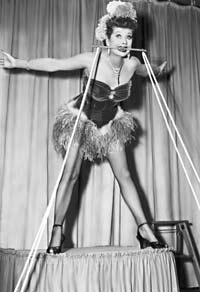 "Lucy Gets in Pictures" Lucy is not very graceful as an MGM showgirl.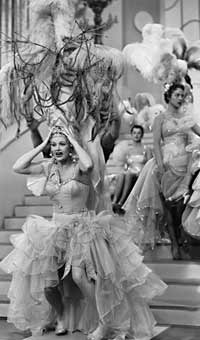 "Hedda Hopper Story"(With Hedda Hopper) The big plan to get Ricky publicity from mega columnist Hedda Hopper hits a few snags.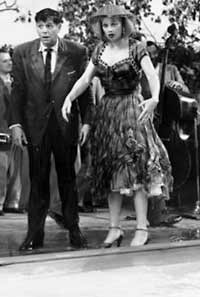 "The Tour" (With Richard Widmark) Ethel and Lucy take a tour of movie star homes and end up at Richard Widmark's house.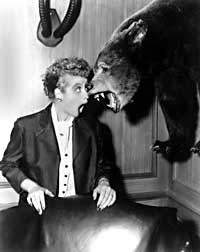 4th Season TriviaDid You Know?
The episode "L.A. at Last" (picture right) was considered by Jack Benny to be such a good example of comedy perfectly executed that he arranged for his own writing staff to see it in a special screening at Desilu Studios?
This is the one where Lucy embarrasses herself (and Ethel!) by dumping a dessert tray on William Holden at the Brown Derby Restaurant. Later, when Ricky says Holden is coming by for a visit, Lucy tries to disguise herself, burning her fake nose in the process.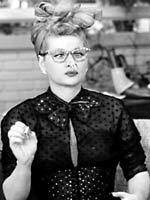 I Love Lucy Complete 4th Season DVD Review
"California, Here We Come!" This is the year that Lucy, Ricky, Fred and Ethel head west so Ricky can be in the movie "Don Juan." Many consider this the best year for I Love Lucy and certainly some of the most memorable episodes ever involve Lucy and her quest to meet movie stars.
What's amazing is how well these shows hold up even after forty years. The gags still work, even though I've seen them all before. It is especially nice to see them digitally remastered and restored. They look much better than they did "back in the day" because they can be viewed off a DVD on a much superior TV! And the difference between these and the syndication versions is like night and day. How nice to have all those little bits clipped for cable restored.
Season 4 is full of Fifties movie star power. Guests included William Holden, Eve Arden, Harpo Marx, Richard Widmark, Cornel Wilde, Rock Hudson, Van Johnson, Hedda Hopper, Ernie Ford, and Sheila MacRae.
A great deal of care and respect has gone into this compilation. Attention to the original makes this set a fan's dream. It includes the original openings and closing. Did you know that the heart on satin Lucy logo we are all so familiar with never appeared in the original? It was created for the reruns.
I find myself devouring the Special Features for all the inside scoop on the episodes. They include flubs, production notes and a behind-the-scenes audio featurette. You also get 5 complete episodes of Lucy's radio show: My Favorite Husband from which the I Love Lucy show derives.
There are Spanish sub-titles and Spanish audio is available on most episodes.
If you are going to buy one set of Lucy on DVD, the 4th Season is the one to get.
Click to Buy
The Complete 4th Season