Buy MacGyver Seasons
Complete 1st Season
Complete 2nd Season
Complete 3rd Season
Complete 4th Season
Complete 5th Season
Complete 6th Season
Complete Final Season
Complete Series
MacGyver
Created by: Lee David Zlotoff
Executive Producers:
Henry Winkler, John Rich, and Stephen Downing
Supervising Producer:
Michael Greenburg
September 29, 1985 – August 8, 1992
ABC Paramount
139 episodes, 60 minutes
Color
MacGyver Show Cast
Richard Dean Anderson as Angus MacGyver
Dana Elcar as Peter Thornton
Also:
John Anderson as Harry Jackson (1985-1990)
Teri Hatcher as Penny Parker (1986-1990)
Bruce McGill as Jack Dalton (1986-1992)
Michael Des Barres as Murdoc (1987-1991)
Elyssa Davalos as Nikki Carpenter
Theme From MacGyver
Composed by Randy Edelman
MacGyver Tidbits – Duct Tape Central
What was especially endearing about MacGyver was his ingenuity. That guy could disarm a nuclear warhead with a paper clip. Although he was always in dangerous situations, his abhorrence of violence impelled him to use his brains instead of weapons to get out of sticky situations.
Starting in the 11th episode, MacGyver worked for DXS (Department of External Services) which was like a CIA type organization. It isn't until 1987 that Pete and MacGvyer move to the Phoenix Foundation.
There wasn't much MacGyver couldn't do with either his trusty Swiss Army knife or the ever present roll of duct tape. A ball point pen could serve a myriad of functions. MacGyver's ability to improvise came to be known in the vernacular as "to MacGyver" and the rigged inventions as "MacGyverisms."
MacGyver's friend and boss was Peter Thorton played by Dana Elcar. In 1991 when Elcar was going blind due to glaucoma, they wrote the illness into the storyline.
There were some fun recurring characters. Long before she moved to Wisteria Lane, Teri Hatcher played Penny Parker. Bruce McGill played the hapless Jack Dalton. Michael Des Barres as Murdoc was MacGyver's evil nemesis.
MacGyver never used his first name. Folks called him Mac. It wasn't revealed untilt the seventh and final season in a 2 parter called "Good Knight MacGyver." Angus. His name was Angus.
Passings
Dana Elcar died in June of 2005.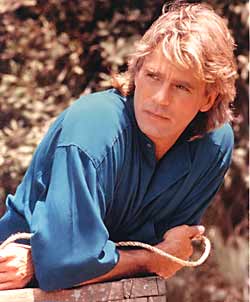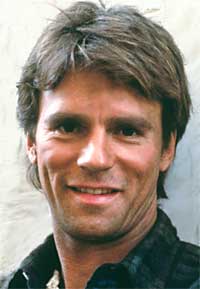 Richard Dean Anderson
As MacGyver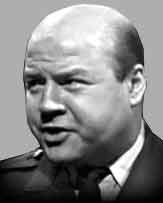 Dana Elcar
As Pete Thorton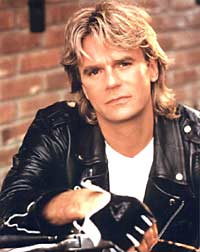 Richard Dean Anderson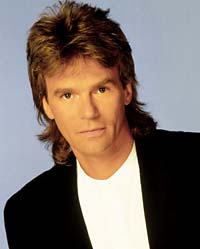 Richard Dean Anderson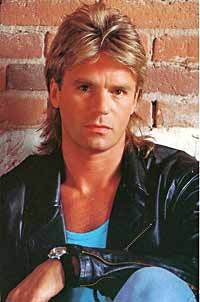 Richard Dean Anderson
---
For More Info:
TV Guide's MacGyver Page, with TV Listings, Photos, Videos, Exclusive News and More.
MacGyver Season 1 Gallery
These pictures from the first season of MacGyver.
TM, ® & Copyright © 2005 by Paramount Pictures. All Rights Reserved.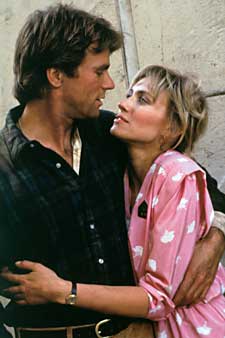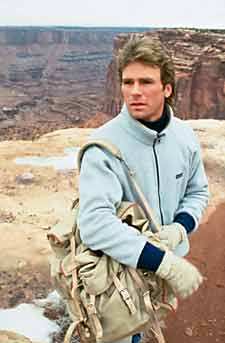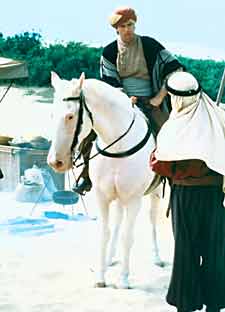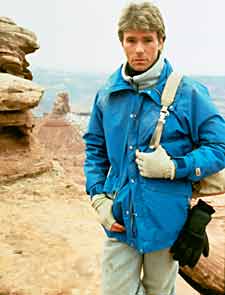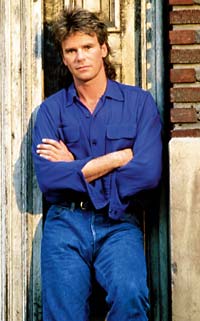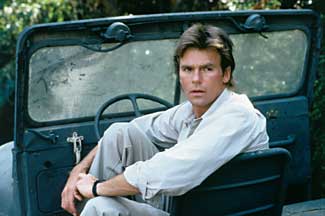 By Season 4, MacGyver had reached its stride. We were comfortable with the formula and the show delivered.
We welcome the return of fan favorite guest stars. Two appearances by Teri Hatcher as Penny Parker, first on "The Secret of Parker House" in which she drags Mac to a haunted house. In "Cleo Rocks" we have both Penny and MacGyver nemesis Murdoc, played by Michael Des Barres.
Jack Dalton, played by veteran actor Bruce McGill is around to make MacGyver nuts. "On a Wing and a Prayer", has Mac and Jack rescuing Pete Thorton and a nun from Central American rebels. Of course, Jack has unique ideas about this. "Ma Dalton" has them searching for Jack's mother and in "Brainwashed" Jack has been programmed to kill. The season finale, a clip show, has Mac, Pete and Jack searching for gold and reminiscing.
Look for G. Gordon Liddy in "Collision Course" and a young Cuba Gooding Jr. in "The Challenge."
Perhaps the best episode of the season is "Blood Brothers." This a rare look at MacGyver's backstory. Here we learn why MacGyver hates guns as he returns home to confront some childhood demons.
For fans, yes, this is a mullet season. Back in the day, it was cool. Short hair in front, long hair in back.
Regettably, there are no Special Features. Richard Dean Anderson doesn't DO commentary evidently.
Click to Buy
MacGyver: The Complete 4th Season