Buy Magnum P.I. on DVD
Complete 1st Season
Complete 2nd Season
Complete 3rd Season
Complete 4th Season
Complete 5th Season
Complete 6th Season
Complete 7th Season
Complete 8th Season
The Complete Series
Magnum P.I.
12/11/1980 – 9/12/1988
CBS 60 minutes
Color – 164 episodes
Created by:
Donald P. Bellisario and Glen A. Larson
Magnum P.I. Cast
Tom Selleck as Thomas Sullivan Magnum III
John Hillerman as Jonathan Quayle Higgins III
Roger E. Mosley as Theodore 'TC' Calvin
Larry Manetti as Orville 'Rick' Wright
Also:
Orson Welles (voice) as Robin Masters (1980-1985)
Gillian Dobb as Agatha Chumley
Kwan Hi Lim as Police Lt. Yoshi Tanaka
Jeff MacKay as Lt. 'Mac' MacReynolds, USN
Kathleen Lloyd as Assistant District Attorney Carol Baldwin
Jean Bruce Scott as Lt. Maggie Poole USN
Elisha Cook Jr. as Ice Pick
Magnum P.I. Theme
Mike Post and Pete Carpenter
Magnum P.I. Tidbits
Thomas Magnum (Tom Selleck) lived on Robin's Nest, the estate of acclaimed writer Robin Masters, who was never seen and only heard. Ostensibly to provide security, Magnum lived in the guest house and got to drive the red Ferrari 308 GTS. He was a Private Investigator, not a P.I., as he liked to remind people.
This was a constant annoyance to the major domo of the estate, the very proper Jonathan Quayle Higgins III (John Hillerman). Higgins had been a Sergeant Major in Her Majesty's Army. He was forever working on his "memoirs." Magnum's very casual approach to life was frustrating to the conservative Higgins, who was often heard to exclaim "Oh My God." But although there was much sparring, the audience always knew there was also a lot of respect between the men.
Two more lived at Robin's Nest. Apollo and Zeus, Higgins' magnificent Dobermans, who he always referred to as "The Lads." (Higgins was always instructing, "Apollo! Zeus! Patrol!")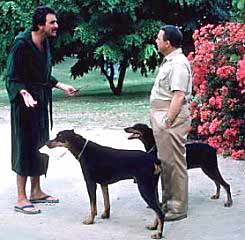 Tom Selleck and John Hillerman
With Apollo and Zeus, "The Lads"
Magnum, an Anapolis graduate, was a Viet Nam vet who left the Navy to become a private investigator. Two of his old Navy buddies lived in Hawaii as well. Orville "Rick" Wright (Larry Manetti) was the manager of the exclusive King Kamehameha Club, where Higgins was a board member. Rick had some connections with the mob as he was close to a big hood named "Ice Pick."
The other war buddy was Theodore "TC" Calvin (Roger E. Mosely). TC owned the Island Hoppers helicopter service. Magnum was always putting the touch on TC for free use of his chopper. TC always referred to Higgins as "Higgy Baby".
Visit For More Info:
TV Guide's Magnum P.I. Page, with TV Listings, Photos, Videos, Exclusive News and More.
Passings:
John Hillerman passed away in 2017, he was 84
Roger E. Mosley died in 2022 after a car accident at 83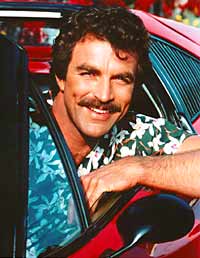 Tom Selleck
As Thomas Magnum, P.I.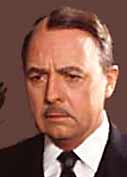 John Hillerman
As Jonathan Quayle Higgins III
Magnum P.I. Trivia
Did you know that John Hillerman is a Texan? Born in Denison, TX in 1932 and attended the University of Texas at Austin.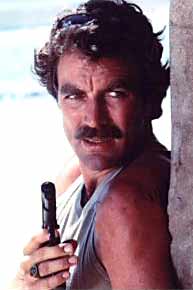 Tom Selleck
As Thomas Magnum, P.I.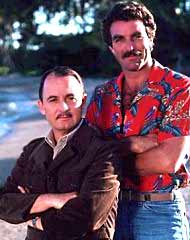 John Hillerman and Tom Selleck
Magnum P.I. Trivia
Magnum often wore a Detroit Tigers baseball cap. It was explained that his Grandfather made him a big fan. Actually, Tom Selleck is from Detroit.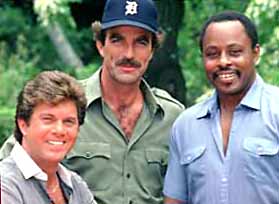 Larry Manetti, Tom Selleck, Roger E. Mosely
As Rick, Magnum and TC
Intro to Magnum P.I.

Tom Selleck and Ferrari 308 GTS
Actually, 3 models were used:1979 308 GTS, 1981 308 GTSi, 1984 308 GTS QV . They had to be modified for the very tall Selleck. Padding was removed from the seats so he would sit lower. The seat was bolted as far away from the steering wheel as possible to provide more room. And think about it, you rarely saw Magnum driving with the top on.
Magnum P.I. Trivia – Robin's Nest
Yes, the estate really exists! On Kalania'ole Highway (Road 72) at Waimanalo Beach. Although the interiors were all shot in a studio, the exteriors – main house, guest house, tennis court – they are all there. The tidal pool is real too. It was originally built to nuture sea turtles. Though the estate is privately owned by Mrs. Anderson, the beach can be reached by simply walking there.
Tom Selleck in Magnum P.I.