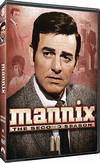 Mannix
Season 2 (1968)


Mannix
Season 3 (1969)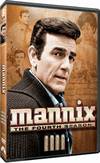 Mannix
Season 4 (1970)
Buy Mannix on DVD
Complete 1st Season (1967)
Complete 2nd Season (1968)
Complete 3rd Season (1969)
Complete 4th Season (1970)
Complete 5th Season (1971)
Complete 6th Season (1972)
Complete 7th Season (1973)
Complete 8th (Final)Season (1974)
Mannix
September 07, 1967 through April 10, 1975 on CBS
194 episodes all in color
Created by Richard Levinson, William Link
Produced by Desilu Productions and Paramount Television
Filmed at Paramount Studios, Hollywood, CA
CAST
Mike Connors … Joe Mannix
Gail Fisher … Peggy Fair
Ward Wood … Lt. Art Malcolm
Joseph Campanella … Lew Wickersham (24 episodes)
THE PLOT
"Mannix" followed the adventures of L.A. private eye Joe Mannix,
who first worked for a detective agency known as Intertect, which relied heavily on computers and a large network of operatives.
In the second season, Mannix opened his own agency, with police widow Peggy Fair working for him as his secretary.
Considered one of the most violent television series of its era each episode featured plenty of fistfights, car chases and shootouts.
During the course of the series Mannix is shot and wounded over a dozen separate times, he is knocked unconscious about 55 times.
During filming Connors actually breaks a wrist on one occasion and dislocates his sholder on another.
THE CARS
One of the more interesting aspects of Connors involvement with the show was his love of muscle cars was shared by his Mannix character.
Season 1 – 1967 Oldsmobile Toronado (it was "customized" by George Barris, builder of TV's Batmobile)
Season 2 – 1968 Dodge Dart GTS 340 convertible (also "customized by George Barris)
Season 3 – 1969 Dodge Dart GTS 340 convertible (a replica of the '68) (the actual '68 was used in a lot of "69 episodes)
Season 4 – 1970 Plymouth Cuda 340 convertible
Season 5 – 1971 Plymouth Cuda 340 convertible
Season 6 – 1973 Plymouth Cuda 340 convertible (actually the '71 car updated with 1973 grille, headlamps, fenders and tail lights)
Season 7 – 1974 Dodge Challenger 360 Coupe
Season 8 – Chevrolet Camaro LT
Passings:
Gail Fisher died in 2000 of renal failure, she was 65
Mike Connors died of leukemia in 2017, he was 91
Joseph Campanella passed in 2018 at 93

Opening Credits to Mannix