Buy McCloud on DVD
---
McCloud
September 16, 1970 – April 17, 1977
(46) episodes plus (1) movie (7 seasons)
twenty episodes were (2) hours, nineteen episodes (1 1/2) hours and seven episodes (1) hour
in color on NBC
Created by: Herman Miller
Produced by: Glen A. Larson and Leslie Stevens
CAST
Dennis Weaver as
J.D. Cannon as
Terry Carter as
Diana Muldaur as
Ken Lynch as

Sam McCloud
Peter B. Clifford
Sergeant Joe Broadhurst
Chris Coughlin
Sergeant Grover
Theme Music
Composed By: David Shire, Stu Phillips and Frank De Vol
STORYLINE
"There ya go!" – McCloud's favorite line
Deputy United States Marshal Sam McCloud of Taos, New Mexico (Dennis Weaver) was transporting a captured prisoner back to New York to stand trial when he got involved in a NYPD murder investigation. Needless to say with his help they cracked the case, caught the bad guys and asked him to stay on as a special investigator. McCloud loved the opportunity to do more meaningful police work and agreed to stay on for a little while.
His boss in the NYPD was Chief of Detectives Peter B. Clifford (J.D. Cannon) who hated the way McCloud cowboy'd his way through the departments rules and regulations but nonetheless had a grudging respect for his results. Aiding him in his investigations were Detective Sergeant Joe Broadhurst (Terry Carter) and Police Sergeant Grover (Ken Lynch). He had an on again off again love interest in Chris Coughlin (Diana Muldaur), a newspaper writer, whose need to "get the story" sometimes interfered with McCloud's police work.
The series in it's first season was part of a rotation of NBC's wheel series Four in One. It's second season found it teamed up with two other detective shows (Columbo and McMillan & Wife) in a new wheel series called NBC's Mystery Movie. Ratings soared and McCloud became the most popular of three very popular shows.
Video Clip of McCloud
Passings
Dennis Weaver died in 2006 of cancer, he was 81
J. D. Cannon died in 2005, he was 83
Ken Lynch died of a virus in 1990, he was 79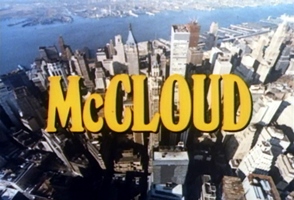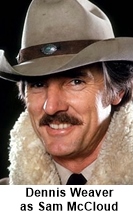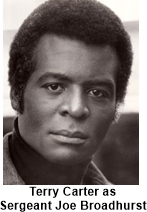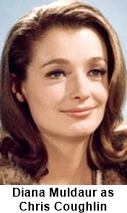 TRIVIA:
When John Denver co-starred as a small town Colorado Deputy he and Dennis Weaver thought it might be fun if they exchanged tag lines. At the end of the episode while saying their on screen goodbye's Weaver says "Far Out!" and Denver says "There ya go!". No one but the two of them knew they were going to do it.