Buy McMillan & Wife on DVD
---
McMillan & Wife
September 17, 1971 – April 24, 1977
(14) one and half hour episodes (seasons 1&2)
(26) two hour episodes (seasons 3-6)
in color NBC
Created by: Leonard B. Stern
Produced by: Paul Mason and Jon Epstein
Theme Music by: Jerry Fielding
CAST
Rock Hudson
Susan Saint James
John Schuck
Nancy Walker

Stewart "Mac" McMillan
Sally McMillan
Sergeant Charles Enright
Mildred
STORYLINE
Stewart "Mac" McMillan (Rock Hudson) is the San Francisco Police Commissioner and his young wife Sally (Susan Saint James) is his companion in crime fighting even if she isn't an actual cop. As Commissioner Mac elects to work only the most high profile or unusually baffling cases. Even so he and his wife often find themselves in live threatening situations while trying to catch the bad guys.
Assisting him, if not somewhat ineptly, is Sgt. Charlie Enright of the SFPD (John Schuck) and the McMillan's opinionated live in housekeeper, Mildred (Nancy Walker). This group are definitely not your typical crime fighters and laughs ensue often from the eclectic combination.
Part of NBC's Sunday Night Mystery Movie wheel series with Columbo and McCloud the series started as 90 minutes but was expanded to 120 minutes after its first two seasons. After Susan Saint James's departure (see Trivia below) the series struggled to find it's audience and was canceled after just one more season.
Video Clip of McMillan & Wife
Passings
Rock Hudson passed away in 1985 of AIDS-related complications, he was only 59
Nancy Walker died of lung cancer in 1992, she was only 62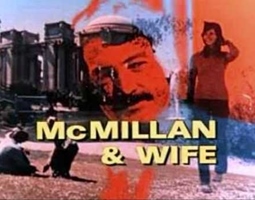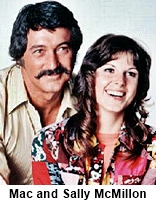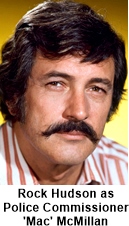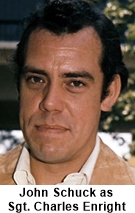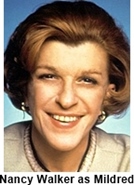 TRIVIA:
Having a contract dispute with the producers, Susan Saint James left McMillan & Wife during the 5th season. To explain the sudden disappearance her character was killed off in a plane crash, Mac becomes a widower and the shows name was changed to just "McMillan".
Nancy Walker and John Schuck also left the series to star in their own new shows. Martha Raye, Richard Gilliland, Gloria Stroock and Bill Quinn were added to the cast in the 6th season and as great as they were, it couldn't make up for the loss of the on-screen chemistry that Rock Hudson and Susan Saint James shared.