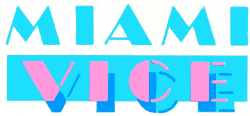 Buy Miami Vice

Miami Vice: The Complete Series
Complete 1st Season
Complete 2nd Season
Complete 3rd Season
Complete 4th Season
Complete 5th Season
---
9/1984 – 5/1989 NBC 1 Hour
Color – 114 episodes
Created by Anthony Yerkovich
Executive Producer Michael Mann
Universal Television
Cast
Don Johnson as Det. James "Sonny" Crockett
Philip Michael Thomas as Det. Ricardo Tubbs
Edward James Olmos as Lt. Martin Castillo
Saundra Santiago as Det. Gina Calabrese
Olivia Brown as Det. Trudy Joplin
Michael Talbott as Det. Stan Switek
John Diehl as Det. Larry Zito (1984-1987)
Martin Ferrero as Izzy Moreno
Also:
Sheena Easton as Caitlin Davies (1987-1988)
Charlie Barnett as Neville 'Noogie' Lamont
Belinda Montgomery as Caroline Crockett
Gregory Sierra as Lou Rodriguez
Miami Vice Theme Song
"Miami Vice" by Jan Hammer
Voted #1 theme song of all time by TV Guide readers.
About Miami Vice
Much of what we take for granted in televison today is a consequence of the ground breaking Miami Vice. Originally, Brandon Tartikoff of NBC had an idea for "MTV cops" which he presented to Anthony Yerkovich who had been a writer and producer on Hill Street Blues. Yerkovich turned out the pilot and a few scripts and it was he who conceived of Sonny Crockett (Don Johnson) and Ricardo Tubbs (Philip Michael Thomas).
Yet most of what you associate with Miami Vice, what attracted you to Miami Vice, what dazzled you about Miami Vice is the visual stylings of Executive Producer Michael Mann. (Collateral, Heat, Insider) What he brought to Vice was a high production value more typical of movies than TV. Unlike any show before, Miami Vice had a "look."
Mann saw the colors of Miami, the beautiful art deco buildings, the ocean and waterways and made an edict. No earth tones. This applied to the clothes the actors wore, the buildings which were repainted with pastels, the cars. Mann's visual eye scanned everything in a scene looking for the dreaded reds, beiges and browns.
He watered the streets for night scenes so they would look slick and reflect the night lights and moon.
Then there was the more obvious eye candy. The cars, the boats, (See Miami Vice Hardware Page) the clothes, the chicks.
Miami Vice was unique in the use of music. Using first tier artists such as Phil Collins, Glen Frey, Peter Gabriel and U2, the music added something dramatically beyond just background. The lyrics and tempo contributed to the storyline of the scene and often spoke for the characters. The pounding score by Jan Hammer was the first of many backgrounds he would do in a distinctive style. When he left after the 4th Season and was replaced by Tim Truman, many fans were disappointed.
Mann also saw the underbelly of Miami, the flamboyant drug dealers, the murders, and the pervasively corrupting influence of so much coke money. All of which Miami Vice took seriously. Vice had bad guys who were really, really bad and more than a few good guys gone bad.
Don Johnson. You cannot discuss Miami Vice without talking about Don Johnson. (See Don Johnson pics just for fans.)
The actors were little known before Miami Vice but soon became megastars. Don Johnson blew across the American consciousness, changing everything in his path. Men began sporting three day stubble, espadrilles and loafers without socks, Ray Ban Wayfarer sunglasses, no belts, unconstructed Italian blazers over tee shirts, linen pants… And hey, as it turns out, pastels can be macho!
Although the rest of the cast was capable, the only one who seemed to hold his own against the Johnson onslaught was Edward James Olmos as Lt. Martin Castillo, the unsmiling by-the-book head of the Metro Dade OCB. (Organized Crime Bureau)
Today when you see that C.S.I. uses different visual styles for their shows (warms hues for Miami and bluish cool ones for New York) or when rock music is a component of many shows, all that is because Miami Vice came first. If we expect higher production values, it is because Mann said we would notice the difference and was right about that. Miami Vice is a landmark show no one can forget.
Want to Contribute?I'd love your input on this show!
Email Me with additional info and I'll give you full credit!
Miami Vice Movie
Miami Vice Picture Gallery
Miami Vice Season 1 Music
Don Johnson pics
Philip Michael Thomas pics
Miami Vice Cast pics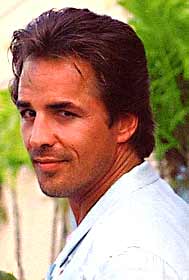 Don Johnson
as James "Sonny" Crockett
aka Sonny Burnett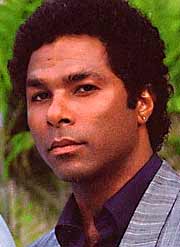 Philip Michael Thomas
as Ricardo Tubbs
aka Rico Cooper
Miami Vice Movie
Michael Mann has grabbed the Miami Vice reins again, this time for a feature film.
Learn more about the Miami Vice Movie!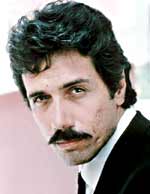 Edward James Olmos
as Lt. Martin Castillo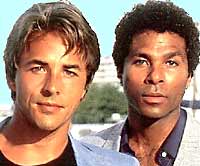 Don Johnson, Philip Michael Thomas
Crockett and Tubbs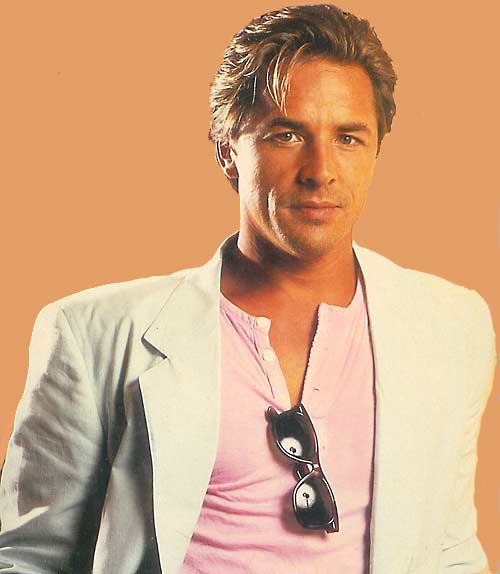 Don Johnson
(Click for Larger View)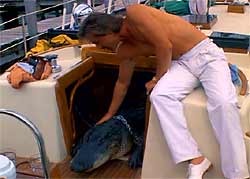 Don Johnson and pet Elvis
More 80s Action!
Airwolf
A-Team
MacGyver
Magnum PI
Miami Vice
Miami Vice Pilot Intro (1984)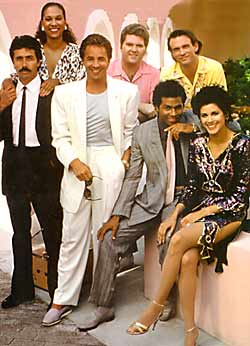 From Top
Olivia Brown, Michael Talbott, John Diehl
Edward James Olmos, Don Johnson, and Philip Michael Thomas, Saundra Santiago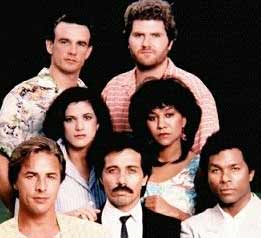 From Top
John Diehl and Michael Talbott
Saundra Santiago and Olivia Brown
Don Johnson, Edward James Olmos and Philip Michael Thomas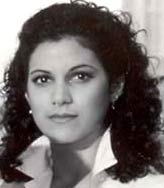 Saundra Santiago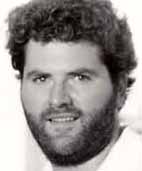 Michael Talbot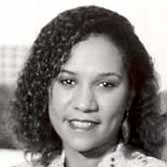 Olivia Brown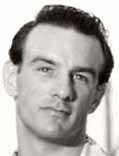 John Diehl
The Cars of Miami Vice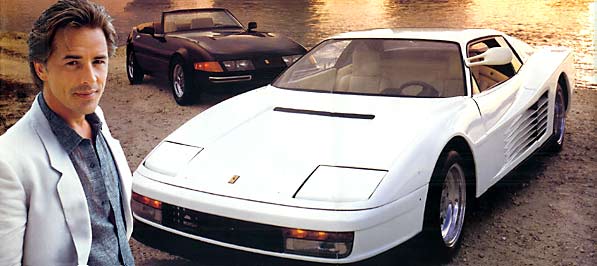 Click for Larger View
A good undercover cop needs the toys to maintain an appearance of affluence. Plus a speedy car and boat is handy no matter which side of the law you prefer. So Don Johnson's character on Miami Vice was supplied fancy cars, clothes and boats by the Miami-Dade Police Department to protect his cover.
In the first two seasons, Sonny Crockett (Don Johnson) drove a Ferrari Daytona Spyder 365 GTS/4. Midnight black. Sleek.
Well, not really. It was a Corvette that had been modified with Ferrari-designed body panels and real Ferrari hardware inside.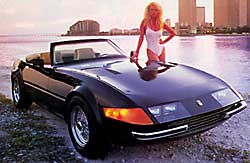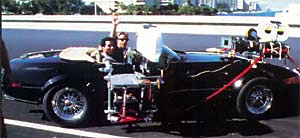 Now the good people at Ferrari were delighted by the brand getting so much attention, they just thought it would be SO much better if the car was actually a Ferrari. So they donated two of their very best, the Testarossa. (12 cylinders, 345 hp, 180 mph).
Originally, Ferrari North America delivered black cars but Michael Mann had them painted white for better contrast at night. The car in black can be seen in episode "When Irish Eyes Are Crying" (3.1) driven by an IRA gun. Later in the story, Sonny's black Ferrari Spyder gets blown up by the bad guys. In the next episode "Stone's War," he receives his new white Testarossa. (see pictures of the Testarossa in black.)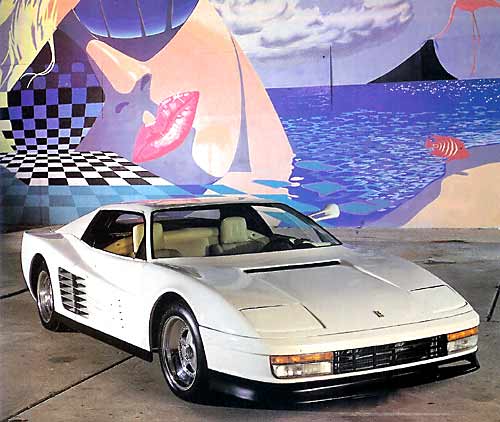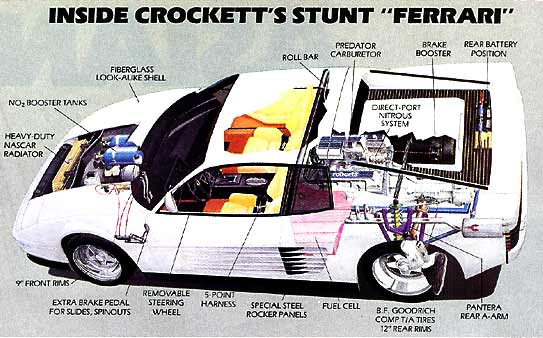 The use of the Testarossa in Miami Vice was such a boon to Ferrari sales, that Enzo Ferrari gifted Don Johnson with a 1989 silver version. That car was sold by Don Johnson at auction in 2003 for $88,560. Of interest, his 1970 Plymouth 'Cuda' Convertible from "Nash Bridges" sold at the same auction for $148,500.
More Cars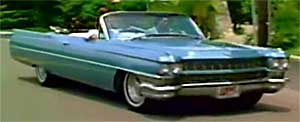 Rico's Cadillac
Ricardo Tubbs (Philip Michael Thomas) drove a 1962 Cadillac Coupe DeVille Convertible
Stan Switek (Michael Talbott) drove a turquoise 1963 Ford Thunderbird
Gina Calabrese (Sandra Santiago) drove an early 1970 Mercury Cougar XR-7 convertible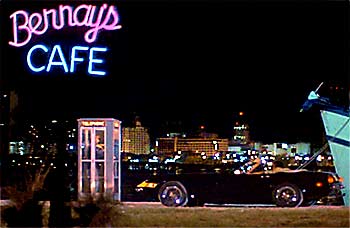 A classic Miami Vice image. Miami shines at night with city lights and glowing neon. The Ferrari Spyder parked, while Sonny is on the phone asking his soon to be ex-wife, "Was it real?"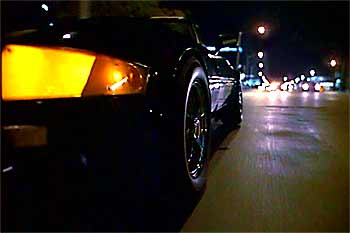 The Ferrari cruises the Miami mean streets at night.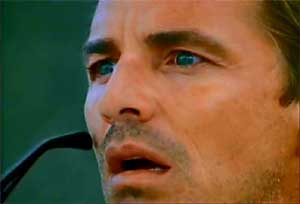 Don Johnson as Sonny Crockett reacts to his beloved Ferrari Spyder being blown all to hell by gun runners.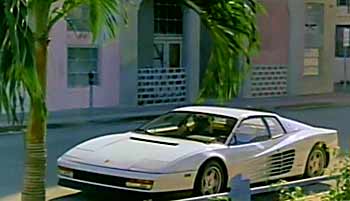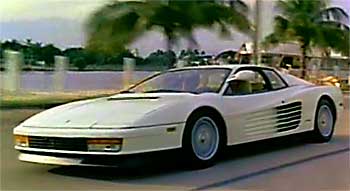 Just another day in paradise!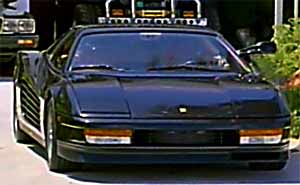 The Ferrari Testarossa before it got a white paint job. As seen in episode "When Irish Eyes Are Crying."
The Guns of Miami Vice
In the pilot episode, Don Johnson carried a Browning BDA in .45 Auto. But once the series was picked up, they needed a stylish and new weapon for Sonny Crockett. In seasons 1 & 2, he carried a Bren Ten in 10MM Auto. However the manufacturer, Dornaus & Dixon went bust. So the ever up-to-date Sonny switches to a Smith & Wesson 645 chambered in .45 Auto for seasons 3 and 4. But wait, by the fifth season Smith and Wesson has a new gun and the ever fashionable Crockett upgrades to the new Smith & Wesson 4506, also in .45 Auto. The piece he carried in an ankle holster was a .45 Detonics Combatmaster.
About the shoulder holster. It had been made before Miami Vice, sold as the Original Jackass Rig. The Jackass Leather Company changed their name to Galco and then Miami Vice hit the air. The rig became so popular that it is now called the Miami Classic rig and can be bought from Galco's website and other places.
Rico Tubbs (Philip Michael Thomas) had a Smith and Wesson Model 38 Chief's Special and a Model 37 Ithaca Shotgun cut down.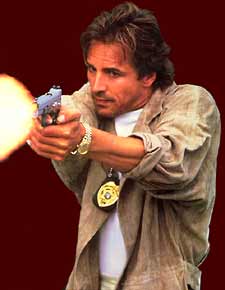 Don Johnson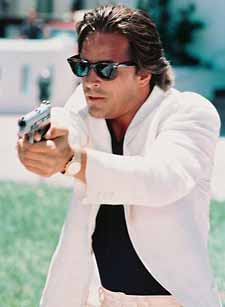 Don Johnson

Don Johnson
The Boats of Miami Vice
Sonny Crockett (Don Johnson) lived on a 42′ Endeavor sailboat called the St. Vitus Dance. Except that the people in the neighboring slips thought he was Sonny Burnett, his undercover personna!
But it is the "go fast" boats we all remember best. In the first season, it was a 39′ Chris Craft Stinger. Actually, they used two Stingers, one for the pilot episode and then once the show was picked up a different boat for the entire 1st season.
In all the remaining seasons it was a 38′ Wellcraft Scarab KV, which was equipped with two powerful 8.2 Mercury engines, which offer a capacity of more than 840 HP. Wellcraft made a limited run of "Miami Vice" edition boats which had the same color scheme so the public could don a pastel tee and join in the fun.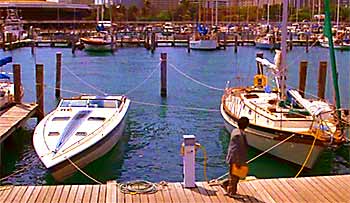 From the pilot, "Brother's Keeper" the Chris Stinger and the Endeavor. In later years, the Scarab would be tied up to the sailboat.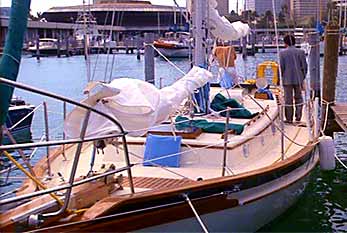 The 42′ Endeavor sailboat that Sonny called home. Named the St. Vitus Dance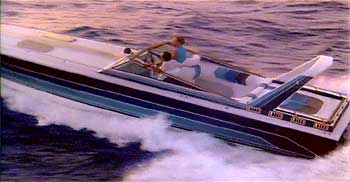 The Stinger used for the first season. For fans – can't your just hear Russ Ballard's "Voices" playing in the background?
The Chris Craft Stinger used in the first season.
.

The Chris Craft Stinger used in the pilot.

The Chris Craft Stinger used in the pilot episode "Brother's Keeper."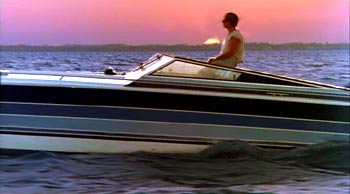 The Chris Craft Stinger used in the first season.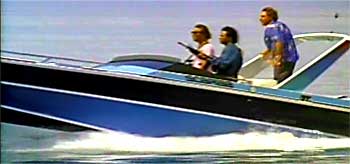 The Wellcraft 38 ft. Scarab KV. Makes you want to grab up your rifle and go to ride!
The Wellcraft 38′ Scarab KV used in seasons 2-5
Miami Vice Season 1 DVD Review
I'll answer your first question. YES! Not only is the original music intact but it is now in 5.1 Dolby. The instant you hear the opening bars of the theme blasting at you, it all comes flooding back. The music, the cars, the clothes, the very cool of it all.
Universal has done Miami Vice right in this 3 double-sided DVD set. What struck me like a thunderbolt right from the first was the color. Lush, rich colors restored to their former pastel glory. You get so used to watching shows as reruns that it is easy to forget how they were meant to be seen.
Miami Vice was the first to set a visual style for a whole series, to have a unique color palette. Michael Mann's edict of No Earthtones aptly reflected the white and pastel shades of South Florida. Every building an actor walked past, the interiors of restaurants, none were chosen without an eye to their look and color. To see these colors restored to their original hues is a delight. Now when Sonny drives the Ferrari Spyder, the reflection off the hood is dazzling.
What fun to see all those Miami Vice fashions again. I never understood how Sonny Crockett (Don Johnson) could wear so many white pants and jackets without getting filthy. I couldn't do it! But there is Johnson once again in his white looose fitting jackets with the rumpled pastel tee shirt underneath, a sharp contrast to the more formal Ricardo Tubbs. (Philip Michael Thomas)
Yes, there are a few episodes which look a bit fuzzy in places. Most however look terrific and certainly better than the show looks in reruns.
Jan Hammer's soundtrack music never sounded better. And what an array of artists just on this first set. Remember the scene that perhaps set the tone of Vice more than any other? Crockett and Tubbs nightime drive to a dangerous meetup with bad guys in "Brother's Keeper" while Phil Collins "In the Air Tonight" plays. No dialogue – just the music.
Or how about Glenn Frey's "Smuggler's Blues." Michael Mann heard the song and then he ordered a story written around it. Russ Ballard's "Voices" while the speedboat crosses the Atlantic to the Bahamas in "Calderone's Return. All moments impressed on the memory.
The DVD set has a few Special Features. All of which I had wish had lasted longer. The Vibe of Vice, Building the Perfect Vice, The Style of Vice, The Music of Vice, Miami After Vice.
You'll see Don Johnson and Philip Michael Thomas in the Bonus Materials, but only in old interviews. Especially since they are being replaced in the upcoming Miami Vice movie, much will be made of this. But hey, you won't see Richard Dean Anderson on either the MacGyver or Stargate DVDs. As fans, we can hope that arrangements can be made so they will participate in future seasons.
Click to Buy
Miami Vice: The Complete 1st Season