Buy Mr. Ed on DVD!
Mister Ed: The Complete First Season
Mister Ed: The Complete Second Season
Mister Ed: The Complete Third Season
The Best of Mister Ed – Volume One
The Best of Mister Ed – Volume Two
Mr. Ed
10/1/1961 – 9/8/1965 CBS 30 minutes
Black & White – 143 episodes
Created by Mel Brooks and Leonard Stern
Mr. Ed Cast – Weel-burrrr!
Alan Young as Wilbur Post
Connie Hines as Carol Post
Allan "Rocky" Lane as Voice of Mr. Ed
Sheldon Allman as singing voice of Mr. Ed
Bamboo Harvester as Mr. Ed
Larry Keating as Roger Addison (1961-1963)
Edna Skinner as Kay Addison (1961-1963)
Jack Albertson as Paul Fenton (1961-1963)
Leon Ames as Gordon Kirkwood (1963-1965)
Florence MacMichael as Winnie Kirkwood (1963-1965)
Mr. Ed Theme Song
"Mr. Ed" by Ray Evans and Jay Livingston
A horse is a horse, of course, of course,
And no one can talk to a horse of course
That is, of course, unless the horse is the famous Mr. Ed.
Go right to the source and ask the horse
He'll give you the answer that you'll endorse.
He's always on a steady course.
Talk to Mr. Ed.
People yakkity yak a streak and waste your time of day
But Mister Ed will never speak unless he has something to say.
A horse is a horse, of course, of course,
And this one'll talk 'til his voice is hoarse.
You never heard of a talking horse?
Well listen to this.
I am Mister Ed.
Tidbits
Wilbur Post (Alan Young), an architect, and his wife Carol (Connie Hines) moved into a new home. What they discovered was the previous owners had left behind their horse stabled in the barn.
What Wilbur discovered was that the horse could talk! But oh, no, he choose to talk only to Wilbur!
The star of the show was unquestionably Mr. Ed, whose voice was provided by Allan "Rocky" Lane. Mr. Ed had opinions. He could be cynical. He had his moods. A thoroughly modern horse. It was Mr. Ed's personality and his ability to get WIlbur into trouble that kept us turning in each week.
Originally, Roger (Larry Keating) and Kay Addison (Edna Skinner) lived next door but after Keating's death, they were replaced by the Kirkwoods (Leon Ames and Florence MacMichael)
Passings
Larry Keating died in 1963 of leukemia, Alan Lane on 1973 of bone cancer, Jack Albertson in 1981 of cancer, Leon Ames in 1993 of a stroke, Sherman Allen in 2002 of bone cancer, Connie Hines in 2009 of heart disease and Alan Young passed of natural causes in 2016 he was 96 years old.
Mr. Ed Trivia
Bamboo Harvester
He was a Palomino who weighed 1100 pounds.

Although in the show Mr. Ed was 8 years old, Bamboo Harvester was actually 11.

He was purchased for $1500.

Bamboo Harvester died in 1970. He suffered from a number of ailments and was put to sleep.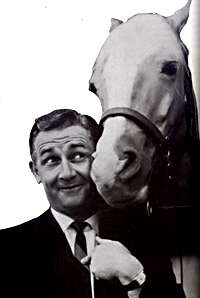 Alan Young and Mister Ed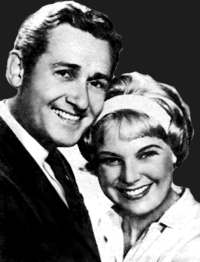 Alan Young and Connie Hines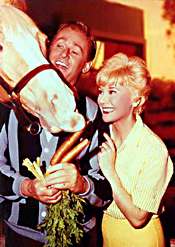 Alan Young and Connie Hines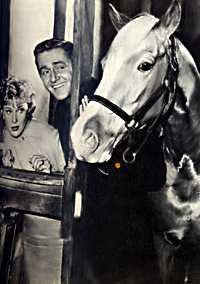 Connie Hines and Alan Young

Alan Young and Bamboo Harvester
Connie Hines, Alan Young and Bamboo Harvester