July 11, 1966 – December 20, 1974
1/2 hour episodes (8 seasons in original run) on ABC
Other versions of the show appeared during the years:
(1977 until 1980 in syndication) (as The New Newlywed Game from 1985 until 1989), (1996 until 1999)
Created by: Nick Nicholson and E. Roger Muir
Produced by:Chuck Barris, Chuck Barris Productions
CAST
Bob Eubanks was the sole host for the entire run of the series (1966-1974)
Johnny Jacobs was the narrator for the same time period
THE SCOOP
The Newlywed Show pitted married couples against one another by testing their knowledge of their spouses. Each spouse was asked a series of questions and they would have to predict how their better half would answer. Correct answers counted for points and the couple with the most correct answers (points) at the end of the show won a prize.
Couples had to be within two years of being married so for the most part they were young. Seniors did get a chance in later episodes if they were widowed and remarried. They were usually part of a "seniors" theme episode.
Here's how it worked:
Answers to questions were written on big blue cards which would be held up after the sequestered spouse had answered.
Round # 1 was worth five points per correct answer and involved the husbands guessing if the wives would answer the question the same way as they had.
Round #2 the rolls were reversed and the husbands were taken off stage and the wives wrote the answers down on the blue cards, then the husbands returned to guess if they could answer the same question the same way. Questions in this round were worth 10 points.
Round # 3 was only one question but was worth 25 points. This last question was referred to as the bonus question and usually decided the outcome of the game.
The humor usually came from the wives reactions to wrong answers and to some of the answers themselves. This show was a hit with audiences and refused to die. Reboots of the show kept appearing in every decade and is probably on the air in syndication today.
Video Clip of The Newlywed Game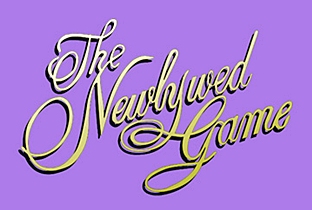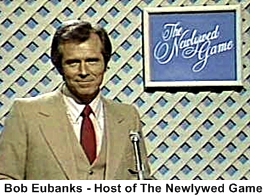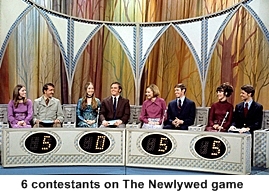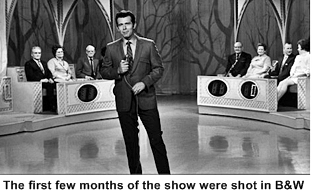 Buy The Newlywed Game on DVD
ABC did not save copies of their daytime shows. A few episodes are said to be available but I haven't been able to find them.
TRIVIA:
Even Carnie Wilson tried her hand at hosting a reboot of the show from 2009-2010.
In case you don't remember she was 1/3 of the singing group Wilson Phillips in the 1960s.