Buy on DVD
The Ozzie And Harriet TV Collection [DVD]
Best of the Adventures of Ozzie & Harriet DVD
10/3/1952 – 9/3/1966 ABC 60 minutes
Black and White (1952-1965)
Color (1965-1966)
Ozzie and Harriet Cast
Ozzie Nelson as Ozzie Nelson
Harriet Hilliard Nelson as Harriet Nelson
David Nelson as David Nelson
June Blair Nelson as June (Mrs. David Nelson)
(1961-1966) Ricky Nelson as Ricky Nelson
Kristin Harmon Nelson as Kris (Mrs. Rick Nelson) (1964-1966)
Parley Baer as Darby (1955-1961)
Frank Cady as Doc Williams (1954-1965)
Mary Jane Croft as Clara Randolph (1956-1966)
Don DeFore as 'Thorny' Thornberry (1952-61)
Constance Harper as Connie Edwards (1960-1966)
Jimmy Hawkins as Jimmy (1961-1965)
James Stacy as Fred (1958-1964)
Lyle Talbot as Joe Randolph (1952-66)
Jack Wagner as Jack (1961-1966)
Skip Young as Wally (1957-1966)
Ozzie and Harriet Theme Song
"Nelson Family Theme" by Ozzie Nelson

Ozzie & Harriet Opening Credits
Ozzie and Harriet Tidbits
For 14 years we watched Ozzie, in his alpaca cardigan and Harriet, with her ever ready pot of coffee and a plate of brownies. Boomers grew up with Ricky and David.
When asked if this was a realistic view of family life, the answer is a resounding no. Their idea of a life crisis was having two chairs mistakenly delivered to the house.
Speaking of the house at 522 Sycamore Road, Hilldale, the set was an exact replica of their real life home in Hollywood.
If you remember all those scenes in the kitchen, that's because up until 1956, Hotpoint, the sponsor, was displaying their products! After that, you probably recall more outdoors scenes. Did you notice the cameras around everyone's necks? Yup, Kodak became the sole sponsor.
Ozzie was producer, director and head writer. In short, he had control.
Ricky has been bugging his father to let him sing a tune on the show. So on April 10,1957 in "Rick the Drummer" he covered Fat's Domino's "I'm Walkin." The song shot to the top of the charts.
Eventually, the boys grew up and married and their real life wives joined the show. David married June and Ricky married Kris Harmon, daughter of Tom and brother to Mark.
Passings
Ozzie Nelson died in 1975 of cancer, Rick Nelson died 1985 in a plane crash, Harriet died in 1999 of congestive heart failure and David Nelson in 2011 of colon cancer.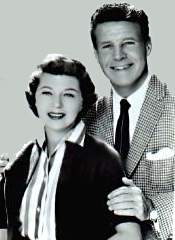 Harriet and Ozzie Nelson

Harriet, Ozzie, Ricky and David Nelson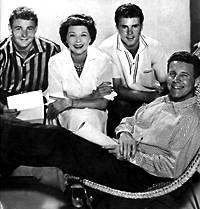 David, Harriet, Ricky and Ozzie Nelson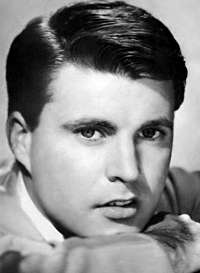 Rick Nelson