Buy Petticoat Junction on DVD
The First Season (1963)
The Second Season (1964)
The Third Season (1965)
September 24, 1963 – April 4, 1970
222 half hour episodes (7 seasons)
in B&W (1963–65) and color (1965–70) on CBS
Created by: Paul Henning
Filmed at: General Service Studios, Hollywood, CA
CAST
Bea Benaderet  —  Kate Bradley
Edgar Buchanan  —  Joseph P. "Uncle Joe" Carson
Jeannine Riley  —    Billie Jo Bradley (1963-1965)
Gunilla Hutton  —  Billie Jo Bradley (1965-1966)
Meredith MacRae  —    Billie Jo Bradley (1966-1970)
Pat Woodell  —  Bobbie Jo Bradley (1963-1965)
Lori Saunders  —  Bobbie Jo Bradley (1965-1970)
Linda Henning  —  Betty Jo Bradley Elliott
Smiley Burnette  —  Charley Pratt
Frank Cady  —  Sam Drucker
Rufe Davis  —  Floyd Smoot
Charles Lane  —  Homer Bedloe
Roy Roberts  —  Norman Curtis
Kay E. Kuter  —  Newt Kiley
Dog  —  Higgens (aka: "Benji")
Opening Theme
"Petticoat Junction"
By: Paul Henning and Curt Massey
Come ride the little train that is rolling down the tracks to the junction.
Petticoat Junction
Forget about your cares, it is time to relax at the junction.
Petticoat Junction
Lots a curves, you bet. Even more when you get
To the junction, Petticoat Junction.
There's a little hotel called the Shady Rest at the junction.
Petticoat Junction
It is run by Kate, come and be her guest at the junction.
Petticoat Junction
And that's Uncle Joe, he's a movin' kind of slow at the junction,
Petticoat Junction.
STORYLINE
This was basically a story about a hotel (Shady Rest Hotel) , a sleepy little rural farming town (Hooterville) and the train that connected them together ( Hooterville Cannonball).
The petticoat part came from the hotel's propitiator's, Kate Bradley (Bea Benaderet)three young daughters, Billie Jo Bradley, Bobbie Jo Bradley and Betty Jo Bradley. They all lived at the hotel with their somewhat slow thinking and slower moving Uncle Joe Carson (Edgar Buchanan). They would often wind up at the general store in Hooterville which was owned by Sam Drucker (Frank Cady) who's character and actor can also be found in Green Acres" and "The Beverly Hillbillies" which makes him the only actor to appear on three sitcoms at the same time!
You'll no doubt notice that I didn't mention the actresses who portrayed the daughters because with the exception of Betty Joe who was played for the entire run of the show by Linda Henning (producer Paul Henning's daughter) they changed two or three times(see above for the seasons for each actress)
The shows humor revolves around the situations that poor Uncle Joe creates in trying out his hair-brained schemes to bring more business to the hotel or in various dire situations the girls manage to get into on their own.
Lets not forget the train the Hooterville Cannonball, it connects The Shady Rest Hotel with Hooterville and is featured one way or another in almost every episode. The conductors were Charley Pratt (Smiley Burnette)and Floyd Smoot (Rufe Davis) who not only ran the train but managed to have opinions on most everything else as well.
Among the various cast changes the saddest was Bea Benaderet who portrayed the girls mother Kate Bradley. She started missing episodes during season five wile she bravely battled lung cancer. She would triumphantly return to the set only to have a setback and miss more episodes. By the beginning of the sixth season she was doing voice over's only with no on camera shots of her. She passed away during that season. the producers originally tried to have her sister Helen, (played by Rosemary DeCamp who was also doing "That Girl" at the same time) visit the hotel but then settled on a new character, hotel resident Dr. Janet Craig (played by June Lockhart who had just come off of "Lost in Space")
Oh by the way this was yet another prime time sitcom featuring a single parent household!
Video Clip of Petticoat Junction
Passings
Bea Benaderet died of lung cancer in 1968 she was 62 years old
Edgar Buchanan died in 1979 of a stroke, he was 76
Meredith MacRae died of brain cancer (tumor) in 2000, she was 56
Rufe Davis died in 1974 he was 66
Frank Cady died in 2012, he was 96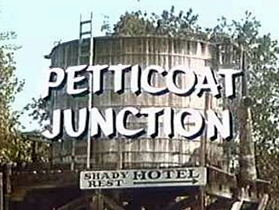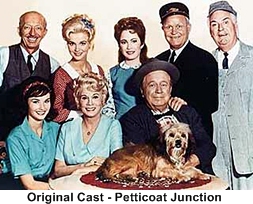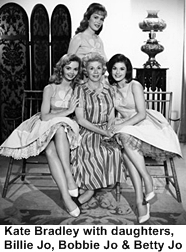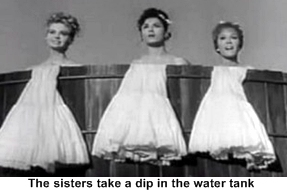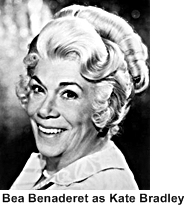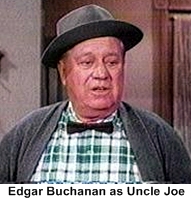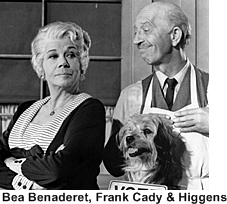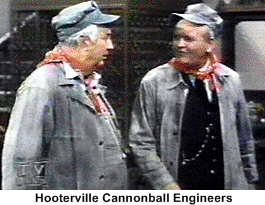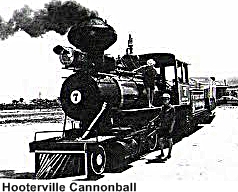 TRIVIA:
The action shots of the Hooterville Cannonball were actually of a real train in Sonora, CA. That train (and the real water tower) were used in dozens of westerns during the 1940s and '50s. The close up shots were of a mockup prop train in Hollywood.
TRIVIA:
In 1967, the characters Betty Jo and Steve Elliot were married on the show. Ten months later, Linda Henning (who played Betty Jo) and Mike Minor (who played Steve Elliot) were married in real-life. Steve was originally scripted to date Bobbie Jo but his off screen romance with Henning led to a script rewrite for more believable character interactions.