This story about Jimmy Stewart and his horse named Pie was contributed by Linda Gilliland 
One of James Stewart's favorite stories of his film career concerned his horse, Pie, a sorrel stallion whom Stewart called, "One of the best co-stars I ever had." Pie appeared as Stewart's horse in 17 Westerns, and the actor developed a strong personal bond with the horse.
Pie was very intelligent, Stewart recalled, and would often "act for the cameras when they were rolling. He was a ham of a horse." When shooting the climax of "The Far Country," the script called for Stewart's horse to walk down a dark street alone, with no rider in the saddle, to fool the bad guys who were waiting to ambush Stewart.
Assistant Director John Sherwood asked Stewart if Pie would be able to do the scene. Stewart replied, "I'll talk to him." Just before the cameras rolled, Stewart took Pie aside and whispered to the horse for several minutes, giving him instructions for the scene. When Stewart let the horse go, Pie walked perfectly down the middle of the street, to his trainer who was waiting with a sugar cube just out of camera range. He did the scene in one take. When Pie died in 1970, Stewart arranged to have the horse buried at his California ranch.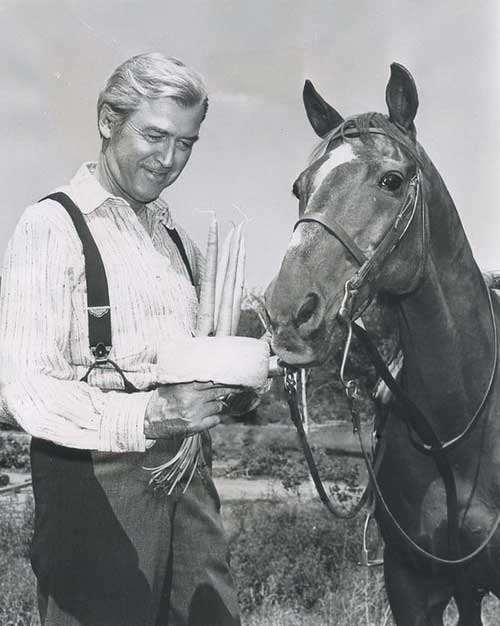 "How old was Jimmy Stewart's horse, Pie, when he died?" you might wonder. Well, it is unclear how old Pie was when he died but we know that Pie retired at the age of 29 after the completion of Bandolero. Stewart's attempts to purchase the horse were consistently met with refusal by the owner. There existed a remarkable bond between Stewart and Pie, so much so that when the horse passed away, Stewart described their connection as almost human-like, expressing that they genuinely liked each other. He would converse with the horse, believing that Pie understood him. Stewart's love for Pie was truly profound, as he stated,
I loved him. I loved the horse.
Jimmy was born on May 20, 1908. In 1970, the year Pie passed away, Jimmy Stewart was 62 years old.
For the complete behind the scenes interview, check out this npr interview where Author Petrine Day Mitchum explains to Fresh Air's Dave Davies that horses in the entertainment industry can develop a fondness for the camera and become animated when the director says "action."