Buy Sky King on DVD!
Sky King, Vol. 1
9/16/1951 – 10/26/1952 NBC
11/8/1952 – 9/12/1954 ABC
From 1959-1966 reruns were shown on Saturday afternoons on CBS
Black and White – 30 minutes
Sept. 1953-Sept. 1954 Monday 8:00-8:30
Aug. 1954-Sept. 1954 Sunday 6:00-6:30
Sky King Cast
Kirby Grant as Sky King
Gloria Winters as Penny
Ron Hagerthy as Clipper
Ewing Mitchell as Mitch the Sheriff
Songbird was his Cessna 310B
Flying Crown Ranch was home
Sky King Theme Song
"Sky King" by Paul Sawtell, and Bert Shefter
Sky King Tidbits
Out of the clear blue of the western sky comes Sky King
Sky King was a former military pilot who used his airplane to patrol the skies of his Flying Crown ranch and neighboring areas. He was frequently called upon to rescue someone in distress.
Sky King was mainly a kid's show from the early Fifties, but Sky King was shown in reruns for many years which is why you recall this as appearing later.
One thing is certain. We all watched Sky King and we all wanted to be pilots.
Penny was Sky King's niece, but yes, in earlier episodes he also had a nephew, Clipper. In the earlier episodes, Sky King's plane was a Cessna T-50 twin-engine "Bamboo Bomber." The more familiar plane was Songbird, a Cessna 310B
Passings
Kirby Grant died in 1985 in an automobile accident while on his way to watch a launch of the Space Shuttle Challenger at Cape Canaveral. He was to be honored by the shuttle astronauts for his achievements in encouraging aviation and space flight.
Gloria Winters passed in 2010 of pneumonia, she was 86 years old.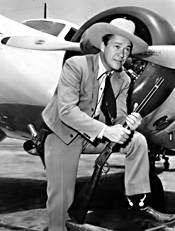 Kirby Grant
From the Doug Abbott Collection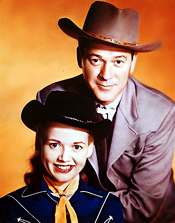 Gloria Winters and Kirby Grant
From the Doug Abbott Collection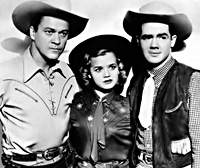 From the Doug Abbott Collection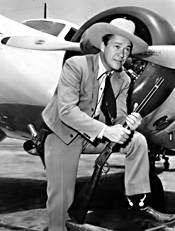 Kirby Grant
From the Doug Abbott Collection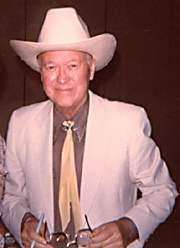 Kirby Grant
1984 Raleigh Film Festival, the year before he died
From the Bill Sasser Collection
For more like this See Stars Today