Buy Tarzan (1966 series) on DVD
The First Season, Part One (1966)
The First Season, Part Two (1967)
The Second Season (1968)
Tarzan And The Great River (1967 Motion Picture)
Tarzan And The Valley Of Gold (1966 Motion Picture)
Tarzan
September 8, 1966 – April 5, 1968
(57) one hour episodes (2 seasons)
in Color on NBC
Created by: Edgar Rice Burroughs
Produced by: Sy Weintraub
CAST
Tarzan ….. Ron Ely
Jai …….. Manuel Padilla, Jr.
Sergeant … Charles Wood
Rao …….. Rockne Tarkington
Tabor …… Virgil Richardson
Opening Theme
"March of Tarzan (Theme of Tarzan)"
Composed by: Walter W. Greene and Sydney Lee
STORYLINE
Tarzan (Ron Ely) was raised in the jungle but left to get his education. After a while he tired of mans inhumanity to man and opted for a return to the simpler jungle life. Simple but not without it's own style of bad guy including poachers and those who would take advantage of the local inhabitants.
Aided in his day to day heroic deeds by Jai (Manuel Padilla, Jr.) a native boy whom he sort of adopts and Cheetah his faithful companion chimpanzee.
Also appearing from time to time to lend a helping hand are Sergeant (Charles Wood), Rao (Rockne Tarkington) and Tabor (Virgil Richardson). Julie Harris was about the only female cast member appearing as Charity Jones in a few episodes.
To add realism Sy Weintraub filmed a couple of Tarzan motion pictures in Brazil so he also started shooting the television series there. Brazil turned out to be to difficult for regular series filming so the production was moved to a studio in Mexico. Clips from the original filming in Brazil were often used to augment the studio shots.
Video Clip of Tarzan
Passings
Manuel Padilla, Jr. died in 2008, he was only 52 years old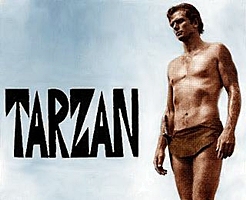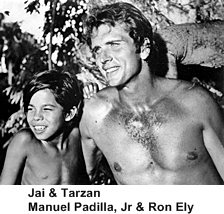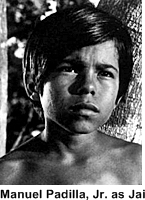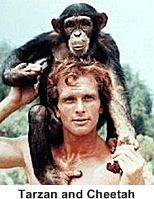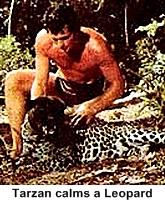 TRIVIA:
Tarzan had many guest stars but one stand out was in the 1968 episode "The Convert" when Diana Ross and the Supremes appeared as three nuns who needed Tarzan's help.
Also in that episode was James Earl Jones as a tribal chief.