Buy That Girl on DVD
Season One (1966)
Complete 2nd Season (1967)
Complete 3rd Season (1968)
Complete 4th Season (1969)
Complete 5th Season (1970)
September 8, 1966 – September 10, 1971
(136) 30 minute episodes (5 seasons) on ABC in color
Produced by: Sam Denoff, Bill Persky, Marlo Thomas, Danny Thomas
in association with Daisy Productions,
which was Marlo's own production company set up just for this show
Filmed at: Desilu Cahuenga Studios, Hollywood, CA
CAST
Marlo Thomas — Ann Marie
Ted Bessell — Donald Hollinger
Lew Parker — Lew Marie
Bernie Kopell — Jerry Bauman
Rosemary DeCamp — Helen Marie
Bonnie Scott — Judy Bessemer
Opening Theme
"That Girl" Lyrics by Sam Denoff Music by Earle Hagen
Lyrics were added to the tune in season five
Diamonds, Daisies, Snowflakes,
That Girl
Chestnuts, Rainbows, Springtime…
Is That Girl
She's tinsel on a tree…
She's everything that every girl should be!
Sable, Popcorn, White Wine,
That Girl
Gingham, Bluebirds, Broadway…
Is That Girl
She's mine alone, but luckily for you…
If you find a girl to love,
Only one girl to love,
Then she'll be That Girl too…
That Girl!
STORYLINE
That Girl was a comedy series featuring an aspiring actress Ann Marie (Marlo Thomas) who moves to New York to further her acting career. She has a boyfriend Don Hollinger (Ted Bessell) who is in most of the episodes and provides emotional support and the perfect straight man for many of the hilarious situations that Ann finds herself in.
Ann parents Lew and Helen Marie (Lew Parker and Rosemary DeCamp) visit occasionally but it generally leads to Ann and Don trying to hide some zany thing that Ann has done from them.
Ann does sometimes get an acting job usually for a commercial but in between she takes on temp jobs which lend themselves to more comedic situations.
In the final season Ann and Don do get engaged but as the show ends at the end of that season Marlo makes a decision to not have them get married. She was afraid that this would defeat the single girl feminist message that the show gave to young female viewers.
The sitcom was ground breaking in that Ann was a single girl living alone without a husband, parents or even a room mate. Marlo Thomas was instrumental in the creating of the show and insuring that Ann was in fact the first independent woman on television.
Video Clip of That Girl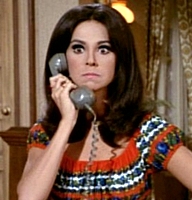 Passings
Ted Bessell died in 1996 of a aortic aneurysm, he was 61
Lew Parker passed away of cancer in 1972 he was also 61
Rosemary DeCamp lived to be 90, she died of pneumonia in 2001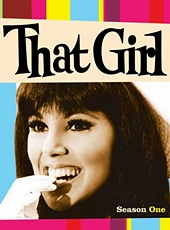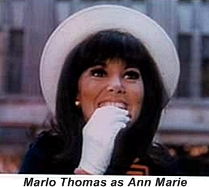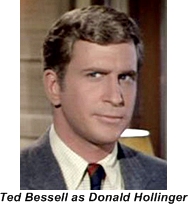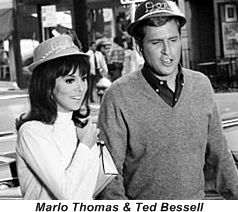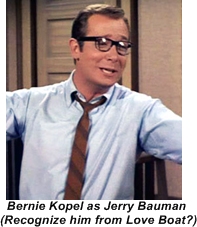 TRIVIA:

(This is maybe not a true story but I liked it so here it is)
Marlo Thomas wanted to do a show about an independent woman who was centered on her own career, after several failed attempts at scripts ABC finally sent her one that she could work with. She originally wanted to name the show "Miss Independence" but was out voted by ABC execs who exasperated with her exclaimed "oh that girl!" and hence the name of the series was born.
TRIVIA:

Two actors got their start from the show: Ruth Buzzi after 2 seasons went straight from That Girl to "Rowan & Martin's Laugh-In" in 1968
George Carlin's first tv appearance was on the show helping to launch his comedy career.
Also: Bernie Kopell though already acting in one sitcom ("Get Smart") would go on to be Dr. Adam Bricker on "Love Boat" for 9 seasons