3/18/1957 – 9/8/1962 NBC
Black and White
30 minutes – 1957-1961
Color – 60 minutes – 1961-1962
March 1957-July 1957 Monday 8:30-9:00
Sept. 1957-Sept. 1961 Monday 8:30-9:00
Sept. 1961-Sept. 1962 Saturday 7:30-8:30
Tales of Wells Fargo Cast
Dale Robertson as Jim Hardie
Jack Ging as Beau McCloud
William Demerest as Jeb Gaine
Virgina Christine as Ovie (1961-1962)
Mary Jane Saunders as Mary Gee (1961-1962)
Lori Patrick as Tina (1961-1962)
Horses: Jubilee and Fargo
Tales of Wells Fargo Theme Song
by Stanley Wilson with lyrics by Mort Greene
Tales of Wells Fargo Tidbits
In the mid-1800s, the Wells Fargo stage line was the primary connection between the East and West coasts of the U.S. Jim Hardie (Dale Robertson) was a troubleshooter for Wells Fargo who protected both people and cargo.
In the final season, they expanded the show to an hour and rooted Hardie to a ranch near San Francisco. Additional cast members were added. Although Hardie still worked for Wells Fargo, life that final season on the ranch wasn't nearly as exciting. Which probably explains why it was the final season.
Passings
William Demerest died in 1983 of cancer
Virginia Christine died in 1996 of heart problems
Dale Robertson passed away in 2013 of lung cancer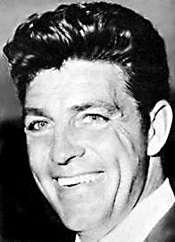 Dale Robertson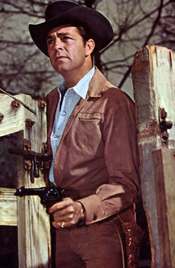 Dale Robertson
From the Doug Abbott Collection

Dale Robertson
From the Neil Kutzen Collection
BUY on DVD
Tales of Wells Fargo – Compilation and
The Complete First And Second Seasons (1957-8)
External Links
TV Guide's Wells Fargo Page, with TV Listings, Photos, Videos, Exclusive News and More.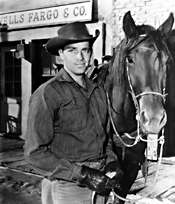 Dale Robertson
From the Doug Abbott Collection
Tales of Wells Fargo Trivia
Jack Nicholson appeared in one of his first starring TV roles in the episode "The Washburn Girl" (2/13/61)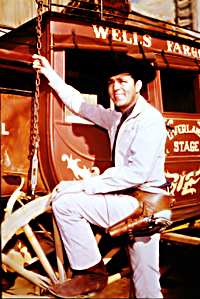 Dale Robertson
From the Doug Abbott Collection