Hopalong Cassidy
6/24/1949 – 12/23/1951 NBC
Black and White – 30 minutes
Hopalong Cassidy Cast
William Boyd as Hoppy
Edgar Buchanan as Red Connors
Horse: Topper
William Boyd had created the character of Hopalong Cassidy for "B" movie features and the first episodes were adaptations of those. Later the character of Red Connors was added (Edgar Buchanan) and from 1951 to 1952, Hopalong rode for another 52 episodes. That's how popular the character had become.
Passings
William Boyd died in 1972 of Parkinson's disease and heart failure and Edgar Buchanan in 1979 of a stroke
Hopalong Cassidy and Hoppy, including all images and likenesses are registered trademarks of U.S. Television Office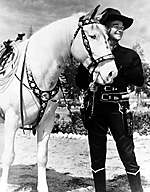 Topper and William Boyd
From the Doug Abbott CollectionExternal Links
TV Guide's Hopalong Cassidy Page, with TV Listings, Photos, Videos, Exclusive News and More.
Gene Autry
7/23/1950 – 8/7/1956 CBS
Black and White/Color – 30 minutes – 102 episodes
Produced by Flying A Productions at the Melody Ranch (Autry's own company)
Gene Autry Cast
Gene Autry with Pat Buttram
Horse: Champion
The singing cowboy, Gene Autry was a man of many talents and plenty of foresight. His early TV show was mostly an opportunity for him to sing a bit while he and Pat Buttram did silly things.
His success led him to see the future of TV Westerns and he formed his own production company, Flying A Productions, which also produced Annie Oakley, Range Rider, Buffalo Bill Jr.and others. His Melody Ranch was used as the "backlot" for many Western scenes in both television and film.
Passings
Gene Autry died in 1998 of lymphoma. Pat Buttram died in 1994 of kidney failure.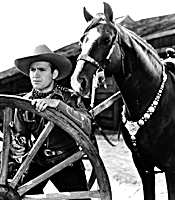 Gene Autry and Champion
From the Doug Abbott CollectionBUY Gene Autry
on DVD and VHS
Death Valley Days
1952-1970, Also 1974 Syndicated
Black and White/Color – 30 minutes – 532 episodes
Produced by Flying A Productions
Death Valley Days Hosts
Stanley Andrews from 1952-65 (as The Old Ranger)
Ronald Reagan 1965-1966
Robert Taylor 1966-1968
Dale Robertson 1968-1972
John Payne 1972-1975
Merle Haggard 1975
This anthology series ran for many years, presenting stories of the Old West, often filmed right in Death Valley.
Perhaps it is best known for two things, the host (Ronald Reagan) who became President of the United States, and the intro. (See right) Many people confuse this intro with that ofWagon Train. The tipoff is the MULES, as in 20 Mule Team Borax.
Passings
Stanley Andrews died in 1969 as did Robert Taylor of lung cancer. John Payne died in 1989 of congestive heart failure. Ronald Reagan died in 2004 of pneumonia after courageously battling Alzheimer's Disease for 10 years, he was 93. Dale Robertson died in 2013 after succumbing to lung cancer.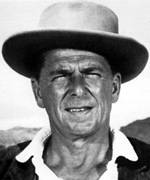 Ronald Reagan
From the Doug Abbott CollectionTV Classic Westerns: Bat Masterson/Death Valley Days/The Rifleman/Wagon
For More Dale Robertson See:
Tales of Wells Fargo
Iron Horse
Stories of the Century
1954 Syndicated
Black and White – 30 minutes – 39 episodes
Stories of the Century Cast
Jim Davis as Matt Clark
Mary Castle as Frankie Adams
Kristine Miller as Margaret "Jonesy" Jones
This half-hour Western was about a pair of detectives for the Southwestern Railroad. What was unusual was that Jim Davis' partners were women! Also, this was one of the first syndicated TV shows to win a major Emmy – Best Western or Adventure Series for 1954!
Passings
Jim Davis died in 1981 while he was playing Jock Ewing on Dallas.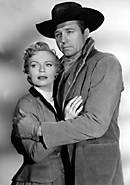 Jim Davis
From the Doug Abbott CollectionBUY Stories of the Century
on DVD