Sergeant Preston of the Yukon
"I arrest you in the name of the Crown."
9/29/1955 – 9/25/1958 CBS/Syndicated
Black and White/Color – 30 minutes – 78 episodes
CBS Thurs 7:30-8:00
Created by George W. Trendle
Sergeant Preston of the Yukon Cast
Dick Simmons
Horse: Rex
Dog: King
Sergeant Preston of the Yukon Theme Song:
Von Reznicek's Donna Diana Overture
Sergeant Preston worked Royal Canadian Mounted Police and with his trusty dog, Yukon King patrolled the northern gold rush area protecting prospectors amd settlers alike.
Using many exterior shots, the show had an authentic visual appeal. Real snow just looks better than the phony stuff.
After the show concluded, actor Simmons revealed that the Sergeant had a first name, Frank, but it was never used on the show.
Creator George Trendle also developed the characters the Lone Ranger and the Green Hornet.
Passings
Richard Simmons died in 2003 of Alzheimer's disease.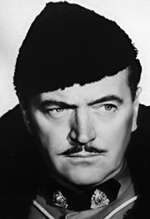 Dick Simmons
From the Doug Abbott Collection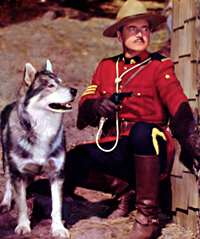 King and Dick Simmons
From the Doug Abbott CollectionSergeant Preston of the Yukon:
The Complete 1st Season
Complete 2nd Season

BUY Sgt. Preston on DVD
Tales of the Texas Rangers
9/3/1955 – 5/25/1957 CBS
Black and White – 30 minutes – 52 episodes
Tales of the Texas Rangers Cast
Willard Parker as Ranger Jace Pearson
Harry Lauter as Ranger Clay Morgan
This was a most unusual Western in that the historical period switched from week to week. While it was always about the Texas Rangers, one week they might be coralling desperados in the 1850s; the next they would be hunting down criminals in the 1950s.
Passings
Willard Parker died in 1996 of heart failure as did Henry Lauter in 1990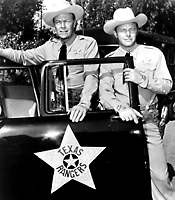 From the Doug Abbott CollectionExternal Links
TV Guide's Texas Rangers Page, with TV Listings, Photos, Videos, Exclusive News and More.
Steve Donovan, Western Marshal
1955 Syndicated
Black and White – 30 minutes
Steve Donovan, Western Marshal Cast
Douglas Kennedy as Marshal Steve Donovan
Eddy Waller as Rusty Lee
Gray Ghost is based on the true story of John Mosby, a young lawyer who joined the Forty-Third Battalion of the First Virginia Cavalry and became the leader of a guerilla unit.
Set in Wyoming in the 1870s
Passings
Douglas Kennedy died in 1973 of cancer and Eddy Waller in 1977 of a stroke.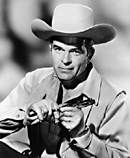 From the Doug AbbottCollection
Sheriff of Cochise
(U.S. Marshal)
1955 – 1958 Syndicated
Black and White – 30 minutes
Sheriff of Cochise (U.S. Marshal) Cast
John Bromfield as U.S. Marshal Frank Morgan
Stan Jones as Deputy Olson
James Griffith as Deputy Tom Ferguson
This gets complicated. In the first 39 shows which were called Sheriff of Cochise, Morgan was the Sheriff of Cochise County, Arizona. In the second 39 shows he appeared as a U.S. Marshal, in which case, Morgan was a Fed!
Passings
Stan Jones died in 1963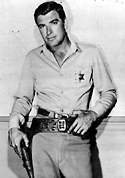 From the Doug AbbottCollectionSheriff of Cochise – BUY on DVD
(1956) Judge Roy Bean
1956 Syndicated
Black and White – 30 minutes – 39 episodes
Judge Roy Bean Cast
Edgar Buchanan as Judge Roy Bean
Jack Buetel as Jeff Taggert
Russell Hayden as Steve
Jackie Loughery as Lettie Bean
Set in Langtry, Texas, a town named for Lillie Langtry, this single season Western featured the life of Judge Roy Bean, "the law west of the Pecos." Taggert was his right hand man, Steve, a Texas Ranger and Lettie was his niece.
The real life character was later the subject of a 1972 movie starring Paul Newman.
Passings
Edgar Buchanan died in 1979; Russell Hayden in 1981; and Jack Beutel in 1989.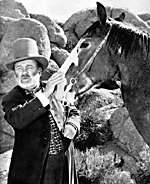 Edgar Buchanan
From the Doug AbbottCollectionJudge Roy Bean – BUY on DVD
The Life And Times Of Judge Roy Bean – BUY the Movie
(1956) Dick Powell's Zane Grey Theater
A Western anthology series, ran on CBS from 1956 to 1961 (5 seasons 149 episodes) It was based on the series of books written by Zane Grey.
Dick Powell was the host of the show but also starred in many of the episodes as various characters.
Cast:
Powell was the only "regular" cast member but here are some notable guest stars:
Denver Pyle, James Whitmore, Lloyd Bridges, Barbara Stanwyck, Eddie Albert, Claude Akins, David Janssen, DeForest Kelley, Cesar Romero, Robert Culp, Lee J. Cobb, Walter Pidgeon, Joan Crawford, Danny Thomas, Michael Landon and many more.
Spinoffs:
5 episodes of the show were developed into spinoff series.  Trackdown, Johnny Ringo , The Rifleman , The Westerner  and Black Saddle
Passings:
Dick Powell died in 1963 of lung cancer, he was only 58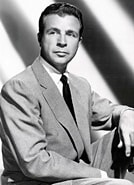 Zane Grey Theatre Complete Season One
Zane Grey Theater: Season 2