Riverboat
9/13/1959 – 1/16/1961 NBC
Black and White – 60 minutes – 44 episodes
Riverboat Cast
Burt Reynolds as Ben Frazer
Darren McGavin as Captain Grey Holden
Noah Beery Jr. as Bill Blake
William D. Gordon as Travis
The riverboat was the "Enterprise" and it cruised the Mississippi during the 1840s. Burt Reynolds, in his first continuing role, played the pilot.
Passings
Noah Beery Jr. died in 1994 of cerebral thrombosis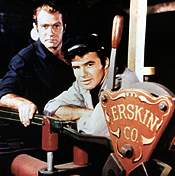 Darren McGavin and Burt Reynolds
From the Doug Abbott Collection
For More Burt Reynolds
See: Gunsmoke
External Links
TV Guide's Riverboat Page, with TV Listings, Photos, Videos, Exclusive News and More.
(1959-1960) Hotel de Paree
10/2/1959 – 9/23/1960 CBS
Black and White – 30 minutes – 32 episodes
Oct. 1959 – Sept. 1960 Friday 8:30-9:00
Hotel de Paree Cast
Earl Holliman as Sundance
Strother Martin as Aaron Donager
Judi Meredith as Monique Deveraux
Jeanette Nolan as Annette Deveraux
Earl Holliman, who would go on to play Lt. Bill Crowley in Police Woman, appeared in this show as a fella just released from 17 years in prison for accidentally killing a man. (Holliman was 31 at the time so do THAT math!) Returning to the same town, he becomes a partner in a hotel in Georgetown, Colorado. Which you should know, was operated by two lovely relatives of the dead guy. And he was a man with a gimmick. His hatband was circled with shiny oval discs that could blind an adversary.
And as for Strother Martin, he is perhaps best known as Percy Garris in Butch Cassidy and the Sundance Kid. Jeanette Nolan was married to John McIntire of Wagon Train. They appeared together in the Virginian.
Passings
Strother Martin died in 1980 of a heart attack, and Jeanette Nolan in 1988 of a stroke.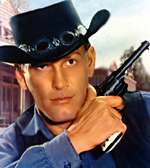 Earl Holliman
From the Doug AbbottCollection
External Links
TV Guide's Hotel de Paree Page, with TV Listings, Photos, Videos, Exclusive News and More.
The Deputy
912/1959 – 9/16/1961 NBC
Black and White – 30 minutes – 76 episodes
The Deputy Cast
Henry Fonda as Marshal Simon Fry
Allen Case as Clay McCord
Betty Lou Keim as Fran McCord
Wallace Ford as Herb Lamson
Reed Morgan as Sergeant Hapgood Tasker
Henry Fonda's first venture into TV. (The Smith Family in 1971 was his other.) He played the Marshal in Silver City, Arizona, although he was responsible for several other towns as well. His Deputy was a storekeeper who preferred to settle problems without gunplay.
Passings
Henry Fonda died in 1982 of heart failure. Allen Case died in 1986.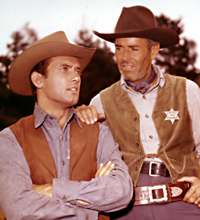 Allen Case and Henry Fonda
From the Doug Abbott Collection
Webmasters Note:
Robert Redford made his TV debut on the Deputy in an episode (4/30/60) called "The Last Gunfight."CLICK HERE for a page of pics from that episode.
External Links
TV Guide's Deputy Page, with TV Listings, Photos, Videos, Exclusive News and More.
Law of the Plainsman
10/10/1959 – 9/22/1960 NBC
Black and White – 30 minutes – 34 episodes
Law of the Plainsman Cast
Michael Ansara as Deputy U.S. Marshal Sam Buckhart
Robert Harland as Deputy Billy Lordan
Dayton Lummis as Marshal Andy Morrison
Gina Gillespie as Tess Logan
Nora Marlowe as Martha Commager
In the New Mexico Territory of the 1880s, Apache born Marshal Buckhart was a unique individual. He had nursed back to health a calvalry captain who had been wounded in an Indian ambush. So grateful was the captain that upon his death, he financed young Buck Heart (as he was known to the Apache) in an education which culminated at Harvard.
Upon his return to his native New Mexico, he went to work for Marshal Morrison in Sante Fe. Buckheart brought a respect for both Indian and white cultures to the work.
Martha ran the boardinghouse where he lived and Tess was an orphan he rescued from a stagecoach accident.
Note: Chuck Simms writes that "The Marshal Sam Buckhart character spun off an episode of the Rifleman in which Sam apprehended a couple of murderers in North Fork." Good to know. Thanks Chuck!
Passings
Nora Malowe died in 1977; Dayton Lummis died in 1998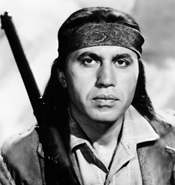 Michael Ansara
From the Doug Abbott Collection
Law of the Plainsman Trivia
Michael Ansara would play his Law of the Plainsman character of Marshal Sam Buckhart in two Rifleman epsiodes. "The Indian" (episode # 1.21) February 17, 1959 and "The Raid" (episode # 1.37) June 9,1959.
For More Michael AnsaraSee:
Broken Arrow
Swamp Fox
10/1959 – 1/1961 ABC
Color – 60 minutes – 8 episodes
"My name is Francis Marion. I fought the British Redcoats in 76. Hiding in the Carolina swamps by day, surprising them with swift strikes at night. They called me a tricky swamp fox. So, a Swamp Fox I became…"
Swamp Fox Cast
Leslie Nielsen as General Francis Marion (The Swamp Fox)
John Sutton as Colonel Tarleton
Joy Page as Mary Videau (1st Season)
Barbara Eiler as Mary Videau (2nd Season)
Myron Healey as Major Peter Horry
Jordan Whitfield as Oscar
J. Pat O'Malley as O'Reilly
Mary Field as Cathy Marion
Louise Beavers as Delia
Slim Pickens as Plunkett
Hal Stalmaster as Gwynn
Patrick Macnee as British Captain
Tim Considine as 'Young' Gabe Marion
Dick Foran as Gabriel Marion
Henry Daniell as Colonel Townes
This show was another attempt by Disney as part of Wonderful World of Color to recreate the success of Davy Crockett. They even gave the lead a foxtail for his hat, but I guess there are just so many furry caps a kid can own.
Based on the real life story of General Francis Marion, a Revolutionary War hero who fought the British in his native Carolina swamps, the show provided great adventure and a dollop of history.
Passings
Leslie Nielsen died in 2010 of pneumonia, he was 84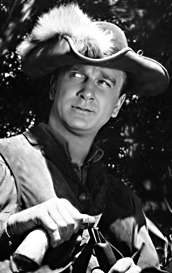 Leslie Nielsen
From the Doug Abbott Collection
BUY ON DVD
Walt Disney Treasures
Elfego Baca and The Swamp Fox: Legendary Heroes
External Links
TV Guide's Swamp Fox Page, with TV Listings, Photos, Videos, Exclusive News and More.
Man From Blackhawk
10/9/1959 – 9/23/1960 ABC
Black and White – 30 minutes – 37 episodes
Man From Blackhawk Cast
Robert Rockwell as Sam Logan
This show had an original idea! The hero was an insurance investigator. He worked for the Chicago based Blackhawk Insurance Company but traveled around the country searching out fraud. He dressed in city clothes and while he didn't shoot a gun, he did get in a few fist fights.
Passings
Robert Rockwell died in 2003 of cancer.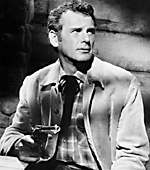 Robert Rockwell
From the Doug AbbottCollection
Wichita Town
9/30/1959 – 9/23/1960 ABC
Black and White – 30 minutes
Wichita Town Cast
Joel McCrea as Marshal Mike Dunbar
Jody McCrea as Ben Matheson
Carlos Romero as Rico Rodriguez
George N. Neise as Doctor Nat Wyndham
Bob Anderson as Aeneas MacLinahan
Robert Foulk as Joe Kingston
Real life father and son, Joel and Jody McCrea played marshal and deputy in Wichita, Kansas Territory. Marshal Dunbar had led a cattle drive to Wichita and decided to settle there. Deputy Matheson had been foreman at the Circle J Ranch and Rodriguez had been a gunfighter. MacLinahan was the smithy and Kingston was a bartender.
Passings
Joel McCrea died in 1990 of pulmonary complications. Foulk died and 1989 and Neise died in 1997 of cancer.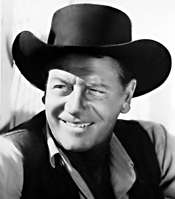 Joel McCrea
From the Doug Abbott Collection
Johnny Ringo
1/10/1959 – 9/29/1960 ABC
Black and White – 30 minutes – 38 episodes
Johnny Ringo Cast
Don Durant as Johnny Ringo
Karen Sharpe as Laura Thomas
Mark Goddard as William "Cully" Charles, Jr.
Terrence De Marney as Case Thomas
In Velardi, Arizona Johnny Ringo was gunfighter turned lawman. Case Thomas, a man who loved his whiskey, owned the general store. His daughter Laura was well, hot, for Johnny and pursued him rather doggedly.
There really was a gunfighter turned lawman named Johnny Ringo in the 1880s but this show was fictionalized.
Mike George writes – Ringo had a special pistol – in some "ficticious way" the pistol had been altered to fit a single .410 shotgun round. I seem to remember one episode where some desperadoes emptied his gun. They didn't know about the "secret" chamber, and he was able to defend himself. Thanks for the info, Mike!
BJ Northon adds that in real life the gun existed and was called a LaMat revolver and actually carried a 16 guage shell.
Wow I guess there's a little reality in most television. Thanks BJ!
The deputy, Cully, would get a better job as Don West on Lost in Space!
Passings
Terrence De Marney died in 1971.
Don Durant passed away in 2007 of a lengthy battle with chronic lymphocytic leukemia
Thank you to NM for that info.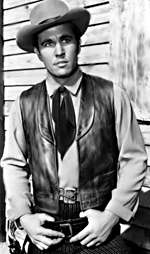 Don Durant
From the Doug AbbottCollection
External Links
TV Guide's Johnny Ringo Page, with TV Listings, Photos, Videos, Exclusive News and More.Go to: