The Outlaws
9/29/1960 – 9/13/1962 CBS
Black and White/Color – 60 minutes – 50 episodes
The Outlaws Cast
Barton MacLane as Marshal Frank Caine
Don Collier as Deputy Marshal Will Foreman
Jock Gaynor as Deputy Marshal Heck Martin
Slim Pickens as Slim
Judy Lewis as Connie
Bruce Yarnell as Deputy Marshal Chalk Breeson
This show had an identity crisis. In the first season Marshal Caine and Deputies Martin and Foreman were the stars. Now this took place in Stillwater, Oklahoma in the 1890's when the Dalton and Jennings Gangs presented some tough desperados for the law. The novel approach of the show was that each episode was seen thru the eyes of the bad guys.
Well, I thought it was an interesting concept but the producers evidently didn't. By the second season both Caine and Martin are gone and Foreman is now a Marshal with his own deputy. Promoted, I assume. And the stories are told from the perspective of the good guys.
Passings
Barton MacLane died in 1969 of cancer. Bruce Yarnell died in 1973 in a plane crash. Slim Pickens in 1983 of a brain tumor. Jock Gaynor died in 1998.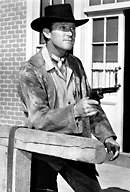 From the Doug AbbottCollection
The Tall Man
9/10/1960 – 9/1/1962 NBC
Black and White – 30 minutes – 75 episodes
The Tall Man Cast
Clu Gulager as Billy the Kid
Barry Sullivan as Deputy Sheriff Pat Garrett
A fictionalized telling of the story of Sheriff Pat Garrett and Billy the Kid (William H. Bonney). It's New Mexico in the 1870s and Garrett and the Kid have an almost paternal relationship. Yet each knows that they are on opposite sides of the law and must one day collide.Although they never showed it, eventually Garrett kills Billy.
Garrett is called the Tall Man because of his honesty and integrity.
Passings
Barry Sullivan died in 1994 of a respiratory ailment.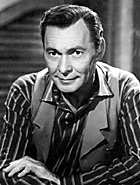 Barry Sullivan
From the Doug AbbottCollection
Buy on DVD – The Tall Man: The Complete TV Series
Tate
6/8/1960 – 9/28/1960 NBC
Black and White – 30 minutes – 13 episodes
Tate Cast
David McLean as Tate
Tate has lost use of his left arm during the Civil War. Which made it hard to find work so he traveled as a kinda wandering gunfighter. Looked mean too, with that arm wrapped in black leather!
Robert Redford made two guest appearances on the show. Episodes: "The Bounty Hunter" and "Comanche Scalps."
Passings
David MacLean died in 1995 of lung cancer.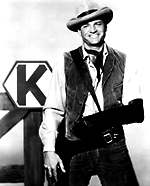 From the Doug AbbottCollection
Overland Trail
2/07/1960 – 6/06/1960 NBC
Black and White – 30 minutes – 17 episodes
Overland Trail Cast
Doug McClure as Frank 'Flip' Flippen
William Bendix as Fred Kelly
Hour long Western with Bendix playing the Superintendent of the Overland Stage Company, and Flippen as his sidekick. They were responsible for moving the stage line from Missouri, across the Rockies and on to California. Bendix was a crusty old soul, while Flip, who was raised by Indians, had a more adventurous nature.
Passings
William Bendix died in 1964 of pneumonia. Doug McClure died in 1995 of lung cancer.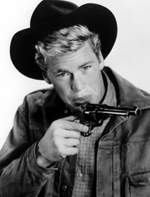 Doug McClure
From the Doug AbbottCollection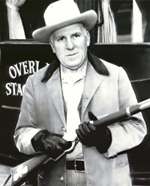 William Bendix
From the Doug AbbottCollection
Stagecoach West
10/4/1960 – 9/26/1961 ABC
Black and White – 60 minutes – 38 episodes
Stagecoach West Cast
Wayne Rogers as Luke Perry
Robert Bray as Simon Kane
Richard Eyer as David Kane
James Burke as Zeke Bonner
This is another show about the stagecoaches which ran from Missouri to California, before the railroad made them obsolete. Luke and Simon were drivers and Simon' s son David rode along. The stories focused on the people they met.
Wayne Rogers would be best known for his role as Trapper John on MASH.
Passings
James Burke died in 1968. Robert Bray died in 1983 of a heart attack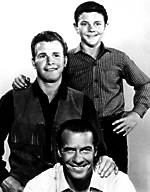 From the Doug AbbottCollection
Klondike
2/9/1961 – 9/14/1961
Black and White – 60 minutes
Klondike Cast
Ralph Taeger as Mike Halliday
James Coburn as Jeff Durain
Mari Blanchard as Kathy O'Hara
Joi Lansing as Goldie
Richard Kiel as Duff Brannigan
In Skagway, Alaska during the gold rush of 1897-1899, Mike Halliday had his hands full trying to keep Jeff Durain, a gambler and owner of the hotel/casino, on the up and up. There was an honest hotel. which was run by Kathy O'Hara who often helped Mike keep track of Durain. But it wasn't true love, as Mike had many ladies, including Durain's own girlfriend Goldie.
Passings
Mari Blanchard died in 1970 of cancer, as did Joi Lansing in 1972.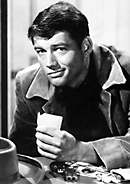 From the Doug AbbottCollection
Gunslinger
2/9/1961 – 9/14/1961
Black and White – 60 minutes
Gunslinger Cast
Tony Young as Cord
Preston Foster as Captain Zachary Wingate
Charles D. Gray as Pico McGuire
Dee Pollock as Billy Urchin
Midge Ware as Amby Hollister
John Pickard as Sergeant Major Murdock
In the decade after the Civil War, Cord was a fast gun who worked undercover for Capt. Wingate, the commander fo Fort Scott, New Mexico. Sort of a Sonny Crockett on horseback! Pico and Billy were his friends and Ambrey ran the store at the fort.
Passings
Preston Foster died in 1970. Tony Young died in 2002 of lung cancer.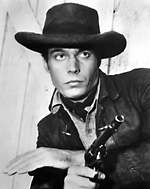 From the Doug AbbottCollection
External Links
TV Guide's Gunslinger Page, with TV Listings, Photos, Videos, Exclusive News and More.
Whispering Smith
5/15/1961 – 9/18/1961 NBC
Black and White – 30 minutes – 25 episodes
Whispering Smith Cast
Audie Murphy as Detective Tom "Whispering" Smith
Guy Mitchell as Detective George Romack
Sam Buffington as Chief John Richards
Set in Denver in the 1870s, the show worked off of actual cases from the old files of the Denver Police Department. Detective Tom Smith brought "modern" methods of criminology to the West.
But the show was plagued by troubles. Intended for the 1959 -1960 season, it was delayed when singer turned actor Guy Mitchell suffered a should injury and then when Sam Buffington died.
Passings
Sam Buffington died in 1960 by suicide
Audie Murphy died in in 1971 in a plane crash.
Guy Mitchell died in 1999.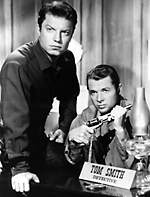 Guy Mitchell and Audie Murphy
From the Doug Abbott Collection
Whispering Smith Trivia
Audie Murphy was an authentic war hero, the most decorated man in WWII.Guy Mitchell recorded "Singing the Blues," the Number 2 song of 1956.
Whiplash
1961 Syndicated
Black and White – 30 minutes – 34 episodes
Whiplash Cast
Peter Graves as Christopher Cobb
Anthony Wickert as Dan
Filmed on location, this story, starring the elegant Peter Graves, was about an American building the first stagecoach line in Australia in the 1850s.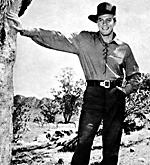 Peter Graves
From the Doug Abbott Collection
For More Peter GravesSee:
Mission Impossible
Fury
Frontier Circus
10/5/1961 – 9/20/1961 CBS
Black and White – 60 minutes – 26 episodes
Frontier Circus Cast
Chill Wills as Col. Casey Thompson
John Derek as Ben Travis
Richard Jaeckel as Tom Gentry
Some similarities can be drawn to Wagon Train, although this Western was also part circus show. The T&T Circus (for Thompson and Travis) traveled from town to town in a wagon train. And they had an advance man (think scout) in Gentry who found good places for the circus to stop. The stories involved both the circus performers and the Westerners they ran across.
Passings
John Derek died in 1998 of heart problems. But during his life he was married to Ursula Andress, Linda Evans and Bo Derek. Maybe heart problems were inevitable. Chill Wills died in 1978 and Richard Jaeckel died in 1997, both of cancer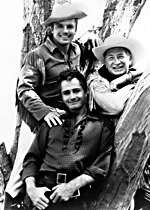 Richael Jaeckel, John Derek, Chill Wills
From the Doug AbbottCollection
External Links
TV Guide's Frontier Circus Page, with TV Listings, Photos, Videos, Exclusive News and More.
Empire
9/25/62 – 12/31/1963 NBC
Color – 60 minutes
Empire Cast
Richard Egan as Jim Redigo
Ryan O'Neil as Tal Garrett
Terry Moore as Connie Garrett
Anne Seymour as Lucia Garrett the mother and ranch matriarch
Charles Bronson as Paul Moreno
This was as modern as westerns got. The ranch foman Jim Redigo had a masters degree in business and the "empire" included not just the ranch but oil, agriculture, and mining as well.
The second season saw a name change to Regigo and an all male cast but the ratings killed it anyway.
Passings
Richard Egan died in 1987 of prostate cancer. Anne Seymour died in 1988, she was 79.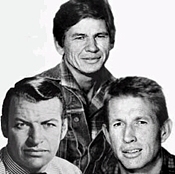 Empire cast
Stoney Burke
10/1/1962 – 9/2/1963 ABC
Black and White – 60 minutes
Stoney Burke Cast
Jack Lord as Stoney Burke
Robert Dowdell as Cody Bristol
Bruce Dern as E.J. Stocker
Warren Oates as Ves Painter
Bill Hart as Red
Before he knew to say, "Book 'em, Dano" Jack Lord played a rodeo rider who wanted to win the big prize – The Golden Buckle. Sadly, as the show only lasted one season, he never got the win. I hate it when that happens.
Passings
Jack Lord died in 1998 of congestive heart failure. Warren Oates died in 1982 of a heart attack.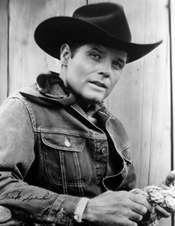 Jack Lord
From the Doug Abbott Collection
For More Jack LordSee:Hawaii Five-O
External Links
TV Guide's Stoney Burke Page, with TV Listings, Photos, Videos, Exclusive News and More.
Temple Houston
9/19/1963 – 9/10/1964 NBC
Black and White – 60 minutes – 27 episodes
Temple Houston Cast
Jeffrey Hunter as Temple Houston
Jack Elamas George Taggart
Frank Ferguson as Judge Gurney
Chubby Johnson as Concho
Mary Wickes as Ida Goff
Temple Houston, son of the legendary Sam Houston, traveled the circuit courts in the Southwest in the 1880s. Elegantly tailored, he cut a fine figure as he employed his famous oratorical skills in court. Naturally, he was pretty handy with a gun too. Also followingthe circuit court was George Taggart, a U.S. Marshal and somewhat past his prime gunfighter.
The real life Temple Houston was a contemporary of both Billy the Kid and Bat Masterson and according to legend, engaged in gunfights with both of them.
Passings
Jeffrey Hunter died in 1969 of a head trauma. Frank Ferguson died in 1978 of cancer, as did Mary Wickes in 1995. Chubby Johnson died in 1974.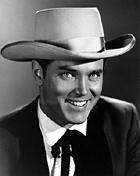 Jeffrey Hunter
From the Doug AbbottCollection
Dakotas
1/7/1963 – 9/9/1963 ABC
Black and White – 60 minutes – 20 episodes
Dakotas Cast
Larry Ward as Marshal Frank Ragan
Jack Elam as Deputy J.D. Smith
Chad Everett as Deputy Del Stark
Mike Greene as Deputy Vance Porter
U.S. Marshal Frank Raglan and his three deputies maintain law and order across the Black Hills and Badlands of the Dakota Territory. All three deputies had different personalities. Del Stark was explosive; Vance Porter was a bear; J.D. Smith was a gunfighter. But c'mon folks. Chad Everett as a cowboy? Dr. Joe Gannon on Medical Center was better casting.
Passings
Larry Ward died in 1985.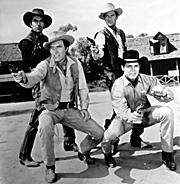 From the Doug Abbott CollectionGo to: