A Man Called Shenandoah
9/13/1965 – 9/5/1966 ABC
Black and White – 30 minutes
A Man Called Shenandoah Cast
Robert Horton as Shenandoah
Two buffalo hunters find a stranger who has been shot. Thinking he may have a price on his head, they take him to town. Although he is not wanted, when he comes around, he cannot remember who he his. He has amnesia. Calling himself Shenandoah, he wanders the West trying to find his real identity in this single season show.
The show was cancelled before we ever learned his true story.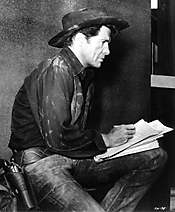 Robert Horton
From the Doug Abbott Collection
Robert Horton Fans!!
There are scads of pictures, screensavers, media files etc of Robert Horton at the WAGON TRAIN section of the site
External Links
TV Guide's Man Called Shenandoah Page, with TV Listings, Photos, Videos, Exclusive News and More.
Laredo
9/16/1965 – 9/1/1967
Color – 60 minutes – 56 episodes
Laredo Cast
Neville Brand as Reese Bennett
Peter Brown as Chad Cooper
William Smith as Joe Riley
Philip Carey as Captain Parmalee
Robert Wolders as Erik Hunter
Claude Akins as Cotton Buckmeister
Horse: Cactus (Reese's Horse)
Horse: Amigo (Chad's Horse)
Humor was a big factor in this telling of the Texas Rangers. Neville Brand played a former Union Army officer who came to the Rangers with something of a checkered past, which amused his younger partners. Riley, a gentle soul by nature, had been raised by Indians and so was the best tracker. Cooper was from New Orleans and had the reputation of a fast gun, although not as a gunfighter. Their boss, Capt. Parmalee didn't always find their antics so funny.
Passings
Neville Brand died in 1992 of emphysema. Claude Akins in 1994 of cancer. Peter Brown passed in 2016 he was 80.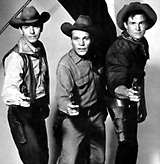 Peter Brown, Neville Brand and William Smith
From the Doug AbbottCollection
For More Peter Brown See:
Lawman
External Links
TV Guide's Laredo Page, with TV Listings, Photos, Videos, Exclusive News and More.
Loner
9/18/1965 – 4/30/1966 CBS
Black and White – 30 minutes – 26 episodes
Loner Cast
Lloyd Bridges as William Colton
After the Civil War a former Union Cavalry officer travels West to try to find some meaning in life, something to value.
This show had some heavy duty talent involved. Rod Serling wrote some of the scripts. Alexander Courage and Jerry Goldsmith did the music – before they boldly went on to Star Trek.
Passings
Lloyd Bridges died in 1998.

Lloyd Bridges
From the Doug AbbottCollection
Iron Horse
9/12/1966 – 1/6/1968 ABC
Color – 60 minutes – 47 episodes
Iron Horse Cast
Dale Robertson as Ben Calhoun
Gary Collins as Dave Tarrant
Robert Random as Barnabas Rogers
Roger Torrey as Nils Torvald
Ellen Burstyn as Julie Parsons
Ben Calhoun won a railroad in a poker game. An unfinished railroad! So Ben had to complete the Buffalo Pass, Scalplock and Defiance line. Helping him were Dave, the construction engineer, Nils the giant crewman, and Barnabas the orphan who adored him. Julie ran the Scalplock General Store. Lots of action in this one as they tamed the way for the railroad!
Passings
Dale Robertson died in 2013 at 89 years old of lung cancer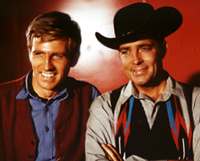 Gary Collins and Dale Robertson
From the Doug Abbott Collection
For More Dale RobertsonSee:
Tales of Wells Fargo
External Links
TV Guide's Iron Horse Page, with TV Listings, Photos, Videos, Exclusive News and More.
The Road West
9/12/1966 – 8/28/1967 NBC
Color – 60 minutes – 29 episodes
The Road West Cast
Andrew Prine as Timothy Pride
Glenn Corbett as Chance Reynolds
Kelly Corcoran as Kip Pride
Kathryn Hays as Elizabeth Reynolds
Brenda Scott as Midge Pride
Charles Seel as Grandpa Pride
Barry Sullivan as Ben Pride
Benjamin Pride moved his entire family from their home in Springfield, Ohio to the Kansas Territory after the Civil War. The stories were about the struggles of a pioneering family.
Kathyrn Hays has been playing Kim Hughes on As The World Turns since 1972!
Passings
Charles Seal died in 1980. Glen Corbett died in 1993 of lung cancer. Barry Sullivan died in 1994.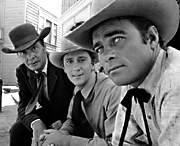 Barry Sullivan, Andrew Prine and Glenn Corbett
From the Doug Abbott Collection
For More Barry Sullivan
See:
Tall Man
Guns of Will Sonnett
9/8/1967 – 9/15/1969 ABC
Color – 30 minutes
Produced by Aaron Spelling
Guns of Will Sonnett Cast
Walter Brennan as Will Sonnett
Dack Rambo as Jeff Sonnett
The estimable Walter Brennan played the elder (he was 73 at the time) Will Sonnett, whose own son James had left Will's infant grandson, Jeff in his care. 19 years pass and still no James, so both Will and Jeff set out to find him. They run into many people who claim to know the elusive James, who has become a gunslinger. Some folks speak well of him and others ill. They never found him. However, in the last original episode they meet a man who claims to have killed James. Live by the gun… ABC had a surprise though, since they were considering a third season reboot they released another final episode titled "Three Stand Together" where all three Sonnett's get together and become lawmen in Samson. (thanks to Elinor Kuhns for this correction)
Trivia – Dack Rambo was the twin brother of Dirk Rambo, who died in 1967 in a fire.
Passings
Walter Brennan died in 1974 of emphysema. Dack Rambo in 1994 of AIDS.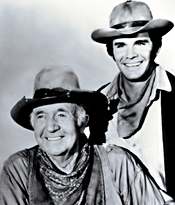 Walter Brennan and Dack Rambo
From the Doug Abbott Collectio
NOW ON DVD!
Guns of Will Sonnett

Complete 1st Season
Complete 2nd Season
Complete Series
External Links
TV Guide's Guns of Will Sonnett Page, with TV Listings, Photos, Videos, Exclusive News and More.
Cowboy in Africa
9/11/1967 – 9/16/1968 ABC
Color – 60 minutes – 26 episodes
Cowboy in Africa Cast
Chuck Connors as Jim Sinclair
Tom Nardini as John Henry
Ronald Howard as Wing Commander
Gerald Edwards as Samson
Okay, so maybe this stretches the point inasmuch as it's an African Western. But Chuck Connors played champion rodeo cowboy Jim Sinclair, who had been hired by a Brit named Commander Hayes to bring American expertise to his game ranch in Kenya. Sinclair got help from his Navajo blood brother John Henry and sort of adopted an orphaned Kikuya boy named Samson. I know. A Navajo named John Henry and a Kikuya named Samson.
This was based on Ivan Tors' movie Africa-Texas Style! (1967). Some of the backgrounds were shot in Africa while others came from the Africa USA theme park in southern California.
Passings
Chuck Connors died in 1992 of lung cancer. Ronald Howard (Leslie Howard's son) died in 1996.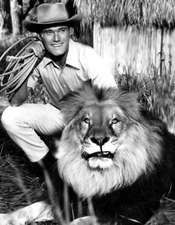 Chuck Connors
From the Doug Abbott Collection
For More Chuck Connors
See:
Rifleman
Branded
External Links
TV Guide's Cowboy in Africa Page, with TV Listings, Photos, Videos, Exclusive News and More.
Hondo
9/8/1967 – 12/29/1967 ABC
Color – 60 minutes
Hondo Cast
Ralph Taeger as Hondo Lane
Noah Beery Jr. as Buffalo Baker
Gary Clarke as Capt. Richards
Kathie Browne as Angie Dow
Buddy Foster as Johnny Dow
Michael Pate as Chief Vittoro
William Bryant as Col. Crook
Taken from the Louis L'Amour story and the 1953 John Wayne movie, this story was about a cavalry scout in the Arizona Territory around 1870. Hondo had been a Confederate officer who came to live wth the Apaches under Chief Vittoro. But his Indian bride, the Chief's daughter, had been slain in an army massacre. So now he worked for the Army trying to avoid further bloodshed.
FYI – Buddy Foster is Jodie Foster's brother.
Passings
Noah Berry Jr. died in 1991 – but not before we came to love him as Jim Rockford's father!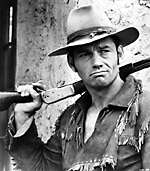 From the Doug AbbottCollection
BUY Hondo
John Wayne (also includes Ward Bond)(1953 Movie)
Dundee and the Culhane
9/6/1967 – 12/13/1967 CBS
Color – 60 minutes – 12 episodes
Dundee and the Culhane Cast
John Mills as Dundee
Sean Garrison as The Culhane
Although British attorney Dundee's offices were in Sausalito, across the Bay from San Francisco, he and apprentice Culhane wandered the West for their clients, always trying to impose rule of law in an often lawless land.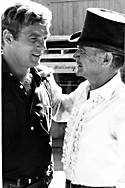 Sean Garrison and John Mills
From the Doug AbbottCollection
(Legend of) Custer
9/6/1967 – 12/27/1967 ABC
Color – 60 minutes
(Legend of) Custer Cast
Wayne Maunder as Lt. Col. George Armstrong Custer
Slim Pickens as California Joe Milner
Peter Palmér as Sergeant James Bustard
Michael Dante as Crazy Horse
Robert F. Simon as Brigadier General Alfred Terry
Grant Woods as Captain Miles Keogh
This deals with the period of his life after the Civil War but before that error in judgement at the Little Bighorn. He has lost rank as the result of a court martial and been posted to Fort Hays, Kansas to take charge of a 7th Army Cavalry Regiment.
Although his commander, General Terry disapproved of Custer's methods, manner and even his hair, he realized that Custer was doing an excellent job of pulling together the rag-tag 7th Cav. Custer was devoted to curtailing the activities of Crazy Horse and his Sioux brothers, a pursuit Custer could have literally, lived without. And the show, like Custer, was short-lived.
Of historical note – 272 members of the 7th Cavalry died with him, June 25, 1876 at the Battle of Little Bighorn.
Passings
Slim Pickins died in 1983 of a brain tumor. Robert Simon in 1992 of a heart attack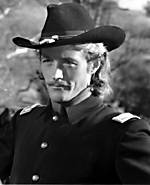 Wayne Maunder
From the Doug AbbottCollection
Lancer
9/24/1968 – 6/23/1970 CBS
Color – 60 minutes – 51 episodes
Lancer Cast
James Stacy as Johnny Madrid Lancer
Wayne Maunder as Scott Lancer
Andrew Duggan as Murdoch Lancer
Paul Brinegar as Jelly Hoskins
Elizabeth Baur as Teresa O'Brien
Two sons with widely different backgrounds (and different mothers) arrive to help their father keep his land and manage his holdings. They had never even met each other until their father asked them to come to his aid. Johnny had been a drifter/gunfighter who had wandered the West. Scott was a Boston bred college boy. But together they form an alliance to help the father and his young ward, Teresa.
They showed reruns of this thru the summer of 1971.
Wayne Maunder had just been in the bomb, Custer (see above) and Paul Brinegar had played Wishbone on Rawhide.
Passings
Andrew Duggan died in 1988 of throat cancer. Paul Brinegar died in 1995.James Stacy died of a heart attack in 2016 at 79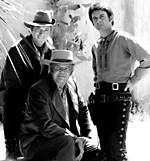 From the Doug Abbott Collection
James Stacy Trivia
Regarding James Stacy (Johnny). In 1973 James Stacy was riding a motorcycle with his girlfriend when they were struck by a drunk driver. The girlfriend was killed and Stacy lost his left arm and left leg. Both his ex-wives, Connie Stevens and Kim Darby, plus friends pitched in to help him with his medical bills. He continues to act but only in roles he feels appropriately represent the handicapped.
External Links
TV Guide's Lancer Page, with TV Listings, Photos, Videos, Exclusive News and More.
Here Come the Brides
9/25/1968 – 9/18/1970 ABC
Color – 60 minutes – 52 episodes
Here Come the Brides Cast
Robert Brown as Jason Bolt
Bobby Sherman as Jeremy Bolt
David Soul as Joshua Bolt
Joan Blondell as Lottie Hatfield
Bridget Hanley as Candy Pruitt
Mark Lenard as Aaron Stempel
Bo Svenson as Big Swede
Susan Tolsky as Biddie Cloom
Henry Beckman as Capt. Roland Francis Clancey
Mitzi Hoag as Miss Essie Gillis
Hoke Howell as Ben Jenkins
This show was as much comedy as adventure. Here's the story. Jason Bolt and his brothers are at risk of losing ther timberland at Bridal Veil Mountain because the loggers are in revolt over the lack of women in nearby Seattle. So Jason sails on Capt. Clancey's ship back to New Bedford Massachusetts. He retnrns with 100 women who must stay for one year.
Brides was a springboard for two careers. Bobby Sherman's singing career would take off in 1969 with the releases of "Little Woman," "La La La (If I Had You)," "Easy Come, Easy Go," and "Julie, Do Ya Love Me,"
David Soul would go on to be Det. Ken "Hutch" Hutchinson of Starsky and Hutch. While Mark Lenard is best known as Sarek, Spock's father, on Star Trek.
Passings
Joan Blondell died in 1979 of leukemia. Lenard died in 1996 of mulitple myeloma.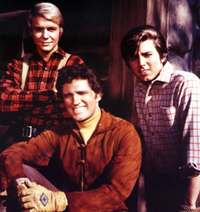 David Soul, Robert Brown and Bobby Sherman
From the Doug Abbott Collection
NOW ON DVD!
The Complete First Season
The Complete Second Season
External Links
TV Guide's Here Come the Brides Page, with TV Listings, Photos, Videos, Exclusive News and More.Go to: