1951 – 1958 Syndicated
30 minutes
Black and White/Color
113 episodes
Wild Bill Hickok Cast
Guy Madison as U.S. Marshal James Butler 'Wild Bill' Hickok
Andy Devine as Jingles
Horses:Buckshot – Wild Bill's horse and Joker was Jingles
Wild Bill Hickok Tidbits -"Wait for me, Wild Bill!"
The real Wild Bill was more lowdown than this TV portrayal. This version, which also ran on radio, made WIld Bill Hickok (Guy MAdison) into a first rate hero by just not mentioing the part where the real guy was a gambler and marshal.
Both Madison and Devine parlayed this into a string of popular movies.
Passings
Guy Madison died in 1996 of emphysema. Devine died in 1977 of leukemia.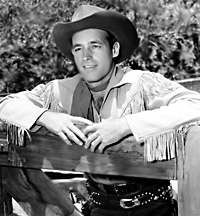 Guy Madison
From the Doug Abbott Collection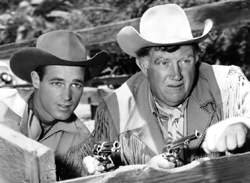 Guy Madison and Andy Devine
From the Doug Abbott Collection
External Links
TV Guide's Wild Bill Hickok Page, with TV Listings, Photos, Videos, Exclusive News and More.