10/10/58 -11/9/1964 ABC 1 Hour
Black and White – 205 episodes
Warner Bros. Television
Cast
Efrem Zimbalist Jr. as Stuart Bailey
Roger Smith as Jeff Spencer (1958-1963)
Edd Byrnes as Gerald Lloyd "Kookie" Kookson III (1958-1963)
Louis Quinn as Roscoe (1958-1963)
Jacqueline Beer as Suzanne Fabray (1958-1963)
Byron Keith as Lt. Gilmore (1958-1963)
Robert Logan as J.R. Hale (1961-1963)
Richard Long as Rex Randolph (1960-1961)
Joan Staley as Hannah (1963-1964)
Trivia
Roger Smith is Ann-Margaret's husband.
Efrem Zimbalist Jr. is Stephanie Zimbalist's father
77 Sunset Strip Theme Song
"77 Sunset Strip" by Mack David and Jerry Livingston
"You meet the high brow and the hipster
The starlet and the phony tipster
You meet most every kind of guy and gal
Including a private eye!"
77 Sunset Strip Tidbits
The prototype for the suave Private Eye show!
Stu Bailey (Zimbalist) was an Ivy League Ph.D. who had been an OSS officer. Spencer (Smith) has also been an undercover agent and was a lawyer. Both were judo experts.
Their offices were at 77 Sunset Strip in Hollywood.
Next door was the posh restaurant, Dino's Lodge at number 79, where the "ginchiest" carpark of all time, Kookie (Brynes) worked and gabbed. (For more Kookie-isms, click here.) The dreamboat Brynes became a heartthrob and recorded "Kookie, Kookie, Lend Me Your Comb" with Connie Stevens.
Now if you are the hippest character on TV, naturally you ask for more money, more screen time. Oddly, the producers said no and poof, it was like Kookie had never existed. Brynes walked. In the 4/22/1960 story "Stranger Than Fiction" they needed a parking lot attendant and Craig Curtis appeared as Joey. Kookie, it was decided, was in finger printing school.
In 1960 Richard Long got moved over from Bourbon Street Beat as detective Rex Randolph.
By October of 1961 Robert Logan had the parking job as J.R. Hale, complete with his own lingo – all initials, as B&S was Bailey and Stuart, NTI – Nothing to It.
Brynes won out and returned as a full partner in the dectective agency. The ladies dug him like crazy, man.
In 1963 the ratings were tanking and Jack Webb was brought in as producer. He dumped all the characters except Zimbalist, who became a freelance globe trotting investigator. He even replaced the finger snapping theme song. But the party was over and it was splitsville.
Passings
Richard Long died in 1974 of heart problems, Louis Quinn in 1988, Bryon Keith died in 1996 of pancreatic cancer,  Efrem Zimbalist Jr passed in 2014, he was 95 years old and Roger Smith died in 2017,Edd Byrnes died in 2020 at 89 (RIP all).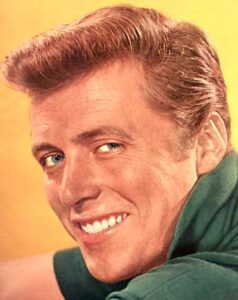 Edd Brynes "Kookie"
Click image for Larger View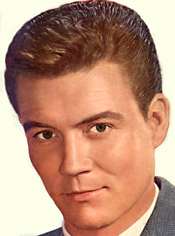 Roger Smith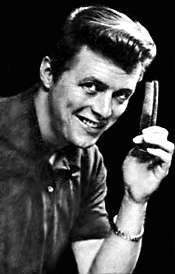 Edd Brynes "Kookie"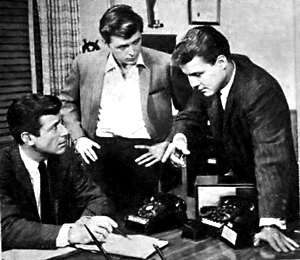 Cast
77 Sunset Strip Trivia
They did some crossovers on these private eye shows. A crossover is where a star from one show appears as his own character but in another show.
To wit on Hawaiian Eye:
Efrem Zimbalist Jr. as Stu Bailey appeared in the first episode, "Malihini Holiday" 10/7/1959 and with co-star Roger Smith as Jeff Spencer in "I Wed Three Wives" 9/14/1960.
Richard Long appeared as Rex Randolph from Bourbon Street Beat and 77 Sunset Strip in "Swan Song for a Hero" 12/7/1960.
The Hawaiian Eye cast went to LA to 77 Sunset Strip as well:
Robert Conrad as Tom Lopaka in "Only Zeroes Count" 10/2/1959 and "Who Killed Cock Robin?" 2/5/1960
The Surfside 6 crowd showed up too:
Troy Donahue as Sandy Winfield I and Van Williams as Ken Madison in "The Hot Tamale Caper" 5/26/1961
And the LA dectectives went to Miami to Surfside 6:
Edd Byrnes as Kookie Kookson and Roger Smith as Jeff Spencer in "Love Song for a Deadly Redhead" 4/30/1962