1955 Syndicated 30 minutes
Black and White – 52 episodes
Produced by Gene Autry's Flying A Productions
Buffalo Bill Jr. Cast
Dick Jones as Buffalo Bill Jr.
Harry Cheshire as Judge Ben Wiley
Nancy Gilbert as Calamity
Horse: Chief
Buffalo Bill Jr. Tidbits
Bill was an orphan adopted by Judge Wiley, founder of Wileyville, Texas in the 1890s. Calamity was Bill's younger sister. He gets appointed marshal and maintains the law.
Passings
Harry Cheshire died in 1968.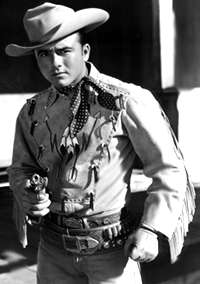 Dickie Jones
From the Doug Abbott Collection
For More of Dick Jones
See Range Rider
Click to Buy
Buffalo Bill on DVD
External Links
TV Guide's Buffalo Bill, Jr. Page, with TV Listings, Photos, Videos, Exclusive News and More.

Dick Jones
From the Doug Abbott Collection

From the William Sasser collection
Dickie Jones
2000 Knoxville Film Festival
For more pics like the one above,
Go to Stars Today