Buy on DVD
Complete Collection
Man From UNCLE
9/22/1964 – 1/15/1968
NBC 60 minutes
Black and White/Color
132 episodes
Produced by Norman Felton
9/13/1966 – 8/29/1967
NBC 60 minutes
Color – 29 episodes
Man From UNCLE Cast
Robert Vaughn as Napoleon Solo
David McCallum as Illya Kuryakin
Leo G. Carroll as Alexander Waverly
Barbara Moore as Lisa Rogers (1967-1968)
(Waverly's secretary)
Girl From UNCLE Cast
Stefanie Powers as April Dancer
*Noel Harrison as Mark Slate
Randy Kirby as Randy Kovacs
Leo G. Carroll as Alexander Waverly
Noel Harrsion is Rex Harrison's son
Man From UNCLE Theme Song
"Man From UNCLE" by Jerry Goldsmith
Man From UNCLE Tidbits
In response to the huge success of the James Bond films, the U.S. entered the spy game with The Man From U.N.C.L.E. Starring Robert Vaughn as the dashing Napolean Solo and a Scot, David McCallum as Russian Illya Kuryakin, the show had an actual connection to Bond.
Iam Fleming who wrote the Bond books had a character named Mr. Solo in "Goldfinger." Although a bad guy in the original book, Fleming gave producer Norman Felton permission to use the name.
The U.N.C.L.E. spies had very different personalities. Solo was outgoing and sophisticated. Kuryakin was thoughtful and quiet.
The head of the U.N.C.L.E. secret New York office was Mr. Waverly (Leo G. Carroll). His assignments most often involved fighting the evil organization, THRUSH.
During the run of the show, Girl From UNCLE debuted. Starring Stephanie Powers as April Dancer, the show only lasted a year. It was THAT bad.
Passings
Leo G. Carroll died in 1972 of cancer.
RECENT NOTES:
Did you ever think that Duckie the Medical Examiner on NCIS looked familar?
Yes,it's David McCallum all grown up.
I guess he just can't get away from shows with initials in the title!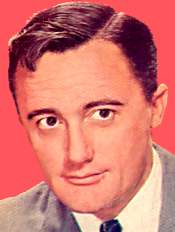 Robert Vaughn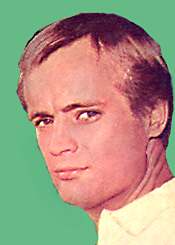 David McCallum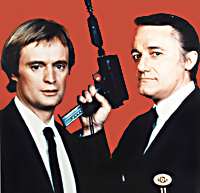 David McCallum and Robert Vaughn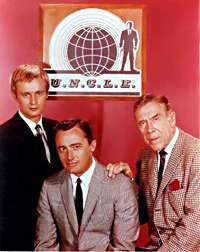 David McCallum, Robert Vaughn and Leo G Carroll
Man From U.N.C.L.E. Show Trivia
The Alphabet Soup
UNCLE
United Network Command for Law and Enforcement
THRUSH
Technological Hierarchy for the Removal of Undesirables and the Subjugation of Humanity