The 1960s saw the emergence of the muscle car era, and Ford was right in the mix. The Ford Mustang, introduced in 1964, became an instant sensation and is considered one of the most iconic American muscle cars.
Ford faced fierce competition from other automakers, especially General Motors and Chrysler, which led to the "horsepower race." This competition resulted in powerful engines and innovative designs.
Towards the end of the 1960s, safety features began to receive more attention. Ford, like other car manufacturers, started incorporating safety features such as seatbelts and padded dashboards.
1960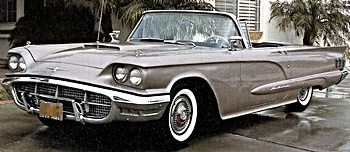 1960 Ford Thunderbird
The Thunderbird hasn't changed much since '58 with only a minor grille revision its sales continued to improve but still only a fraction of Falcon's
Cost: $3,755.00 (hardtop)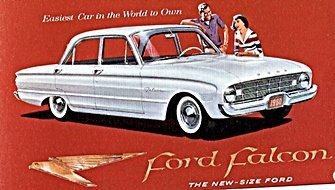 Ford's best selling car was the Falcon
---
1961

1961 Ford Galaxie Town Victoria
Full sized Ford's get a restyle this year showing off a new grill and a squared off roofline with rounded "after burner" taillights and a over the bumper grill a new large stroke V-8 completed the facelift
Cost: $2,650.00
1961 Ford Thunderbird
No facelift for T-Bird
this was a top to bottom redo which emphasized the sport / luxury design weighing in at 2 tons the only thing heavier was a Country Squire Wagon unique to Thunderbird was a novel swing away steering wheel which accommodated easier entry and exit from the drivers seat
Cost: $4,175.00
---
1962

1962 Ford Galaxie 500
The lower priced Galaxie line were Ford's best sellers and the Galaxie 500 four door sedan (shown) was the best selling Galaxie also introduced was a Galaxie 500XL with front bucket seats and center counsel shifter
Cost: $2,660.00
---
1963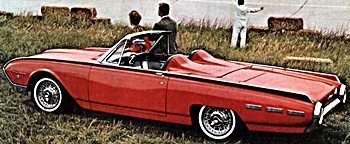 1963 Ford Thunderbird Sports Roadster
This modified Thunderbird convertible was originally introduced in '62 to lackluster sales because of it's hefty price tag basically it was a manufactured piece that fit over the back seat area
to give the appearance of a two-seater, equipped with real wire wheels
Cost: $5,450.00
---
1964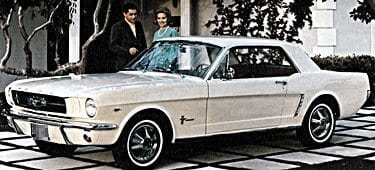 1964 Ford Mustang
This was the year of the Mustang high styled, low priced with a bucket full of options the Mustang, both hard top and convertible became the car of the decade it's first full season Ford sold over a million Mustangs a record which has never been broken and probably won't be.
Cost: $2,615.00 (convertible)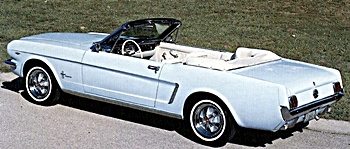 1964 Mustang Convertible
---
1965

1965 Ford Galaxie 500
While Mustang and Thunderbird were getting the attention the big Ford's like Galaxie 500 (shown) and Custom 500 were the bread and butter of the company
Cost: $2,675.00
---
1966
1966 Ford Mustang
Although fastbacks were the rage, this one didn't sell well compared to other Mustang's the 2+2 GT package (shown) got even fewer takers the hard top with the 289 V-8 was the sales leader for Ford
Cost: $2,885.00
---
1967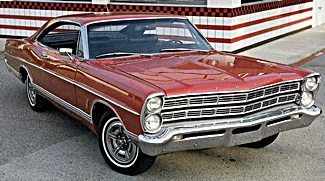 1967 Ford Galaxie 500
Redesigned to give a more flowing look Galaxie came with a big block V-8 but the real surprise was the smaller Fairlane with the same V-8 Thunderbird gets a four door model for the first time this year.
Cost: $2,750.00
1968

1968 Ford Thunderbird
Showing off it's new egg crate grill this Thunderbird was impressive but not a big seller it's price kept it under Lincoln and Cadillac but higher than other makers top line sedans
Cost: $4,920.00
---
1969

1969 Ford Mustang Mach 1
Mustangs got another facelift this year they were now longer, lower, wider and a little heavier the Mach 1 was now the only fastback offered it came with those rear window shades and upsized wheels the big 428 Cobra Jet engine and the hood scoop were options
Cost: $3,218.00