Back in the 1970s, a lot was happening in the world. Things were changing, and Ford, was right there in the mix. They had some amazing cars, and we're going to take a look at them.
Imagine you're in the early 1970s. The air feels different, like something exciting is about to happen. And on the roads, there are these fantastic Ford cars that everyone's talking about. These cars were the heroes of the street, with names that people still remember today.
There's the Ford Mustang, a car that was cool and tough. And then there's the Ford Thunderbird, a car that was all about looking fancy and classy. Ford was making all kinds of cars that showed off their skills and creativity.
But it wasn't all easy for Ford in the '70s. They had to deal with problems like not having enough fuel for the cars and new rules about safety and the environment. It was an obstacle, but Ford was determined to do well.
Ford in the 1970s faced a changing economic and regulatory landscape compared to the 1950s and 1960s. While it continued to produce iconic cars, it also had to adapt to new challenges related to emissions, safety, and fuel efficiency, reflecting the evolving priorities of both the industry and consumers.
Oil shortages and inflation, affected the entire automotive industry. Ford had to adapt to these changing economic conditions. Environmental concerns led to stricter emission standards and regulations in the 1970s. Ford had to modify its engines and technology to meet these requirements.
Ford diversified its lineup in the 1970s to cater to various customer needs and preferences. They continued producing iconic cars like the Mustang and the Thunderbird while introducing smaller and more fuel-efficient models. As safety and fuel efficiency became more important to consumers, Ford started incorporating features like energy-absorbing bumpers and catalytic converters to reduce pollution.
1970

1970 Ford Falcon

This model would be the last, the name was transferred to a stripped down Torino base. It was offered as a two door or wagon as well.
Base price $2,438.00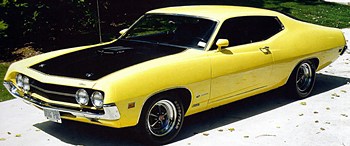 A 1970 Torino Cobra

This model was called a SportsRoof hardtop and included a 429cid V-8 with a shaker scoop hood.
Cost: $3,270.00
1970 Ford Maverick

Advertised as the "first car of the 70's at 1960's prices" it was only offered in a V-6, it's low cost was it's selling point. Cost: $1,995.00
1971 Ford Mustang

This two door hardtop was both the price and sales leader of the Mustang lineup.
Base model: $2,721.00
1970 Ford Mustang Boss 302

Only offered in this fastback it boasted a 290hp, 302cubic inch engine which was much smaller than it's big brother the Boss 429 which boasted a 375hp hemi.
Cost: $3,271.00

1970 Ford Ranchero

The Torino base was also used for this "urban pickup", shown here in the Squire trim.
Base $2,739.00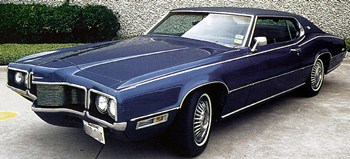 1970 Ford Thunderbird

T Bird lost the hidden headlights to get this new bird beak type grill and exposed headlamps.
Standard Equipment – $4,961.00


1970 Ford Galaxie XL Convertible

With muscle cars stealing all of the thunder Ford tried to remind people that they could have fast and sporty in full sized cars as well.
Cost: $3,150.00

1971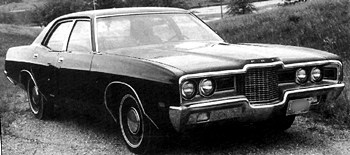 1971 LTD Custom

The least expensive full size model was this four door sedan.
Base price: $3,288.00


1971 Ford Maverick Grabber

To try and woo the younger drivers they gave the Maverick some pizazz with bold stripes and included a 302 cubic inch V-8.
Base price: $2,354.00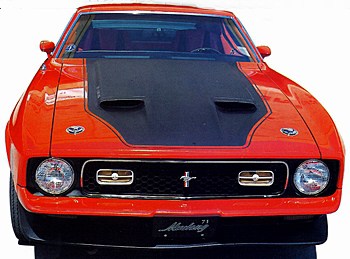 1971 Ford Mustang Mach 1

With Ford's biggest engine the 429 Cobra Jet, this Mustang could do 0-60mph in as little as 6.5 seconds.
Cost: $3,185.00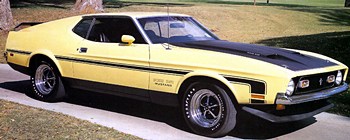 1971 Ford Mustang Boss 351

Boss lost it's big engine this year going instead with a 330hp small block V-8, it also lost sales with a price tag a thousand dollars over the Mach 1.
Base price: $4,124.00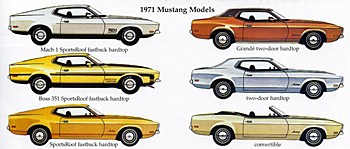 1971 Ford Mustang Lineup

Mustang now offered six different models, they were 8 inches longer and 6 inches wider than their grand pappy the 1965 model .
1971 Ford Pinto

With foreign competition growing Ford introduced the sub-compact Pinto. Selling head to head against Chevy's new Vega. Shown is a Pinto Runabout with roof rack.
Base price: $2,062.00

1971 Ford Torino GT

This Torino was a sporty alternative to the smaller full fledged muscle cars.
Base price $3,150.00

1971 Ford Torino Squire Stationwagon

This family station wagon was one of 14 different models of Torino which helped to push Ford to a sales victory over Chevrolet.
Cost $3,560.00

---
1972

1972 Ford LTD

The mainstay full sized LTD doesn't change much for this year and sales are sluggish.
Cost: $3,969.00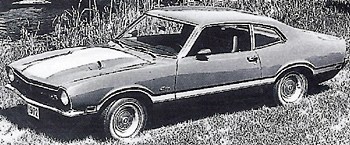 1972 Ford Maverick
Although sales were half of 1970s debut year Maverick was still a solid seller, this Grabber model had a lower price than a base Mustang
Cost: $2,309.00

1972 Ford Mustang Sprint Convertible
This trim package with the American Flag and special colors was a tribute to this years Olympics and also came in a hardtop or fastback style.
Cost: $3,322.00


1972 Ford Pinto

Price and a good design made the Pinto a sales leader for Ford, the line also added several three door wagon models.
Base price: $1,960.00

1972 Ford Thunderbird

Advertised as being "redesigned from the inside out" it gets a new electronically controlled suspension.
Base price: $5,293.00
---
1973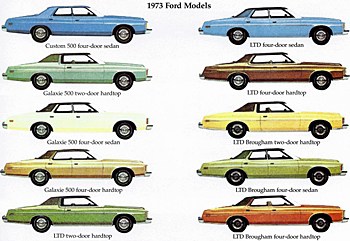 1973 Ford full size lineup

Available as LTD, Galaxie 500 or Custom 500 these full sized Ford's promised a quite comfortable ride

1973 Ford Pinto

Pinto was a sales leader easily besting Chevy's Vega, it got a new optional suspension and bumper guards.
Cost: $2,021.00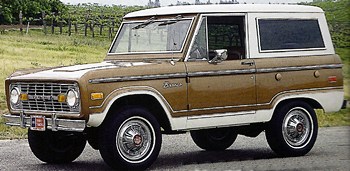 1973 Ford Bronco

Was the first American "sport utility" type vehicle when it debuted in '66, this year it got the popular SelectShift Cruise-O-Matic transmission
Cost: $3,760.00

1973 Ford Mustang

Color coated bumpers complied with the new Federal safety mandates, this would be the last year for the big Mustangs.
Cost: $2,847.00

1973 Ford Mustang Convertible

This would be the last convertible out of Ford for the rest of the decade, four engines were now available in all Mustangs except Mach 1
Base price: $3,189.00

1973 Ford Torino

Although offered in four series with four body styles the Gran Torino Broughmam (shown) was the most popular
Base price: $3,160.00

1973 Ford Thunderbird
New was the optional opera window, front egg crate grill and a hood ornament it also got the federally mandated bumpers.
Base price: $6,437.00
---
1974

1974 Ford Country Sedan

Part of the Galaxie 500 lineup this full sized wagon didn't do as well in a year of oil shortages and fear.
Base: $4,584.00

1974 Ford Gran Torino

This model was still a favorite but mid year they rolled out an Elite model hoping to compete with Chev'y hot selling Monte Carlo
Base: $3,411.00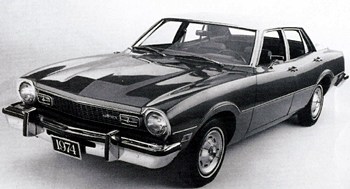 1974 Ford Mavrick

A new luxury decor package gave the economy car a vinyl roof, and an upgraded interior
Base: $3,156.00

1974 Ford Mustang II

Just in time for the energy crisis the downsized Mustang II used a lot of the engineering from the Pinto, sales skyrocketed
Base: $3,363.00


1974 Ford Thunderbird

Not much change except there was only one engine choice a 460 cubic inch 220 hp V-8, a sun or moon roof could be installed.
Base: $7,330.00
---
1975

1975 Ford Elite

No longer called a Gran Torino the Elite was a class by itself advertised as "in the Thunderbird tradition".
Base: $4,767.00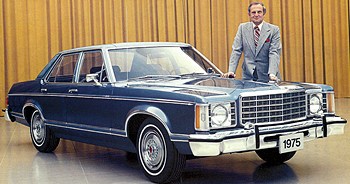 1975 Ford Granada Ghia

This new model became an instant best seller, billed as an upscale compact it was a Maverick underneath but the public didn't know that.
Cost: $4,369.00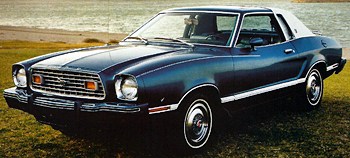 1975 Mustang II

Although they now offered the 302 cubic inch V-8 Mustang sales slid lower, landau tops and opera window made this Ghia Coupe look sophisticated.
Cost: $4,210.00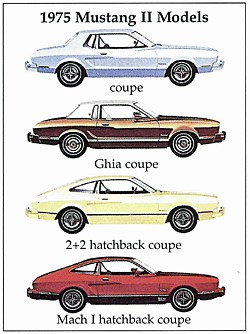 1975 Mustang II Models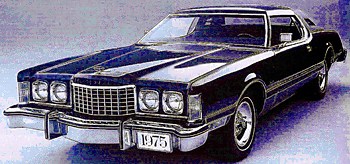 1975 Ford Thunderbird

The luxury automobile turned 20 this year, Ford offered a special Copper or Silver Luxury interior group to commemorate the occasion.
Base: $7,701.00 w/o Luxury Group

---
1976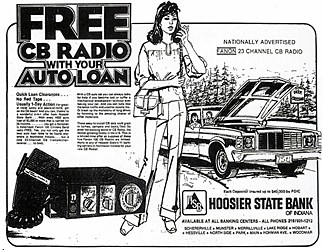 1976 Ad

CB Radios were gaining popularity even inspiring hits songs and movies

1976 Ford Mustang II Cobra

Special paint, lettering and side louvers give a nod to the great Shelby era Mustangs
Base Model Mustang II: $4,047.00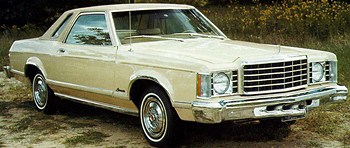 1976 Ford Granada Ghia

Granada sales keep climbing as compact sales in general climb, more ornamentation on the Ghia helped to separate it from base models.
Base: $4,353.00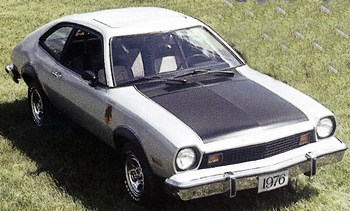 1976 Ford Pinto

Pinto was once again the sub-compact sales leader, the Stallion Edition (shown) didn't garner much interest.
Base: $3,200.00

1976 Ford Elite

Still separating itself from Torino, this will be the models last year.
Base: $4,879.00


1976 Ford Thunderbird

The big Birds weren't selling well so next year will see them downsized, a few Luxury Groups (Bordeaux, Creme/Gold and Lipstick) made Ford's nicest even more cushy.
Base: $7,790.00 w/o Luxury Group


1976 Ford Ranchero

This faux wood grain adorned the Squire trim level, it also came as a GT or 500, Ford now liked to call these car-pickups.
Base: $4,668.00

---
1977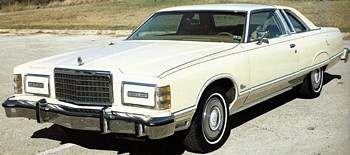 1977 Ford LTD

This Landau sedan was the top of the line and still full sized with no shrinkage.
Base: $5,742.00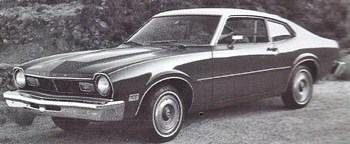 1976 Ford Maverick

With the Mustang II now in it's size class the Maverick faded from popularity and was discontinued at year end.
Base: $3,322.00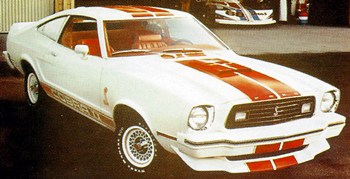 1977 Ford Mustang II Cobra II

Still banking on a revered name the Cobra got wide stripes and louvered rear windows once again this year.
Base: $4,183.00 plus $535.00 for Cobra detailing


1977 Ford Thunderbird

Downsizing dropped 10 inches in length and 900lbs making it a mid-size and the public loved the slimmed down and less expensive bird.
Base: $5,063.00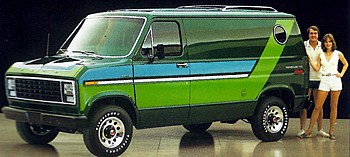 1977 Ford Cruising Van

This Chateau trim was youth oriented and oh so 70's, under it all was an Econoline E-150 .
Base: $4,570.00 standard van

---
1978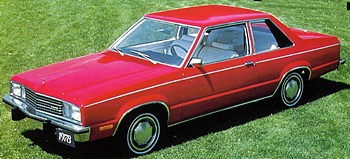 1978 Ford Fairmont

This is Maverick's replacement in the compact segment, boxy outside means roomy inside, available as a two door, four door or wagon.
Base: $3,744.00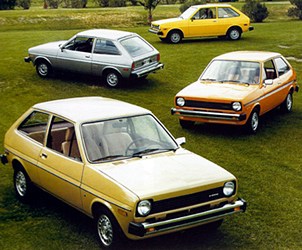 1978 Ford Fiesta

German built and hopefully filling a new segment called mini-cars it had a transverse engine and a simple design.
Base: $4,141.00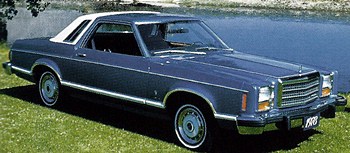 1978 Ford Granada

Only cosmetic changes for this year's model, a vertical rib turned one opera window into two.
Base: $4,505.00


1978 Ford LTD

Hanging on to it's road hugging super full size status for the last year, Ford tried to inspire it's traditional "big car" buyers.
Base: $5,398.00 Landau edition (shown) $5,970.00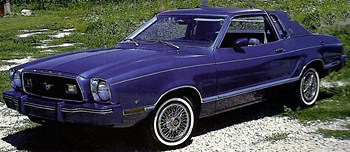 1978 Ford Mustang II

Mustang this year wasn't spectacular, this Ghia model attempted to upscale what was basically a hot rod.
Base: $4,061.00 Ghia edition (shown) $4,479.00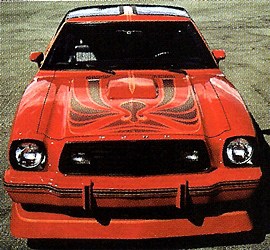 1978 Ford Mustang II Cobra

This gaudy fastback helped Mustang hang on to it's tough guy reputation however this year would be it's last on this frame.
Base: $4,523.00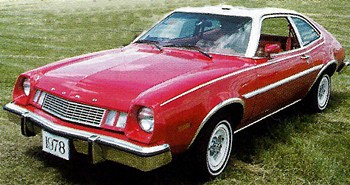 1978 Ford Pinto

Few changes this year, this model got some nice stripes and aluminum wheels to dress up, it was available as a hatchback or a station wagon as well.
Base: $3,629.00


1978 Ford Thunderbird

A t-top was available with this Sports Decor trim, it also included the faux luggage straps and some detailing stripes.
Base: $5,498.00 Landau Town edition $8,420.00

1978 Ford Fairmont

Now available with tilt steering wheel and cruise control, sales remained brisk and the Futura model (not shown) gave the coupe a sporty look.
Base: $4,383.00 four door sedan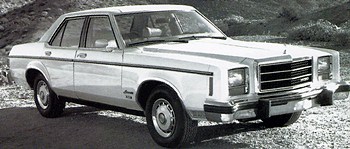 ---
1979
1979 Ford Granada

No changes didn't help this model with sales, the ESS Sedan (shown) had a blackout grill and special body trim.
Base: $5,065.00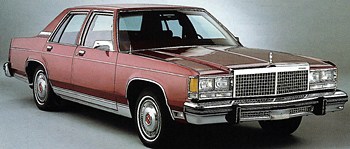 1979 Ford LTD

Now riding a new smaller and more efficient platform called "Panther" this Landau model had quad headlights to set it apart.
Base: $6,184.00; Landau edition (shown) $6,811.00


1979 Ford LTD II

Little change since it's inception in '77, the smaller lighter LTD II was also priced a little lower than the slightly bigger LTD.
Base: $5,790.00; Brougham edition (shown) $6,136.00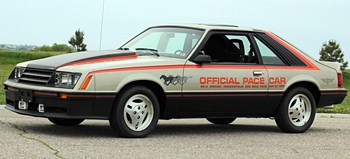 1979 Ford Mustang

New and a little larger, it's chosen as the pace car for the Indy 500, with 11,000 replicas being sold.
Base: $3,925.00; Pace car edition (shown) $4,494.00

1979 Ford Mustang

This notch back coupe came with a four cylinder 88hp motor however a V-6 or V-8 were available.
Base: $3,925.00