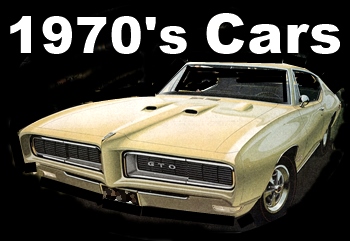 Welcome to 1970s Cars – American Motors

1970 AMX
It sat on a Javelin frame but this 2 seater could be equipped with a 390cube V8.

Base Price $3,395.

1970 Rebel SST
This was AMC's muscle car, with a 6 speed transmission and the big V8.

Base Price $2,718.

1970 Gremlin
Born from the Hornet (at least from the doors forward) it was designed to be economical.

Base Price $1,959. (four-seater)
---

1970 Hornet SST
The SST moniker signified that it had a V8.

Base Price $2,663.

1971 Ambassador Brougham
This model hadn't changed much at all since the 1967 model.
1971 Javelin AMX
The AMX was no longer a separate 2 seater model, it was now the top of the line Javelin.
---

1971 Gremlin
The small size and cost made this a favorite among young buyers.

Base Price $1,899. (two-seater)

1971 Javelin SST
A slight redesign gave it a smoother look with flares over the wheel wells.
1972 Ambassador SST
This 4 door was the least expensive full size AMC.

Base Price $3,537.
1972 Matador
This was the flagship of the mid-size models

Base Price $2788.

1972 Gremlin
This X package included wider tires, slotted wheels and the distinctive stripe.
1972 Hornet
The wagon looking Sportabout was more popular than this 4 door sedan.
---

1973 Ambassador Brougham
The Ambassador was AMC's only full size model

Base Price$4,861. (station wagon not shown)

1973 Gremlin
AMC debuted the "Levi" model Gremlin which had blue jean material upholstery.
1973 Hornet
The 2 door sedan was the least expensive Hornet

Base Price $2,298
---

1973 Javelin AMX
The Javelin came in two basic styles, the hardtop coupe and the AMX (shown)

Base Price $ 3,191.

1973 Matador
The Matador came in a 2 door coupe (shown), a 4 door, and a station wagon.
1974 Ambassador
This was the last year for the Matador due to sagging sales and a dated design.

Base Price $4,559.
1974 Gremlin
The oil embargo / fuel crises lingered on which increased small car sales exponentially.
1974 Hornet
Considered a compact car Hornet sales also soared due to the gas shortage.
1974 Javelin SST
The ever popular Javelin and AMX were victims of the gas shortage, this year would be the last.
---

1974 Matador
Matador came in a 4 door sedan (shown), a 2 door coupe and a station wagon.
1974 Matador X
This model was actually AMC's new NASCAR race car, so this "X" package coupe was developed.

Base Price $3,699. (X trim package)

1975 Hornet
Hornet had plenty of trim level options including the sporty "X" package
1975 Hornet Spotabout
This was a good selling model for AMC as it was the only compact wagon available.
1975 Matador Brougham
After the demise of the Ambassador, Matador became AMC's "big car".
1975 Matador Coupe
Cheered on by 3 big NASCAR wins the Matador "X" option was a brisk seller.

Base Price $2,982. Oleg Cassini package $4,280
---

1975 AMC Pacer
People may have talked about it's weird look but they made it AMC's top seller.
1975 AMC Pacer
Pacer options included a number of sporty or luxurious interiors.

Base Price $3,449.

1976 AMC Matador Broughman
With only cosmetic changes the Matador again lacks in sales appeal.

Base Price $3,621.
---

1976 AMC Matador Sedan
Although roomy the aging and stoic design drew older buyers.

Base Price $3,627.

1977 AMC Gremlin
The Gremlin remained the economical choice for buyers, now with a 4 cyl Audi engine.
1977 AMC Hornet AMX
This was a limited addition made to capture the youth market.
1977 AMC Matador Coupe
Even with optional vinyl roof and sporty wheels the Matador was still a weak seller
1977 AMC Matador Sedan
The only change for this year was the price which went up over 4%
1977 AMC Pacer
The "X" package offered "Levi's" trim option which included denim upholstery

Base Price $3,649.
---

1978 AMC Concord
The Concord was available in a 2 door sedan or hatchback
1978 AMC Concord Wagon
All Concords were simply restyled Hornets with some plushier interiors
1978 AMC Gremlin
This would be Gremlin's last production year, a GT was added to the lineup.

Base Price $3,179.
1978 AMC Matador
New this year was the Barcelona trim package which included two-tone paint.
1978 AMC Matador Coupe
The coupe also could be ordered with the Barcelona trim, adding the small rear opera window.
1978 AMC Pacer
Pacer got a new grill and an optional V8 engine.
---

1979 AMC AMX
Based on their new model, the Spirit, this AMX had the same engine options.
1979 AMC Concord
Little changed except interiors, the Concord tried to be the luxury choice.

$4,049.

1979 AMC Concord Hatchback
Another change, the Concord now had an available V4.

Base Price $4,149.
1979 AMC Pacer
As Pacer gained in popularity they added luxury options like reclining leather seats.
1979 AMC Spirit
This Spirit Hatchback was basically a total redesign of the now retired Gremlin.
1979 AMC Spirit
Adding the sloping roof gave this liftback the look of the very popular Ford Pinto.
---
Check out these other makes and models!
Thank you for visiting Fiftiesweb.com ("Cars – American Motors") section
you can return to the "Cars" home page
or click through the above to choose another make and model of car to reminisce about.
Copyright  2020. All Rights reserved. Michael Rich.