Are you missing the 1950s, 60s, and 70s? You're not alone! Whether you have fond memories of that time or just love its unique charm, you're in for a treat.
I'll introduce you to some iconic hangout spots from these eras and explain how to bring their timeless vibe into your home decor.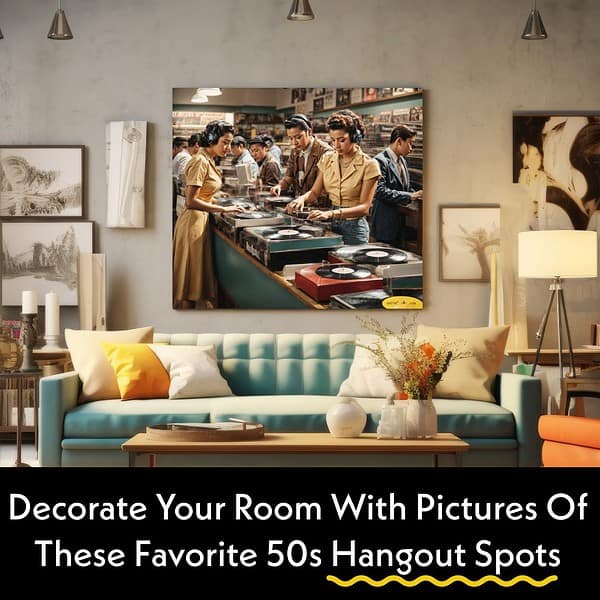 The good news is that you can recreate these beloved places in your own space, and canvas prints can help.
In this article, we'll explore seven of these iconic hangout spots and show you how to infuse their essence into your living space.
Let's jump in!
Key Points
Choose your favorite hangout spot from the list: Skating Rinks, Drive-In Restaurants, Record Stores, Malt Shops, Beach Boardwalks, Ice Cream Parlors, or 24-Hour Diners.
To get it in print, download the design, go to our recommend printing service and follow the simple steps.
Add retro touches with choosing the right wallpaper, vintage collectibles and other elements that fit the room's vibe.
1. Skating Rinks
Remember the excitement of heading to the local skating rink with your friends? The lively music, flashing lights, and the thrill of gliding on wheels—it's an experience that can still be captured in your decor.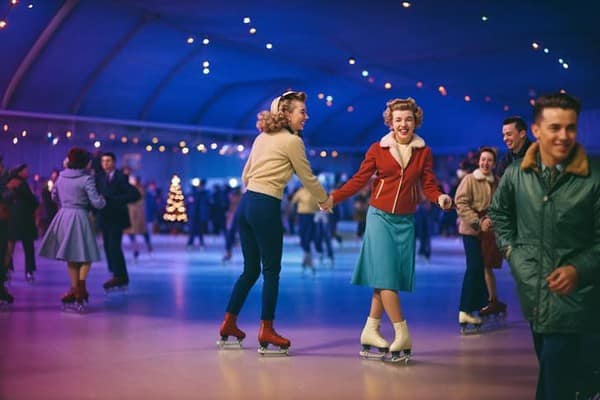 Decor Tip: Consider a retro roller-skate-themed rug or Canva print wall art featuring vintage roller rink signage. Neon lights and disco balls can recreate the dazzling atmosphere of the rink. Don't forget to add some retro roller skates as decorative pieces.
2. Drive-In Restaurants
The 1950s and 60s were the golden age of drive-in restaurants. They were all about good food, cool cars, and a sense of freedom. Recreate that vibe in your home.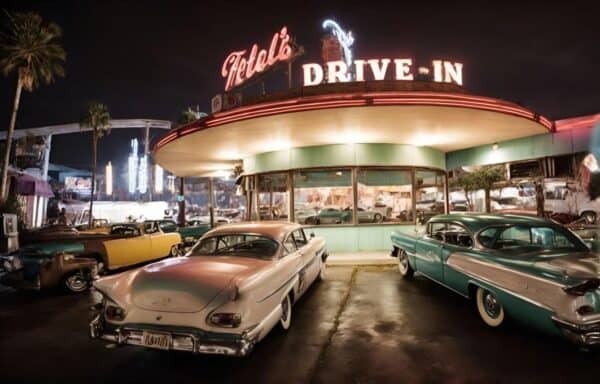 Decor Tip : Incorporate classic car memorabilia, such as framed vintage car ads or hubcap wall art. Diner-style booth seating or red and white checkered tablecloths can channel that drive-in diner charm.
3. Record Stores
For music lovers, record stores were like music classic sanctuaries for 50s, 60s, and 70s music. The feel of vinyl records and the thrill of discovering new music — priceless memories!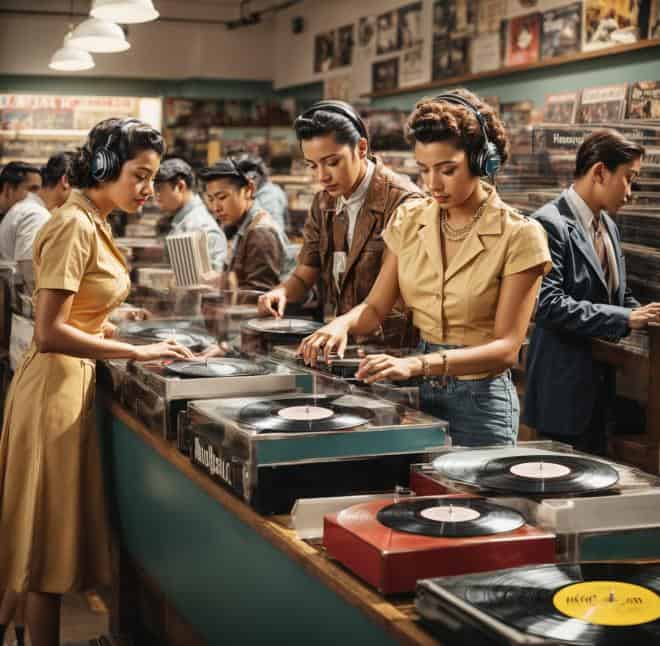 Decor Tip: Display your vinyl collection prominently on a dedicated wall shelf. Incorporate record-themed decor like wall clocks made from LPs or framed album covers. It's all about celebrating the analog era of music.
4. Malt Shops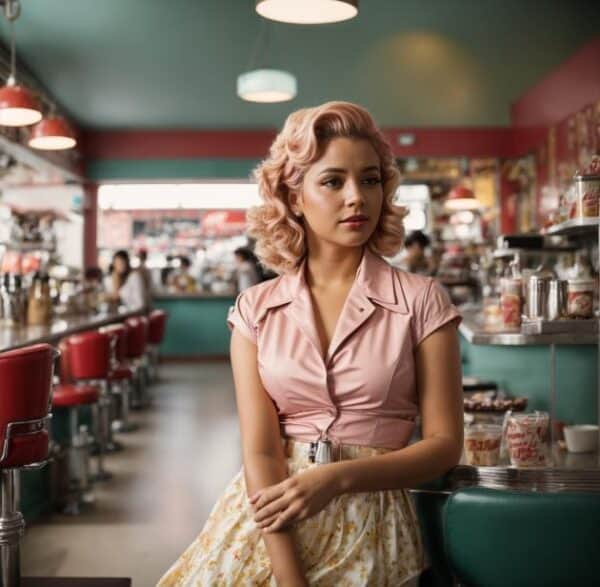 Decor Tip: Opt for retro diner-style bar stools or a vintage soda fountain. Pastel colors and chrome accents can capture the malt shop's classic look. Display old-fashioned milkshake glasses as a nod to this era.
5. Beach Boardwalks
The beach boardwalks of the 50s and 60s exude a unique charm. The salty breeze, carnival games, and the feeling of endless summer days—it's a vibe worth preserving.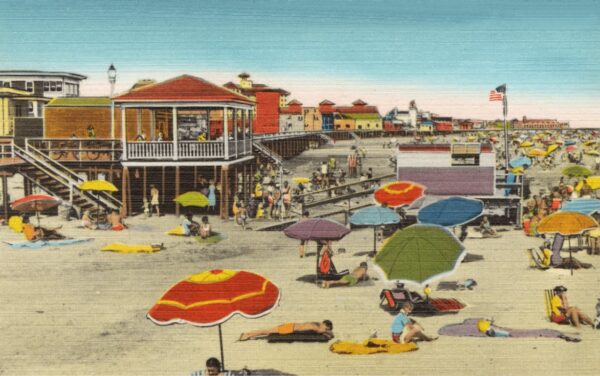 Decor Tip: Incorporate nautical elements like anchor-themed decor, weathered wood furniture, and beach-inspired wall art. Use pastel colors to mimic the soothing coastal palette.
6. Ice Cream Parlor and Malt Shops
Malt shops were cozy spots for sipping milkshakes and enjoying the company of friends and Ice cream parlors were where dreams came true in the summertime. Those delicious sundaes and banana splits hold a special place in our hearts.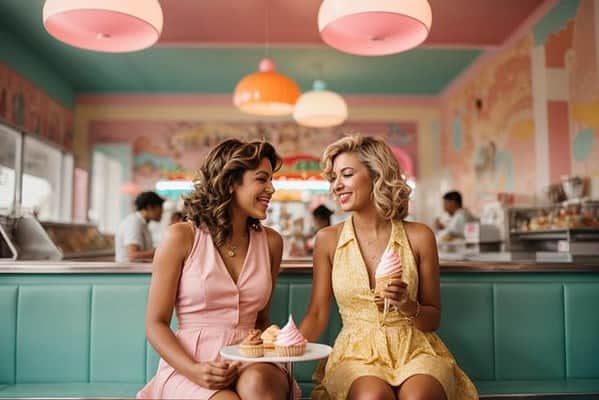 Decor Tip: Set up an ice cream bar in your kitchen with colorful toppings and vintage ice cream dishes. Decorate with ice cream parlor signs and wall art featuring classic dessert illustrations.
7. 24-Hour Diners
Late-night diners were the go-to spots for comfort food and conversations that lasted into the early hours. You can recreate this cozy atmosphere at home.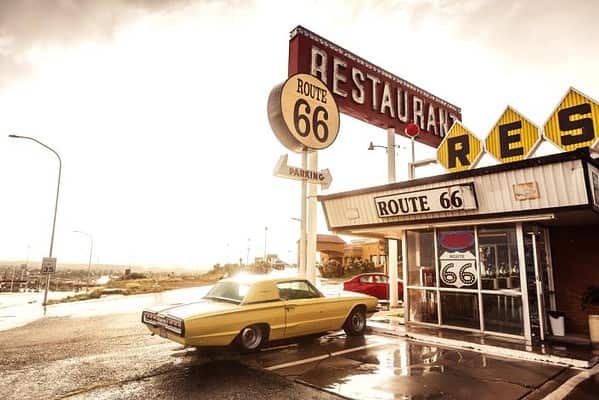 Decor Tip: Opt for a diner-style booth or retro diner chairs in your dining area. Neon signs and jukeboxes can add a touch of nostalgia. Keep the color scheme classic with red and black accents. For more ideas about this decoration style check out dengarden's article here.
8. Mom-and-Pop Shops
The charm of mom-and-pop shops from the 1950s and 60s lies in their simplicity and sense of community. Bring that warmth into your space.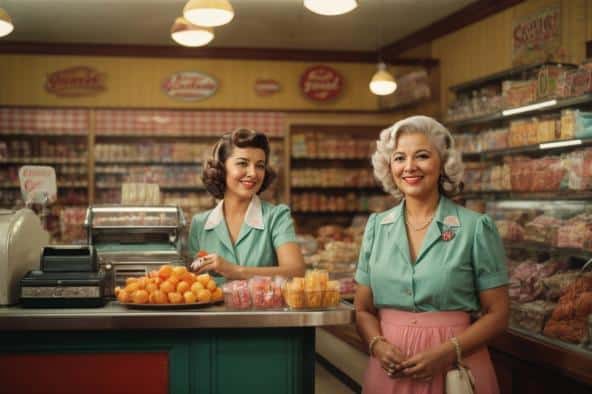 Decor Tip: Incorporate handmade or vintage items that capture the essence of local craftsmanship. Display framed photos of local landmarks or small-town scenes to celebrate your community.
9. Vintage Bustling Diner
Step into the classic ambiance of a 1950s diner, where burgers and shakes reign supreme. The checkered floors, retro booths, and the sound of sizzling grill—how can you bring that into your home?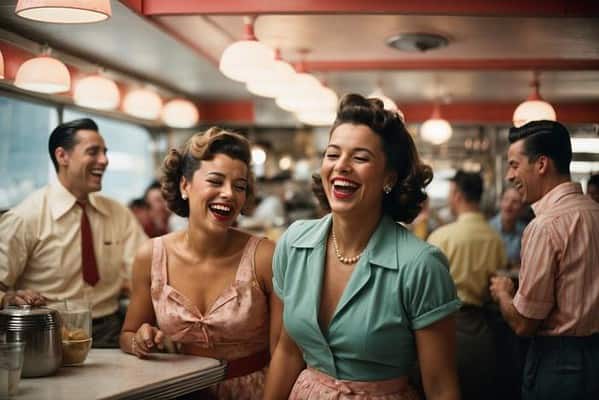 Decor Tip: Consider canvas prints that capture the essence of a diner menu board or vintage diner signs. You can design custom prints with your favorite diner-inspired phrases or images to create that nostalgic diner atmosphere in your dining area.
Ordering Your Prints
Now after you've chosen your favorite photo, it's time to order it in print. Here is what you'll need to do:
Click the download photo link next to your favorite photo then save the picture to your computer.
Go to CanvasDiscount.com (recommended vendor and sponsor of FiftiesWeb) and select the canvas type and size after you upload the photo you just saved.
Personalize your canvas by choosing edge designs and frame options.
Enter your shipping details and payment information.
Confirm your order and receive an order confirmation.
Few days later, you'll get it in the mail. Simply unpack your canvas and hang it in your desired spot. That's it!
Taking it to The Next Level
Remember, you don't have to limit yourself to just one hangout spot's decor. Mixing and matching elements from different eras can create a unique and eclectic style that's all your own.
It's about creating a space that reflects your memories and personal taste.
Here are some additional decor tips:
Retro Wallpaper: Choose wallpapers with vintage patterns and colors that were popular during these decades.
Vintage Collectibles: Hunt for vintage collectibles at thrift stores or online marketplaces to add authenticity to your decor. Check out BHG's article about what type of vintage elements you can add.
Record Player: Invest in a vintage-style record player to enjoy the timeless sound of vinyl records.
Retro Appliances: Upgrade your kitchen with retro-style appliances, like a colorful 1950s-style refrigerator.
Vintage Fabrics: Use fabrics with retro patterns for upholstery, curtains, and throw pillows.
Incorporating these elements into your decor will transport you back in time and remind you of your favorite hangout spots from the 1950s, 60s, and 70s.
So, roll up your sleeves, put on your favorite oldies playlist, and let the decorating journey begin! Your happy place is just a few decor choices away.