Buy Mary Tyler Moore on DVD
Mary Tyler Moore Show
9/19/1970 — 3/19/1977 on CBS, it ran 168 episodes in color
Created by James L. Brooks and Allan Burns
Produced at MTM Studios
CAST
Mary Tyler Moore … Mary Richards
Gavin MacLeod … Murray Slaughter
Edward Asner … Lou Grant
Ted Knight … Ted Baxter
Valerie Harper … Rhoda Morgenstern
Georgia Engel … Georgette Franklin (introduced in 1972)
Betty White … Sue Ann Nivens (introduced in 1973)
Cloris Leachman … Phyllis Lindstrom
OPENING THEME
"Love Is All Around"
written and performed by Sonny Curtis
Who can turn the world on with her smile? Who can take a nothing day, and suddenly make it all seem worthwhile?
Well it's you girl, and you should know it
With each glance and every little movement you show it
Love is all around, no need to fake it.
You can have the town, why don't you take it.
You're gonna make it after all
How will you make it on your own?
This world is awfully big
And girl this time your all alone
But it's time you started living
It's time you let someone else do some giving
Love is all around, no need to fake it.
You can have the town, why don't you take it.
You're gonna make it after all,
You're gonna make it after all
Your the one most likely to succeed
Just be sure to keep your head
Cause girl you know that's all you need
Everyone around you adores you
Don't give up the world is waiting for you
Love is all around, no need to waste it.
You can have the town, why don't you take it.
You're gonna make it after all,
You're gonna make it after all
Who can turn the world on with her smile?
Who can suddenly make it all seem worthwhile?
Well it's you girl, and you should know it
With each glance and every little movement you show it
Love is all around, no need to waste it.
You can have the town, why don't you take it.
You're gonna make it after all,
You're gonna make it after all
TIDBITS
Mary is 30 years old and comes to Minneapolis seeking a job.
She is not married, divorced, widowed or engaged she is simply "single" and happy to stay that way.
This is a television first.
She applies for a secretarial job at TV station WJM, but instead is offered the position of Associate Producer for the station's "Six O'Clock News."
Lou Grant is her grumpy yet soft hearted boss,
Ted Baxter is the awkward news anchor,
and Murray Slaughter the shows even tempered head writer.
Sue Ann Nivens was added to the stations payroll in 1973 as the The Happy Homemaker.
Rounding out the cast was Phyllis Lindstrom, as the landlord of the three story Victorian house where Mary rented a room.
Rhoda Morgenstern is Mary's sarcastic upstairs neighbor.
Georgette Franklin completes the cast as Ted Baxter's ultra naive girlfriend.
While there are numerous situations for comedy the show also manages to tackle (with humor) many pressing issues of the day.
Equal pay for women, pre-marital sex and homosexuality were just a few formerly taboo subjects that the show courageously spotlighted.
All in all however it was a cleverly written, wonderfully acted, and smartly produced half an hour of pure fun.
Several spin offs were created from the show:
Rhoda got her own place back in New York and a sitcom which ran for four years (1974 – 1978)
Phyllis moves to San Francisco with her daughter the show lasts for two seasons (1975 – 1977)
Lou Grant moves to L.A. and becomes editor of the Los Angeles Tribune, the 1 hour show airs for five seasons (1977 – 1982)
Passings:
Ted Knight died in 1986 of colon cancer.
Mary Tyler Moore passed in 2017 of complications from her diabetes she was 80
Valerie Harper gave up after a heroic fight against cancer in 2019, she had just turned 80
Cloris Leachman died in her sleep in 2021 at 94
Davin MacLeod died after a short illness at 90
Ed Asner passed in 2021, he was 91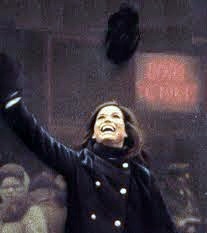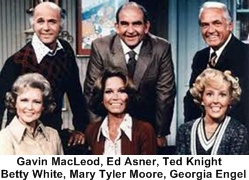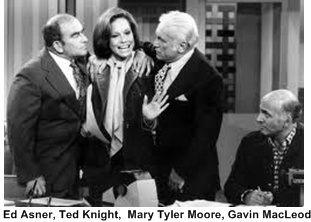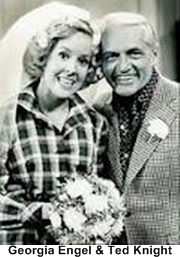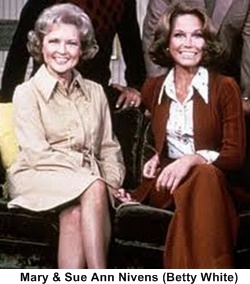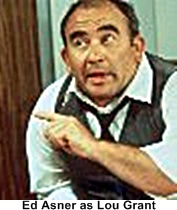 Mary Tyler Moore initially did not want to play the character.
She was afraid that it might suffer because of comparisons made with her previous character Laura Petrie.
Mary Richards was originally going to be a divorced woman. Fearing that fans might think that Laura Petrie had divorced Rob they made the character single instead.
Dick Van Dyke was scheduled to make an appearance in an episode but the idea was scrapped because the producers felt it might confuse the fans.
TRIVIA:
Mary refused to call her boss "Lou"
Mary's favorite saying was "Ohh Mr. Grant"
The house, they filmed as being where Mary's apartment was located, was an actual home in Minneapolis.
The owners got so tired of fans and camera crews that they hung a "Impeach Nixon" banner to discourage picture taking.
AWARDS:
29 Emmy Awards including
(3) for Best Comedy Series
(3) Outstanding Lead Actress in a Comedy Series
(5) Outstanding Writing in a Comedy Series
3 Golden Globe Awards
1 Peabody Award