Arthur Godfrey and His Friends
1/12/1949 – 6/26/1957 CBS 60 minutes
Arthur Godfrey Talent Scouts
12/6/1948 – 7/21/1958 CBS 30 minutes
Arthur Godfrey and His Ukulele
4/4/1950 – 6/30/1950 CBS 15 minutes
Arthur Godfrey Time
1/7/1952 – 4/24/1959 CBS
Arthur Godfrey Show
9/23/1958 – 4/28/1959 CBS
ALL Black and White
Arthur Godfrey Cast
Arthur Godfrey as Host
George Brien as Announcer
Tony Marvin as Announcer (uncredited)
Orchestra Leaders
Archie Bleyer (1948-1954)
Jerry Bresler (1954-1955)
Bert Farber (1955-1958)
Will Roland (1955-1958)
Some of the "Friends"
Julius LaRosa (1952-1953)
Pat Boone (1955-1957)
The McGuire Sisters (1952-1957)
(Phyllis, Christine and Dorothy)
The Chordettes (1949-1953)
Janette Davis (1949-1957)
Haleloke (1950-1955)
The Mariners (1949-1955)
Arthur Godfrey Tidbits
Arthur Godfrey was the hardest working man in TV with all these shows, often running at the same time. He started in radio in the 1930s and although he had little talent as a performer, he was great at spotting talent. He discovered Pat Boone, Anita Bryant and Julius LaRosa, to name a few.
But he wasn't a nice man. In fairness, he was frequently plagued by pain from old injuries. His "friends" on the show didnt last long, most commonly because of conflicts with Godfrey.
The most famous flap was with singer Julius LaRosa, who Godfrey had discovered while LaRosa was still in the Navy. While Godfrey was out recovering from a hip operation, the very popular LaRosa missed a mandatory ballet lesson. Godfrey had ordered the cast to learn ballet. And it should be noted that LaRosa got far more mail than Godfrey.
Godfrey yanked LaRosa from the next day's broadcast. An angry LaRosa, unable to reach Godfrey, did the unpardonable. He hired an agent. Godfrey didn't deal with agents. Ever.
On Monday October 19, 1953, Godfrey got his revenge. After LaRosa had finished his number, Godfrey said, "That, folks, was Julie's swan song." The press had a field day. LaRosa didn't even realize he was fired as he didn't know what "swan song" meant! As LaRosa was in partnership with orchestra leader Bleyer, he got canned too.
The LaRosa nastiness was the beginning of Godfrey's decline.
Passings
Arthur Godfrey died in 1983,  Archie Bleyer in 1989 and Julius La Rosa in 2016.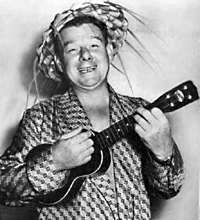 Arthur Godfrey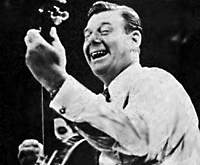 Arthur Godfrey
Best of Arthur Godfrey: The Old Redhead – Audio CD
External Links
TV Guide's Arthur Godfrey and Friends Page, with TV Listings, Photos, Videos, Exclusive News and More.