11/27/51 – 7/18/1957
NBC 15 minutes
Black & White
Dinah Shore Chevy Show
10/5/56 – 5/12/1963
NBC 60 minutes
Black & White
Dinah!
1974 – 1980
Syndicated 90 minutes
Talk show
Dinah and Her New Best Friends
6/5/1976 – 7/31/1976 NBC 60 minutes
Summer replacement for Carol Burnett
Cast
Dinah Shore – Host
Skylarks – Vocals (Dinah Shore Show)
Notables – Vocals (Dinah Shore Show)
Tucker Freeman – Pianist (Dinah Shore Show)
Dinah Shore Tidbits
WAV – Dinah singing her signature, "See the USA in a Cheverolet…"
Dinah Shore was this lovely lady who was welcomed into American homes for over 25 years. She was also one of the first women to have her own show.
She started in radio in the late Thirties, was recording by the Forties, and was on TV by the Fifties. Her first show (The Dinah Shore Show) was on twice weekly and filled the spot unfilled by the then 15 minute evening news.
The custom back then was for a single sponsor to place their name upon a show and so her next venture was a variety show named The Dinah Shore Chevy Show.
Ms. Shore used to end her show by singing, "See the USA in your Chevrolet" and then tossing the audience a big kiss. (See picture below)
Passings
Dinah Shore died in 1994 of ovarian cancer.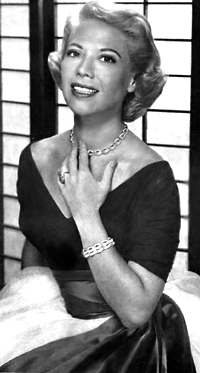 Dinah Shore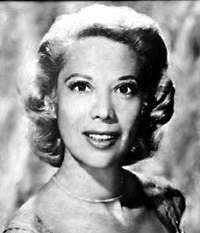 Dinah Shore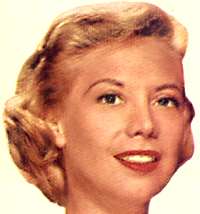 Dinah Shore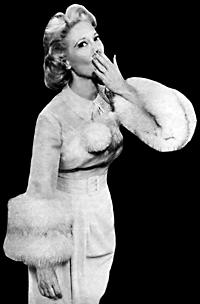 Dinah Shore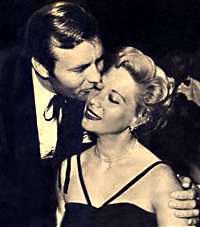 George Montgomery and Dinah Shore
Dinah was married to actor George Montgomery from 1943-1963, and much later had a love affair with Burt Reynolds who was 19 years her junior. You go girl!