Buy Mork & Mindy on DVD
The First Season (1978)
The Second Season (1979)
The Third Season (1980)
The Fourth Season (1981)
The Complete Series
September 14, 1978 – May 27, 1982
(91) thirty minute episodes (4 seasons)
in color on ABC
Created by: Garry Marshall, Dale McRaven and Joe Glauberg
Produced by: Anthony W. Marshall and Garry Marshall
CAST
Robin Williams
Pam Dawber
Conrad Janis
Ralph James
Elizabeth Kerr
Robert Donner
Tom Poston

Mork
Mindy McConnell
Frederick McConnell
Orson
Cora Hudson
Exidor
Franklin Delano Bickley
Theme Song
Composed By: Perry Botkin, Jr.
STORYLINE
The plot was similar to "My Favorite Martian" in that a friendly alien comes to Earth to check us out and ends up living with a human who is forced to hide his true identity for both of their safety. This time however the alien is loony Mork from Or (Robin Williams) and he winds up living with Mindy McConnell (Pam Dawber) who has the added problem of explaining why she has a man living in her attic.
It's not the plot nor the far out kooky things that Mork does that made this show such a hit. It is without a doubt Robin Williams all the way. This was a break-out role for him and it showcased his near perfect comedic timing and ability to ad lib, not just lines but facial expressions, body language and actions.
The writers managed to keep up with Williams and the show just kept coming up with new hysterical situations even adding Jonathan Winters as Mearth from Ork to the crazy mix for 5 episodes as Morks new born son (everything is backward on Ork).
Many of Mork's offbeat sayings became part of 70s slang also known as morkisims. The most popular was "Na-Nu Na-Nu" which was the Orken equivalent of hello.
Video Clip of Mork & Mindy
Passings
Jonathan Winters died in 2011 of natural causes, he was 87
Robin Williams died in 2014 by suicide, he was only 63 years old.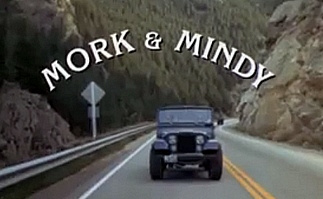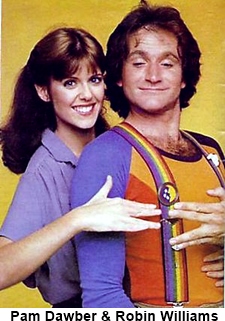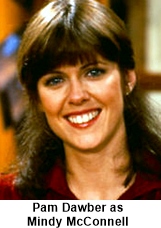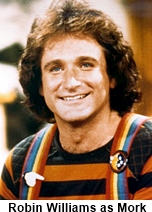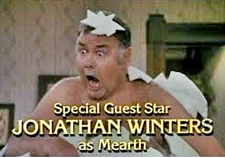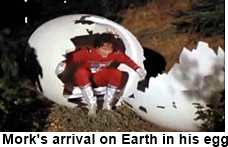 TRIVIA:
Mork & Mindy was the brainchild of director Jerry Paris who originally had the idea in an episode ofThe Dick Van Dyke Show. When he moved on to direct Happy Days he introduced the character, Mork, in a Richie Cunningham dream episode. The character was so popular that a spin-off was created the next season.
Producer Garry Marshall while holding auditions for the Mork character, asked Robin Williams to have a seat. Williams immediately sat on his head on the chair. Marshall cast him on the spot.