1960s fashion model Kouka Denis in 1961 wearing a Dior gown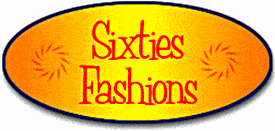 1960s Fashion – Models could make the difference in whether a designers' line was successful or a flop. Certain designers favored particular models. Mary Quant thought that Jean Shrimpton and Twiggy both showed her clothes the best while Rudi Gernreich used Peggy Moffitt almost exclusively as his model.
Fashion in the 1960s favored slender figures so the top models were the opposite of the 1950s where hour glass figures were desired and what the Fashion Houses designed for. Young fresh faces and a more androgynous look is what the buying public saw wearing the 1960s new fashions.
Twiggy
Dubbed "The Face of 1966" Twiggy dominated fashion photography. She was on the cover of every major fashion and teen magazine. Her boyish look was the one to emulate.
She considered Jean Shrimpton, her idol, to be the first supermodel and the biggest influence in her own career.
Young Leslie Hornsby was teased as a child about being skinny – thin as a twig, they said. Thus the name, Twiggy.
Click for more Twiggy photos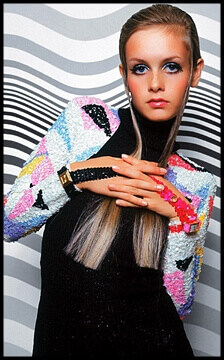 Twiggy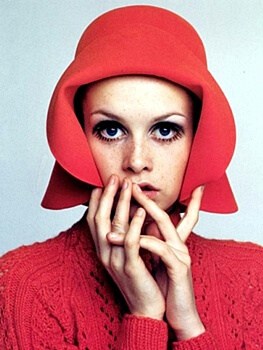 Leslie Hornsby (Twiggy)
Jean Shrimpton
She is considered the first supermodel and the first major model to come out of London. Named by TIME Magazine as one of the 100 most influential fashion icons of all time. She was discovered by fashion photographer David Baily whom she subsequently dated.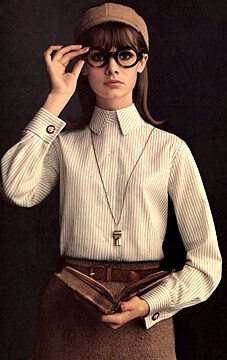 Jean Shrimpton in a 1964 ad for Lady Van Heusen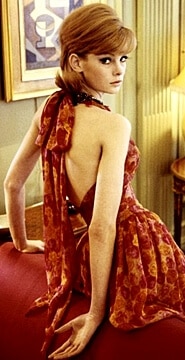 Colleen Corby
She was an American original and embodied the "girl next door" look. Discovered by the Eileen Ford Agency at age 11.
Most of her work was for teen fashions and she appeared in every major department store catalog including JC Penney, Sears and more.
She was 5'7″ tall and had a youthful look that carried her into the 70s.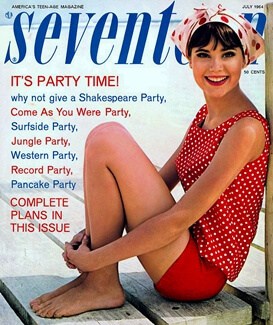 Colleen Corby on the July 1964 Seventeen Magazine cover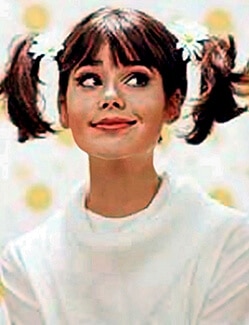 Peggy Moffitt
In the 1960s Moffitt did the majority of her modeling for Rudi Gernreich. Her career started in Paris in the 1950s but she soon became one of the more striking models of the 60s.
She popularized the false eyelashes and heavy eye makeup look favored by models of that time. Her most distinguishing feature was her short hairstyle, an asymmetrical bowl cut, created by Vidal Sassoon, which became known as the "five point" style.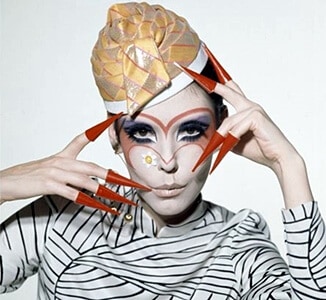 Peggy Moffitt 1960s fashion Model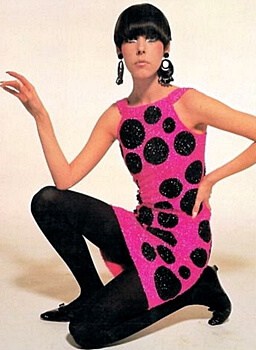 Peggy Moffitt modeling a Rudi Gernreich  design
Veruschka
She was a Russian model but started her career in Paris at the age of 20. She modeled both in Paris and Munich and eventually moved to New York.
She was one of the tallest models of the day, at 6'3″ which attracted desiners to her.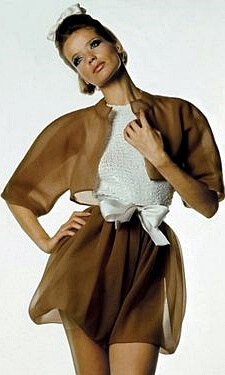 Versuchka modeled 1960s fashions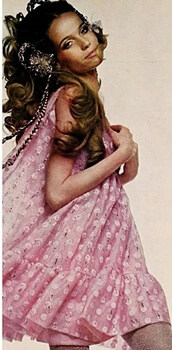 Pattie Boyd
Boyd began her fashion career in 1962, modelling in London, New York and Paris. She appeared on the cover of Vogue in the U.S. as well as the U.K. and Italy but she is probably best known for her marriages.
She was married to both George Harrison (1966-'77) and Eric Clapton (1979-'89) and had songs written about her by both husbands (Harrison: "I Need You" and "Something") (Clapton: "Layla" and "Wonderful Tonight").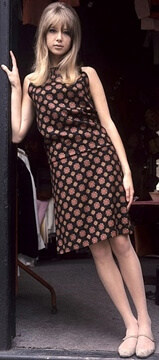 Pattie Boyd was an 1960s model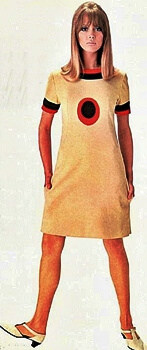 Cheryl Tiegs
In 1964 at the age of 17 she modeled for a Coles swimsuit ad. That ad was seen by the photo editors at Glamour Magazine and that is how this supermodel got discovered. That year would see her on the covers of Glamour, Seventeen and Elle.
In the 1970s she did a photo shoot for Sports Illustrated famous 'swimsuit edition' and she was instantly a sex symbol. Tieg's stayed wholesome however and she is still a stunning model in her 70's.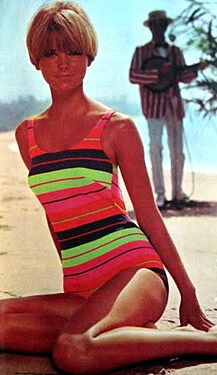 Photo shoot for Coles Swimwear 1964 (the picture that launched a career)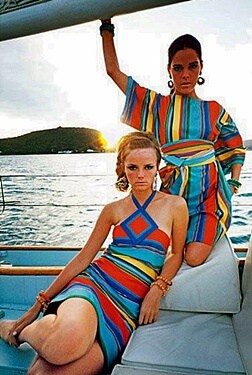 Cover of Glamour Magazine 1964 with Ali McGraw (Tieg's first cover)