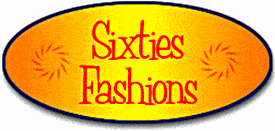 1960s Shoes
and Socks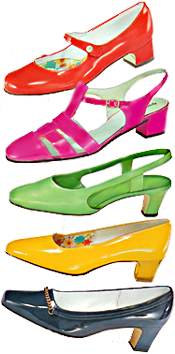 1960s Shoes  Underscoring the 1960s short skirts came the most varied look in shoes and stockings. In shoes, we saw patents in every conceivable color and color combinations often with perforations. Chunky high heels had ties or buckles on the vamp. And the new square toe was everywhere.
Red, white and blue became popular shoe colors along with the louder, groovier shades.

Penneys 1968
Top – Snappy oxford ties with uppers of premium brushed and patent leather. The shiny touch gives it the "now" look. New broad toes. 1 ½ inch heels. $7.88
Next down – Dressy flats with pretty daisy design on vamps. New stylish toes. $5.88
Next down – Chic chain casuals. Smart silver-color chain trim across vamps is smart fashion. ¾ inch heels. $5.88
Bottom – High instep strap buckle casuals. Brushed and patent leather uppers. New broad toes. Adjustable buckle strap. ½ inch heels. $7.88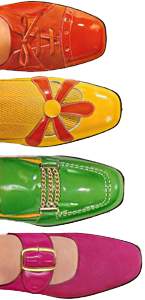 Montgomery Ward's 1967
Left – Bow pump set on fashion's low 1 ¾ inch heel. $6.97
Right – Brentshire Sophisticated silhouette. Soft nylon tricot foam lined vamp. Slim 2 ¼ inch heel. $14.97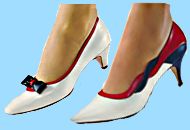 Your shoes and handbag were expected to match your outfit. Many shoes had matching purses. The old adage one black bag will match everything no longer applied.

Sears 1969
Yellow – Sleek pump with soft rayon grosgrain bow trim. Pearlized luster vinyl. 2 ¼ inch heel. $7.99 Handbag $6.97
Pink – Saucy sling with standup rayon faille bow. Gleaming patent upper. 1 ¾ inch heel. $7.99 Handbag $5.97
Lilac – Slinky litle reptile grained luster vinyl pump with metal studded ornament. 2 inch heel. $7.99 Handbag $6.97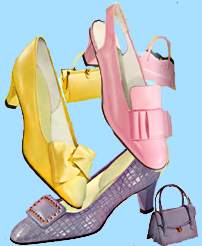 Montgomery Ward 1967
Carol Brent Shoes
Top – Lots of side interest! 2 5/8 heel. $5.97
Bottom – Upfront interest – diamond cut outs on vamp. $5.97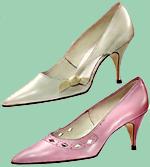 If your outfit was colorful, then you wore bright shoes to match.
Sears 1968
Wild Inside and Out! The jazzy, racy little shoe in the brightest colors ever. Daring, wild, bright, brash color combos brighten the leather uppers of these airy shoes. And they're wild inside, too… gay flowers splash over the softly cushioned nylon tricot linings. $5.97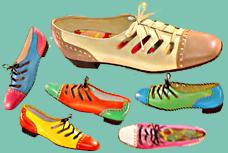 Even the venerable saddle shoes (right) went wild in the Sixties. And note the newer, squared toe.
Penneys 1968
Look what's happening to our saddle oxfords! Kodel polyester tent-cloth uppers with shiny patent vinyl saddles. New square toes. $4.88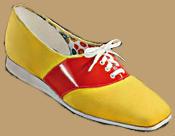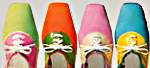 Tennis shoes looked pretty much just as they do today. The canvas shoes (left, below) had the squareed toe of the 1960s.
Montgomery Ward 1969
Skip's – Dacron Cotton
Top – $2.77 a pair or 2 pairs for $5
Bottom – Square Toe Skips $3.99 a pair or 2 pair for $7.50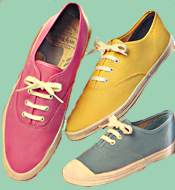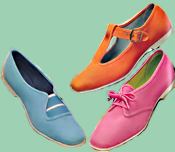 Sandals went equally well with a mod or a hippie look depending on the sandal.
The sandals at right actually folded away in their own plastic pouch.
Sears 1968 Folding Footwear!
Top – Daisy slip-ons. Smooth grainey vinyl with flower of top grain cowhide. $3.49
Middle – Strap slip-ons emphasize today's airy look. Triple button trim.Shiny patent vinyl uppers. Gay multicolor print cotton lining. $2.99
Bottom – Sling back flatties. Patent vinyl uppers gleam from bow to squared toe. $3.99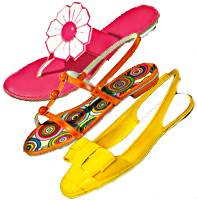 Go-Go Boots
It starts with Honor Blackman as Cathy Gale in The Avengers and is then followed by Diana Rigg (left) playing sexy Emma Peel. Sleek in black leather, their black boots became a trademark of the show and were used in promos. They started off ankle-height and moved up to knee-high by 1966.
In December 1990 Patrick McNee and Honor Blackman released the "Kinky Boots" song as a tribute to the craze.

However, it was Nancy Sinatra's 1966 hit, "These Boots Were Made For Walking" that captured the public imagination and launched the boot on its road to hipness.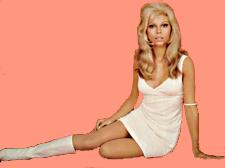 Buy
These Boots Are Made for Walking
on CD
Whether the shoes were bright or boring, the socks completed the look. New in the 1960s, the idea of colorful stockings came with the shorter skirt which showed more leg.
Textured, colored, knee high or full length – anything went!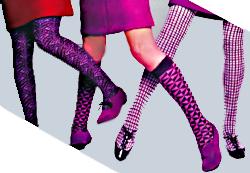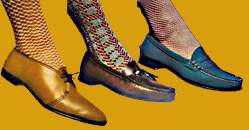 What was most welcome was the move away from garters and toward the pantyhose or tight style of stockings. (and finally some comfort!)