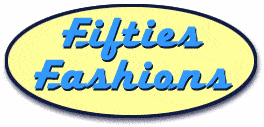 1950s Under-It-All
 Undergarments & Girdles
1950s Under-It-All  Women and teens wore girdles and petticoats. They were uncomfortable. They were hot. They were mandatory.
The Fifties came at the end of a long history of trying to enhance the female form to allure men. Curves were essential to getting the all important husband, thus insuring one's economic future and fulfulling the proper career of wife and mother.
Petticoats, which even young girls wore, were often starched with a mixture of sugar and water, which was then hung to dry. Those wonderful "swing" skirts got their rhythm from layers of such petticoats.
The corsetry of previous generations was by far more restrictive. Man-made materials like plastic replaced steel and whale bones, allowing girdles to become less rigid. And as for bras…some of these had more uplift than a Saturn rocket booster.
Make no mistake about it, the best part of the day was getting all that stuff off!
Below you will find several styles of bras and girdles. The pictures are exactly replicated. Note the use of the word "comfort" and the fanciful names. What imagination!