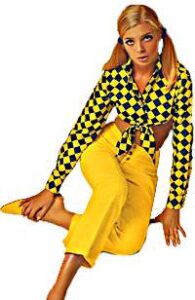 1960s Fashion – Teen Clothing – Let's get the boring stuff over first. The teen clothing at left and below is how we actually dressed for school in the Sixties. Over the course of the decade, the hemlines would shorten a little, a very little to just above the knee.
I graduated from high school in 1968. We had a Dean of Girls who was relentless about skirt length. If you knelt and your skirt didn't touch the ground, she'd fix that. She'd cut the hem out, making it longer. If that wasn't sufficient for decency, you were sent home.
No pants or shorts allowed in school. And I don't know what awful thing would have happend to you if you dared to wear jeans.
Okay, today that behavior would get her arrested, but the simple truth was that high school in the 1960s was conservative. On Fridays we wore our school colors. Blue skirts, white blouses for girls; blue slacks, white shirts for guys.
That's not what you want to hear, and it isn't what you see in the movies, but I was there and I know :>)
Left – Sears 1966
Shirt – Bermuda collared broadcloth of Dacron polyester and cotton. May be worn in or out. $3.94
Sweater – Cable stitched sweater of wool knit. Cardigan style. $11.94
Skirt – A-line skirt in wool woven plaid. No waistband. $9.94
Socks – Cable stitched knee socks of wool and stretch nylon. $1.88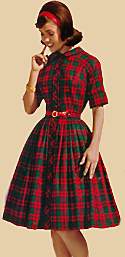 Left – Montgomery Ward 1964
Left – Plaid and pretty, styled along classic lines in soft 33% wool 33% nylon, 33% acrylic. $10.87
Right – New Look Classics in virgin Turbo Orlon acrylic. Saddle shoulder, crew neck style. Grosgrain trim on cardigan closing. $4.97 Hip stitched 12 box-pleated skirt. J.P. Stevens wool herringbone tweed. $7.97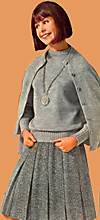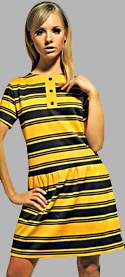 For social occasions you could wear your skirt length shorter than what was acceptable at school. The dresses at left and right are light and fun.
Left – Penneys 1968
Glenbrooke Jr Smart Knits – Magnetic mixers of acetate and rayon double knit. Striped shift with button trim placket. 2 inches above the knee. Short sleeves, jewel neck. $10.97
Right – Sears 1968
Left – Sleeveless sweater dress, acetate knit. White bodice, blue and green striped skirt. Turtleneck, daisy pin. $10.97Right
Pull on style sweater dress of feather light Winsock yarn of Orlon acrylic. Basket weave stitched yoke. $9.97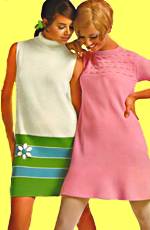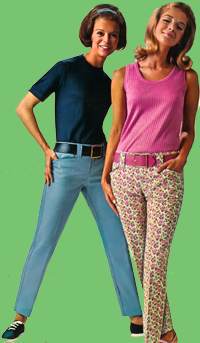 We called these hip huggers. Low slung and worn with a wide belt. They had a slimming effect which made them very popular.
Left – Montgomery Ward 1967
Low slung straight legged pants in cotton denim or print. Wide contour belts with big metal buckle.
Left – Short sleeve "boy" top. Cotton double knit. $2.99 Cotton denim solid color pants. Leather like belt. Sanforized too, maximum shrinkage 1%. $6.00
Right – Smart new tank top. Cotton double knit. $2.99 Printed cotton pants. Prairie flowers on a sand background. Leather like belt. $6.00
Right – Montgomery Ward 1967
Tank tops comes in ribs of cotton double knit. $2.99 Sporty denim pants come in a heavier weight cotton weave. They're Sanforized, maximum shrinkage only 1%. $4.99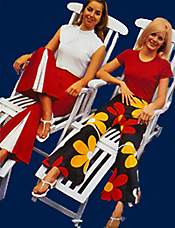 Bell bottom pants are a signature of the 1960s and would last for another decade or so. Bell bottoms graced dress and casual pants alike.
These teen models on either side are wearing Thermo-Jac Skinny Bones pants, the pant with the "Fabulous TJ fit."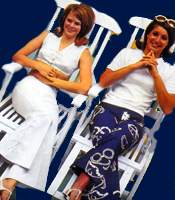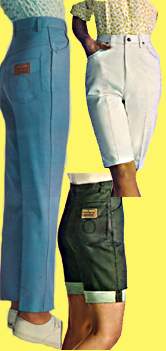 Yes, we wore jeans, but not nearly as often as today. Where jeans are acceptable just about anyplace in a modern world, in the 1960s, they were worn for only they very most casual activities. You would not, for example, wear jeans to a movie or shopping.
Left – Montgomery Ward 1967
All cotton denim cut the slim line way.
Left – Rider jeans $2.99
Top – Sporty looking knee-cappers $2.79
Bottom – Cuffed shorts – $2.49
Right – Spiegel 1960
Shirt $1.94
Pants $3.94
Shoes $2.88