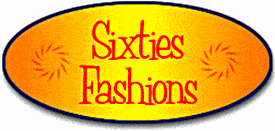 1960s Dresses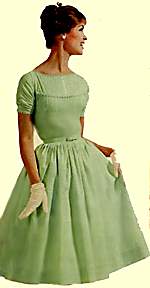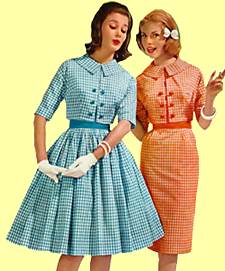 1960s Dresses  – The first half of the Sixties resembled the Fifties. Conservative, ladylike, proper. No short skirts. Gloves for evening and social occasions. Petticoats and girdles.
The dresses at left and below with their swing, pleated or pencil skirts could easily have been worn in the 1950s.
Women wore dresses or skirts for all but the most casual activity. Pants were for sport or play and never worn to school.
Left
Ward's 1960
Dainty lace accents softly shirred sleeves and tucked bodice. 68% cotton, 32% Dacron polyester $8.94
Left Below
Montgomery Ward's 1961
Sleeveless scoop neck dress has either straight or unpressed pleat skirt. Matching solid cummberbund buckles in back. Jacket has dolman sleeves. Washable vat-dyed combed cotton. $9.94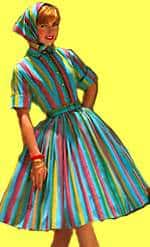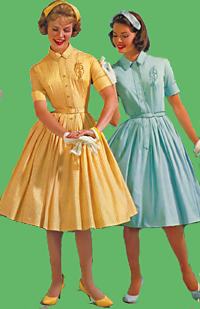 1960s dresses, the shirtwaist dress will survive the entire decade. The skirt will get a little shorter and the collar a bit wider, but the dress will remain a staple of the average American woman.
Left
Montgomery Ward's 1961
Shirtwaist of tropical colors printed on all cotton. Kerchief included. Sanforized. $22.84
Left Below
Montgomery Ward's 1961
Classic Brentshire shirtwaist, the popular style everyone loves to wear. In silk, Dacron polyester and cotton ot pima cotton. Monogram design decorates bodice front. Nore smart convertible collar, roll-up sleeves. Buttons close on front tab to below the waist.
Silk $17.98
Dacron cotton $12.98
Pima Cotton $9.98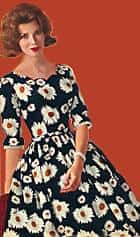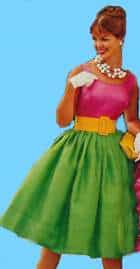 There was evidence of changes to come. The dresses, left and right, have 1950s styling, but hint at 1960s color and pattern. The flowers at left are not yet those we associate with "flower power" but they are bigger and bolder than we would have ssen a decade before. The dress at right sports colors far more vibrant than seen earlier.
Left
Montgomery Ward's 1961
Bouffant silk dress with deeply rounded neckline. Fitted bodice and full shirred skirt. Attached nylon petticoat. $24.98
Left Below
Sears 1963
Cotton Dress. Print scalloped neckline. Back zipper
$3.84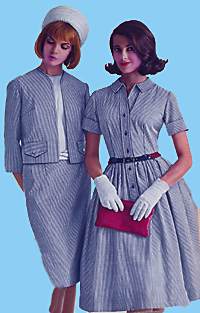 Seersucker (left) held its place in the American woman's closet.
The silk dress (right) from its A-line style to the bright color and topped by a pillbox hat is pure Jackie Kennedy. (see below).
Left
Sears 1963
Combed cotton seersucker.
Three piece suit looks crisp and cool. Cardigan has mock pockets with simulated pearl buttons. Skirt has easy walk-in kick pleat. White cotton broadcloth blouse buttons in back. $7.84
Shirtwaist dress, a great American fashion, in a great American fabric. Step-in style. Contrast stitch trim, smart rope belt. $6.84
Left Below
Montgomery Ward 1964
Pure Silk Shantung. Modified A-Line style. Overblouse shaped with curved bodice seam caught by a bow.
$17.84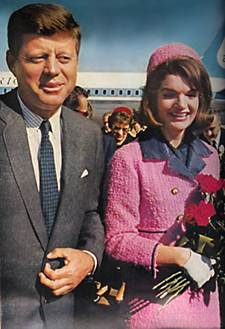 No suit of the early 60s is more famous or better remembered than that worn by Jacqueline Kennedy on November 22, 1963. She had been given bad weather reports. The Chanel pink suit was wool and thus uncomfortably warm on a hot Dallas day. She wore her signature pillbox hat which had become all the rage. By the way, it was Mrs. Kennedy's hats which gave Halston his first serious public exposure as back then, he was a milliner.
Jackie was only 33 years old when she became First Lady, the second youngest ever. During her brief tenure in the White House, she brought an elegance to dressing, a style to American life. Unlike her predecessors, she wore European couture dresses, but this presented political problems. She needed to dress in American designs more often. Eventually she found her way to Oleg Cassini, a French-born Russian turned naturalized American. Cassini gave her Americanized versions of French designs, clean lined, in the bright, solid colors she preferred, but with oversize buttons and coat pockets that his Hollywood experience told him would stand out in photographs.
Jackie's trademarks were the boxy jackets and pillbox hats, the three-quarter-length sleeves, the lace mantillas, the overblouse dresses and the sleeveless A-lines.
Click Here to see Mrs. Kennedy's gowns.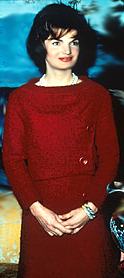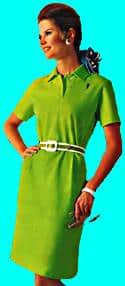 The second half of the Sixties begins quietly. But the dynamic social changes sweeping the world would soon manifest themselves in fashion. A new freedom in hemlines, a bolder approach to color would parallel the youth movement yearning for choices which did not mimic their predecessors.
The dress at left from 1965 still screamed ladylike femininity. Throughout the decade certain basics remained and real women didn't go around dressed like hippies. The polo style dress below from 1969 remains a classic and you could easily wear it today.
Left
Monttgomery Ward 1965
The deep rounded collar is the most softly feminine, gracefully flattering look of the year. Bright white polka dots add snap to the Arnel triacetate jersey dress with unpressed pleats, back zipper. $9.97
Left Below
Montgomery Ward's 1969
Wards '69 Seahorse sun-sation The super shirt dress with easy travel-tuned lines, is the look. In a cool-n-classic polyester and cotton. $6.50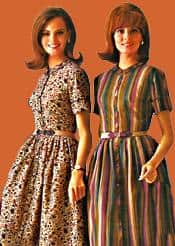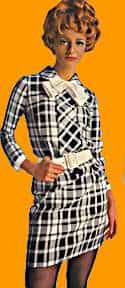 The shirtwaist dress will survive the entire decade and women will wear the style at left throughout. These two dresses are exactly what one might wear to school. By 1968 even mainstream clothiers had to acknowledge the changes and the shirtwaist had taken on a whole new look. (right.)
Left
Sears 1966
Perma-prest shirtdress in lovely broadcloth of Kodel polyester and Avril rayon. You can shorten but not lengthen the hem. $7.50
Left Below
McCall's Magazine 1968
An artless little black and white plaid with a Kitty Foyle bow at the neckline, and long sleeves ending in white cuffs. Cotton and Arnel. From R & K Originals. $26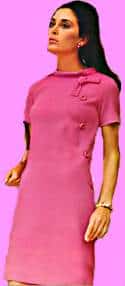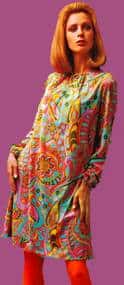 Both of these dresses are from 1968. They aptly illustrate the choices. At left, the style is still pure Jackie Kennedy. At right, the mod influence is evident. Only in the 1960s would anyone be bold enough to wear this shift out in public. With matching orange stockings, no less! The look was bold, daring and adventurous – how 60's.
Left
Sears 1968
Textured Double Knit of Fortrel polyester, Perma Press dress. Skimmer style topped with a standup collar, trimmed with diagonal placed buttons. $17.75
Left Below
Sears 1968
Print shift – dazzling wardrobe brightener. Self-covered buttons at softly gathered slit neckline. Billowy sleeves with elasticized wrists. $14.97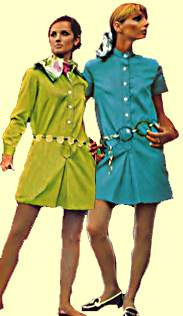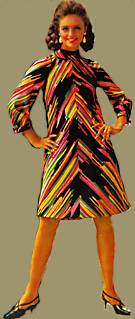 Venerable clothier Ship'n Shore responded to the 1960s by shortening the hemlines on this classic shirtshift. The tent dress at right reflects late Sixties bold colors.
Left
McCall's Magazine 1968
From Ship'n Shore. Both 50% Dacron polyester, 50% cotton. Long sleeves shirtshift. $8 Turtleband shirtshift $8
Left Below
McCall's 1967 Life Stride Shoe ad
Spectacular in a tent dress that's tantamount to spring. A free fall of '67 color boldness let loose from a curved yoke neck. All splashed with a surprise of geometric stripes. Shoe: Life Stride