The 1950s were a truly transformative period for women's fashion, as it saw a departure from the more modest styles of the previous decades.
Women's dresses in the 50s were marked by a renewed emphasis on elegance and femininity, with women embracing a more tailored and polished look. The key elements of women's dresses during this time were both visually striking and expertly crafted.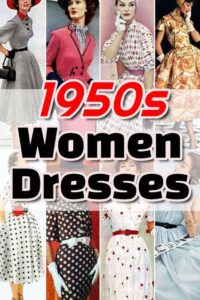 One of the defining features of 50s dresses was the hourglass silhouette, which celebrated the natural curves of a woman's body. Dresses were designed to cinch in at the waist, creating a flattering and feminine shape. This was achieved through the use of fitted bodices, often adorned with delicate details such as lace or embroidery, and full skirts that added volume and movement.
Fabrics played an essential role in defining the overall aesthetic of women's dresses in the 1950s. Luxurious materials such as silk, satin, and taffeta were popular choices, as they added an air of sophistication and refinement. These fabrics were often adorned with bold patterns, vibrant colors, or playful polka dots, adding a touch of whimsy to the overall look.
Necklines in the 1950s were typically demure and modest, with popular choices including scoop necks, boat necks, and sweetheart necklines. These styles allowed women to showcase their femininity without revealing too much skin, striking a delicate balance between sensuality and propriety.
Accessories were also an important aspect of completing the 1950s look. Women would often pair their dresses with accessories such as gloves, pearl necklaces, and small handbags, adding a touch of elegance and refinement to their ensemble.
Heels were a must-have shoes, as they not only elevated the height but also added a certain level of sophistication to the overall look.
Contrary to popular belief shaped by TV shows of the era like Donna Reed or Harriett Nelson, real women did not do housework in elaborate dresses, pearls, and heels. Practicality was key for everyday wear.
Everyday dresses could be bought from catalogs like Sears for under $10. Certain styles were reserved for specific times of the day or events. For example, long gloves and certain hats might be worn for evening events.
Here's a breakdown of the key elements of women's dresses in the 1950s.
50s Swing Dresses
These were full skirts that flared out from the waist, creating a "swing" effect. They were often paired with fitted tops to accentuate the waist.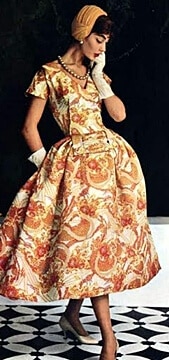 This is a summery afternoon floral. This very popular style had many forms, including the poodle skirt.
50s Pin Up Dresses
Pin-up dresses from the 1950s were designed to flatter women's figures. They had fitted tops, cinched waists, and full skirts that created an hourglass shape. The dresses often had sweetheart or halter necklines, showing off the bust while still looking modest.
They were made from different fabrics like cotton or satin and had fun patterns like polka dots or flowers. Women sometimes wear gloves, hats, and petticoats with these dresses to complete the look. Even today, these classic dresses are loved for their timeless style and vintage charm.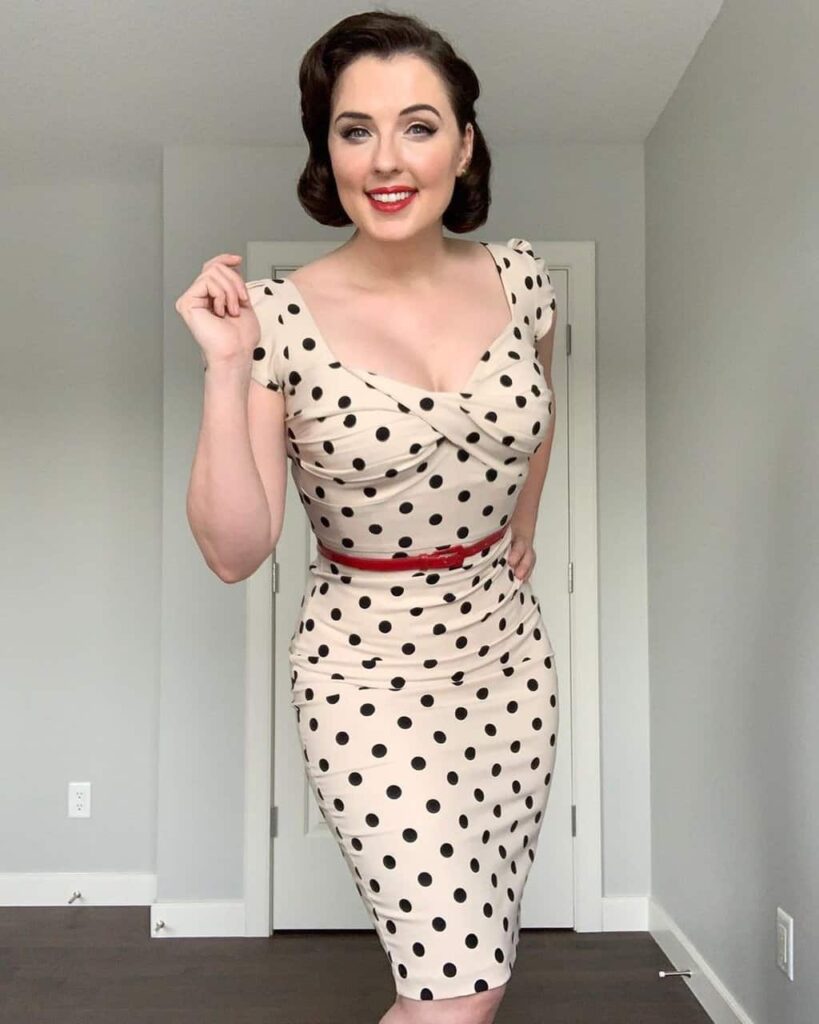 50s Pencil Dresses
These were slim-fitting skirts that tapered down to the knee, often part of a dress. They were designed to create an hourglass figure but were considered too alluring for young girls or the workplace.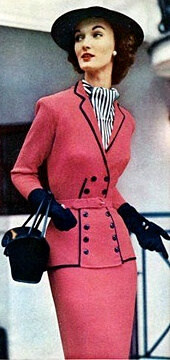 Although not intentionally provocative, women's dresses in the 1950s could be quite seductive. The skirt part of this dress is in the pencil style. Not seen but almost always present, a girdle was a necessary part of all ensembles.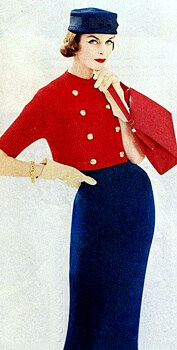 Knit Dresses
These were for more formal occasions and were generally more expensive favored by the big European Design Houses. They often featured pencil skirts and were made from high-quality materials.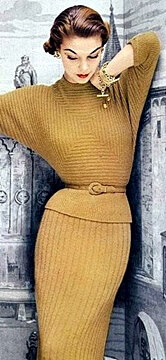 This outfit features a pencil skirt which certainly shows off the model's figure.
Wrap Dresses
These were simple, everyday dresses that were practical yet stylish. Mother might, however, wear a wrap dress as pictured here. Or the simple everyday dresses also pictured. The key here is the word "dress". It was the most common item worn by women at the time.
Pictured here are everyday dresses. These could be bought right from a Sear's Catalog and were priced under $10.00.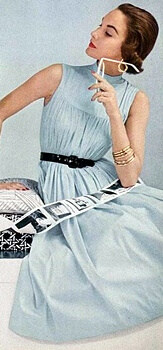 Also you should note that the women in all of these pics are well coordinated. Purses matched shoes or belts, the hat could also match but was usually meant to accent another part of the ensemble. with all of the sleeveless styles.
Polka Dots and Patterns
As the decade progressed, polka dots became popular, offering a break from solid colors and floral prints. Patterns were diverse, ranging from geometrics to florals, but never garish or over the top.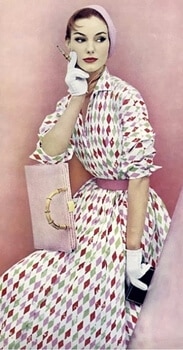 This lady is perhaps off to shop or to lunch. She's wearing a swing or full skirt style dress in a geometric pattern.

Again, a swing dress in the full skirt style. This might have been worn in the afternoon with it's characteristically 1950's soft feminine touches.
As the decade moved on, polka dots became a very popular 1950s fashion dress style. Why, is a question mark but I believe that Women were just getting a little sick of always wearing either a solid color or a floral print.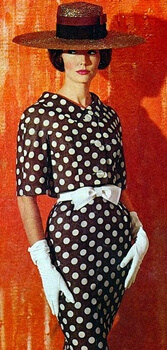 The polka dot style could be in any color, short or long, full or pencil looks. This model has coordinated with white accessories which would make this a summery ensemble. Had she chosen dark coordinating items it would have been fine for fall or winter.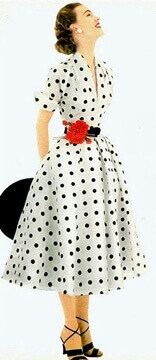 Here is a little different take on the polka dot. Using fruit in a bold color was just one way designers tried to differentiate their designs from the crowd. The long gloves on this model would probably be worn for evening and not with a day dress. (Although with that hat it could have been a Kentucky Derby ensemble)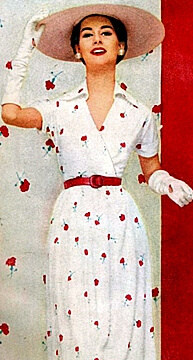 Fabrics
Cotton was a big deal in the 1950s. People loved it because it was comfy and easy to clean. You'd often see dresses with fun patterns like flowers or polka dots made from cotton. These dresses were perfect for everyday wear, especially when the weather was warm.
Wool was another popular fabric, but it was mostly used in the winter because it's warm. Wool dresses were often more tailored, meaning they fit really well. They were the go-to choice for colder months and looked really classy.
Silk was the fancy fabric of the time. After World War II ended, silk became more available and people used it for special occasion dresses. It's super soft and has a shiny look that makes it stand out. The 1950s brought it back after WWII into the dress market and the women loved it.
Rayon was like the budget-friendly version of silk. It looked a lot like silk but was cheaper and more durable. This made it a popular choice for all kinds of dresses, from casual to fancy.
Taffeta and satin were the stars of the evening. These fabrics were often used in glamorous evening gowns and cocktail dresses. They have a shiny finish that catches the light, making them perfect for parties and special events.
Linen was the summer favorite. It's a light and breathable fabric, but the downside is that it wrinkles easily. You'd often see it in lighter colors like white and beige, perfect for hot days.
Velvet and lace were used for that extra touch of elegance. Velvet was plush and rich, often used in winter dresses. Lace was delicate and pretty, used to add a feminine touch to formal dresses.
Nylon and organdy were also around. Nylon was strong and often used for undergarments like petticoats. Organdy was a sheer fabric used in summer dresses and kids' clothes. It was crisp and lightweight, making it great for puffy skirts.
So, each fabric had its own special role in the 1950s, making dresses comfy, stylish, or fancy depending on what the occasion called for.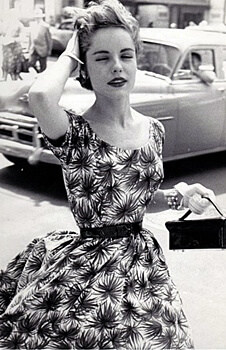 Pictured here is a feminine pink springtime dress style with a shirt type front and dainty round collar.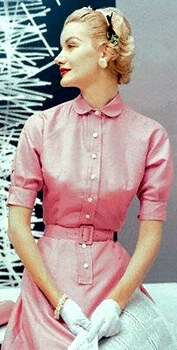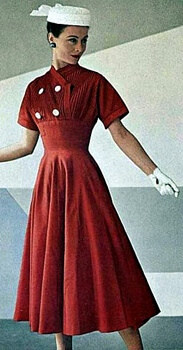 This outfit in wool would definitely be for winter. If you're wondering about the purse, it matched the shoes which got cut off in this pic.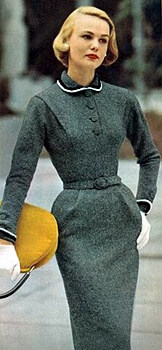 Although maybe not the most flattering snap shot, this woman's whole look is very typical of 1950s woman's style dresses. She is probably downtown shopping and this outfit would be considered everyday, casual nice. Once again see how gloves complete the ensemble.