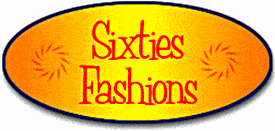 1960s Prom Dresses
Fancy Dresses and Evening Wear

Prom dresses were pretty and often frilly frocks. We dressed like ladies. We wore gloves, often the long over the elbow kind for formal occasions. We never dressed sexy. In fact, very little actual flesh showed.
Right
Montgomery Ward 1964
Contrast in elegance. Black plush rayon velvet froms a dramtic bodice over a stark white cotton and acetate brocade bell skirt. Satin bow belt. $22.50
Right, below
By Nadine 1964.
Left – White nylon sheer over colored taffeta, white lace on bodice, bow and panel in back.
Right – Dacron poly sheath with contoured empire waist, shirred full back panel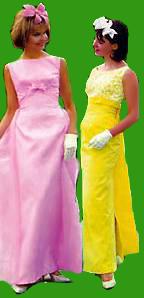 Soft, feminine, elegant. And very ladylike.
Sears 1963
Sheer nylon tricot, acetetate lined. Front shirring. V-shaped in back with two floating panels. $21.50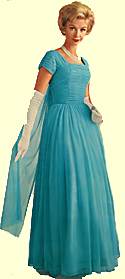 Montgomery Ward 1964
Glistening dress with sequins and glittered touched scalloped lace (acetate nylon) bodice. Skirt of smooth gleaming acetate satin beneath a bell shaped sheath $24.70

You can never go wrong in white. Click here for Basic Black frocks.

Montgomery Ward's 1964
Iridescent sequins and matching braid pattern the bodice (front and back) of this graveful acetate-rayon crepe dress. Completely lined. Bow self belt. $23.84

Sears 1963
Bolero gown. Acetetate and nylon lace bolero hooks inback, is trimmed with acetate satin. The gown, a whirl of sheer nylon tricot, zips in back and is fully lines.Has own nylon net petticoat. $22.50

You might have worn the ensemble at right to the theatre, to dinner, just about anywhere. The versatible brocade dress and coat has such classic styling it could still be worn today. Without the hat.
The frilly frock at right (2nd down) would have made a pretty party dress in the 1960s. Today it is hard to imagine a grown woman would go out looking like that.
Right
Spiegel 1960
Elegant Ensemble takes you through day to dinner too. Lavish Sciffili embroidered, sleeveless sheath, plus a companion coat, fully lined in rayon and acetate taffeta. Both in crisp rayon with the look and feel of linen. $18.80


Spiegel 1960
Sheer nylon ruffles 'n lace beneath a boned petal bodice and filmy nylon net stole. Taffeta cumberbund, rayon taffeta lining, nylon net crinoline. $19.85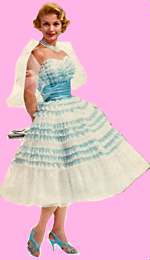 Any discussion of gowns must include those worn by Jacqueline Kennedy as she set the style.
She personally guided the design of her Inaugural gown at right. Simple elegant lines set the tone for all the gowns which would follow, including the next one over.
Click Here for Mrs. Kennedy's day dresses.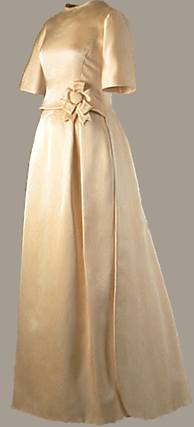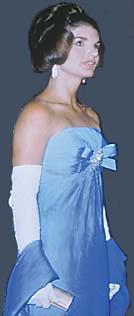 Even as the Sixties rocked on, prom dresses remained feminine. The party dress at right could have been made full length as easily as the party dress length shown.
Right
Montgomery Ward 1967
Romatic scoop of two tone rayon chiffon for any gala affair. Dramatic overskirt swirls wonderfully for a waltz. Added flattery, cape sleeves, satin waist band. $22.50

These two dresses (right) show classic styling.
Right
Sears 1968.
Left – Empire dress, cotton Venice type lace bodice, rayon chiffon skirt, acetate satin sash, back bow. $25.00
Right – Acetate and nylon lace over yarn dyed acetate taffeta dress. Cummerbund, back bow and lining of bodice are also of acetate taffeta. $19.95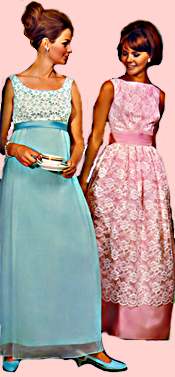 A new sophistication began to emerge in styles which could be worn by teens or women. I owned a dress very much like the yellow one at left.
Right

Sears 1968
Coat – Off white evening coat. Satnd up collar, front yoke. Lined. Rib textured rayon and acetate. $18.00
Dress – Empire line. Crepe of acetate and rayon bonded to acetate tricot. Softly bowed over gentle gathered skirt. $20.00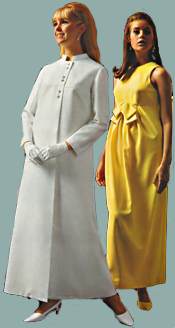 Montgomery Ward 1967
The halter look. A devastatingly bare-shouldered crepe sheath. Supple crepe acetate-rayon. $14.90

The Spanish influence of bolero jackets and gaucho pants was prevalent in the late Sixties. Further, this is the first time when a woman might wear pants out in the evening. This style of pants didn't last very long.
Right

McCall's 1968
A ravishing way to dress for evening is in this melting rich velvet. Bolero, heavily encrusted with golden embroidery, slips over lavish creamy crepe skirt with flamboyant billowing sleeves and the widest of collars. Pants, flared and flowing are caught by a chain cumberbund. By Kasper for Joan Leslie. Belt by Bagatelle.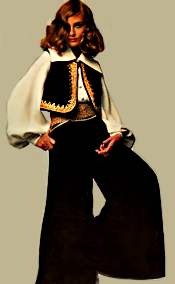 This evening gown represents a departure from earlier styles.
Right
Sears 1968
Dress with floating panels of rayon chiffon over acetate taffeta. Cotton Venice type lace sleeves and illusion yoke that is lines with organza of rayon and silk. Acetate satin ribbon trim. $29.00

This gown also represents a departure from earlier styles.
Sears 1968
Fabulous floaty dress…rayon, chiffon over acetate taffeta. In back, tiny bowed neckline dips to flyaway panels. $20.00

The fancy dress at right is made in luxuriant velvet.
Sears 1966
Dramatic lantern sleeves add excitement to this elegant skimmer gracefully fashioned of soft, Lyons type rayon velvet. $18.00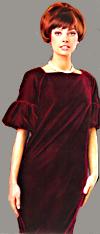 The fun party dress at right reflects the baby doll look which was so popular in the late 1960s.It could be worn just above the knee (shown) or as a mini.
Sears 1968
Dollie dress flounces by in white lace of acetate and nylon tied with a pale pink ribbon. $17.00