The 1950s may be known for its Rock N' Roll music, glamorous 50s fashion and innovation; however, it was also a decade full of interesting style in pants and shorts for women. Fashion during this decade was a reflection of cultural change and a new way of life.
In fact, the Pants & Shorts from the 1950s embodied the era's culture with their bold designs, cropped styles and tight fits.
From high waisted trousers and Capri pants to casual shorts and denim jeans, the 1950s had something to offer for everyone.
So let's take a trip down memory lane to explore the amazing vintage 1950s Pants & Shorts
1950s Women Pants Outfits
The 1950s was a time of transformation when it came to women pants. For the first time in fashion history, women started wearing pants more frequently, breaking the societal norm that banned women from wearing pants.
The popular styles of 1950s pants for women included high-waisted trousers, tailored trousers, and pedal pushers.. High-waisted trousers were often worn with tucked-in blouses or sweaters. Pedal pushers and  Capri pants, were a more casual alternative to traditional trousers. They were slim-fitting pants that hit just below the knee and were often paired with ballet flats or low heels.
Today, high-waisted trousers and Capri pants are still a popular trend, with many modern designers taking inspiration from the 1950s styles.
The most popular short Pants designs for women in the 50s include:
Pedal Pushers Pants
Pedal pushers were a type of cropped pants that fell just below the calf.

They were often worn with casual shoes and a T-shirt or blouse.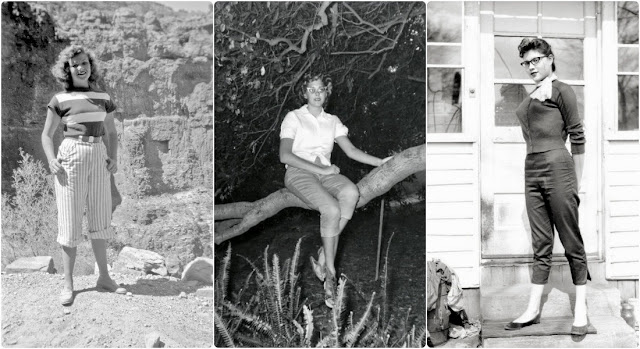 Credits: vintag.es
Cigarette Pants
These pants were fitted at the waist and hips and tapered at the ankles. They were often made of lightweight fabrics such as cotton or linen, and were often worn with high heels and a blouse or sweater.
Credits: reddit.com
50's Causal Pants & Shorts
The below picture shows everyday casual pants and shorts. However, women did not go about dressed casually very often. The 1950s look were a more formal time. These outfits would probably be worn at a barbecue or picnic. Girls had a bit more latitude, but not much. You did not pop over to the market in shorts. Let alone show up in a sweat suit, or tee shirt

1950s Capri Pants Outfit
Capri pants were cropped pants that fell just below the knee. They were popular for both casual and formal occasions, and could be worn with flats, sandals, or heels.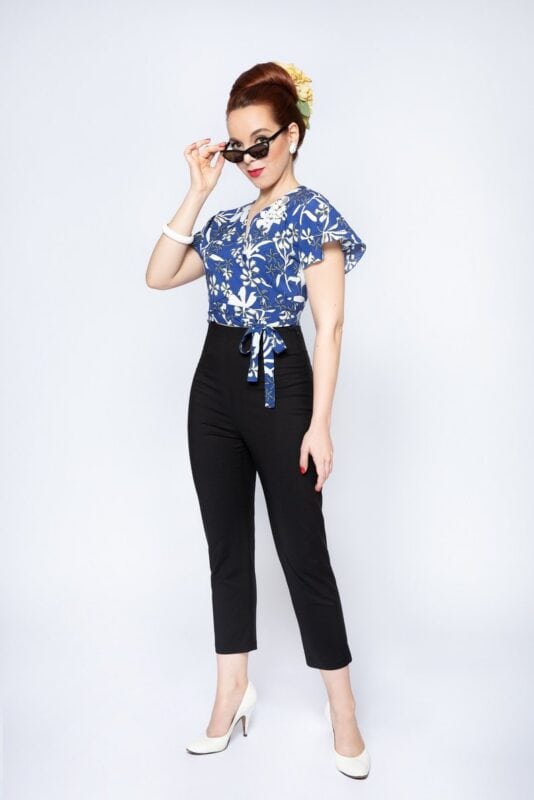 Credits: Etsy← Buy here
1950s Shorts
The introduction of shorts for women in the 1950's was another controversial move. What had once been considered an exclusively masculine item of clothing was now being worn by women. The most popular style of shorts for women in the '50s included:
Cutoff Shorts
Cutoff shorts were another popular style in the 50s pants, often seen paired with a plain white t-shirt and canvas shoes.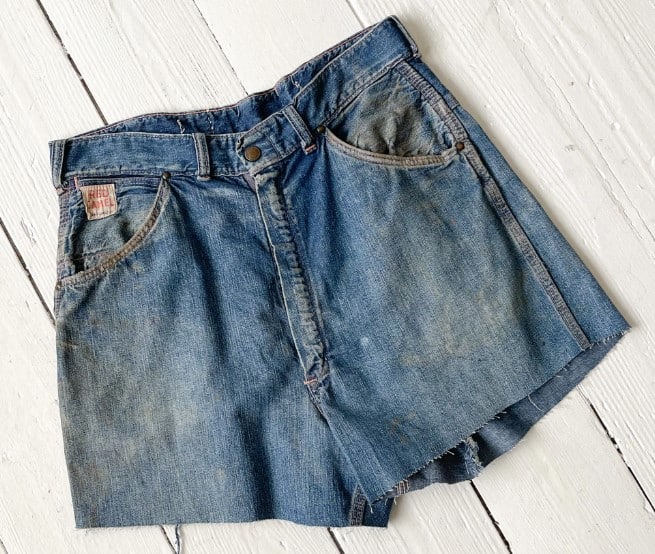 Cutoff shorts were usually made from denim or twill material and had a frayed or cut bottom hem. They could were worn with a belt or left loose for a more casual look.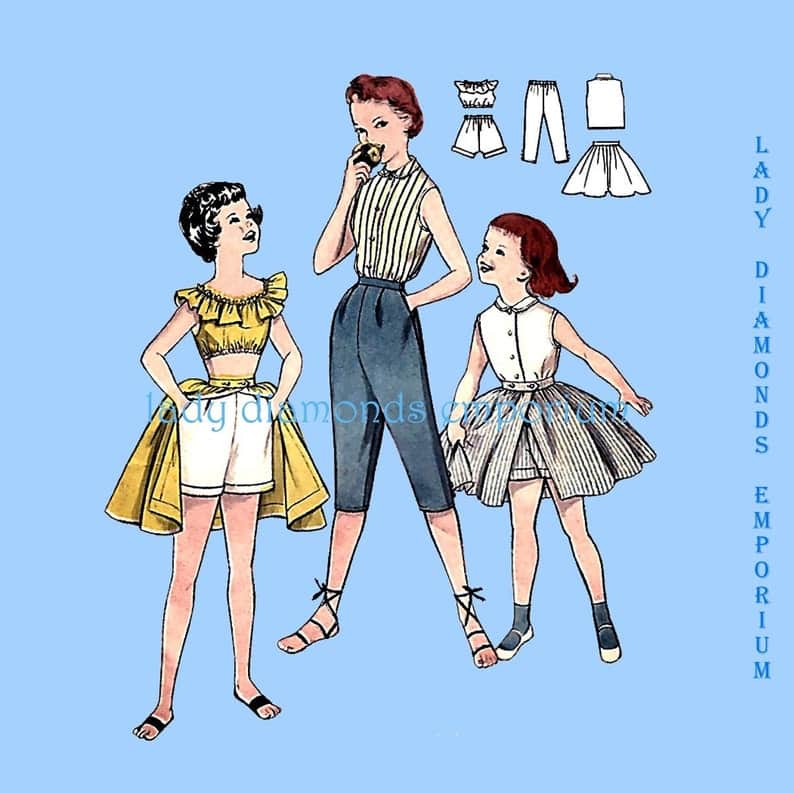 Credits: Etsy← Buy here
 Bermuda Shorts
Bermuda shorts, also known as knee length shorts, were a popular style of shorts for women in the 1950s. They were often made of khaki or denim, and were worn with casual shoes and a shirt or blouse. Bermuda shorts were considered to be a more modest and respectable style of shorts than shorter shorts, such as cutoff shorts. These were good for an outdoor event like a barbecue.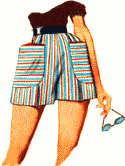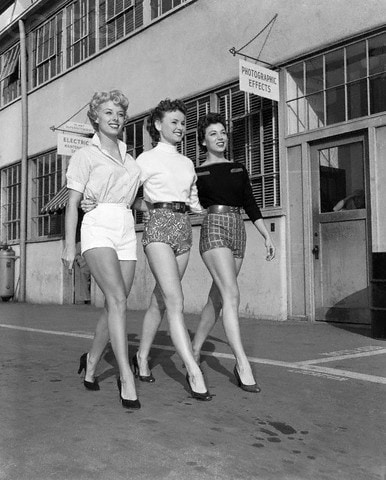 High Waisted Shorts
High waisted shorts were a huge trend in the 1950s. They were perfect for accentuating a woman's curves and were both comfortable and stylish. Many women during this time wore these high waist shorts with a tucked-in blouse, cardigan sweater, and a pair of loafers. These shorts were available in different types of fabric, with cotton and linen being the most popular. One of the most iconic pieces of high-waisted shorts was worn by style icon Audrey Hepburn in the movie Roman Holiday. She was seen wearing these shorts paired with a simple blouse and ballerina flats, which became her signature style.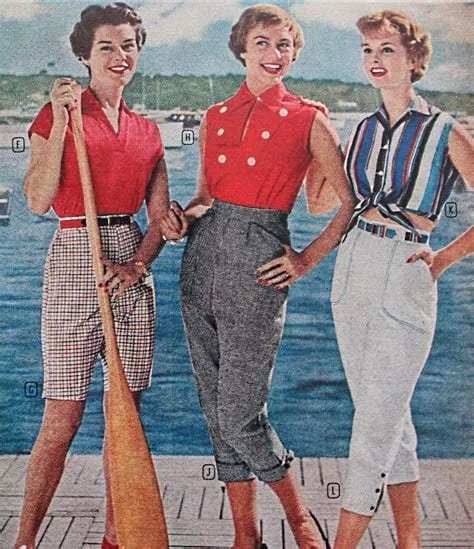 Credits: ohsodelightful.com
Denim Shorts
Denim shorts were popular during this era, especially among the younger crowd. These shorts were often cuffed and paired with a simple white t-shirt, creating a casual yet fashionable look. In many cases, these shorts were transformed from old jeans that had been cut into shorts, adding a personal touch and giving them a more unique look.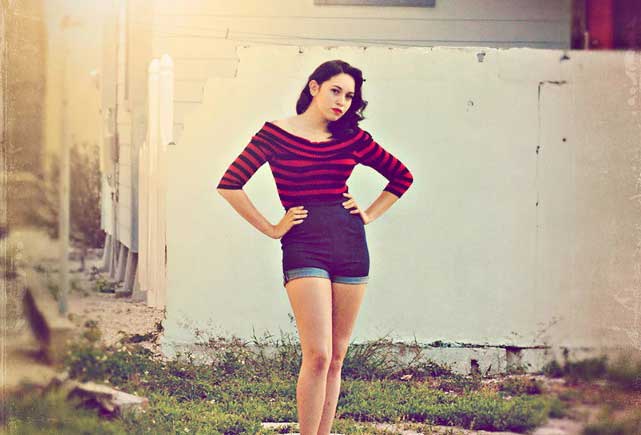 Culottes Shorts
Culottes are wide leg shorts that had their heyday in the 1950s. They were seen as a modern version of the skirt and were worn by women who wanted to show off their legs but maintain their modesty. Culottes have a sophisticated look that can be easily dressed up or down depending on the occasion. Today ,you can wear them with stilettos and a blazer for a formal event or with sneakers and a t-shirt for a casual brunch.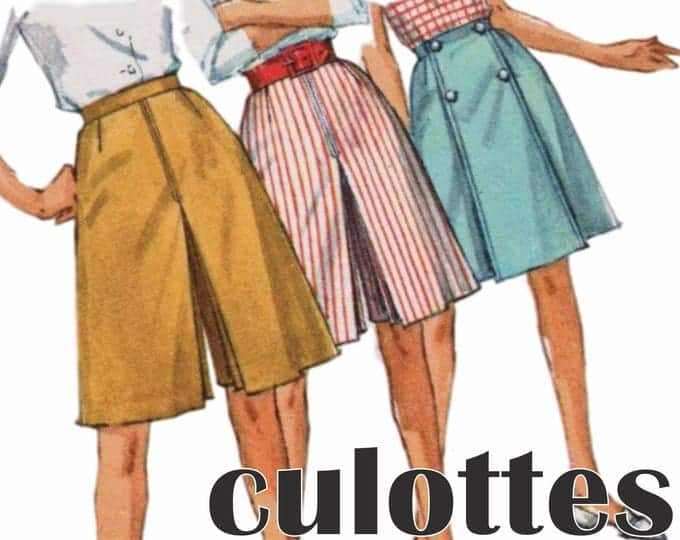 Credits: Etsy← Buy here
Vintage 1950s Outfits for Ladies with Jeans
Jeans were not popular in the 50s, and when they were worn, they were mostly limited to men's workwear. However, as the decade progressed, women began wearing jeans, but as a casual outfit. Vintage 1950s outfits for ladies with jeans have a unique charm that is still celebrated today. Women would often pair high-waisted jeans with a fitted button-down shirt or a cashmere sweater for a polished and feminine look. To add a touch of elegance, they would accessorize with a statement belt and a pair of heeled loafers or ballet flats. Jeans were also paired with cardigans and white t-shirts for a relaxed and comfortable outfit.
1950s Jean outfits allowed women to embrace a more relaxed and modern style while still maintaining a hint of femininity and glamour. Today, vintage 1950s outfits with jeans have become a popular fashion trend, with many modern women seeking to recreate this classic look.
Here are a few vintage 1950s outfits for women's with jeans:
Blue Jeans with a White T-shirt
Blue jeans with a white t-shirt was a popular outfit in the 1950s, just as it is today. It was a casual and versatile look that could be dressed up or down. It also became an important symbol of rebellion in the late 1950s, representing a break from traditional clothing norms for young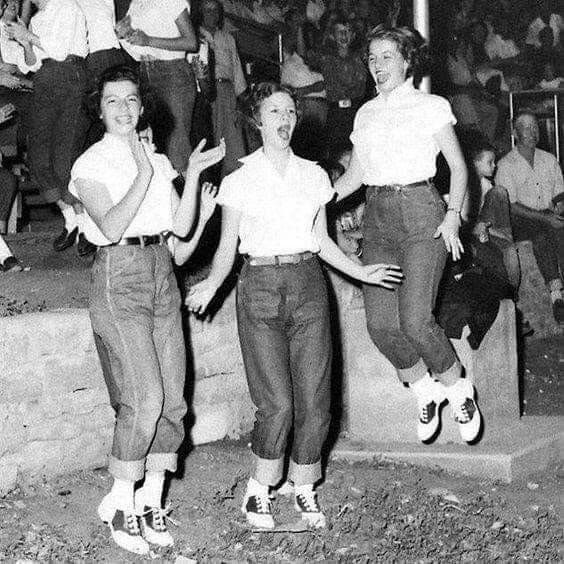 Credits: Pinterest
Wrangler Retro Jeans
Wrangler jeans were popular amongst cowboys and farm workers alike, but their popularity extended to other walks of life too. During the 1950s fashion, Wrangler Jeans became popular among women as durable and fashionable workwear. From fashionistas to rock stars, everyone wanted a pair of Wrangler jeans. The brand offered a variety of styles and fits that allowed women to wear them for various occasions.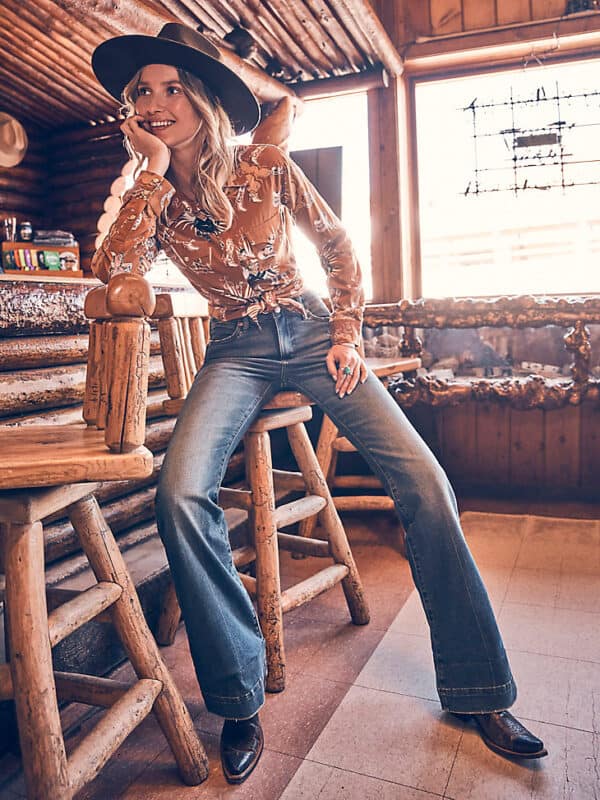 Credits: wrangler.com← Buy here
Below the Knee Jeans and Sleeveless Blouses
This vintage style for women was popular in the '50s and were often worn together. The combination of the two allowed women to express their unique sense of style with a look that was both fashionable and comfortable.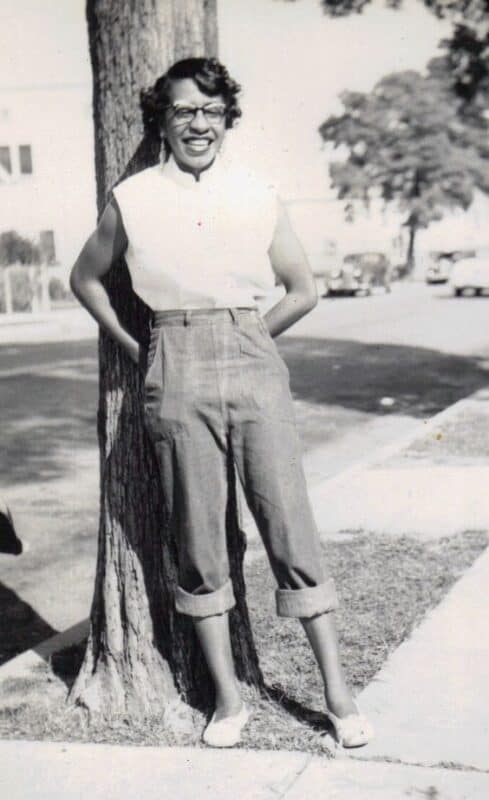 Credits: Pinterest
Slightly Cropped Shirt and High-Waisted Jeans
Slightly cropped shirts and high-waisted jeans are a trendy and versatile combination that can be dressed up or down. The cropped shirt shows a hint of midriff, while the high-waisted jeans elongate the legs and create a flattering silhouette.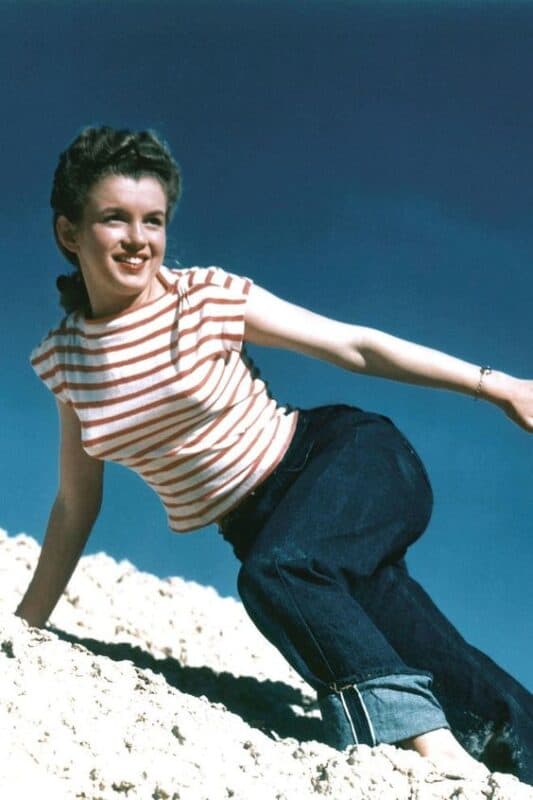 Credits: Pinterest
1950s Capri Pants Outfit
If you love retro fashion and are looking for something chic and easy to wear, you can't go wrong with 1950s Capri pants outfits. Originally designed for beach wear, Capri pants were named after the Italian island that the Jet Set favored as a holiday destination.
In the 50s, they were a popular fashion item for women, especially during the summer season. With the right combination, these cropped pants can be dressed up or down and styled for different occasions.
Here are some of the best examples of 1950s Capri pants outfits to inspire you and some tips for creating your own retro look.
Button-Down Shirt and Capri Pants
A button-down shirt and capri pants are a classic and versatile combination that can be dressed up or down. This outfit is perfect for summer, but it can also be worn in the spring and fall with a cardigan or jacket.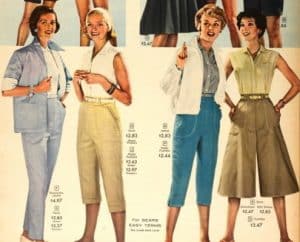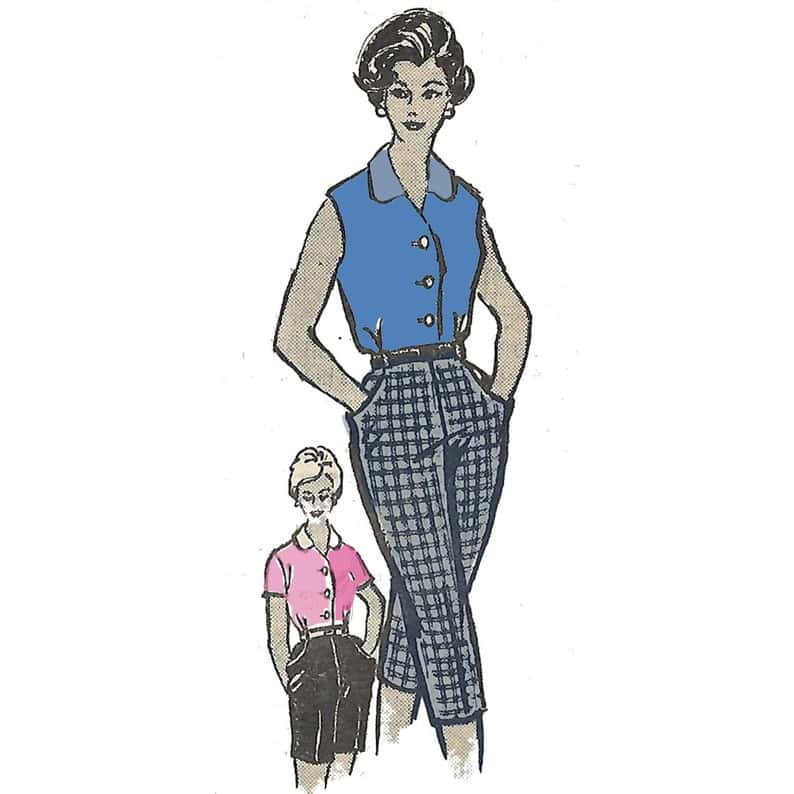 Credits: Etsy ← Buy here
Capri Pants With a Lilac Shirt
Capri pants with a lilac shirt, turquoise sash, and ballet flats is a classic and feminine outfit that is perfect for summer. The lilac shirt and turquoise sash add a pop of color and interest, while the ballet flats keep the look comfortable and casual. This outfit was perfect for any occasion, from running errands to a casual lunch. The pastel colors give it a fresh, feminine touch, and the ballet flats make it easy to move around in all day. It's an elegant yet effortless look that will never go out of style.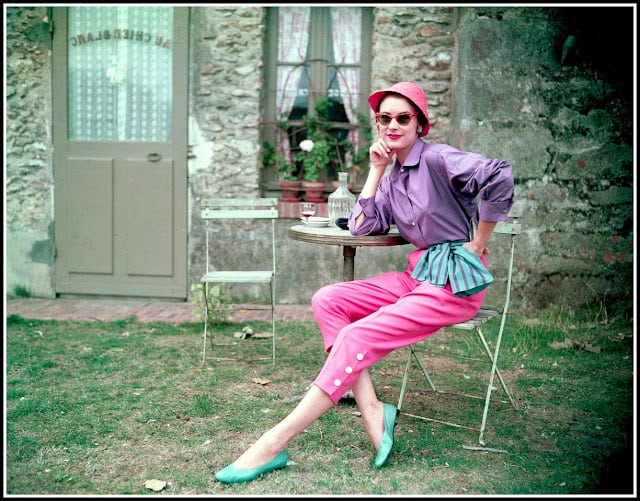 Credits: Sophiakorver
1950s Retro women's Fashion Trousers
Fashion trousers were a favorite among working women in the 1950s. They were comfortable yet stylish and allowed women to move about with ease. Styles ranged from straight leg to wide leg, and they came in different colors and fabric materials, including corduroy and denim. Women would pair fashion trousers with blouses, sweaters, or turtlenecks. They could be dressed up or down depending on the occasion.
Vintage 50s High Waisted Wide-Leg Trouser
The high-waisted wide-leg trouser is another timeless style that has been popular since the 1950s.. They are flattering on most body types, and they can be worn for a variety of occasions. This versatile pant can be dressed up or down and looks great when paired with a crisp white shirt or colorful crop top. A belt cinches in the waist for a flattering silhouette, while the wider legs add an extra touch of sophistication.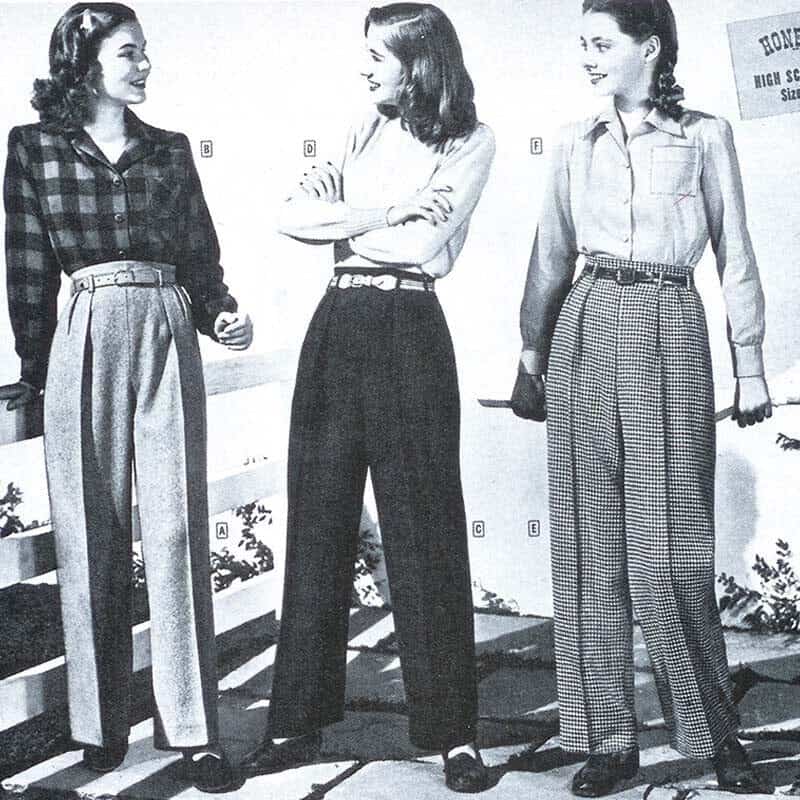 Credits: Weekenddoll
Capri Trousers
Capri trousers are another classic style from the '50s.  They are usually cropped to just above the ankle and have a slightly tapered leg. These vintage style trousers pair well with any kind of top, from tank tops to t-shirts and blouses. Depending on how you style them, they can be dressed up or down for any occasion!
The versatility of capri trousers makes them perfect for all seasons. They look great with sandals, boat shoes or trainers in the summer, and can be paired with boots for a more wintery look.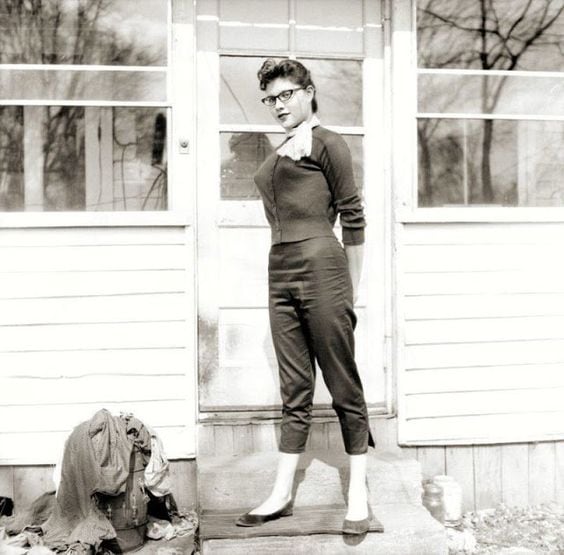 Credits: Pinterest
Tapered Leg Trousers
Tapered leg trousers are a type of pants that fit snugly at the waist and hips and then gradually narrow towards the ankle. They are a flattering style for most body types and can be dressed up or down. Tapered leg trousers were popular in the 1950s and 1960s, and they have made a comeback in recent years. They are often seen in both formal and casual settings.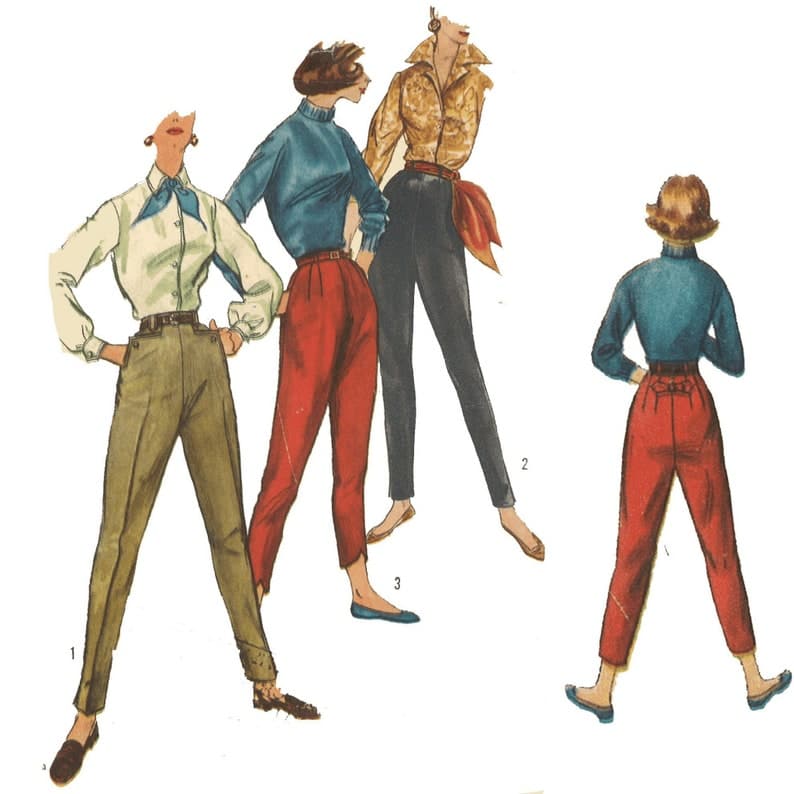 Credits: Etsy ← Buy here
1950s Vintage Fashion Pants History- FAQs
Did They Wear Leather Pants in the 50's?
Leather pants were not commonly worn in the 1950s. The fashion of the 1950s primarily featured more conservative and traditional styles, with a focus on tailored pants, skirts, dresses, and suits. Leather pants, often associated with rock 'n' roll and rockabilly subcultures, became popular in later decades, particularly in the 1960s and 1970s.
Did Women Wear Jeans in the 50s?
Yes, women did wear jeans in the 1950s, but they were not as popular as other pants styles. Young women wore jeans, only we called them dungarees. Jeans were often associated with cowboys and the working-class, and women preferred more upscale clothing. However, towards the end of the 1950s, denim jeans started gaining popularity. Hollywood stars such as Marlon Brando and James Dean started  popularizing the casual denim look and when women saw how chic and comfortable they looked, they followed suit.
What Patterns Were Popular in the 1950s?
The 1950s was a decade of classic prints and patterns. Some of the most popular 1950's sewing pattern included gingham, polka dots, stripes, and florals. These patterns were seen on a variety of pants and shorts, ranging from Bermuda shorts to cigarette pants. The gingham pattern was particularly popular for capris and pedal pushers, while the polka dot pattern was often seen on wide-leg trousers.
Were Woman Dressing Treated Differently From Men in the 1950s?
Yes, women's dressing was treated differently from men's in the 1950s. There were strict social norms about what women were and were not allowed to wear.
This powerful image from Brooklyn in the 1940s captures a moment of young girls bravely standing up against an outdated and unfair dress code that banned slacks for them. Their determination and unity in protest is inspiring. It's a stark reminder of the progress that has been made in gender equality and the fight for women's rights. These girls were challenging societal norms of their time, advocating for the freedom to choose their clothing and express themselves without being confined to traditional gender roles.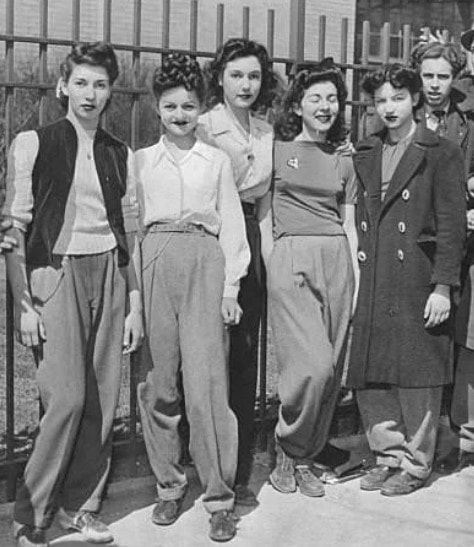 The 1950s are often remembered as a time of iconic fashion and style, where pants and shorts became a trendy item in women's wardrobes. Women were finally able to embrace comfortable clothing while also keeping classic and chic looks.
From classic Bermuda shorts to high-waisted, wide-leg pants, the 1950s had something to offer for everyone. The evolving fashion of women's pants and shorts then laid the foundation for modern-day fashion, where they still remain a popular item in women's fashion.
Whether you're looking to add some vintage flair to your wardrobe or just doing some research, exploring 1950s pants and shorts is definitely worth the trip down memory lane.