1960s Fashion – Mod fashion was innovative, creative, bold and brash. 60s fashion belonged to London, England. The British set the tone and the world followed.
What we wear has always defined us to some degree. At the very least, it can indicate economic status, but always before within certain confines of convention. Historically, a uniformity of dress created a homogeneous population.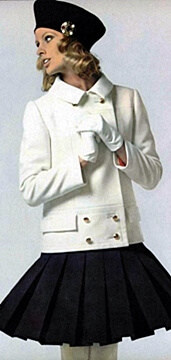 The 1960s ushered in an attitude of "anything goes" and reflected the shifting politics of the day. "Do your own thing" applied to clothes as well.
The fashion revolution was youth oriented and youth driven and began in the streets rather than the old line couture houses. The Baby Boomers were coming of age.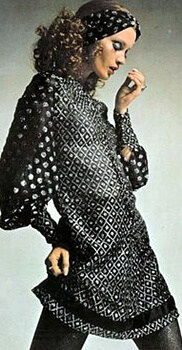 The boutique clothing store emerged in the 1960s as "the happening" place to shop. They were fun and hip and young people felt more comfortable shopping there. No geography was more famous for swinging boutiques than Carnaby Street and Kings Road in London. Not to be left out of the trend, Paraphernalia opened in 1965 on Madison Avenue in New York and was an instant smash.
Color played a big role in defining the look. The muted and pastel palette of 1950s fashions gave way to bright, bold color often splayed in geometric patterns. From day wear to Day Glo in less than a decade.
A word about the word – Mod. Mod for modern, which in its purest use meant minimalist. Arguably there is nothing minimal about most Mod fashion, but that is the origin.
On this page you'll find some of the more memorable Fashion Designers of the 1960s
---
Mary Quant
If 1960s Fashion – Mod Fashion had just one innovator that title would have to go to Mary Quant.
Mary Quant opened a boutique named Bazaar in Chelsea back in 1955. This is the beginning of what would be called the "London Look." Her miniskirts and colored tights challenged the fashion world to move in a new direction. Her favorite design of dress was the simple A-Line style but in a shorter length and bold colors.
Later in the 1960s she entered into an agreement with J.C. Penney to do four collections a year, she made mod fashions affordable and available to the massesin the U.S.. Mary Quant is also responsible for hot pants and the "Lolita" or baby doll look.
Below, Mary Quant having her hair done by stylist Vidal Sassoon, who originated her hairdo. Known as the bob, it was a short, angular hairstyle cut on a horizontal plane. (See also Hair Style)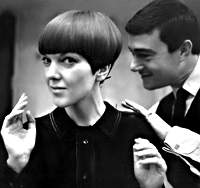 Mary Quant design 1960s fashion – mod fashion dress
---
Rudi Gernreich
Austrian Rudi Gernreich first came into public view in 1964 with a daring topless swimsuit called the monokini, not pictured here for obvious reasons. The dress at left displays the 1960s fascination with cutouts and vinyl, which Gernreich is credited for creating. he also made the first braless bikini top (not the topless one), first thong bikini and the first space-age type designs. He loved to show off a woman's form and tried to design clothes that followed that natural form. He was also one of the only American based designers.
The model in these photo's is Peggy Moffit and she worked exclusively for Gernreich in the 60s and 70s.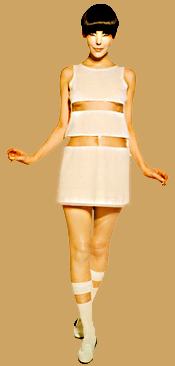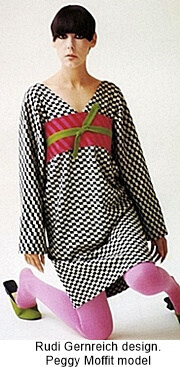 ---
Pierre Cardin
Along with Gernreich, Pierre Cardin was known for his "space age" styling. Born in Italy but relocated to Paris, he was also famous for hoop dresses, asymmetrical styles and collarless jackets for men.
Many in the Haute Couture world believed that Cardin sold out when he turned his attention to the average buyer with a ready-to-wear line, and then to branding of household items through licensing agreements. He was in fact a pioneer whose merchandising genius was imitated by all those who once criticized.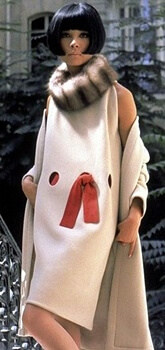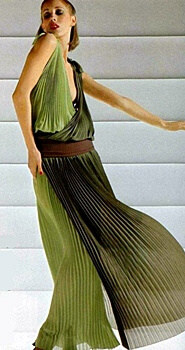 ---
Paco Rabanne
You can't tell the story of 1960s fashion – mod fashion without mentioning Rabanne. He was the "bad boy" of the French designers.
Originally from Spain he got his start designing jewelry but soon opened his own Design & Fashion House. He used unconventional material such as metal, paper, and plastic for his Metal Couture and outlandish and flamboyant designs.
Opening in 1966 his design were seen in movies and theatrical productions throughout the decade.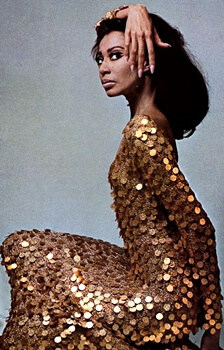 Paco Rabanne Design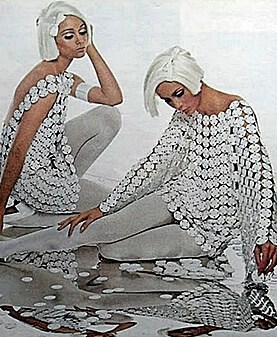 ---
Givenchy
In 1960s fashion – mod fashion probably the most noteworthy thing to come out of the French Design House was all the beautiful gowns and suits that Audrey Hepburn wore.
Audrey was one of the most sought after actresses of the 1950s and 1960s. After their first meeting in 1953, Hepburn became a virtual ambassador for the brand, wearing Givenchy on and off the screen.
The phrase a "little black dress" was coined when she wore a Givenchy dress in "Breakfast at Tiffany's"a 1961 blockbuster hit.
Besides Hepburn he also made clothes exclusively for Lauren Bacall, Babe Paley, Greta Garbo, Elizabeth Taylor, Marlène Dietrich, Jacqueline Kennedy-Onassis and Princess Grace of Monaco (Grace Kelly).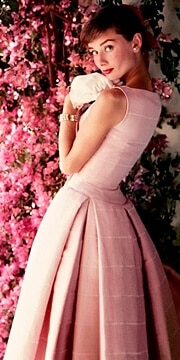 ---
Emilio Pucci
The Italian designers first designs were for ski apparel. What he learned about working with stretch fabrics turned into a exciting new materials for him to design with.
Starting with a swimwear line he quickly expanded into scarves, throws and eventually blouses. Everyone wanted to see his wild geometric designs in a clothing line so he developed a line of dresses made out of a wrinkle-free silk.
He was even commissioned by Braniff International Airways in the mid 1960s to design new fashion outfits for all of their air hostesses.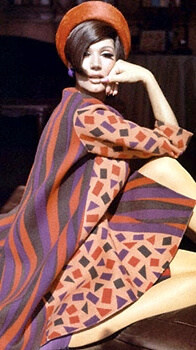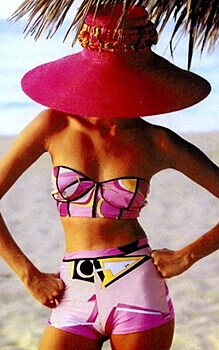 ---
Chanel
Founded in 1909 The House of Chanel has been a French Design House of distinction. During the 1960s Coco Chanel was firmly in control of the Company and her designs were worn by the wealthy and powerful.
Jacquelyn Kennedy was at one time one of the most photographed women in the country and she could be seen usually wearing Chanel.
From 1966-'69 Chanel designed the air hostesses uniforms for Olympic Airways partially because it was owned by Aristotle Onassis who later would marry Jackie Kennedy.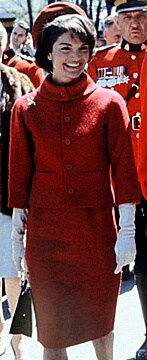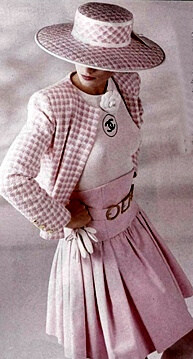 ---
Barbara Hulanicki
The second most well known boutique in London was Biba. It was named after Hulanicki's younger sister Biruta.
This 1960s clothes store started as a mail order business until Brigette Bardot was photographed wearing a dress that looked identical to a dress that Barbara Hulanicki had advertised in the newspaper. She sold out that day and never looked back.
One of the stores claims to fame was that Barbara was such a talented designer / seamstress that she could see a dress or outfit featured on the television on a Friday and have a knock-off available for sale on Monday morning. Eventually she started designing clothes in her own style.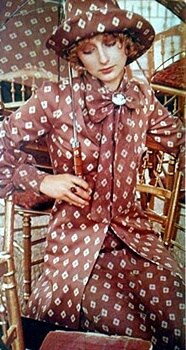 ---
André Courrèges
Was known for extremely simple, geometric, modern designs, including the "little white dress". His biggest contributions to 1960s fashion – mod fashion were the mini skirt and short white boots which would come to be called "go-go boots".
Courrèges was renowned for his trouser suits, cut-out backs and midriffs, all designed for a new type of athletic, active young woman. He worked with stretchy fabrics like Lycra and preferred to keep his designs simple. For shows his designs were almost always white with a splashes of pastels.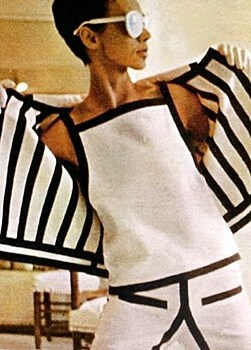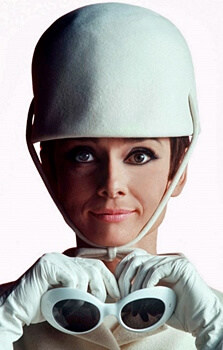 ---
Christian Dior
Dior designs came to fame in the post WWII period in the late 40's and early 50's. he died in 1957 but the designers at The House of Dior honored his style for another decade well into the 1960's.
His look employed fabrics lined predominantly with percale, boned, bustier-style bodices, hip padding, wasp-waisted corsets and petticoats that made his dresses flare out from the waist, giving his models a very curvaceous form.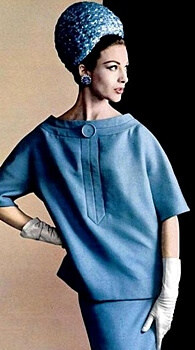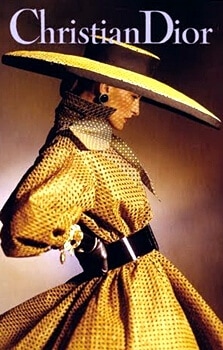 ---
Yves Saint Laurent
The French Fashion House was responsible for such fashion trends as the beatnik look; safari jackets for men and women; tight trousers; tall, thigh-high boots; and arguably the most famous classic tuxedo suit for women "Le Smoking".
In 1967 Saint Laurent developed a new line called YSL Gauche, which shifted his focus from high end to Ready-to-wear. The purpose was to provide a wider range of fashionable style being available to choose from in the market as they were affordable and cheaper. It also brought his brand to a wider audience in the U.S.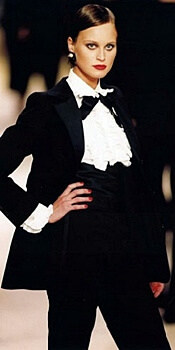 ---
Valentino
Was an Italian Designer who came to fame in the 1960s. His first big break came when Former First Lady Jackie Kennedy noticed a woman wearing a dress that she liked at a function. She contacted the woman and discovered that it was a new Italian designer named Valentino.
Upon being contacted by Kennedy he sent a model to her apartment for a private showing. Mrs. Kennedy loved the clothes and became a walking advertisement for his clothes as well as a personal friend.