The 1960s marked a pivotal era for women's fashion, especially in pants, shorts, and culottes. Pants became symbols of freedom and individuality, reflecting the decade's social and cultural changes. From bell-bottoms to Capri pants and from high-waisted shorts to culottes, each style told a story of liberation and self-expression. Fashion icons like Audrey Hepburn and Mary Tyler Moore popularized these trends, making them a staple in women's wardrobes.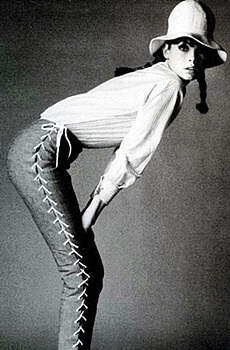 What's old is new. Many of these 1960s fashions are worn today. Capri pants are popular again, bell bottoms never went out of fashion and hippie clothes are a 1960s fashion must have.
In the first few years of the 1960s fashions and mores were conservative. Women still primarily wore dresses. Casual clothes were reserved for casual occasions. 1964 brings a music revolution from England and with it is possibly the biggest and most sudden fashion revolution in history.
Fashion was deeply impacted by the feminist movement, the civil rights movement, and the counterculture. Women began to wear pants and shorts more frequently, breaking away from the more restrictive fashions of the 1950s.
1960s Pants
The 1960s revolutionized women's pants with styles like bell-bottoms and Capri pants gaining popularity. These trends, endorsed by fashion icons, became symbols of freedom and individuality, mirroring the era's social changes.
Bell Bottoms
One of the most iconic styles of the '60s, bell-bottom pants were initially popularized by the youth and counterculture movements. They were wide at the bottom and fitted at the top.
Example of 1960s bell bottom pants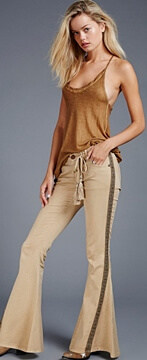 These outfits showed off the newly widened bell bottom slacks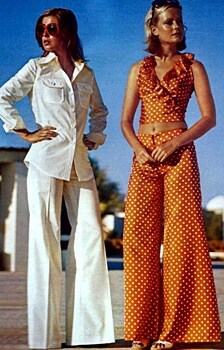 Montgomery Ward 1969 Paisley ensemble with a dashing romantic look. Button front dress has a shapely Edwardian collar, long slim sleeves, 3″ hem. Tapered bell bottom pants have a back zipper. Both crisp cotton canvas cloth. Dress alone $7.66 Dress and pants $10.66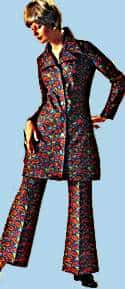 Flower power! Flowers fabrics abounded. At left, a traditionally cut pair of slacks made, well, louder, but an abundance of flowers. Note the wide collar. It's a late 1960s style.
Montgomery Ward 1969Wide leg pants. Bold flower print makes a big impression every time. InTexury cotton homespun. A fresh new flare for wide legged pants. $6.66

Montgomery Ward 1969 Shirt – Solid color in soft and semi-sheer Kodel polyester and cotton. Dashingly styled with pointed collar, full sleeves, triple buttons and shirt-tail bottom $5.97
Jeans – Jeans with great style in flower print cotton. Authentic Western looks show up in zippered fly front, snap closing, belt loops, back yoke, 4 pockets. $5.97

Capri Pants
These were shorter than full-length pants but longer than shorts. They were a fashionable choice for casual wear and were also known as "pedal pushers.". That term seemed to work it's way out of the fashion vocabulary by the mid 1960's.
The pair of pants pictured here were considered capri length, which tended to be longer than the capri pants of modern times.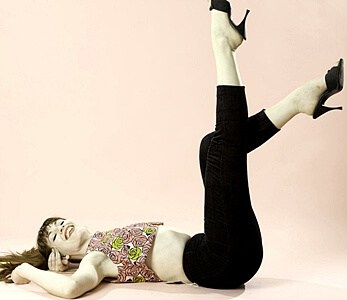 The pair featured here are from the 1968 Sears Catalog


As women started embracing the freedom that wearing pants gave them they wanted more options in styles, designs and colors. The design houses even woke up and began design pants for the more sophisticated woman.
Wards 19602 piece set. Pop top. Mid-calf pants in all cotton sharkskin. $4.97

Sears 1963 Cotton Knits.
Left – Jester shirt with whimsical notched hem. $2.83 Capri pants with a lean, lanky fit. Completely lined with cotton. $3.77
Right – Mandarin look pullover with solid color accents. $2.83 Cabin boy pants flattering knee-high length. Cotton lines. $3.77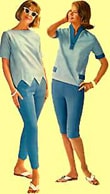 Siegel 1960 Over blouse in waffle weave cotton knit. $4.88 Capris – Knit-effect woven cotton. Trim 'n tapered. High-rise waist. $5.97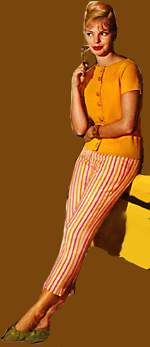 Montgomery Ward 1967
Top – Tank tops comes in ribs of cotton double knit. $2.99
Pants – Sporty denim pants come in a heavier weight cotton weave. They're Sanforized, maximum shrinkage only 1%. $4.99

Hip-Huggers
These were pants that sat on the hips rather than the waist, offering a more relaxed fit. They were often made from new, stretchy fabrics. These hip-hugger flared pants were made out of velvet.



More casual pants and jeans tend to be hip huggers.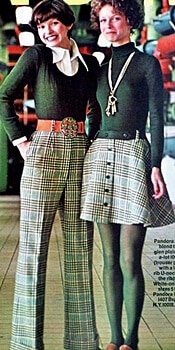 This woman is showing off a pair of white hip hugger jeans.


Jeans became a staple of most young peoples wardrobe. Unlike the 1950's jeans were now acceptable in most casual situations.
This pic is from a magazine ad for Wrangler Jeans, a popular brand in the 1960's.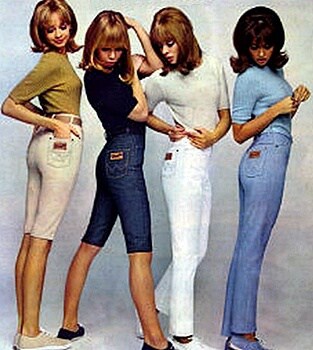 The outfit at right retains the feminine touch in the blouse, while the pants scream Sixties. More hip huggers in Teen Clothes.
Montgomery Ward 1969
Pants – A smashingly bold print in cotton $5.97 Shirt goes to a bilowy full long sleeve with button cuffs in crisp Fortel polyester and cotton. Shadow striped, semi-sheer and dandified with ruffle front. $4.97



Nothing was more 1960s than the beginning of the space race between the U.S. and the U.S.S.R. and the fashions kept pace. With that in mind designers started selling space age clothes.
This is a space age pants outfit by Pierre Cardin.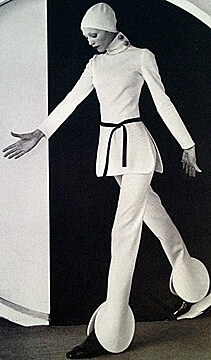 Blue Jean
Blue jean gained popularity in the 1960s specially with young people. If you were an adult however you probably only wore jeans if you were going to an outdoor event where you might get messy or soiled. If you were under 20 you wore them all of the time (except at school).
Shown here is another popular screen star Grace Kelly who later married the Prince of Monaco and became the Princess of Monaco.


High-Waisted Pants
In contrast to hip-huggers, high-waisted pants were also popular, especially as dress pants.
Cigarette Pants
These were slim-fitting, straight-legged pants that were often made of stretchy fabrics. They were popularized by celebrities like Audrey Hepburn. Mary Tyler Moore and Audrey Hepburn are wearing what were called 'cigarette pants'. Black seemed to be the favorite color but they could be purchased in an array of solid colors.


New fabrics that were previously reserved for fine evening gowns found their way into casual clothing.
1960s Culottes
Culottes in the 1960s offered a stylish middle ground between skirts and pants. Initially conservative, they evolved into wider, flowing styles like gauchos, reflecting the decade's push for comfort and versatility.
Mid-Shin Length
The style started conservatively with mid shin lengths but by the end of the 60's culottes had morphed into gaucho and a little later in the 70's palazzo pants which were wider and more flowing.
Montgomery Ward's 1961 All cotton sheen gabardine. Back button close. $2.87 Culotte of all cotton sheen gabardine. 2 pockets. $4.47 Coolie hat $2.39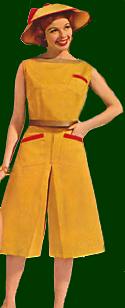 Here is an example of a pair of silk designer culottes. Notice how they're a little longer and wider than the earlier 1960s culottes above.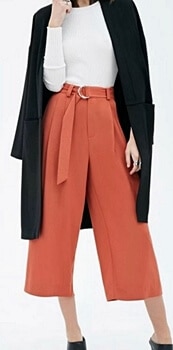 Sears 1963 Medallion print culotte, step-in style. Smooth percale. $3.84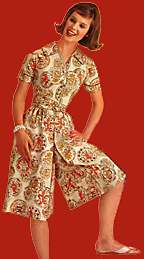 Sears 1968 Multicolor striped pant dress in broadcloth of Fortrel polyester and cotton. $14.99Knee high boot. This scene stealer stretches to cling. It's long and lean. Patent vinyl uppers. $12.84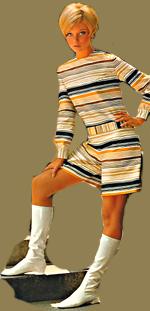 Gaucho and Palazzo Pants
Initially, culottes were conservative in length, reaching down to the mid-shin. Although not original to this decade after years of wearing only dresses or skirts it was a very welcome change.
These were called hostess pajamas or culottes. Considered the ideal outfit for entertaining, they were usually loose, flowing, gown type outfits.
McCall's 1967
Spectacular hostess pajamas are of waterfall printed silk in shades of red, pink and taupe. Fabric designed by Julian Tomchin. Pajamas by Donald Brook.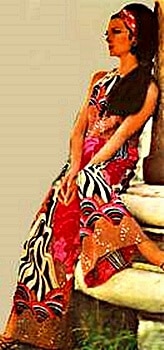 Penney's 1968
Stylish hostess culotte in a brilliant print – perfect for entertaining. Lavishly colored full-legged culotte lets you entertain or lounge in style. Luxurious Avril rayon and cotton soften fabric, gives off a soft glow and is so soft to the touch. Fitted bodice and scooped neckline for a flattering look. Shirred waist gives an added flare tot he culotte as it flows to the floor. $7.94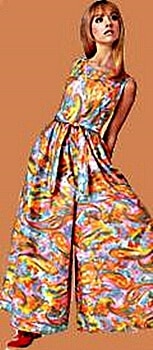 1960s Shorts
Shorts in the 1960s broke free from their conservative past, becoming a wardrobe staple. High-waisted to hot pants, the variety of styles catered to a newfound sense of freedom and casual living.
Casual Walking Shorts
This short set is very typical of what most women would have worn. Madras was all the rage, and the length of the short would have been considered "respectable."
Sears 1963 Cotton Double Knits Left – Hip belted overblouse. $3.77 Walking shorts. Cotton lining, side zipper. $3.77 Right – V-neck pullover with striped rib-knit trim. $3.77 Capri pants tailored for sleek fit. Fully lined. Side zipper. $5.77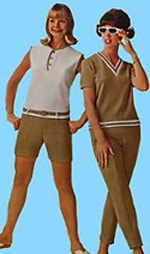 Ward's 1960 Shirt – Madras type plaid pullover Wash 'n Wear 100% cotton. $2.98 Walking shorts – Dan River 100% cotton fine rib cord. $3.88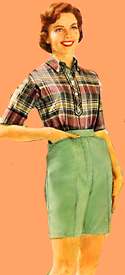 At right, note that the short shorts are covered by a skirt. Again, a lady doesn't show too much leg!
Ward's 19602 piece set. Playsuit with its own button skirt in all cotton polka dot print. $4.44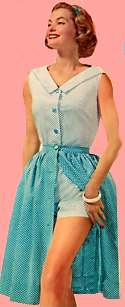 High-Waisted Shorts
These were often paired with pantyhose and were a symbol of the newfound freedom women were experiencing in fashion.
This girl on the bike combines a checked pattern with a pair of soft pink shorts. Notice that they are have a high waist which lengthens the look of the short.
It was also popular to wear pantyhose with your shorts. Pantyhose was possibly one of the biggest 1960s innovations that helped to liberate women.


Hot Shorts
These were extremely short, tight-fitting shorts that became popular later in the decade. They were often made from bright, eye-catching fabrics. Colleen Corby was a popular 1960s model. Here she is wearing short shorts and a ruffled crop top. This is an actual ad from the JC Penney Catalog, showing you just how mainstream these hot pants type of shorts were.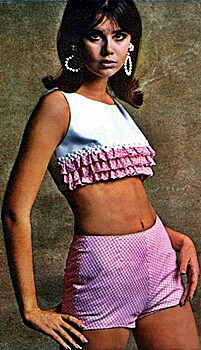 Dressy Shorts
As shorts became more socially acceptable, designers began creating more formal versions, often made from luxurious fabrics like silk.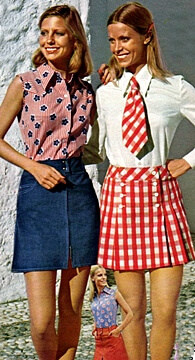 The 1960s gave women the freedom to wear shorts a lot more and in situations that wouldn't have been possible in the 50's. In the beginning of the decade the shorts were longer and more conservative but as the 'anything goes' movement swept through the fashion world shorts got much shorter.
Shown here are shorts from a 1963 Sears Catalog


Shorts in the 1960s became such an everyday fashion choice that designers chose to cash in on the trend by making dressier and pricier short outfits.
Here is a designer jacket and short outfit in a pale pink silk.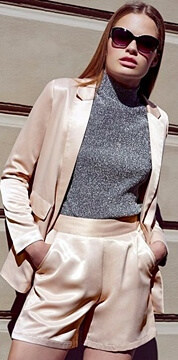 Skorts
Another popular style in the 1960s. These were a hybrid between skirts and shorts, offering the appearance of a skirt with the comfort and practicality of shorts.
These were short (above the knee) skirts with clever matching shorts hidden under the front flap of the skirt. This style of skort was perfect for occasions where a skirt was more appropriate but you didn't want to deal with all of the inconveniences of a short skirt. It was also very practical for roller skating and appropriately also know as a skater skirt.