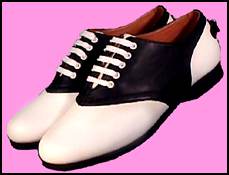 Nothing characterizes the Fifties quite as well as the saddle shoe. We all had them. We all wore them. And I'd be lying if I said I missed them. These things are heavy and rather stiff. And you couldn't just throw them in the washer when they got dirty! Give me my modern athletic shoe anyday.
The spike or stiletto heel was a fashion fixture. Designed to draw attention to the leg and calf, it was a chiropractor's dream device.Ferragamo is credited with creating the steel support in a synthetic heel which allowed for a very small heel tip. Gee, thanks.This phenomena impacted in more ways than one. Hoteliers and other managers of public facilities had to find ways to protect their floors from all those indentations!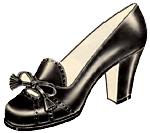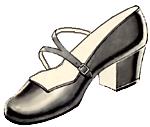 These shoes are the type a woman might wear shopping or to lunch. (Much more reasonable)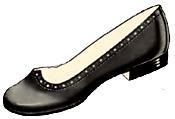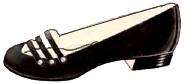 Flats were appropriate for slacks and was what we wore to school.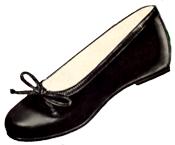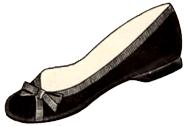 The "ballet" slipper was a popular choice and was often worn with little white socks. Really.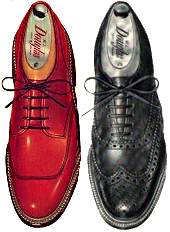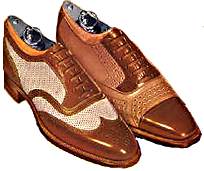 Lest the gentleman feel left out…
This was as good as it got for the guys, not only did you have to polish them every week but there were things called shoe trees that lived inside of them when they weren't on your feet.