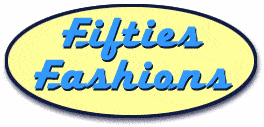 1950s Suits & Coats
1950s Suits & Coats – A well-tailored suit was as much a staple of the Fifties as it is today. As in these pictures, the 3/4 length sleeve was popular. Women found suits practical as they were appropriate for a wide variety of occasions.
Note that these are skirt and coat suits NOT pant suits, they wouldn't be acceptable until the 1960's.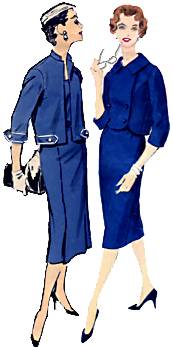 Another example of a well tailored suit.

Big, loose coats were featured in the Fifties. Remembering that women were expected to dress smartly at all times, choice of coat completed an ensemble.
Also if for some reason a woman didn't have her coat the man was obligated to give her his.At right is the type of party dress a younger woman might easily wear. Customarily, it was deemed inappropriate for young ladies to wear sexy clothing. But even this "pretty in pink" dress accentuates the bust and waist to advantage.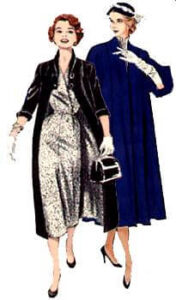 At right, a European styled suit with radiating tucks on the jacket.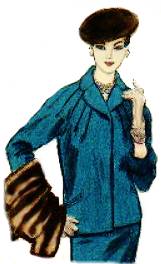 Capes and stoles abounded. Including the dressy (real fur) mink stole (mink stoles were very popular if you could afford them).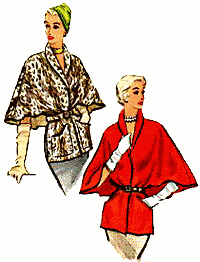 At right, these batwing jackets are reminiscent of the battle jacket (American) or bomber jacket (British) worn during the just recently concluded World War II.