1950s Evening Gowns – Soft, feminine, romantic…these words best describe Fifties evening wear.
This beautiful rose petal gown is haute couture at it's finest. Designed by Christian Dior in 1958.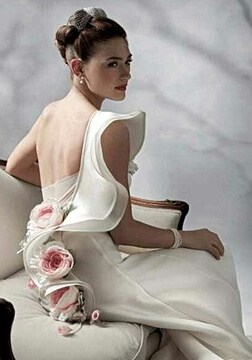 World War II brought mass production of clothing as part of the war effort. As this expanded into the Fifties, it meant that ordinary women had a chance to buy designer inspired evening wear for the first time.
At right is the type of party dress a younger woman might easily wear. Customarily, it was deemed inappropriate for young ladies to wear sexy clothing. But this beautiful green lace dress accentuates the girl's figure without being revealing.
Color was a big part of 1950s evening gowns. This burgundy dress shows how any color could be used as long as it remained subdued.
This dress would have been considered risque.
Movie stars might wear this deep of a plunge but I guarantee you that most housewives wouldn't.
Fantasy dresses abounded. Fueled by Hollywood, style was limited only by imagination. In the Fifties, every woman could be Cinderella at the ball.
Although not widely popular the 1950s love of polka dots made it's way into woman's evening wear as well.
This lovely A-line flair bottom dress represents the most popular style of dress worn by young adults to formal parties and proms
The European styling at right, while more sophisticated, would still make an excellent choice for the prom.
Thank you for visiting FiftiesWeb.