Women's fashion has undergone a lot of changes throughout history especially when it comes to evening gowns, with each era featuring its own unique styles and trends. One of the most iconic eras in fashion history is the 1950s, which was marked by an explosion of feminine refinement. The 1950s was a time of post-war optimism and prosperity in the United States. Fashion during this era was characterized by a desire for glamour, femininity, and elegance, which was reflected in the popular dress styles of the time.

From the iconic halter neck gowns to the charming floral vintage gowns, let's take a closer look at the 1950s dresses that were popularly worn and explore the history behind their timeless beauty.
1950s Formal Ball Gown
In the glamorous world of 1950s fashion, formal ball gowns took center stage, offering a mesmerizing array of styles that epitomized the elegance and sophistication of the era. From the timeless charm of vintage tea dresses to the allure of halter neck gowns, coordinating sets, and evening wrap dresses, the 1950s presented a diverse collection of exquisite attire.
Among the iconic choices were the classic shirtdress, the enchanting floral vintage gowns, and the intricate vintage knitting patterns. And not to be forgotten, the mermaid dresses added a touch of drama and allure to this unforgettable era of fashion.
1950's Vintage Tea Dress
The 1950s also saw the rise of the tea-length dress. This dress was shorter than a ball gown but longer than a cocktail dress, making it a perfect option for semi-formal events. The tea-length dress usually featured a full skirt that moved gracefully as the wearer walked. The tea-length dress was often paired with a cardigan or bolero sweater, adding a touch of warmth in cooler weather.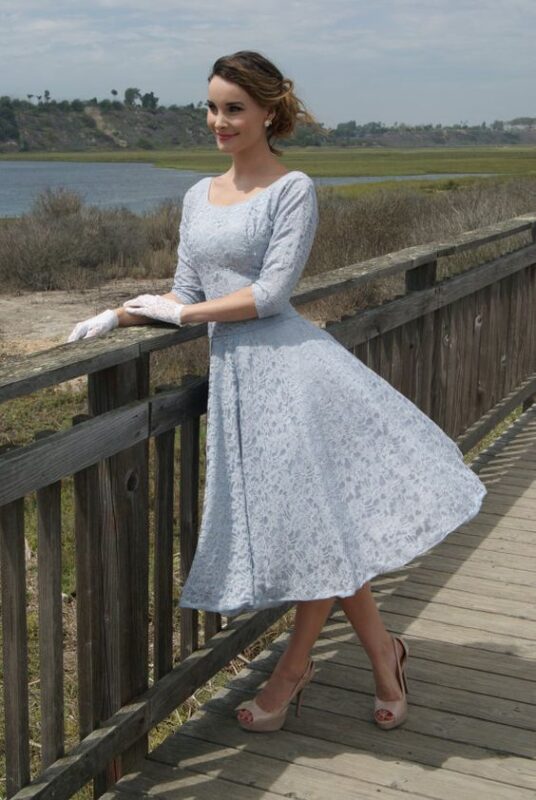 Credits: EtsyUK via Pinterest.
Halter Neck Gowns
Halter neck gowns were a popular fashion trend in the 1950s. This style was popularized by Hollywood actresses such as Marilyn Monroe and Elizabeth Taylor, who often wore form-fitting halter neck gowns to red carpet events. The halter neck design was attractive because it highlighted the shoulders and back, making the wearer look elegant and glamorous. In addition, the waistline of 1950s dresses was often cinched with a belt or ribbon, creating an hourglass silhouette that was highly sought after.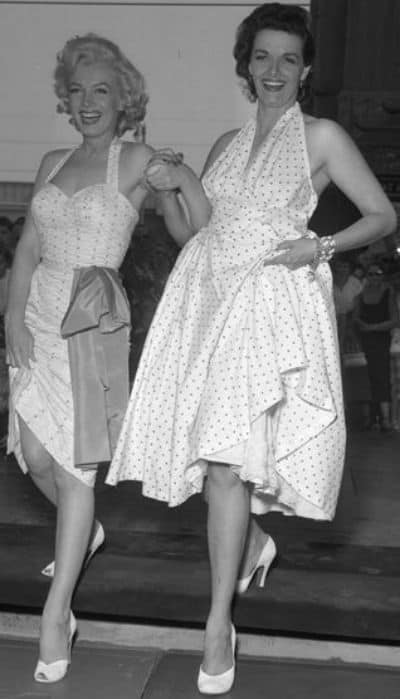 Credits: livinginfiftiesfashion via Pinterest.
Matching Co-Ord Sets
Co-ordinated or matching sets were also one of the popular 1950s formal outlifts. The term "co-ord" was short for coordinating separates and generally included a matched top and skirt. The style was especially popular for summer and was well-suited for more casual occasions, such as picnics or beach outings. Pastel color schemes and quirky patterns were a common feature of Co-ord sets in the 50s, and the style continued to influence fashion for decades to come.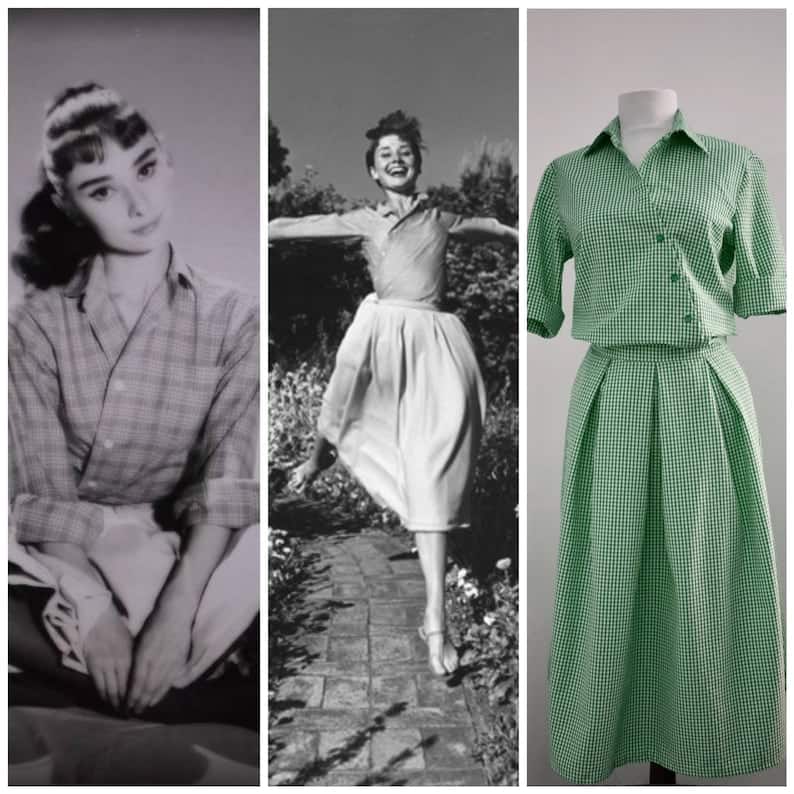 Credits: Etsy ← Buy here – Photo of Audrey Hepburn gingham cotton matching set.
50s Evening Wrap Dresses
50s Evening Wrap Dresses were another fashionable dress style, popular due to their versatility and sophisticated look. The wrap dress style meant it could work on both tall and petite women, and it could be adjusted for a tighter or looser fit for maximum comfort. Wrap dresses were often made of silk, satin, or more luxurious fabrics and usually featured a pattern or bold print. The wrap dress became a timeless classic during the 50s and was praised by many because of its unique and flattering silhouette.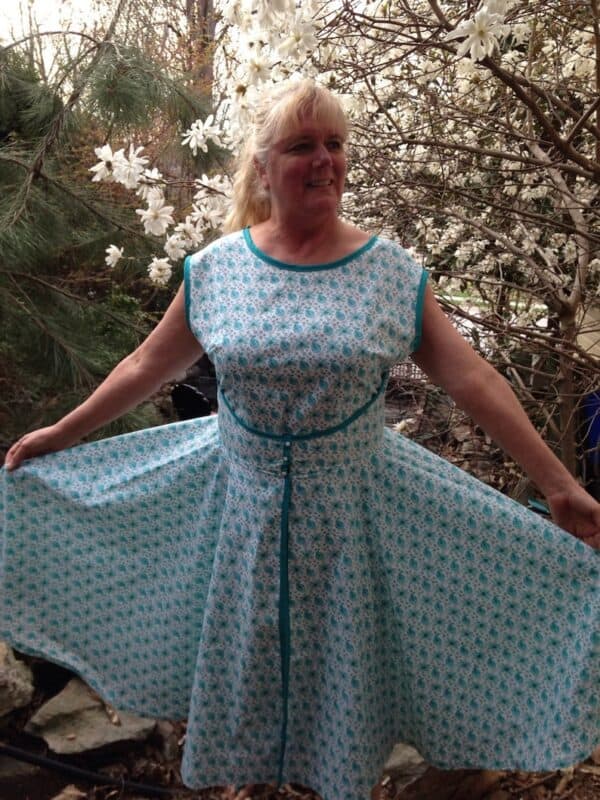 Credits: Etsy ← Buy here
The Shirtdress
Inspired by men's shirts, shirtdress were popular during the 1940s and 1950s, , thanks to its association with the wartime effort and the rise of women's rights movements. It represented a more relaxed and casual style, as opposed to the corsets and gowns that were typically worn at the time. It was often worn with boots, tights, or accessorized with statement jewelry.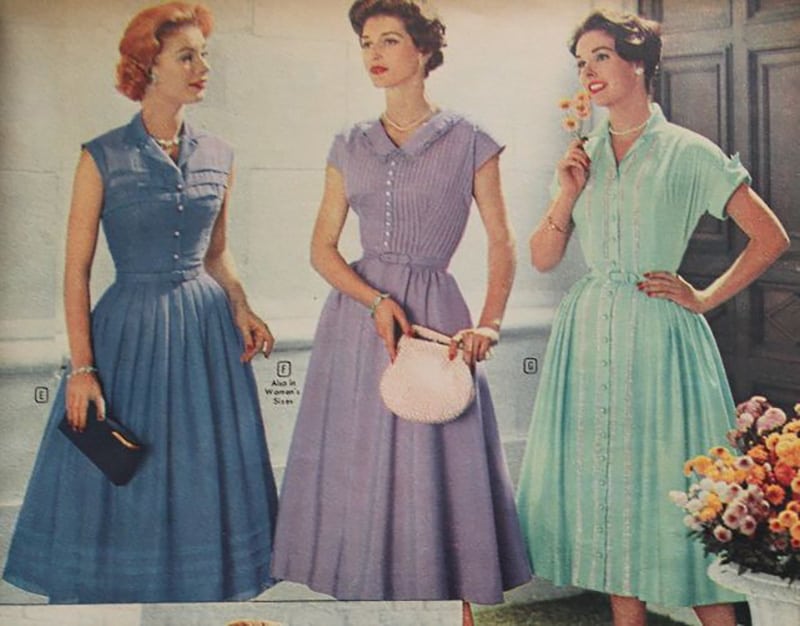 Credits: charmpatterns.com
1950 Floral Vintage Gowns
Floral gowns were a popular choice for the more romantic and feminine look. These dresses often featured a high-waisted silhouette and were adorned with delicate floral patterns. Look for dresses with a full skirt to create a more dramatic look.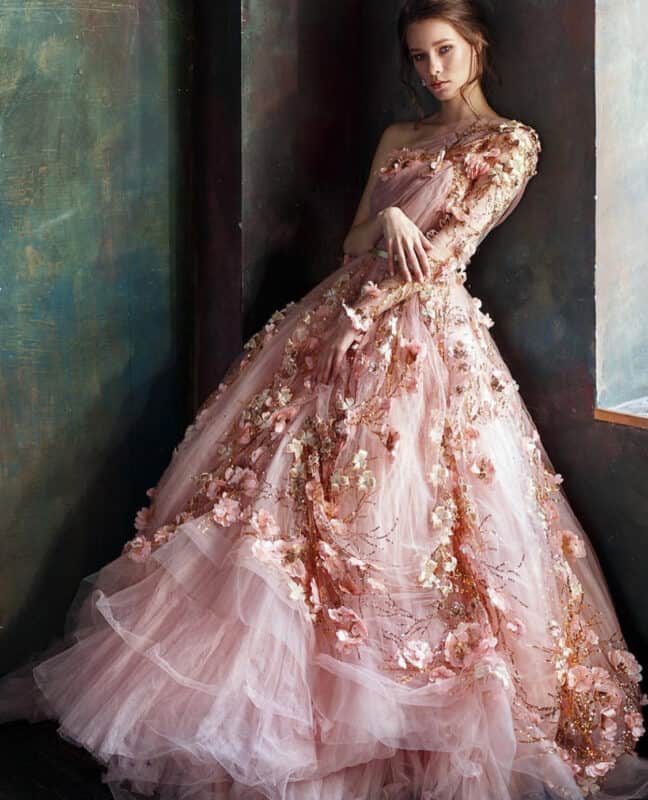 Credits: www.100layercake.com
50s Vintage Knitting Pattern
Transport yourself to the enchanting era of the 1950s with a vintage knitting pattern that exudes timeless elegance and charm. As you delve into the intricacies of these knitting instructions, you'll feel the connection to the dedicated craftswomen of that era, each stitch woven with care and creativity.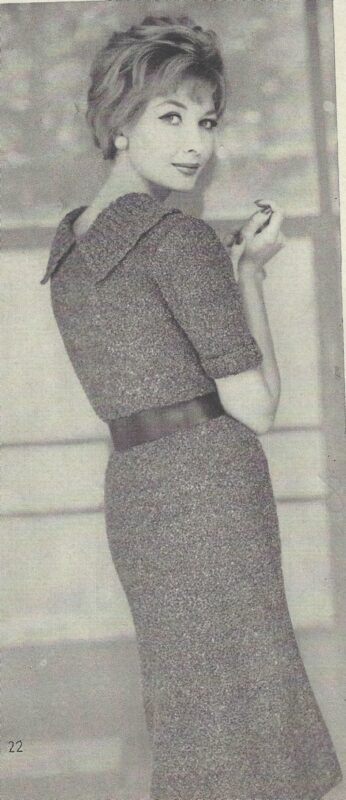 Credits: thevintagepatternshop.com
Mermaid Dresses
For a truly glamorous and bold look, mermaid dresses were all the rage. These dresses fit snugly to the body before flaring out dramatically at the hemline, creating a truly stunning silhouette.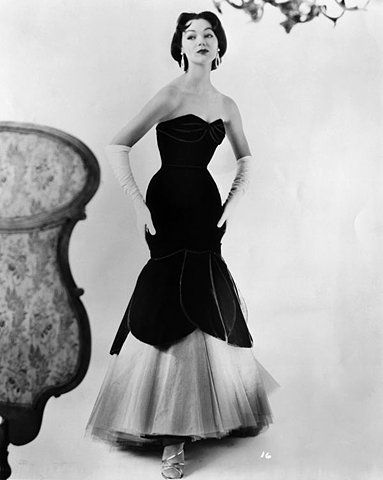 Credits: winust.com
1950s Cocktail Dresses
Cocktail parties were a staple of 1950s social life, and women needed a special dress to wear to such events. The classic cocktail dress of the 50s was knee-length and featured a fitted bodice with a flared skirt. They were often made of silk or satin fabric and came in bold prints and colors. Accessorizing was key, with women adding gloves, pearls, and a clutch purse to complete the look.
Strapless Cocktail Dresses
Another popular choice for 1950's evening wear was the strapless cocktail dress. These dresses featured a fitted bodice that accentuated the waist and a full skirt that flowed outwards. Strapless designs were seen as daring at the time, making them all the more alluring.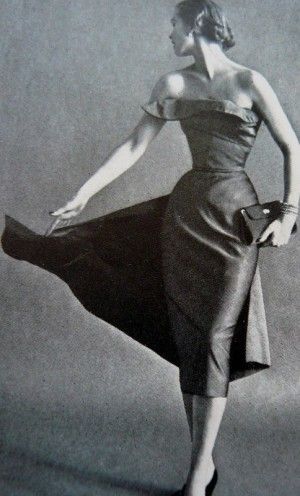 Credits: vintagedancer.com via Pinterest.
This too would be considered risqué at the time. Movie stars might wear this deep of a plunge but I guarantee you that most housewives wouldn't.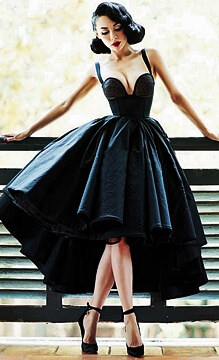 Christian Dior's New Look
The introduction of Christian Dior's new look led to the rise in popularity of ball gowns. The new look was characterized by a fitted bodice and full skirt that reached down to the ankles, giving a princess-like effect. This was a stark contrast to the 1940s, when the world was in the midst of WWII, and materials were rationed. It couldn't have come at a better time, it was received well and saved the fashion industry from a slump.


Credits: www.dior.com
Flare Dresses
Flare dresses were perfect for summer and spring events in the 50s The dress's fabric is elegant and light, making it a perfect choice for a hot day. Pair it with a straw hat, and you're good to go.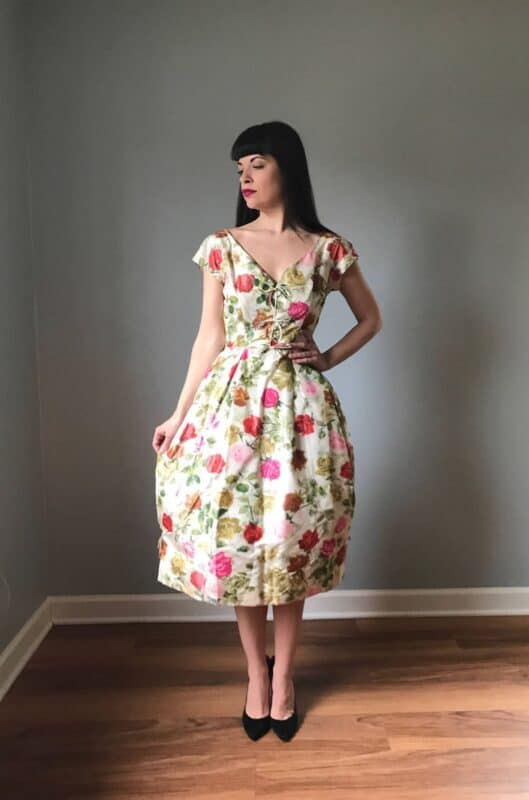 Credits: Etsy
Burgundy Dress
Color was a big part of 1950s evening gowns. This burgundy dress shows how any color could be used as long as it remained subdued.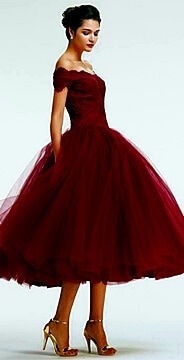 1954 Formal, Victorian Inspired Ballgown
This type of gown was inspired by the Victorian era, a period of time in the late 19th century that was known for its elaborate and romantic fashion. Victorian ballgowns were typically made from luxurious fabrics such as silk, velvet, and satin, and they were often decorated with intricate details such as lace, beading, and embroidery. These gowns were often worn by celebrities and socialites to formal events such as balls, galas, and red carpet appearances.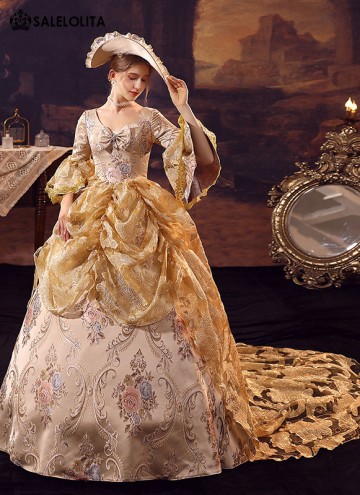 Credits: Salelolita.com
Vintage 1950s Evening Gowns
Rose Petal Gown
Soft, feminine, romantic…these words best describe this vintage 1950s evening dress wear. This beautiful rose petal gown is haute couture at it's finest. Designed by Christian Dior in 1958.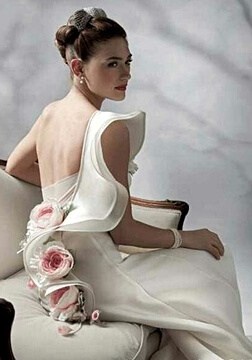 Darlene Full Circle Red Polka Dot Swing Dress
The "Darlene Full Circle Red Polka Dot Swing Dress" is a delightful vintage-inspired garment that captures the essence of retro fashion. Its full circle skirt creates a graceful and feminine silhouette, perfect for twirling and dancing just like the iconic styles of that era.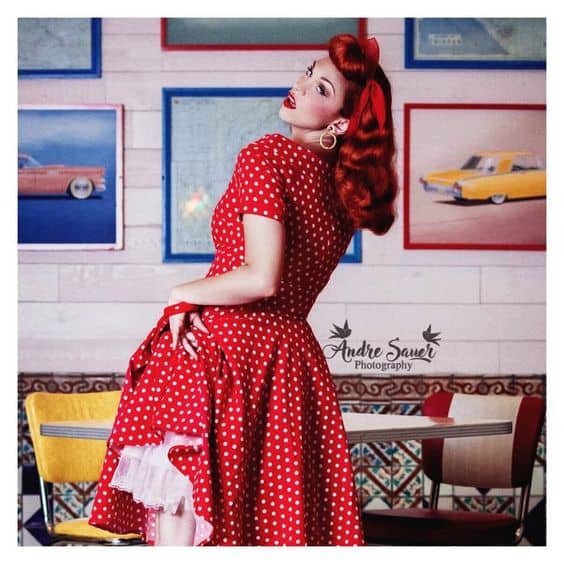 Credits: Dollyanddotty via Pinterest
Taffetta Evening Gown
The 1950 Taffeta evening gown epitomizes the timeless glamour of the era. This full length evening dress captures the essence of 1950s fashion, featuring a silhouette that flatters all body types. Whether you're searching for a stunning evening gown in any size( size small or size medium) or simply looking to embrace the elegance of dress 50s style, this taffeta masterpiece is the embodiment of sophistication and grace, ensuring you stand out at any formal occasion.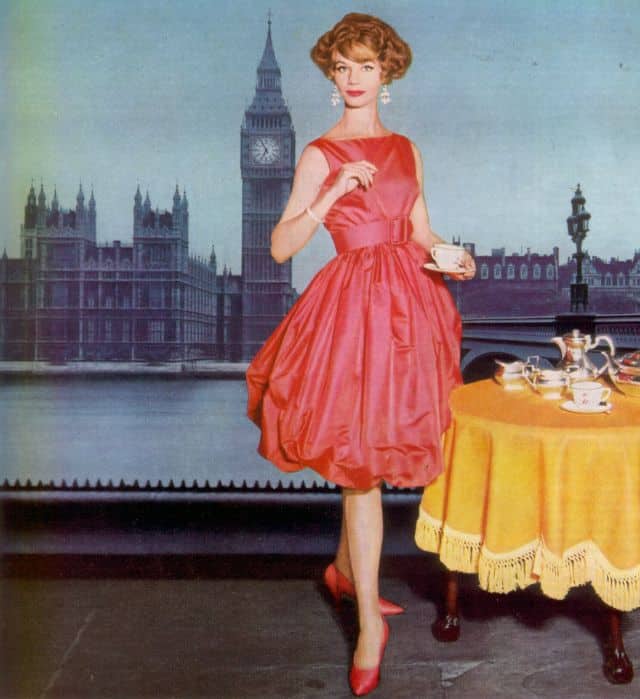 Credits: Enid Boulting models in a pink taffeta party dress image via vintag.es
Cinderella's Ball Gown
The Disney character's iconic blue ball gown was inspired by 1950s fashion. The dress had a full skirt, a fitted waist, and a sweetheart neckline. The dress's design was meant to evoke a fairy tale sense of glamour and magic.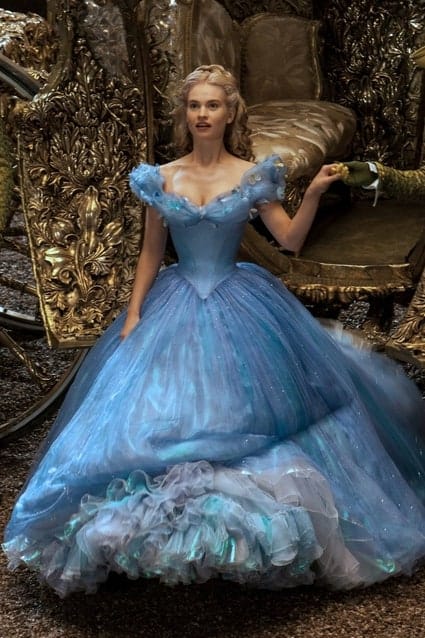 Credits: vogue.fr
1950s Prom Dresses Wear
The 1950s prom dresses were typically full-length gowns that completely covered the feet and ankle. These dresses were elegant, delicate, and regal, highlighting a woman's grace and femininity. Prom dresses featured puffy sleeves, off-the-shoulder styles, and deep V-necklines to showcase a woman's delicate neckline. The gowns were available in several shades, ranging from pastels to vibrant colors. The prom dresses embodied the style of the times, with A-line skirts, fitted waists and a full skirt.
Velvet Evening Dress
One of the most popular 1950 prom dresses was the velvet evening gown. They were made from luxurious velvet fabric and came in various shades and styles. The fabric was soft to touch and looked stunning under lights. Pair it with some simple diamond stud earrings, and you'll be ready for your night.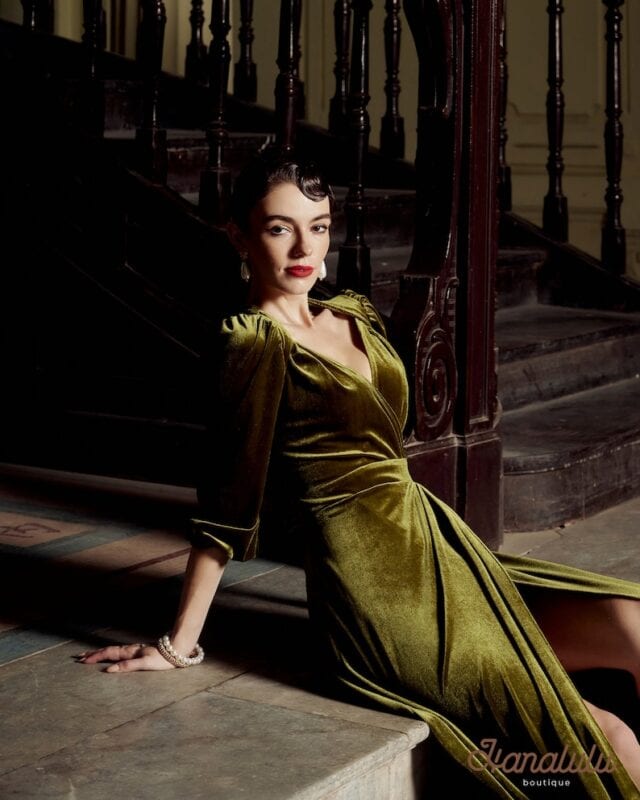 Credits: Etsy
Wiggle Dresses
Wiggle dresses were a popular type of evening dress in the 1950s because they were very flattering to the figure. They were typically made from a stretchy fabric such as jersey or wool, and they were fitted tightly to the body. Wiggle dresses were often worn to parties and other social events.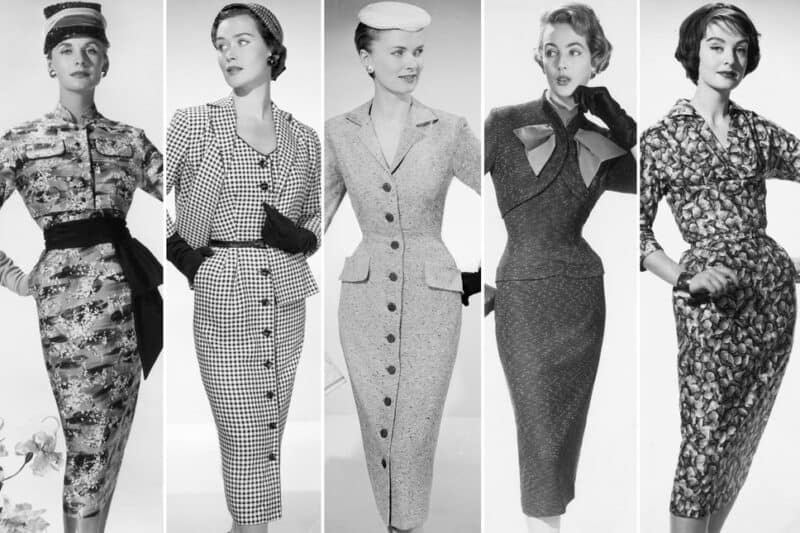 Credits: www.standard.co.uk
1950 Off-The-Shoulder Gowns
Off-the-shoulder gowns were a popular choice for creating a romantic and ethereal look. These 1950s dresses often featured flowing skirts and delicate lace detailing and were perfect for creating a fairy tale-like atmosphere.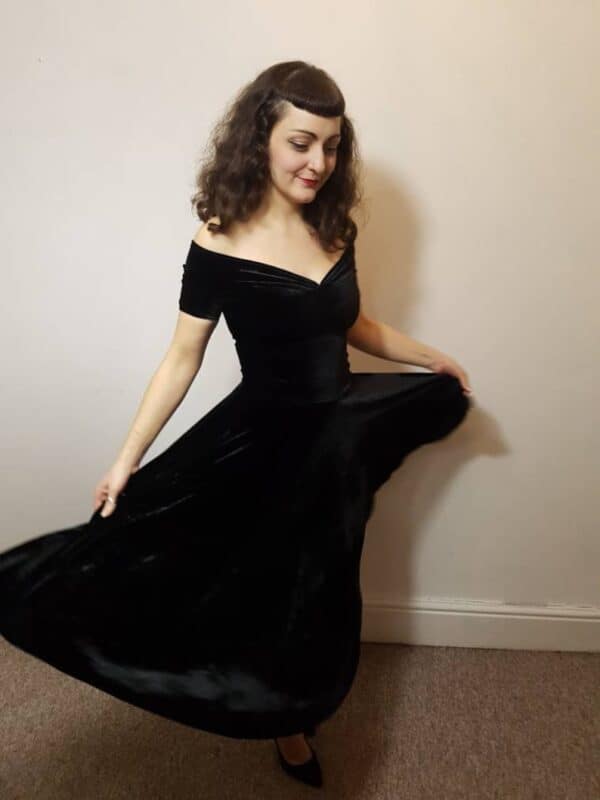 Credits: Etsy
1955 Blue Strapless Ballgown
This strapless ball gown from 1955 is a perfect representation of the iconic 1950s fashion. The dress features a high waist and a skirt that flares out to the floor length , creating a beautiful silhouette. The strapless bodice is fitted and adorned with ruched fabric that gives a romantic and graceful look. The blue color of the gown adds a touch of charm, making it perfect for any formal occasion, particularly weddings and balls.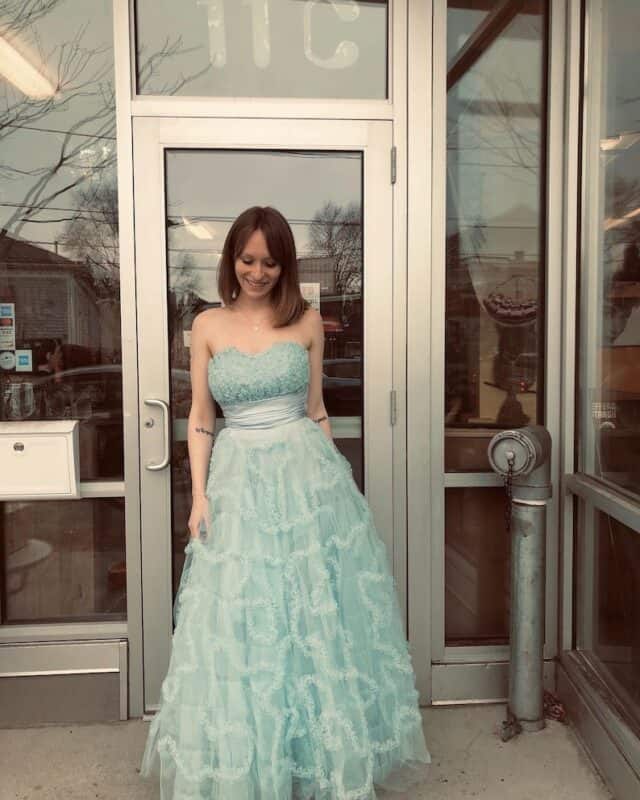 Credits: Etsy
1953 White Ruffles Formal Ballgown
This stunning white ruffles formal ballgown from 1953 is a perfect illustration of the iconic fashion of the 50s dress era. The dress features a voluminous skirt with multiple layers of fabric, giving it a dramatic and glamorous look. The bodice is adorned with beautiful ruffles that add a touch of elegance to the dress. This dress is ideal for weddings, balls and can make an excellent choice for the bride seeking a more vintage look on her big day.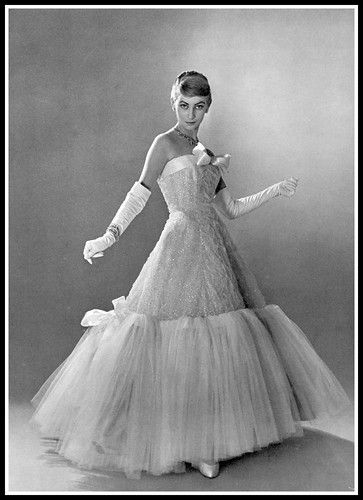 Credits: flickr.com via Pinterest
Polka Dot Prom Dress
Polka dots were a popular trend in the 1950s fashion industry, and it's no wonder why. The polka dot prom dress is a timeless look that features the iconic classic print. This dress is perfect for those who want to channel their inner Audrey Hepburn.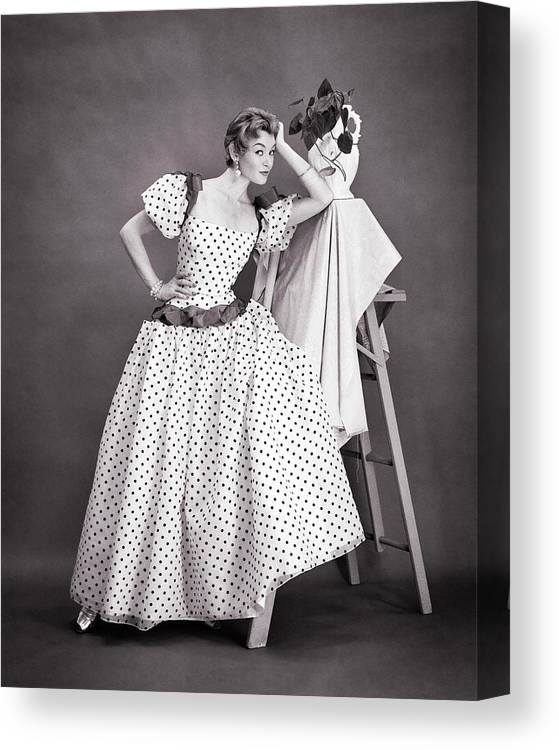 Credits: pxcanvasprints.com
1950s Evening Gown Spaghetti Straps
If you are looking for a vintage dress that is both stylish and flattering, the Vintage 1950s Evening Gown Spaghetti Straps Fit And Flare Black Beige XS Women is a perfect choice. It is a dress that will turn heads and make you feel like a million dollars.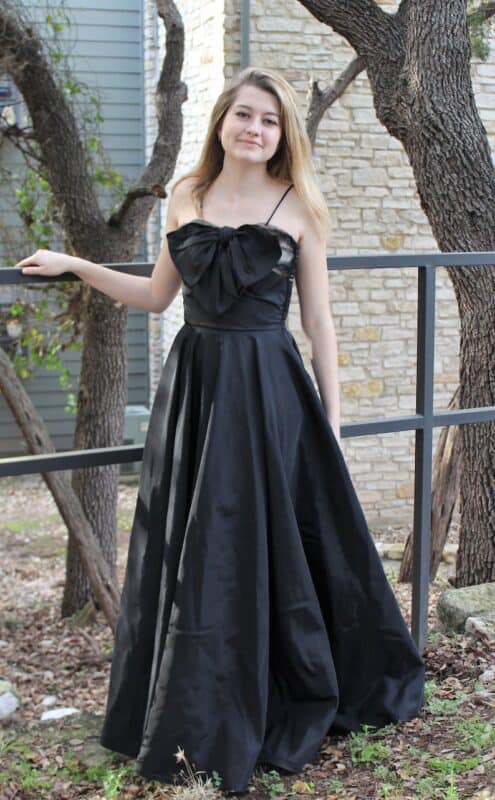 Credits: Etsy
1950s Teal Blue Satin Tea Length Dress
This dress is a popular choice for 1950s prom dresses. The tea-length style is designed to showcase the legs while preserving the modesty of the wearer. This dress is available in different colors and styles, but a common feature is the elegant and simple design.

Credits: Etsy
Chiffon Halter Neck Dress
This chiffon halter neck dress is a delicate and stunning choice for a vintage 50's inspired prom look. The fitted bodice and the flowing skirt create an elegant silhouette that moves beautifully as you dance. The halter neckline and the delicate pleats add a touch of sophistication and elegance to the dress.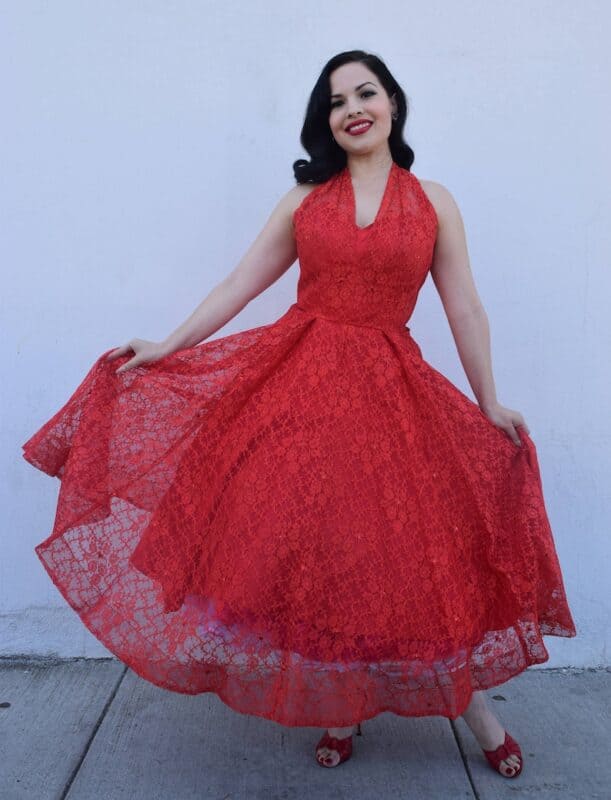 Credits: Etsy
Satin Ball Gown
Every bride dreams of looking her best on her special day and there is no better way to make a grand entrance than in an exquisite satin ballgown wedding dress with halter top. This timeless style has been popular for centuries and it's easy to see why– the classic silhouette flatters almost any figure, while its luxurious texture adds extra sophistication.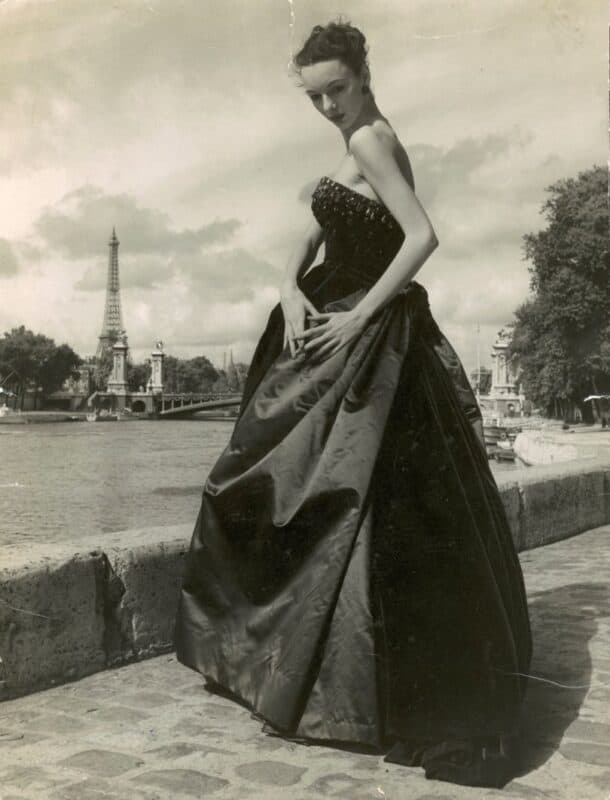 Credits: luulla.com
Red Velvet Prom Dress
A red velvet prom dress is a timeless and elegant choice for any young woman. It adds a luxurious touch to any special occasion and can make you feel confident and stylish. The luxurious and comfortable fabric, along with the vibrant red color, makes this dress a showstopper. It is versatile, goes well with every skin tone, all sizes and is easy to accessorize. So, go ahead and make your prom night memorable with a red velvet dress that will leave everyone awe-inspired.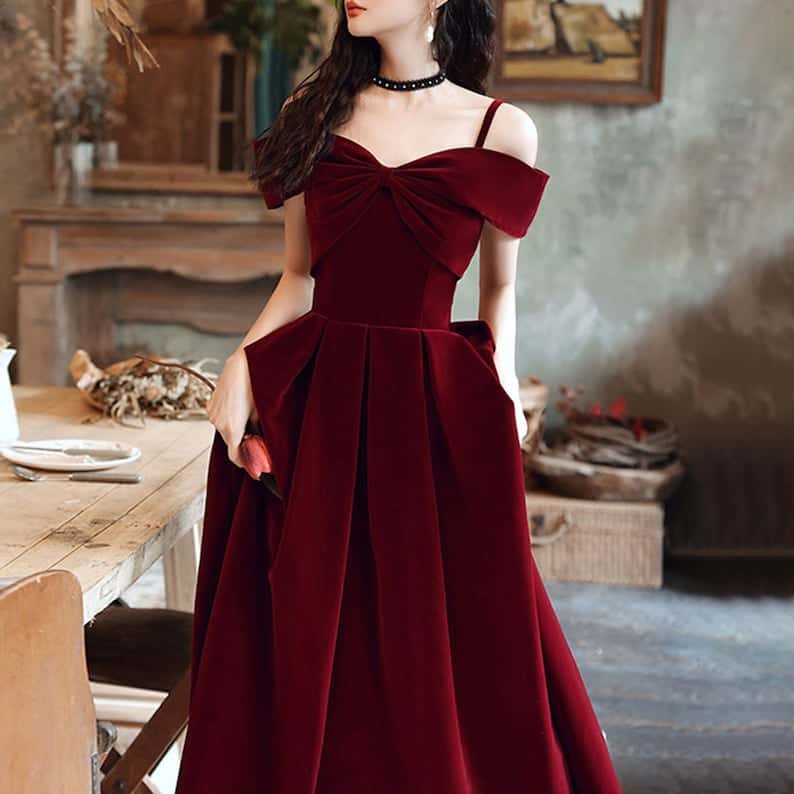 Credits: Etsy
1950s Party Dresses
The party dresses of 1950s were another noteworthy style. These dresses were perfect for cocktail parties and other semi-formal events. They were simple, chic, and often made with materials such as tulle and silk satin. This was also the time when the famous Amanda dress and glove Marilyn Monroe style by TiCCi was born. The dress was designed to accentuate the curves of the female figure, enhancing its natural shape and curves.
Amanda Dress and Glove Marilyn Monroe Style By TiCCi
For a timeless yet modern 1950s evening look, the Amanda dress and glove Marilyn Monroe style By TiCCi Couture is perfect. The beautiful satin dress features an elegant boat neckline and full skirt ball gown with a sweeping train. And paired with long white gloves, this classic look will have you looking like a movie star.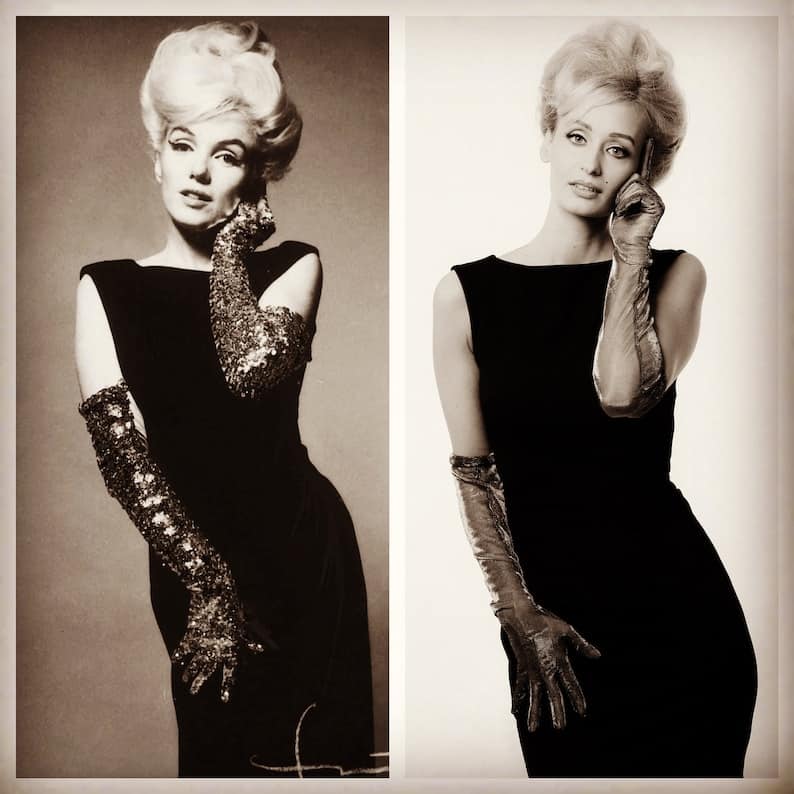 Credits: etsy
Vintage 1950's Ball Gown Pink Brocade
Ball gowns were very popular in the 1950s and often had full skirts or trains. For a truly special occasion, this Vintage 1950's Ball Gown Pink Brocade is the perfect choice. The full-length brocade gown features an elegant high-necked bodice and voluminous skirt with a train for added drama. This stunning look will have all eyes on you!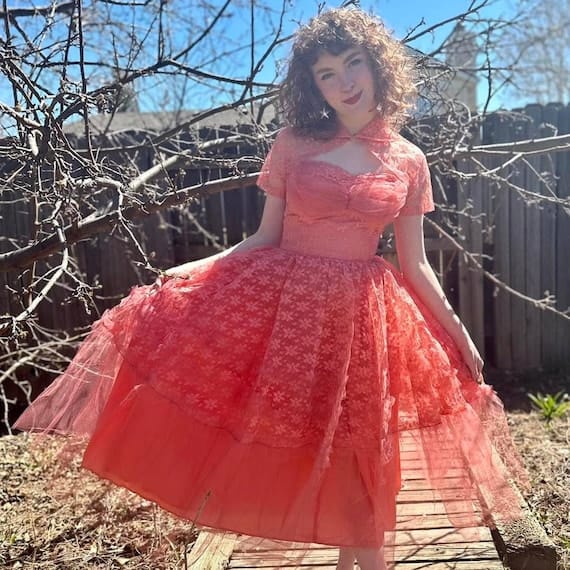 Credits: Gem.app
1950s Retro Rockabilly Dress
Rockabilly gown dresses are the epitome of 1950s style. Characterized by their pin-up prints, bold colors, and fitted shapes, these dresses are perfect for a rockabilly-themed party or an edgy night out. Pair with fishnet stockings and some studded ankle boots to complete the look.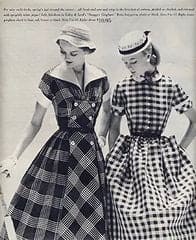 Credits: lana-rose.com
Petticoats and Full skirts
During the 1950s, fashion embraced wide circular or pleated skirts, often paired with petticoats to achieve a lifted and striking appearance. These skirts were consistently designed to reach mid-calf length and never shorter, adhering to the era's modesty standards. It's quite the vivid picture, isn't it?
Petticoats, integral to this look, consisted of multiple layers of netting and were meticulously starched for added rigidity or made of frothy chiffon for a softer touch.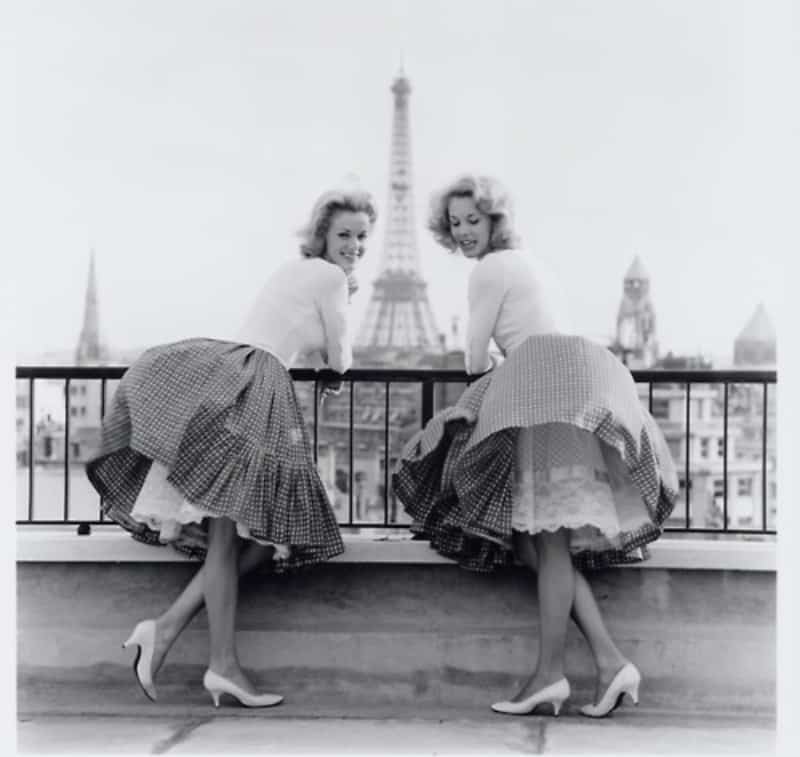 Credits: www.essentialhome.eu
Knitting Pattern Curve Hugging Collared Sheath Dress
The sheath dress is a classic style that never goes out of fashion. This fitted, knee-length dress hugs the body and creates a sleek, streamlined silhouette. The sheath dress is perfect for a formal event or a night out with friends. Pair with some strappy heels and simple jewelry for a sophisticated and elegant look.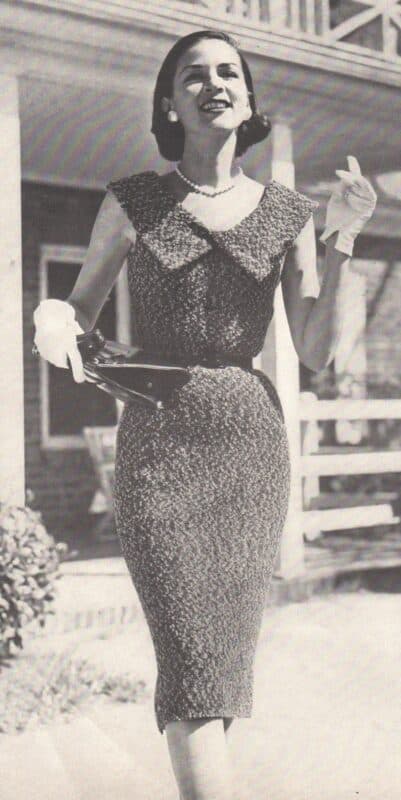 Credits: Etsy
The 1950s marked a pivotal moment for fashion, where glamour, elegance, and femininity reign supreme. The iconic 1950s evening gowns continue to inspire contemporary designers and women's fashion enthusiasts worldwide. The 50s' evening wear speaks to the style, substance, and sophistication that defined the era. It's no surprise that women from that time were elegant, confident, and beautiful – 1950s evening gowns played a massive part in that. By looking back at fashion history, we can learn a great deal about how fashion has evolved, and 1950s fashion, particularly evening wear, has stood the test of time, and it's easy to see why.
Whether it was ball gowns or cocktail dresses, the 1950s were a decade of timeless evening gowns that continue to captivate women for ages to come.