The 1950s was a decade of change and growth, not only in terms of social and cultural norms, but also in fashion. Women's clothing became more feminine, with fitted dresses and  flared skirts. But, what's a great ensemble without the perfect blouse or shirt to match? The decade was popular for its unique styles that have effortlessly made their way into the closets of almost every generation since then.
In this retro fashion guide, we will take a nostalgic journey through time and explore the best 1950s blouses and shirts that you can incorporate into your wardrobe today. So, let's take a trip down memory lane and explore some timeless classics!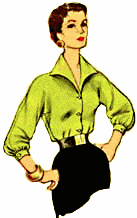 Classic Styles of 1950s Blouses and Shirts
Classic 1950s blouses generally featured short sleeves, collars, and buttons as well as subtle prints or patterns that added a contemporary twist to more traditional silhouettes.
Whether you're looking for an authentic vintage piece or something modern with a retro feel, there is always a classic style of 1950s blouse that is perfect for you.
In addition to various collars, there are many possible sleeve variations of the Fifties.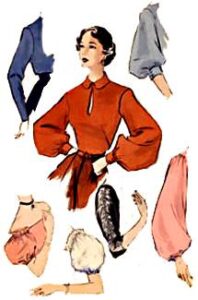 Vintage Blouses with Bow Collar
Bow collars were a defining feature of many 1950s blouses. They added a feminine touch to the outfit and were popular with both workwear and casual wear. Vintage blouses with bow collars were often made of silk or cotton and came in different colors and patterns.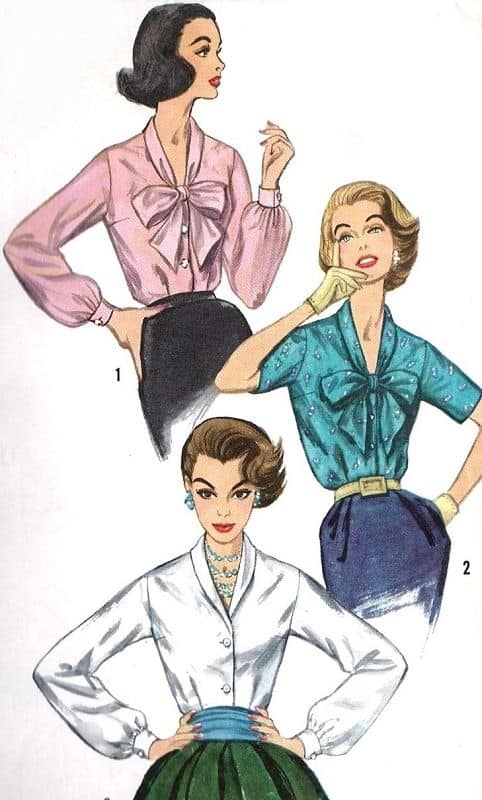 Credits: Pinterest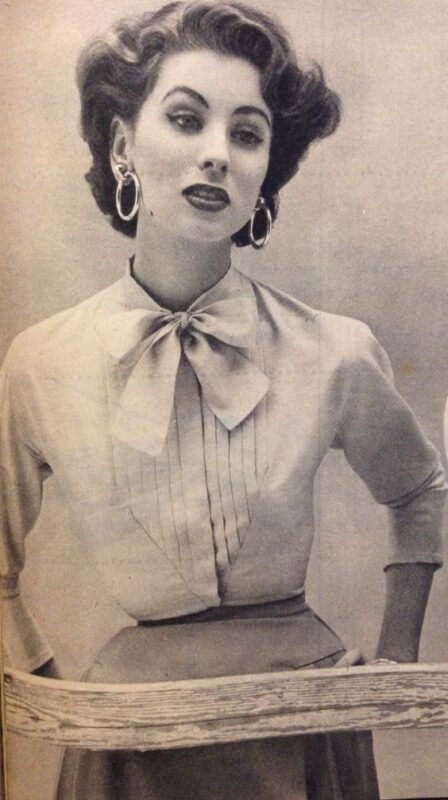 Credits: Pinterest
Raglan Blouse White
In the 1950s, the white raglan blouse experienced a surge in popularity as part of the broader trend of relaxed, everyday elegance. This was the era when casual fashion started to make its mark, and the white raglan blouse became synonymous with effortless chic. The raglan sleeve was named after Lord Raglan, a British officer who lost his arm in the Battle of Waterloo. To accommodate his injury, a tailor created this innovative sleeve style, which has since become a fashion staple. This blouse is perfect for any look from casual to dressy and can be worn with pants, skirts or even a dress.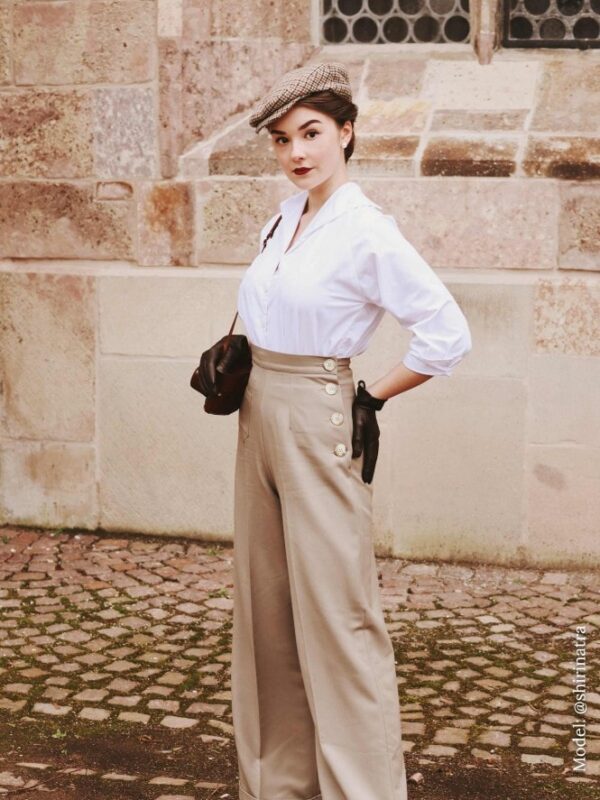 Credits: vivienofholloway.com
Rockabilly Style Blouses
Rockabilly-style blouses were an iconic fashion trend in the 1940s. This style blouses were influenced by the music subculture of the same name  This style of blouse was marked by bright colors such as pink , bold prints, and the use of loud patterns. Some of the popular prints of the time were cherries, anchors, and nautical stripes. They were typically worn with high waisted jeans or skirts. The rockabilly style blouse was quite versatile and could be worn for casual and dressy occasions alike.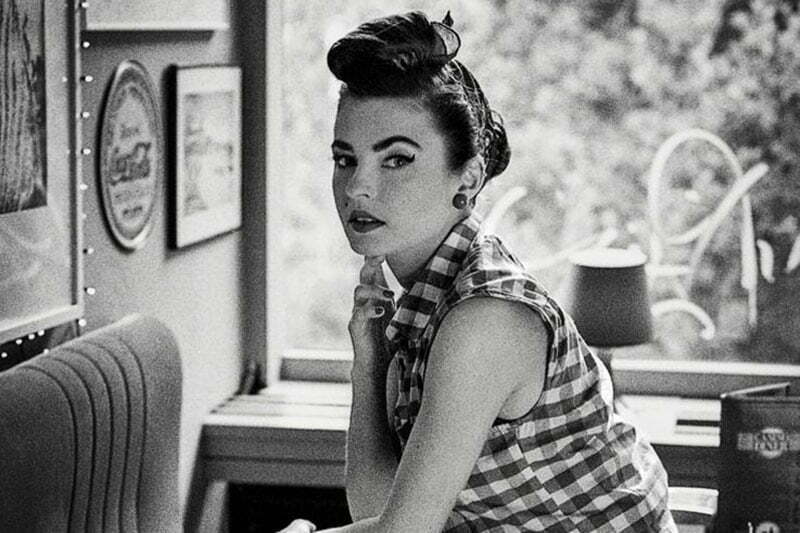 Credits:Vintage-retro.com
Short Sleeve Blouses
Short-sleeved blouses were a must-have for any 1950s wardrobe. These blouses were functional and looked great with high waisted pants or skirts. They came in various styles such as crop tops, button-ups, and wrap-over tops. Short sleeve blouses were perfect for the summer months. They were often made of cotton or silk and came in bright, bold colors.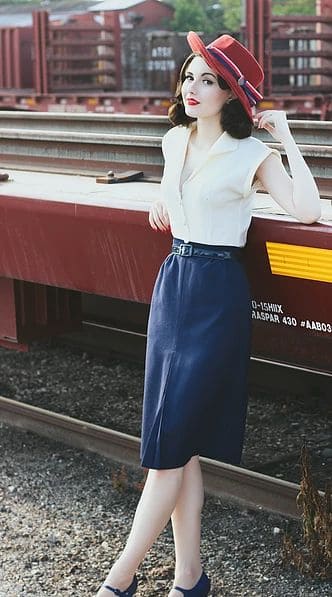 Credits: Pinterest
Sweater Tops
Sweater tops were a staple of the  50s vintage fashion. They were typically made of wool or cashmere. These sweater tops were perfect for keeping warm during the colder months of the year. Vintage sweater tops have gained a prominent spot in modern fashion, often seen in layering outfits. They can be paired with high-waisted pants, pencil skirts, or even paired with a scarf tied in a bow.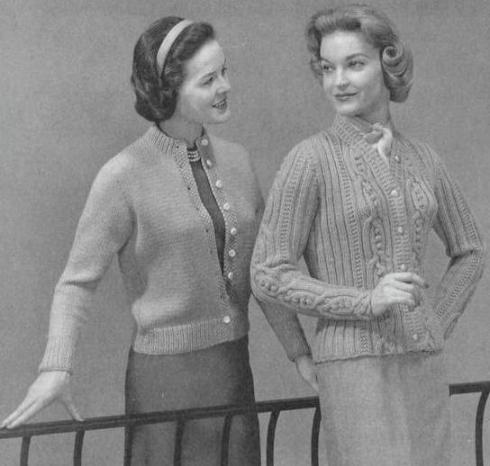 Credits: retrodee
Women wore a lot of sweaters, jackets or shawls in the 1950s. It helped to complete the outfit and was also handy for warmth

Silk Blouses
Silk blouses were a staple of fashion-conscious women in the fifties. Crafted from the fine threads of silkworms, these blouses exude a natural sheen and softness that make them a symbol of elegance. They were often worn with pencil skirts or with cigarette pants.  Silk blouses were usually plain or had small, subtle patterns.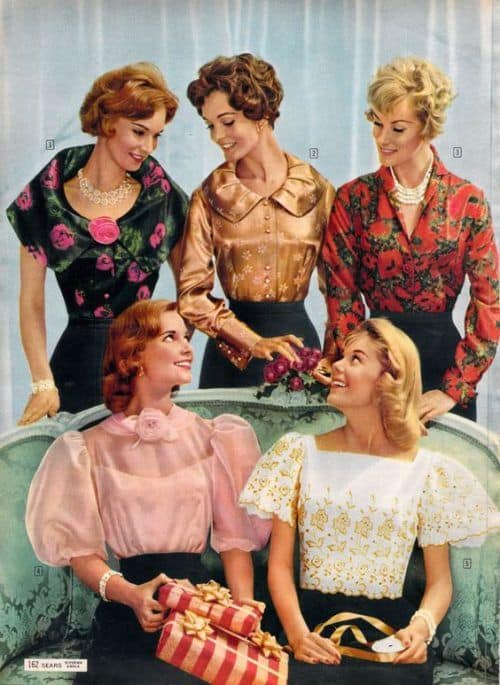 Credits: Pinterest
Lace Blouses
Lace was a timeless fabric of the 1950s and still popular today. Lace blouses were often tailored to fit the body and came in different colors such as white, cream, and black. Lace blouses were often in vintage styles and were usually worn to dressy events. They were often paired with full skirts or pencil skirts to create an elegant look.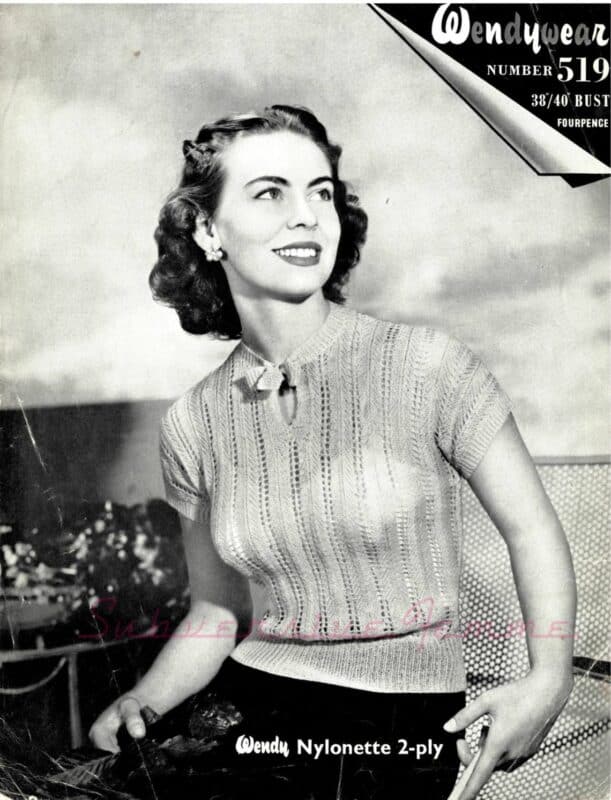 Credits: Etsy
Credits: Pinterest – 1950s Lace Blouses Paired with Black Pencil Skirts and Pearls
Polka Dot Blouse
The polka dot blouse is timeless and versatile, making it a must-have in every wardrobe. It was a pop culture trend during the vintage 1950s, and it's still a top choice for many. It can be dressed up or down, making it easy to get the perfect look.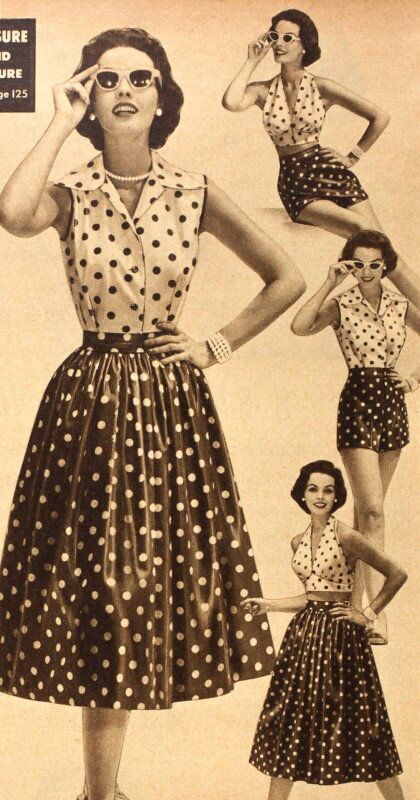 Credits: Pinterest
Floral Print Tops
Floral prints were one of the biggest fashion trends of the 1950s. Floral tops were usually paired with full skirts or high-waisted pants, and they have made a comeback in modern fashion. A floral top can be paired with skinny jeans or a denim skirt to create the perfect retro-inspired look. Floral print tops were perfect for the spring and summer months.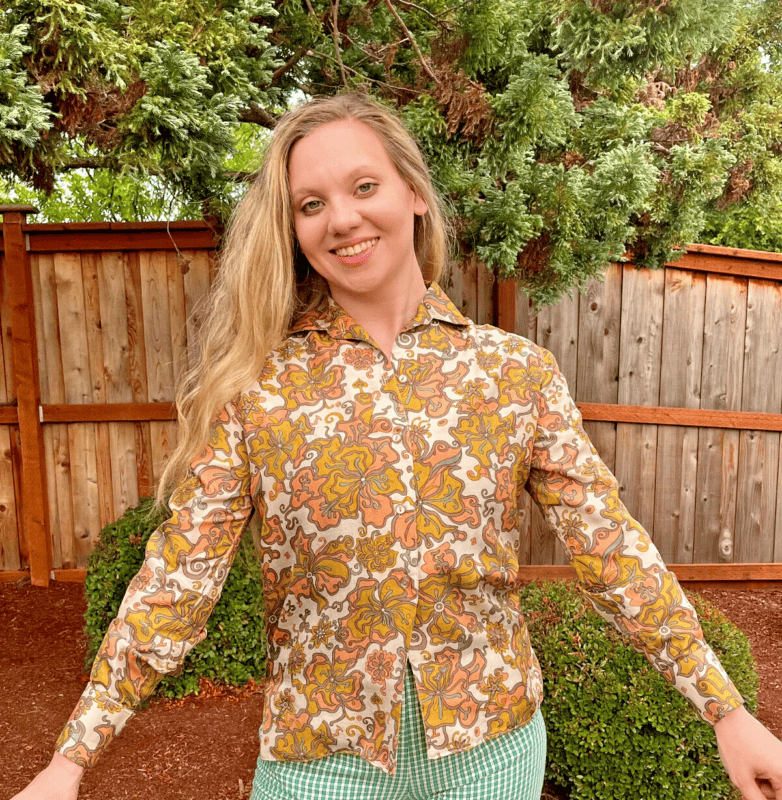 Credits: eBay
Peter Pan Collar Tops
Peter Pan collar tops were popular choice for both work and leisure in the vintage 50s. They came in a variety of colors and patterns and were usually paired with a full or pencil skirt. Peter Pan blouses were often made of soft fabrics like cotton or rayon and were often embellished with lace or embroidery. A Peter Pan collar top can be accessorized with a neck scarf or a brooch to create a chic and elegant look.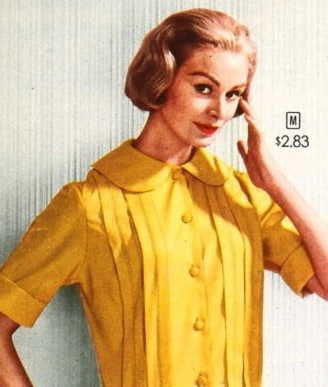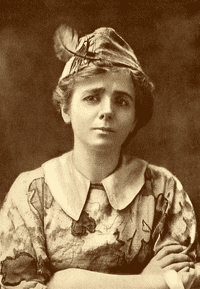 Credits: Wikipedia – Vintage Peter Pan Collar Tops
Button Front Blouses
Button front blouses were a staple of the 1950s fashion. These blouses were often made of cotton or silk and were available in different colors and patterns. They were usually paired with high-waisted trousers or pencil skirts to create a chic look. 

A button-front blouse can be paired with modern styles such as skinny jeans or a leather skirt to create a fusion of old and new fashion.
The rolled sleeve was also popular, as was monogramming.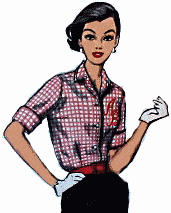 Here we see essentially the same shirt, one with short sleeves, and one with the kimono sleeve. Both have a soft collar.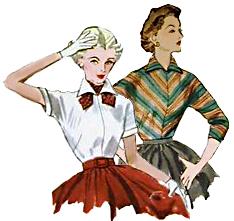 Credits: Pinterest.com
Sleeveless Knot Stitch Blouse
One of the most recognizable styles of 1950s blouses was the sleeveless knot stitch blouse. The vintage crochet pattern was a favorite among women of all ages and was often worn with high-waisted skirts or trousers. The knot stitch texture provided a unique and visually appealing element to the blouse, making it stand out in a sea of generic shirts. The sleeveless design also made it a perfect option for warmer weather. This trend has seen a resurgence in recent years, with many fashion brands including knot stitch blouses in their collections.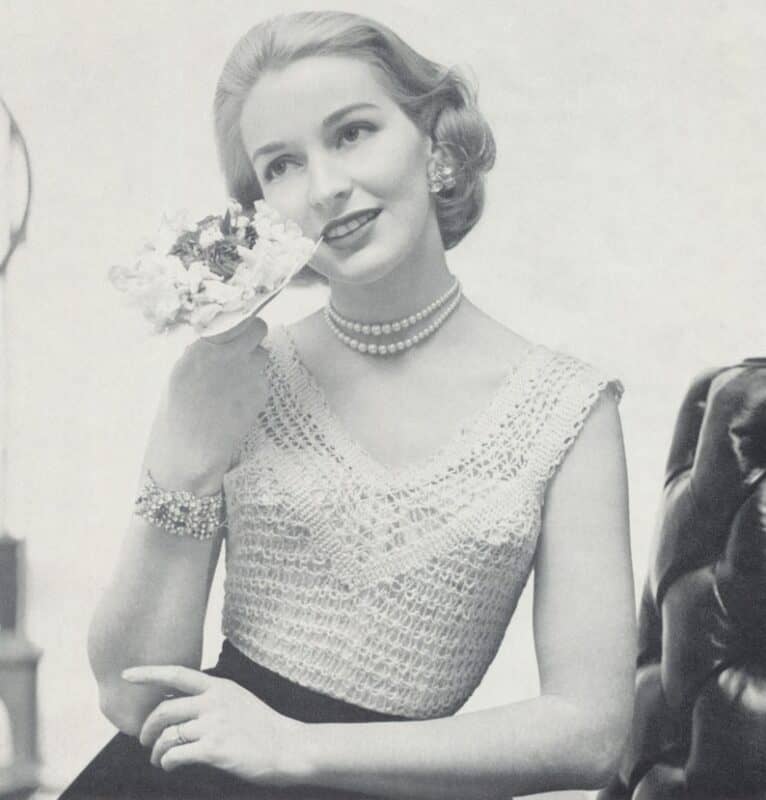 Credits: Etsy
Plaid Tops
Plaid was a popular fashion trend in the 1950s. They were a hit in the 1950s, and they could be found in a variety of colors and styles. Plaid tops were usually paired with high-waisted trousers or pencil skirts to create a chic and sophisticated look. To give the plaid top a modern twist, pair it with skinny jeans and ankle boots.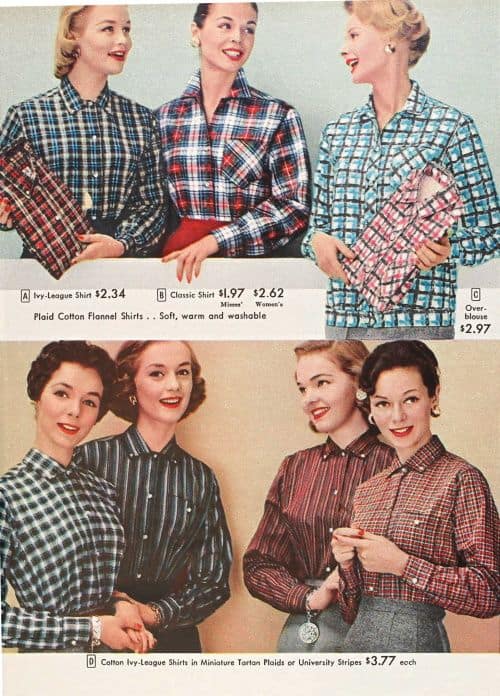 Credits: Pinterest
Retro Cardigans
Retro cardigans were a must-have in the 1950s fashion. These cardigans were often made of wool and were available in different colors. They were usually paired with high-waisted trousers or pencil skirts to create a chic and elegant look. In todays era, you can pair cardigan blouse  with a modern-day cropped-top, distressed jeans and a pair of comfortable shoes to create your own unique style.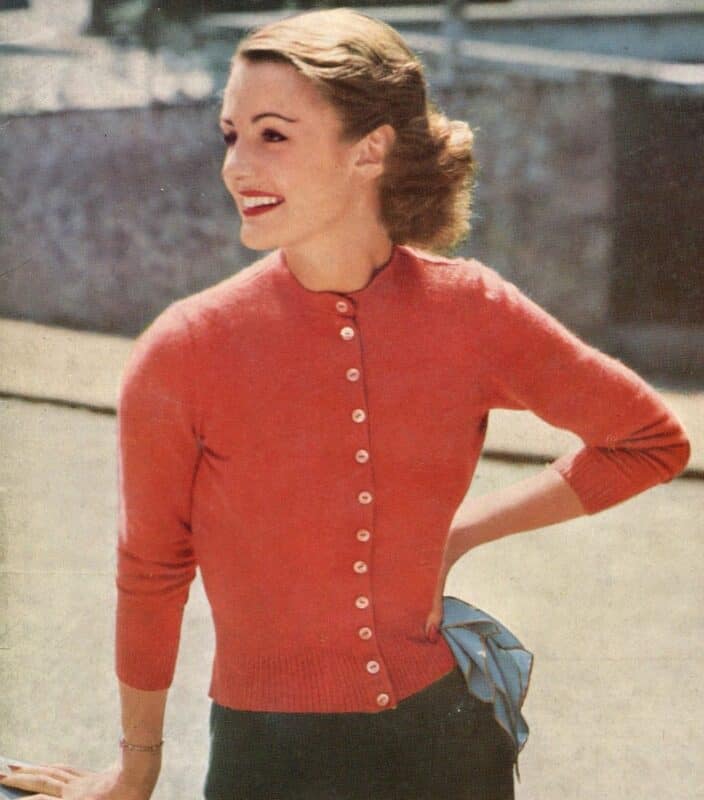 Credits: Etsy
Boat Necks Tops
Boat necks tops were a more accessible style than the aforementioned 50s tops. They were perfect for evening occasions or semi-formal events, creating an elegant silhouette that hugged the curves. Asymmetrical necklines and tasteful decolletage were the highlights of this simple but stylish top.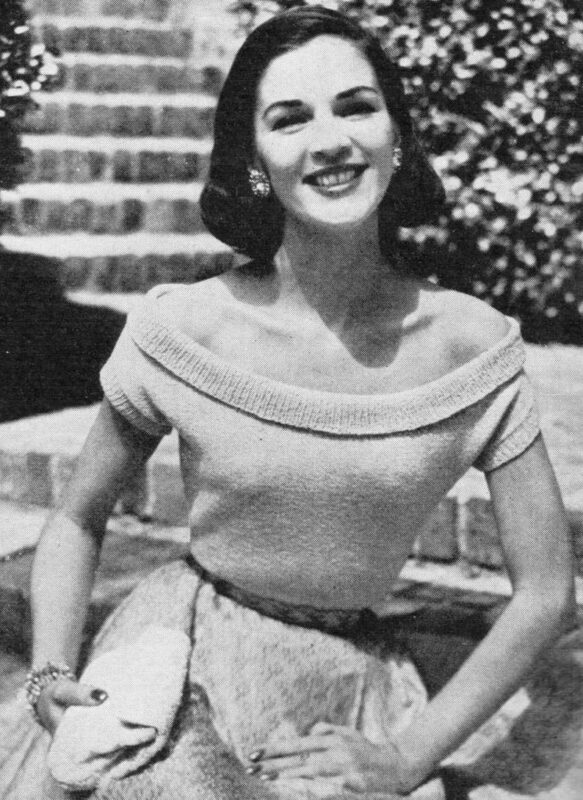 Credits: Etsy
The Pleated Blouse
This blouse had a body-hugging fit at the waist then flared out at the hips. The blouse was perfect for creating shape and dimension, as the pleats provided an interesting look. Women of this era often preferred to wear these blouses with pencil skirts or capri pants. They were typically adorned with feminine details, such as bows or lace, which added a touch of elegance to the overall look.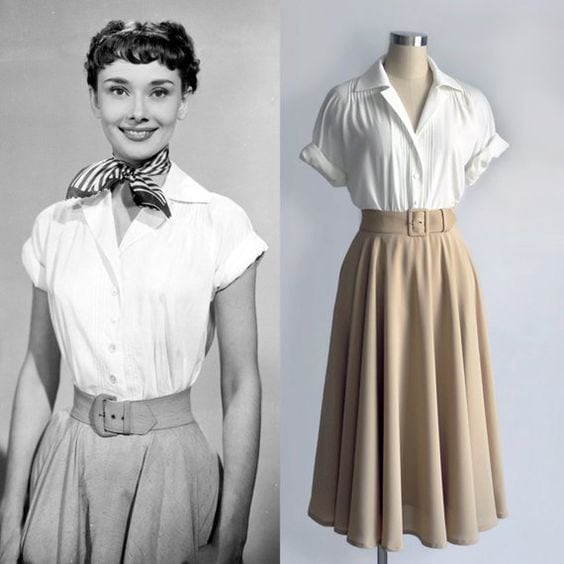 Credits: Pinterest
Cowl V-Neck Collared Knitted Sweater Pattern
This top featured a cowl neckline that was one of the most beloved styles in the late 50s. This classic pullover design features a cowl neckline, adding a touch of sophistication to its cozy charm. The cowl V-neck and collared knitted sweater pattern was a particular favorite of women during the colder months. It is a timeless style that screams sophistication.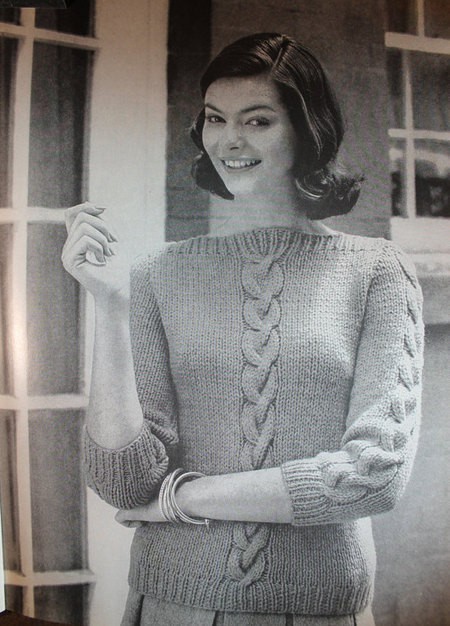 Credits: CraftFoxes
Halter Blouses
The 1950s were celebrated for their sassy fashion design, and halter blouses defined this to a tee. With a simple neckline or backless design, these tops looked great on all body types, offering a revealing and seductive look that was perfect for summer fashion.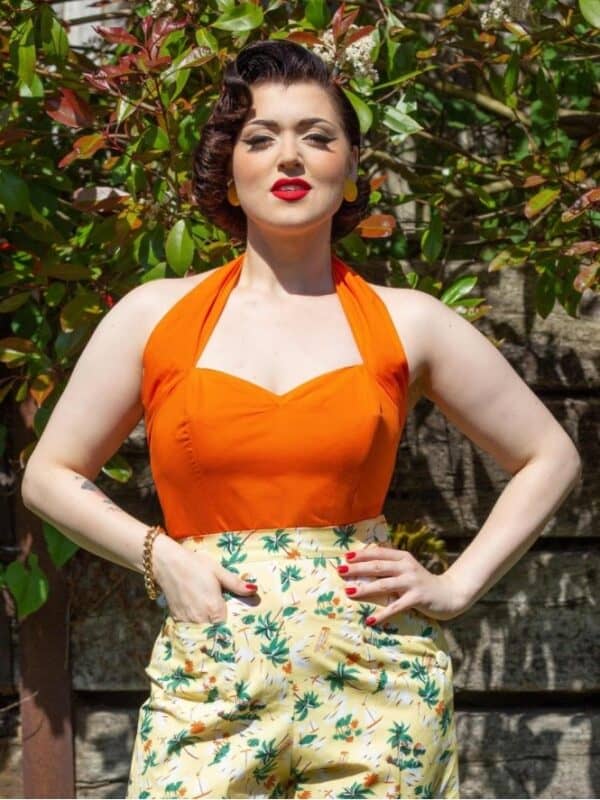 Credits: Vivienofholloway.com
A young woman might wear a halter top in summer. The look was still very discreet and unlike today, no belly buttons are showing. Notice the high waist line on the shorts.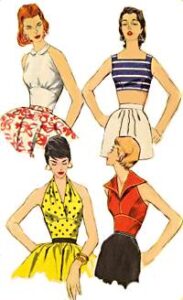 Here is the sewing pattern for Halter blouses.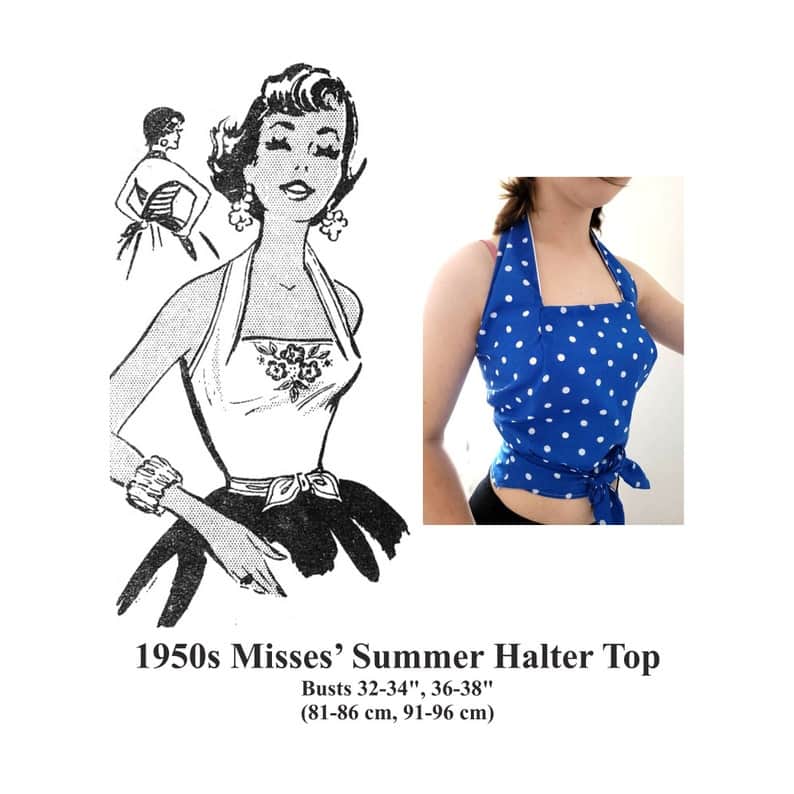 Credits: Etsy
1957 Knitwear Tops
The 1957 knitwear top had a tight fit that accentuated the waist and a cowl neck adding crispness to the overall design. These tops were perfect for a casual night out with friends or could be paired with a skirt for a slightly formal event. The texture and the warmth of these tops made them a go-to-piece, perfect for chilly evenings. The best color choices were red or emerald green to get the authentic 1950s look.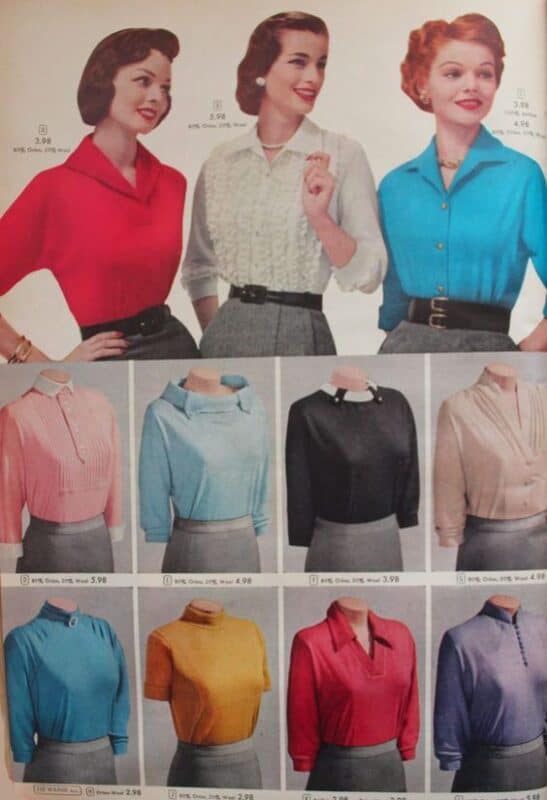 Credits: Pinterest
Ship 'n Shore' Blouses
One of the most popular blouses of the 1950's was the Ship 'n Shore' blouse. These blouses were made famous for their convenient snap closure that made it easy to get dressed in a hurry. They were also known for their bold, colorful prints, which could range from florals to stripes and polka dots. Ship 'n Shore' blouses were often worn tucked into pencil skirts or high-waisted trousers for a retro-chic look.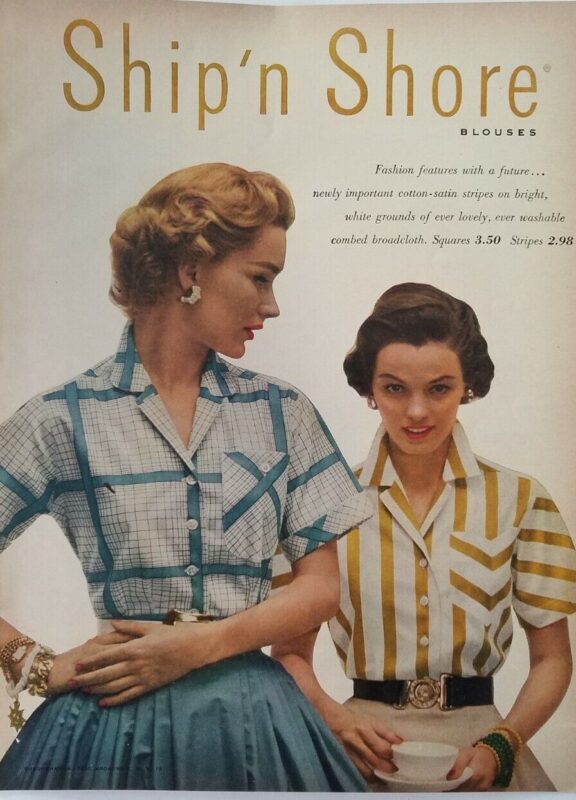 Credits: Ebay
Puff Sleeved Blouses
By the late 50s, puff sleeve blouses were in high demand from most women's. These tops featured elegant gatherings at the shoulders with cuffs that tapered to create an elongated and delicate look. The soft feminine look of the puff sleeve blouses is in keeping with the Fifties idea of womanhood.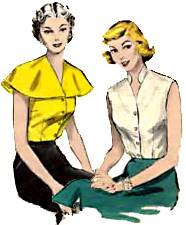 With cute prints, bold colors, and a feminine silhouette, these tops were a staple of the era.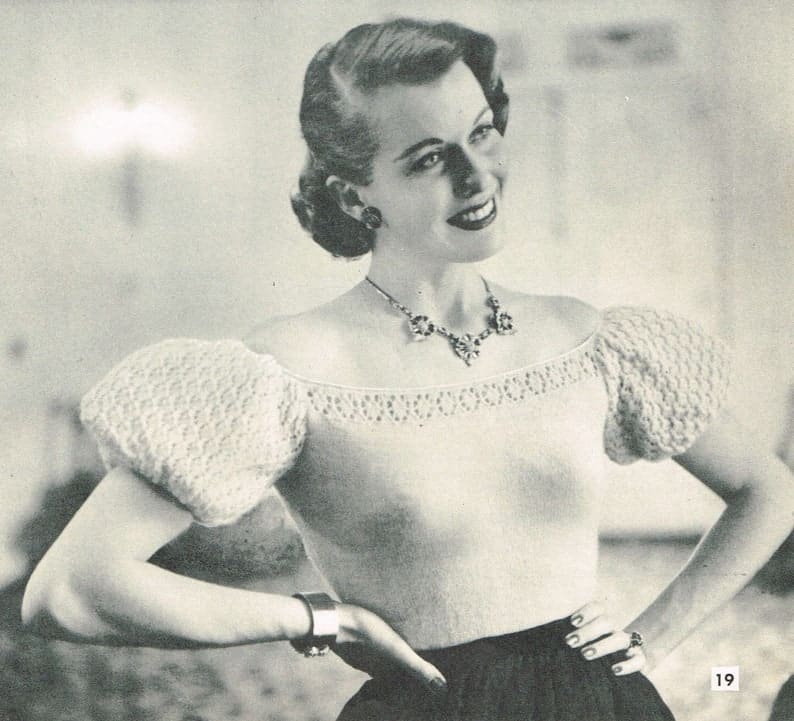 Credits: Etsy
The Cap Sleeve Blouse
The Cap Sleeve Blouse was another fabulous piece that was known for its simplicity. With its delicate, short sleeves that gracefully framed the shoulders, it exuded a sense of refined femininity that was emblematic of the 50s style. This blouse was a favorite among ladies who valued both style and modesty, making it a timeless choice for women seeking to embody the grace and sophistication of the 1950s.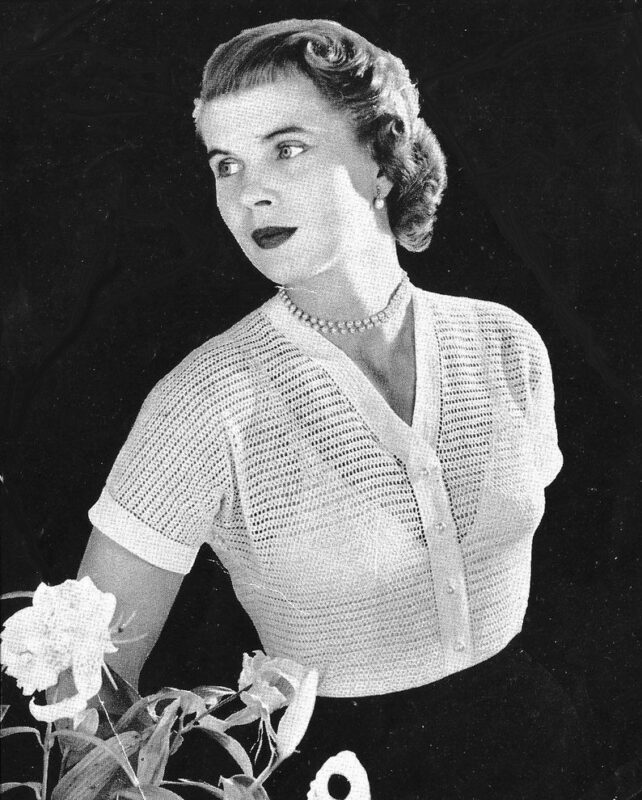 Credits: Etsy
The 1950s tops were a transformative decade for women's fashion. Modern style still reflects this era as the fashion statement of the 50s was very forward-thinking. By bringing back the iconic 1950s blouses and shirts, you can revitalize your wardrobe and fall back in love with fashion. The blouses and tops listed above represent the best of 1950s fashion and continue to dazzle and inspire fashionistas today.
Don't hesitate to add some 1950s vintage inspired pieces to your wardrobe and embrace the romance and glamour of this era.